Mr. Broad's New Art Museum
There now is a flow of fresh cultural monuments in Los Angeles that runs from the High School of the Arts over to Disney Hall. This includes, of course, the 36-year-old Museum of Contemporary Art, with which billionaire philanthropist Eli Broad was once deeply involved, and which Broad's new art museum now competes with. All of a 30-year sudden, we have a cultural downtown center, complete with a hinterland of new bars, stores, costly restos and so on.
Little is left of the downtown of 40 years ago – or of its scruffy arts bohemia. But that is the way of these things: Yupster egg joints are replacing the old Grand Central Market stalls that sold fruit for 20 cents a pound, new buildings arise on former parking lots where dead people sometimes turned up in the cars of those who worked overnight nearby.
The Broad museum (it's officially called "The Broad") looks like a mammoth white-enameled Claes Oldenburg version of a Sur La Table cheese grater. It's had several openings before the big one on Sunday, September 20 for the public at large. I went to the final press preview on September 16, where Broad himself, a little man wearing a red necktie, and whose voice seems to have only the highest and deepest registers, termed it the nation's finest collection of "modern contemporary art." My mind wrestled with that. Other event speakers, who repeatedly proclaimed that Los Angeles was today the world center of modern art, sounded a bit strident when one thought of New York's MoMA and now, its new Whitney. Art and boosterism are uneasy companions. 
If the exterior wasn't overwhelming, architects Diller, Scofidio + Renfro's ground-floor interior is very pleasing, with flowing, Yves Tanguy-inspired curved surfaces that embrace a 105-foot escalator to the third floor, where most of the action is. The Rauschenbergs, the Lichtensteins, the Basquiats, Robert Therrien's mightily oversized kitchen table and chairs (these will probably be the most enjoyable things in the museum for children, because they make even adults appear toddler-size.) There is also a sprawling roomful of Jeff Koons, enough for even Koons fans to overdose on.
There are things that really surprise, including a wondrous Julie Mehretu painting – a post-modern cityscape of Cairo blending realism and abstraction, which won't let go of your eyes. And there's that huge Anselm Kiefer of the great empty hall with the blazing torches that used to be at the Los Angeles County Museum of Art. A nice woman with a red badge spoke about the picture to me; she was a member of a staff that both guards the works and explains them to visitors. What a great idea.
There was also a random sprinkle of Toulouse-Lautrec, Picasso and Miró. (Maybe these are the implicit "ancient contemporary" works.) Not to mention all the works you can't quite see. Seven-eighths of Broad's nearly 2,000-piece collection is stored in a "vault" that fills the middle of the building, through which you pass on your escalator ride. There are peepholes to see what isn't on display. But some day, maybe it will all be up there on the third floor. Because taste changes, and even Eli Broad's will be subjected to the transformations of time. Meanwhile, the Broad has an immense advantage over the great New York museums mentioned above: It's free.
The museum had a $140 million price tag. Another Broad project rings up at $490 million – his proposed "reinvention of our public education system," which involves changing half of the Los Angeles Unified School District into charter schools. As the museum opened to the public, United Teachers Los Angeles members demonstrated outside. Not for the first time they asked why a billionaire, whose sole instructional experience had been teaching accounting at adult night school, should be so intent on upending the nation's second largest school district.
As UTLA president Alex Caputo-Pearl told Capital & Main:
"Broad is for deregulation and running schools like businesses. Creating an expanding sector of unregulated schools is in line with this…. He doesn't understand the dramatic negative impact deregulation has on the students who are most struggling and who are left behind and excluded." 
---
Marc Haefele is a commentator on KPCC's Off Ramp program and has written for the
New York Times
and
Los Angeles Times.
(Eli Broad photo: Drew Altizer)
The Power of the Poster
Carol Wells, the founder of the Center for the Study of Political Graphics in Los Angeles, talks to Capital & Main about the enduring power of political art.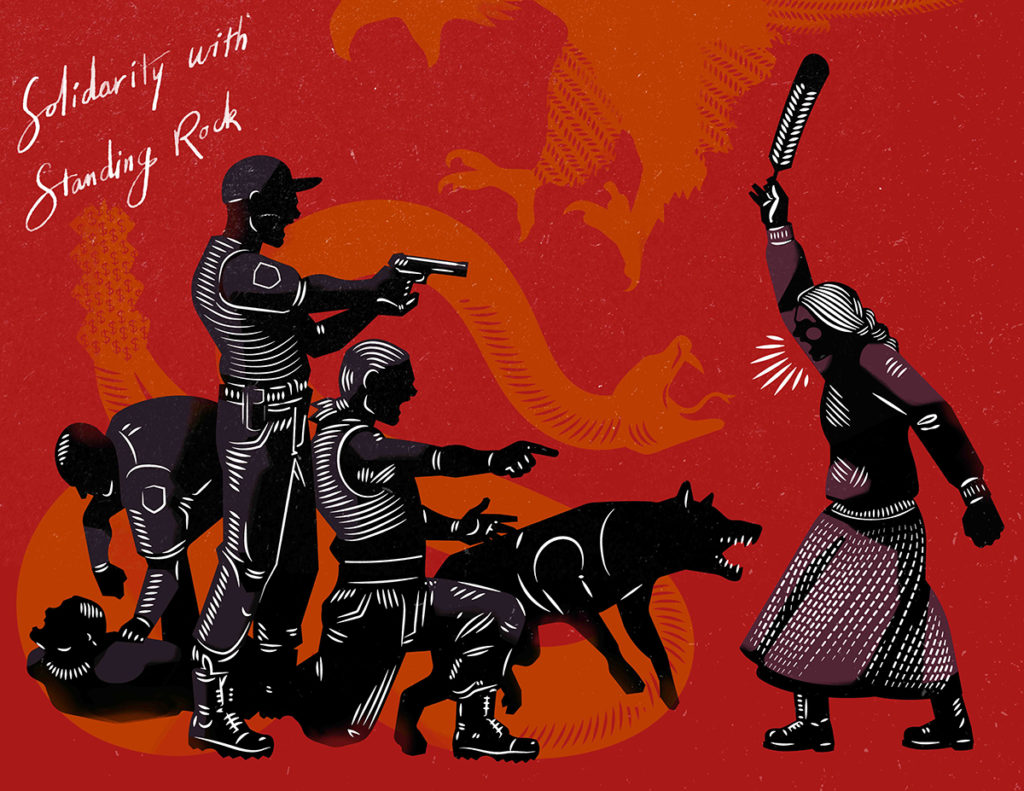 Carol Wells remembers the exact moment she discovered her calling. An art historian at the time, she was on a trip to Nicaragua with her friend David Kunzle, a UCLA art history professor, who was collecting political posters to add to his burgeoning collection. While staying with friends, Wells watched a neighbor's 8-year-old son approach a poster on the wall, stare at it intently, and then start to silently mouth the words. Wells was struck by how engaged the boy was. "In that moment I became obsessed with collecting posters."
Now over 40 years later, Wells is the founder and executive director of the Center for the Study of Political Graphics in Los Angeles. Wells has amassed approximately 90,000 posters, building one of the largest collections of its kind in the world. The Center shares its collection with the public in part through curated exhibits. This year the CSPG has produced Feminae: Typographic Voices of Women by Women and its latest is To Protect & Serve? Five Decades of Posters Protesting Police Violence, running through July 15 at the Mercado La Paloma in downtown Los Angeles.
Since that encounter in Nicaragua in 1981, Wells' obsession with collecting posters hasn't waned. In CSPG's nondescript West L.A. office space, Wells pulls out poster after poster, lecturing passionately on the backstory and cultural impact of each, including one that superimposes text from a New York Times interview with a shocking image of the My Lai massacre ("Q: And babies? A: And babies."). Recently, she managed to sit down with C&M to discuss her passion.
---
Capital & Main: So, you were an art history professor, you happen to see a kid on a trip, and suddenly your life was changed forever?
Carol Wells: Yeah, I'm in Nicaragua alone in the living room with this kid. He's looking around, and all of a sudden, he sees the poster. It was pretty big, bright green, a thick outlines of a woman holding a big basket of coffee beans. And the text in Spanish said, "In constructing the new country, we are becoming the new woman." I see him walk over to the poster and I'm watching him mouth the words. It was a pretty sophisticated concept, so I doubt he figured it out. But I literally had this epiphany: "Oh my God. That's how posters work." You're going about your daily life, and all of a sudden something breaks through the bubble, and it grabs your attention. It's the graphic, it's the color, it's the combination, and it pulls you out of your head and into that poster and it makes you ask a question. "Why is this here? What is this about? What does this mean?" And every time you ask a question, you're a different person than you were before you asked the question.
How many posters do you get a year?
We get between two to five thousand a year donated from all over the world. The bulk of our collection is [from] 1945 and later.
I assume technology has probably hurt the art form, but has it helped get the messages out?
Most people think that, and it's actually not true. Since the internet age started, there's actually a poster renaissance of works on paper. Because you can't walk with your computer monitor in a demonstration. You can't plant your monitor on your lawn.
And you can't put a laptop on the wall…
Exactly. You want to hear a really great story? Truthdig.org published a cartoon [made by] a political cartoonist named Mr. Fish. It was during the Arab spring, and he had superimposed Che Guevara with the stylized beard and King Tut's face, but it had Che's beret. And it [was titled], "Walk like an Egyptian." So, it was a reference to the music, but [it was also] a reference to what was going on the streets of Cairo. I sent it out as our poster of the week to 9,000 people. The very next day, somebody took a photograph on the street of Cairo, with somebody holding a piece of paper with that image on it. A poster can literally go around the world and people will print it out.
What struck me in viewing your exhibits is how many of these posters could still be used today, not only artistically but also, sadly, in the timeliness of their messages.
We had this fabulous poster by Yolanda Lopez, a Bay Area artist, which she first did in 1978. It depicts a young man in Aztec garb pointing a finger like Uncle Sam saying, "Who's the illegal alien, PILGRIM?" And it's a great poster, it's simple, not too many words, funny, provocative. So, we had an exhibit at UCLA in the mid '90s and there were 4 or 5 high school students standing around this poster saying, "Wow, you've got posters up to the minute." And I went over to them and I said, "Look at the date. This is before you were born."
Is that one of your goals with the exhibitions? To show the evergreen nature of this work?
Absolutely. I mean that's why we did the police abuse exhibition now. It basically goes back five decades. It's 50 years of posters protesting police abuse. Mainly in the United States, but also internationally.
What's the goal for CSPG?
Well the aim right now is really to digitize the collection and get it online. We have 10% of the collection digitized. But the mission is to collect and to document, because stories get lost. All the exhibitions, they're showing massacres, they're showing genocide, they're showing police abuse, they're showing all of these horrible things. And people often ask me, "How can you look at this stuff all day long?" I said, "Because the poster artists are optimists. They believe people can change if they have the information."
Yes, that's the reason why they're doing it, right?
That's why they're doing it, and that's why I'm doing this, because I believe that people can change if they knew the truth.
And what happens 20, 50 years from now?
Well, my goal is to stay independent, because the other option is to become part of the university. Universities, for all the fabulous things that they do, they also censor. We did an exhibition at USC in 1992 on the 500 years since Columbus, and how the legacy of racism and exploitation and genocide continues. And one of the board of trustees was Italian and took [the exhibit] as an affront to Columbus. It really wasn't about Columbus, it was about colonialism. And he ordered it down.
Do you have a favorite poster?
I'm always amazed at the creativity and vision of artists. Every week I'll say, "Oh my God, how do they think of that?" But it's always still going to be the poster I saw that kid trying to figure out. It has to be my favorite one because that one changed my life.
What makes a perfect poster?
The right balance between aesthetics and message. If you only rely on the corporate press, the New York Times and L.A. Times, for your information, you're not going to get the side from the street, from the movement, from the activists. The posters are primary historical documents that are recording the issues that were at the time, and the passions that were at the time, and the divisions that were at the time. You're not going to get it anyplace else.
---
Copyright Capital & Main