Mr. Broad's New Art Museum
There now is a flow of fresh cultural monuments in Los Angeles that runs from the High School of the Arts over to Disney Hall. This includes, of course, the 36-year-old Museum of Contemporary Art, with which billionaire philanthropist Eli Broad was once deeply involved, and which Broad's new art museum now competes with. All of a 30-year sudden, we have a cultural downtown center, complete with a hinterland of new bars, stores, costly restos and so on.
Little is left of the downtown of 40 years ago – or of its scruffy arts bohemia. But that is the way of these things: Yupster egg joints are replacing the old Grand Central Market stalls that sold fruit for 20 cents a pound, new buildings arise on former parking lots where dead people sometimes turned up in the cars of those who worked overnight nearby.
The Broad museum (it's officially called "The Broad") looks like a mammoth white-enameled Claes Oldenburg version of a Sur La Table cheese grater. It's had several openings before the big one on Sunday, September 20 for the public at large. I went to the final press preview on September 16, where Broad himself, a little man wearing a red necktie, and whose voice seems to have only the highest and deepest registers, termed it the nation's finest collection of "modern contemporary art." My mind wrestled with that. Other event speakers, who repeatedly proclaimed that Los Angeles was today the world center of modern art, sounded a bit strident when one thought of New York's MoMA and now, its new Whitney. Art and boosterism are uneasy companions. 
If the exterior wasn't overwhelming, architects Diller, Scofidio + Renfro's ground-floor interior is very pleasing, with flowing, Yves Tanguy-inspired curved surfaces that embrace a 105-foot escalator to the third floor, where most of the action is. The Rauschenbergs, the Lichtensteins, the Basquiats, Robert Therrien's mightily oversized kitchen table and chairs (these will probably be the most enjoyable things in the museum for children, because they make even adults appear toddler-size.) There is also a sprawling roomful of Jeff Koons, enough for even Koons fans to overdose on.
There are things that really surprise, including a wondrous Julie Mehretu painting – a post-modern cityscape of Cairo blending realism and abstraction, which won't let go of your eyes. And there's that huge Anselm Kiefer of the great empty hall with the blazing torches that used to be at the Los Angeles County Museum of Art. A nice woman with a red badge spoke about the picture to me; she was a member of a staff that both guards the works and explains them to visitors. What a great idea.
There was also a random sprinkle of Toulouse-Lautrec, Picasso and Miró. (Maybe these are the implicit "ancient contemporary" works.) Not to mention all the works you can't quite see. Seven-eighths of Broad's nearly 2,000-piece collection is stored in a "vault" that fills the middle of the building, through which you pass on your escalator ride. There are peepholes to see what isn't on display. But some day, maybe it will all be up there on the third floor. Because taste changes, and even Eli Broad's will be subjected to the transformations of time. Meanwhile, the Broad has an immense advantage over the great New York museums mentioned above: It's free.
The museum had a $140 million price tag. Another Broad project rings up at $490 million – his proposed "reinvention of our public education system," which involves changing half of the Los Angeles Unified School District into charter schools. As the museum opened to the public, United Teachers Los Angeles members demonstrated outside. Not for the first time they asked why a billionaire, whose sole instructional experience had been teaching accounting at adult night school, should be so intent on upending the nation's second largest school district.
As UTLA president Alex Caputo-Pearl told Capital & Main:
"Broad is for deregulation and running schools like businesses. Creating an expanding sector of unregulated schools is in line with this…. He doesn't understand the dramatic negative impact deregulation has on the students who are most struggling and who are left behind and excluded." 
---
Marc Haefele is a commentator on KPCC's Off Ramp program and has written for the
New York Times
and
Los Angeles Times.
(Eli Broad photo: Drew Altizer)

'Skeleton Crew' Is a Play With a Moral Spine
Set in a Detroit automobile outfitting plant, Dominique Morisseau's drama grabs you from the start with its focus on blue-collar men and women, and their struggle for dignity and self-respect.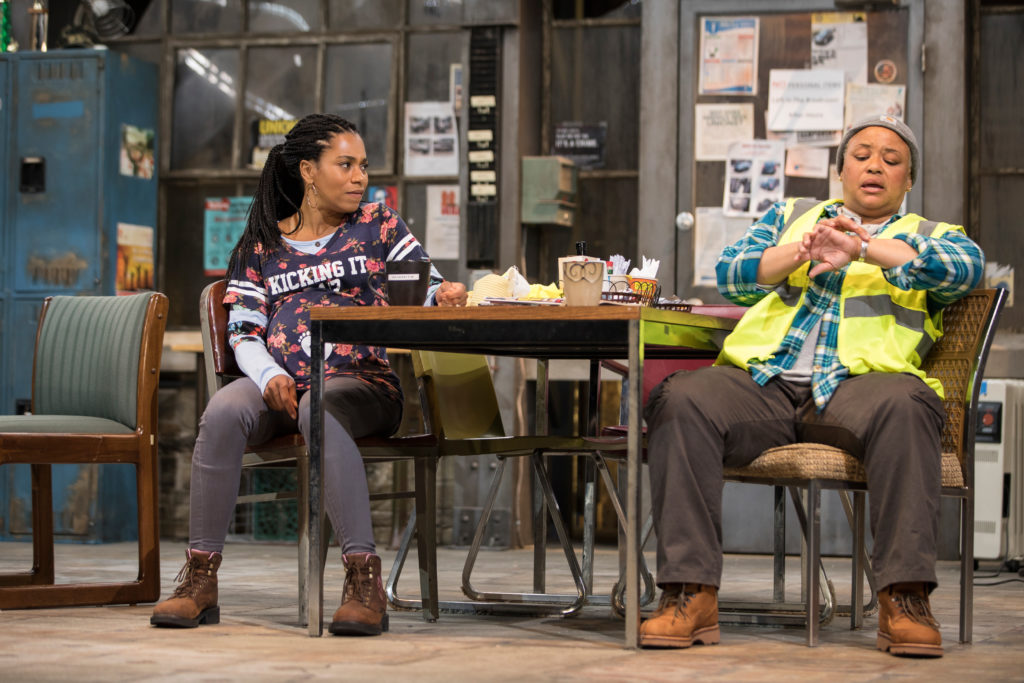 Working-class men and women of color are rarely front and center in today's media and, likewise, are presented all too occasionally on the American stage. So it's buoying to see that trend bucked in playwright Dominique Morisseau's percipient and well-crafted drama, Skeleton Crew. The play is the final installment in her Detroit  Project Trilogy; the first, Paradise Blue, is set in the 1940s amidst displacement caused by urban renewal and gentrification, while the second, Detroit '67, transpires on the eve of the 1967 Detroit riots sparked by a police action.
Directed by Patricia McGregor at Los Angeles' Geffen Playhouse, Skeleton Crew is a play with a moral spine. It takes place in 2008, when the shrinking U.S. auto industry is being further downsized. Morisseau's engaging quartet of characters — Faye (Caroline Stefanie Clay), Dez (Armari Cheatom), Shanita (Kelly McCreary) and Reggie (DB Woodside) – are employed at an automobile outfitting plant. Faye, Dez and Shanita are workers on the line while Reggie (who has a wife and kids, and has pulled himself together after a troubled youth) is their supervisor.
The first three customarily mingle in their break room (designer Rachel Myers' impressively cluttered, dingy and detailed set), trading the sort of familiar barbs and genuine concern for each other common among longtime co-workers. They also face off on philosophy: Upper-middle-aged Faye and the younger, pregnant Shanita take pride in their labor, while Dez, though a good worker, is a malcontent scornful of management and firm in the belief that everyone needs to watch out for himself. He's a thorn in Reggie's side, for while Reggie wants to be supportive of his workers, he must act at the behest of higher management. For his part, Dez resents Reggie's authority, and a palpable unease exists between them.
Besides this male matchup, we're made privy to Dez's attraction to Shanita, who mostly turns away his advances, but every now and then displays a hint of interest. Most poignant is Reggie's regard and affection for the lesbian Faye, which has roots in his boyhood when she loved, and lived, with his now-deceased mom.
These people's various predicaments intensify when rumors spread of the plant's shutdown — a disaster for all, but a particular calamity for the already near-broke Faye who, one year short of retirement, would lose her pension. The crisis forces each of these people to make a choice.
A sound piece of social realism, Skeleton Crew grabs you from the start in its focus on blue-collar men and women, and their struggle against odds for dignity and self-respect. Morisseau not only furnishes these characters a platform for their travails, she endows them with strong values, big hearts and the opportunity to choose between right and wrong.
Unfortunately, the performance I attended did not soar. Many exchanges lacked a fresh edge. The actors certainly had their characters down, but too often they appeared to be coasting on technique. (This seemed particularly true of Clay, who performed the role to great accolades in Washington, DC in 2017, also under McGregor's direction). Additionally, some of the stage movement was not entirely fluid; in confrontations, actors sometimes would just stand and face each other in an artificial way. And Cheatom's interpretation of Dez struck me as a bit overly churlish and depressive: I needed more glimpses of the intelligence and edge that would secretly attract the strong, self-directed Shanita.
The most compelling moments belong to Woodside, well-cast as a man trying his best in difficult circumstances to do the right thing.
---
Gil Cates Theater at the Geffen Playhouse, 10886 Le Conte Ave., Westwood Village; Tues.-Fri., 8 p.m.; Sat., 3 & 8 p.m. Sun., 2 & 7 p.m.; through July 8. (310) 208-5454 or www.geffenplayhouse.org