Misleading Food Sell-By Dates: Waste Not, Toss Not!
Here's a surprisingly little secret: You know all those dates you see on food products—sell by, use by, best before? Those dates do not indicate the safety of your food, and generally speaking, they're not regulated.
If this is news for you, you're not alone. In fact, according to one industry study, 90 percent of Americans at least occasionally throw food away prematurely because they mistakenly interpret the date label to mean their food is unsafe; 25 percent do so every time. In the U.K., they've estimated about 20 percent of food wasted in households is due to confusion over expiration dates. If this same estimate were true here, it would mean the average household of four could be spending $275-450 on discarding food that is perfectly fine, just because they misinterpret the label date.
Today, in partnership with the Harvard Food Law and Policy Clinic, we are releasing a new report called The Dating Game: How Confusing Food Date Labels Lead to Food Waste in America. We took a deep dive into the intricacies of the date labeling laws in the U.S. in order to figure out what is behind those dates on food. And after all that, I can tell you this:
The U.S. food dating system is not a system at all. It's a mess. And that mess is leading to a whole lot of perfectly good food going to waste.
While to most people it seems that there is a rationale, objective system behind the dates we see on our food, it's really more like the Wild West. Take orange juice, for instance. In most states, there are no laws requiring that orange juice needs to have a date stamped on it. It is then up to up to the manufacturer to figure the whole thing out on their own, and there is a whole series of decisions they might go through, such as:
Should the product have a date displayed at all? Their retail customers might demand this of them, otherwise it's up to them.
Which words to use? Will it be "use by" or "best before "or even "sell by?" Up to them.
What does the date convey? Is it that the taste might change a little, or perhaps the color, or do they just want you to see it as a fresh product even if it will last quite a while longer? There's no definition, so in fact, a range of factors can feed into this decision.
How is the date calculated? They might use lab tests, do consumer taste tests, look at literature values, or just sales data. Anything goes here.
You might think that there is similarity in the dates at least across orange juice brands, so that when you're looking at two containers of orange juice, the dates are comparable, right? Nope. Not the case.
If you don't believe me, try this experiment. Go into your favorite grocery store and peruse the milk section and its dates (or OJ, I just happened to do it with milk not all that long ago). At Trader Joe's, I found milk with no words, different words, and different types of dates….all within the same Trader Joe's brand. In fact, even the half-gallon and quart of the same fat free milk had different dates.
Seriously? How are these things supposed to mean anything? The problem is that when there's that much variation, they don't. And yet somehow, we all operate on the premise that those dates know better than we do whether our food is still good to eat.
The main thing to understand is that foodborne illness comes from contamination, not spoilage. A pathogen has to be on your food to begin with in order for you to get sick, and it has to grow to levels that will make you sick. Handling your food safely is more important than its age. In fact, when interviewed on this topic, the president of the Institute of Food Technologists told NPR, "In 40 years, in eight countries, if I think of major product recalls and food poisoning outbreaks, I can't think of [one] that was driven by a shelf-life issue."
So as consumers, the most important thing we can do is handle our food safely. Both business and government can be partners in this by providing education, but also by helping to make our food dating system more intelligible. We need a reliable, coherent, and uniform system of date labels that actually communicates what the dates are trying to convey.
You can learn more about the changes we recommend at www.fixfooddates.com, and even find a neat infographic demystifying those little levers on your fridge drawers. You can also help us collect examples of confusing dates by sending a photo of one that has perplexed you (along with a description of the product) to photos@fixfooddates.com, tweeting it to @NRDCFood, or posting it on our Facebook page. In return, we'll make sure to send you to help you figure out whether that product may still have some life left.
From the United Kingdom, to the European Union and the United Nations, and even NRDC in last year's food waste report – every entity that has investigated food waste has highlighted reducing confusion around expiration dates as one of the key "low hanging fruit" opportunities for reducing food waste. Let's turn that opportunity into action.
(Dana Gunders is a Staff Scientist at the Natural Resources Defense Council. Her post first appeared on the council's Switchboard blog and is republished with permission.)

A Woman's Art Is Never Done: The Feminae Exhibition
A striking juxtaposition between the past and present courses throughout the small gallery. Celia Blomberg's "International Women's Day March 8" can't help but make one think of 2017's Women's March, which occurred 37 years after the print's first appearance.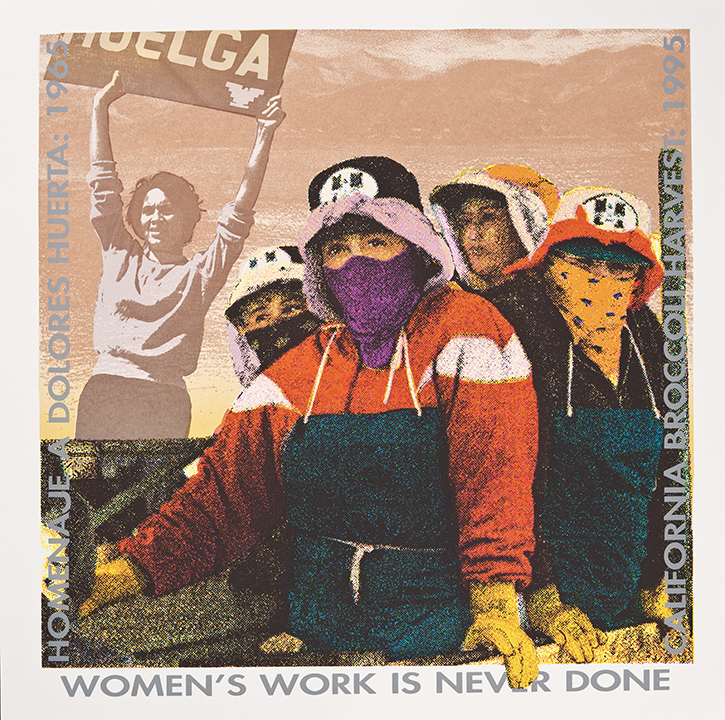 Among the 50-plus works in the Feminae: Typographic Voices of Women By Women exhibit is Yolanda Lopez's "Women's Work is Never Done." Lopez's title is particularly ironic, given the exhibit's gender-based subject matter. The show spans work from the past 50 years, making it easy to understand how much society is still grappling with its themes of gender inequality. Culled from the archives of the Center for the Study of Political Graphics, the graphic images of protest, persuasion and empowerment are truly works of art in their own right.
However, political posters aren't made to merely spruce up walls, but to help figuratively bring barriers down as well.
Two silkscreens from the 1970s, Liliana Porter and John Schneider's "This Woman is Vietnamese" and See Red Woman's Workshop's "So Long As Women Are Not Free People Are Not Free," are particularly powerful, underscoring, as they do, the fact that the subjugation and persecution of women crosses borders and cultures as an unfortunate shared global experience. These two pieces' stark simplicity exemplifies most of the work in the exhibit. In the former, a New York Times photo of a distraught Vietnamese woman with a gun held to her head is centered above these basic words typed out in a typewriter font: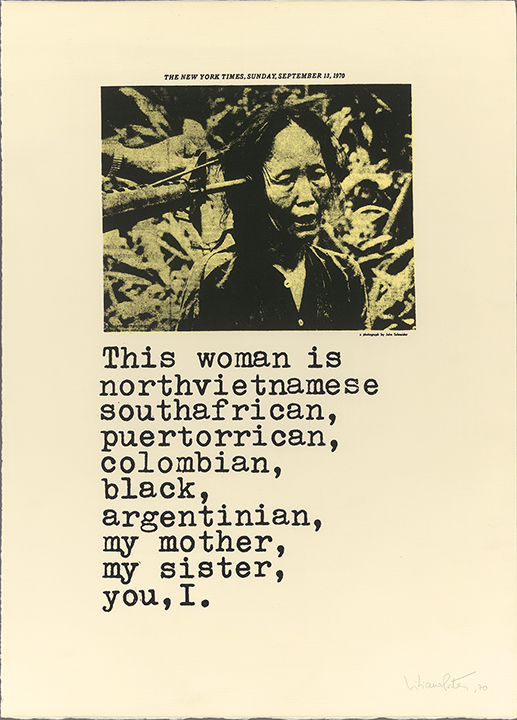 This woman is
northvietnamese
southafrican
puertorrican,
colombian,
black,
argentinian,
my mother,
my sister,
you, I.
By juxtaposing the photo with these words, the creators take the plight of this woman and immediately globalize her pain. In the latter, three female demonstrators are silkscreened in red onto a yellow background. They are marginalized by being stuck in the lower left third of the poster, but two of them are raising their fists skyward and their mouths are open, screaming in defiance. Its non-serif, eponymous type reads: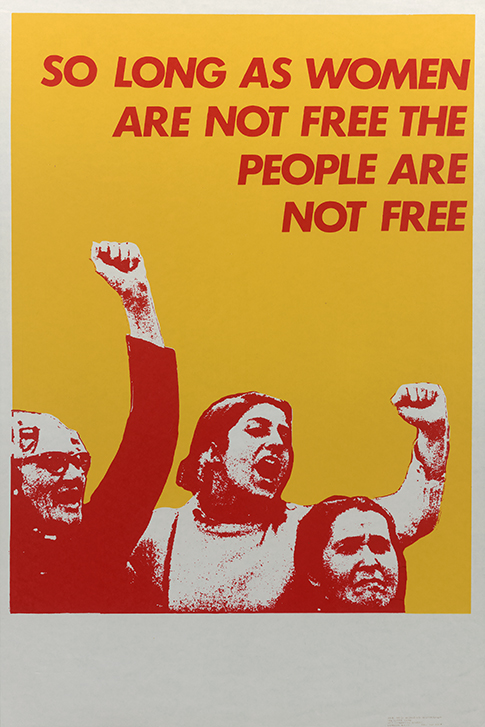 SO LONG AS WOMEN
ARE NOT FREE THE
PEOPLE ARE
NOT FREE
This piece's message takes the global message even farther, making the plight of women a human one — a common theme in the exhibition.
There is also a striking juxtaposition between the past and present that seethes throughout the small gallery. Celia Blomberg's "International Women's Day March 8" can't help but make one think of 2017's Women's March that would take place 37 years later. See Red Woman's Workshop's 1977 "Black Women Will Not Be Intimidated" could easily be repurposed to address the recent spate of blue-on-black brutality. Notable works by Barbara Kruger, Sister Corita Kent and the Guerilla Girls are also included.
Ironically , while it can be surmised that most of these works were made as populist posters to be distributed at the time as banners of protest, their beautiful simplicity and nostalgic elegance probably have resulted in the originals (mostly now found in art museums) sporting hefty vintage-resale prices.
But it is not just the art that has stood the test of time. The fact that the issues addressed in the show — feminism, choice, gender equality, war, immigration, police brutality or violence against women — are all issues at the forefront of debate in 2018 ultimately engenders conflicting feelings.
On one the hand, it is inspiring to see a vibrant exhibit that showcases such diversity in artistic styles, no doubt spawned by the diversity of the artists' own backgrounds. On the other hand, there is a realization that while there has been some progress over the past half century, there is so much work to be done.
Art Center's Hoffmitz Milken Center for Typography, 950 South Raymond Ave., Pasadena; through May 15.
---
Copyright Capital & Main