Minimum Wage Battle Checking in to L.A. Hotels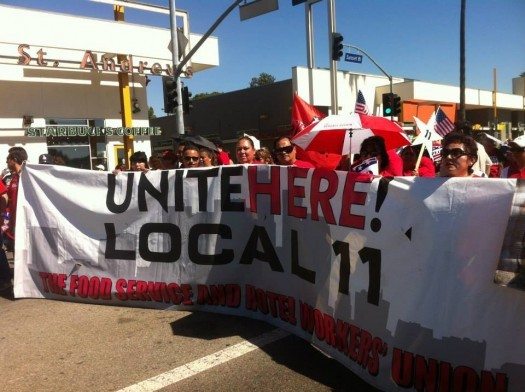 Hotel workers union members march in Hollywood.
Today's Los Angeles Times features front-page coverage of the Raise LA campaign, a new effort to improve the standard of living for workers employed by L.A.'s larger hotels. James Rainey's piece, which appeared online late yesterday (as did a story on Raise LA by Nancy Cohen in The New Republic), noted that while a relatively small number of L.A. hotel workers enjoy the protections and benefits of union membership, most of the city's hotel housekeepers, busboys and maintenance workers are mired in jobs that pay little more than California's minimum wage of $8 per hour. Raise LA aims to create an hourly minimum wage of $15.37 for employees who work at hotels with of 100 rooms or more.
In 2012 Long Beach voters passed a similar law for its hotel workers, increasing their minimum wage to $13 an hour. Raise LA is hoping its supporters in the Los Angeles City Council will pass the ordinance with enough votes to overcome any potential veto, although Mayor Eric Garcetti has not yet indicated his position on the issue. Like the Long Beach campaign, Raise LA has organized support from a broad swath of businesses – 750 local businesses have already endorsed the proposed wage hike arguing that a work force with more spending power will boost the local economy.
Raise LA is a coalition of advocacy groups (including the Los Angeles Alliance for a New Economy, this website's sponsor), community organization and unions, led by UNITE HERE Local 11. The campaign has emerged against the background of an America increasingly grappling with widening economic inequality. Says Rainey:
The push on behalf of hotel workers epitomizes the issue's momentum nationally. A study last year showed the income divide between the upper one percent and the rest of America at its widest point since the 1920s. If minimum pay proposals in five states go forward this year, more than half the states — the most ever — would mandate pay higher than the federal minimum.
Rainey quoted representatives from the L.A. Chamber of Commerce and the Central City Association as opposing the ordinance, which will soon be introduced by councilmembers Mike Bonin and Nury Martinez.