Millennials: Lower Expectations for Higher Education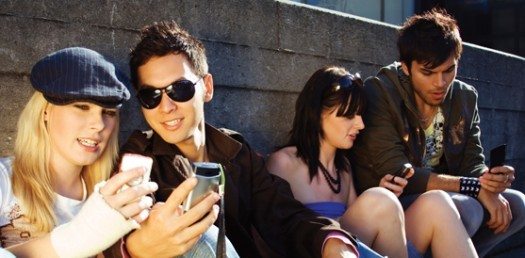 (Photo: California State University, Long Beach)
For many Millennials, the present higher education system exudes an overwhelming sense of permanence. In our short lives, college tuition has always been high, education funding has always been decreasing, and college has always meant a risky "investment in our futures." We know that these yearly tuition hikes are wrong, and that the current tuition rates already saddle us with debt we probably won't pay off until we retire, if we retire. For many of us, the consequences are much more immediate, as many low-income students cannot afford higher education anymore. Yet we continue to shell out the money, or take out the loans. Confronted with the institutional power of the higher education system, we feel powerless.
Depressing, right? But history shows us that all is not lost by exposing the mechanisms that brought about the status quo. In their Fall 2012 article in Dissent, Aaron Bady and Roosevelt Institute Fellow Mike Konczal reveal what higher education used to mean and how it was systematically destroyed. Bady and Konczal transport us to 1950s-'60s California, where bipartisan support for a University of California system built the state into a land of prosperity and innovation, a burgeoning middle class sent its children to college for free, and progressive Republicans happily funded education to support inclusion and social mobility for California's next generation. In 1960, the Donahoe Act, or the Master Plan for Higher Education, represented California's commitment to educate anyone who wanted to be educated. Despite the concurrent trends of racism, sexism, and American imperialism that pervaded that era, California's higher education system was a golden example of what America could achieve.
So what happened? Where did it go? In 1966, Ronald Reagan was elected Governor of California and began dismantling the promising work of the past 20 years. Previously, admission had been free, except for a few relatively small fees, but the Reagan government lifted regulations on how much schools could charge in fees, allowing costs to skyrocket. Also, incentives were created for colleges to accept out-of-state students, who would pay higher fees. Both of these strategies shifted the financial responsibility for higher education onto students rather than the state. The process of culturally redefining higher education as not a right, or a public good, but an investment, subject to the whims of the marketplace and corporate capitalism, had begun.
Reagan's policies continued to affect Californian higher education after he left office. Bady and Konczal point out two of the most important elements of his legacy: Proposition 13, which cut property taxes and capped their growth rate, limiting state property tax revenue; and the prison-building boom. These policies not only decreased the amount of money the state could use to fund higher education, but also diverted a greater portion away to build prisons. Since then, state investment in higher education has decreased dramatically. Such cuts in spending came as demand for higher education continued to rise, driving up costs even further and restricting access.
This conservative rethinking of higher education did not stay in California. The destruction of public education in California was the first domino in the Reagan revolution, reflected in Reagan's policies as president and in the policies of governors in other states. Bady and Konczal appropriately call California policies "the beginning of the end of public higher education in the United States as we'd known it."
These policies were the first cells of a virus that grew and replicated so effectively that it eventually posed as the institutional normal. Today, it can be hard to see through the elaborate and restrictive veil that separates us from our education. However, by understanding how it all began, we can see that the all-powerful system we inherited is not permanent. By identifying how it started, we can condemn it and clear a path toward restoring our values and our institutions.
Higher education was never meant to be an "investment." It was meant to be a public good — a right. Pursuing dreams of a college education should not require dire consequences that threaten to cancel out its benefits. Progressives and Millennials will not continue to absorb the seemingly incremental infringements on our rights and liberties. We understand history. We understand that the system was not and is not forever. Today, students fight increases in student loan interest rates, challenging the institutions that say the higher interest rates are necessary. We can take back higher education for ourselves: fight to decrease tuition and fees, increase access for all, and make higher education something we can truly be proud of as Americans.
(Mario Goetz is a junior at the University of Michigan and a Roosevelt Institute | Campus Network Summer Academy Fellow. His post first appeared on the institute's site and is republished with permission.)
Deaf School's Chants Are Heard Loud and Clear in Teachers Strike
There was one key difference between last week's picket lines of Marlton School teachers and students, and those of other LAUSD schools: Marlton's chanted "Strike, strike, strike!" in American Sign Language.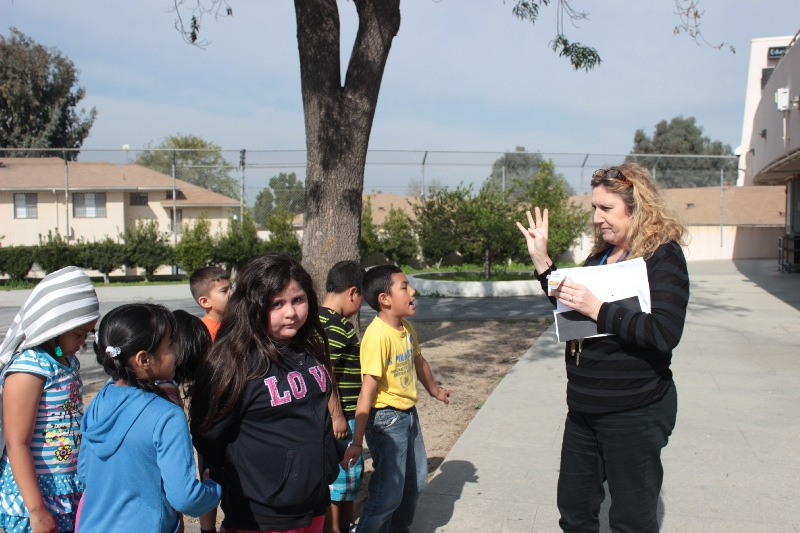 ---
Teacher: Privatization and other LAUSD reorganization schemes pose a threat to the culture of Deaf education.
---
Like other educators in the Los Angeles Unified School District, school counselor Janette Durán-Aguirre spent last week on the picket line with her colleagues and their students. Draped in red plastic ponchos, and carrying the "We Stand With LA Teachers" signs seen all over the city, they danced, drummed and chanted to draw attention to the demands and grievances United Teachers of Los Angeles has brought against business as usual at LAUSD.
But there was one key difference between their protests and the ones at other schools: These teachers and students chanted "Strike, strike, strike!" in American Sign Language. Their Baldwin Hills school, Marlton, "is the only day school in LAUSD designed for Deaf students," wrote Durán-Aguirre, who is herself Deaf, in a text message from the picket line. "We don't want our students to be more marginalized than they already are." She worries that circulating plans to turn more traditional public schools into charter schools would mean the end of Marlton's specialized, bilingual learning, which will never pencil out in any calculus of standardized test scores and per-student investment.
---
In the long term, schoolchildren are already collateral damage in a war that's been fought since 1978, when California voters passed Proposition 13.
---
If Marlton is privatized or closed, she says, Deaf students will have to rely on interpreters in their schools, which deprives them of opportunities for "identity development in a language-rich environment." Privatization and other LAUSD reorganization schemes pose "a threat to the culture of our Deaf students and the culture of Deaf education."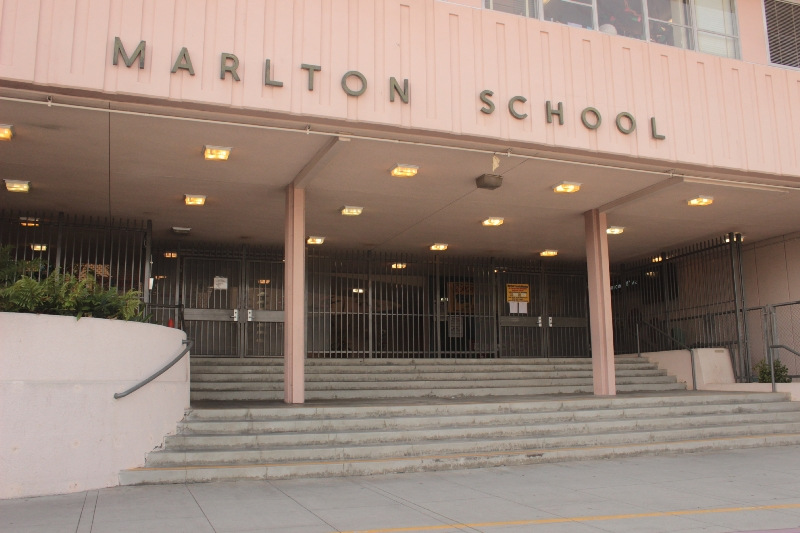 Even before LAUSD began picketing on January 14, much ink had been spilled about how the strike would affect kids:
"Kids would be deprived of an education during a strike," wrote Katie Braude, executive director of the LAUSD parents' advocacy group, SpeakUP, on the website LA School Report. "Kids' futures should never be collateral damage in this war between adults."
"Children shouldn't be used as pawns in a struggle over money," said the conservative Heartland Institute, in a post by Tim Benson and Lennie Jarratt.
In USA Today, Kristin Lam reported the stories of parents who say that the strike could set back thousands of children "with developmental disabilities who need special education and consistency."
Those criticisms aren't completely off-base, says John Rogers, a professor of education at the University of California, Los Angeles. "Teachers being on strike does mean that young people across Los Angeles are not in classrooms in the appropriate way. Good teachers acknowledge that." But that's only in the short term. In the long term, schoolchildren are already collateral damage in a war, one that's been fought since 1978, when California voters passed Proposition 13, limiting the state's property tax revenues and starving schools of funds. That war has intensified with the rise of charter schools — publicly funded, privately run institutions that eat up some of the resources that would otherwise go to traditional public schools.
---
"Deaf" is an identity, with its own language.
---
"The strike is both about trying to gain some changes in district policy and informing the broader public about the inadequacy of funding, and the conditions that prevail in our schools," Rogers says. "It holds out the possibility that students today and students in years ahead will be better off."
The stakes and consequences of this particular battle have been put into harsh relief for children who need specialized education, as well as for their teachers and counselors. Technically, charters have to adhere to the same laws other public schools do when it comes to accepting students with disabilities. One of those laws, the Individuals with Disabilities Education Act, or IDEA, guarantees that children who need special education be guaranteed a "free appropriate public education," complete with "auxiliary aids and services" if required.
Charter advocates say their schools do this. But data show differently. A 2014 study by Gary Miron, a professor in the College of Education at Western Michigan University, found that while enrollment for students with disabilities in public schools averages 13 percent, at charter schools it averages only eight to 10 percent. A "mystery-shopper" investigation conducted in 2018 by Peter Bergman of Columbia University and Isaac McFarlin, Jr. of the University of Florida, found that researchers posing as parents of children with special education requirements heard back from charter schools at a far lower rate than did researchers whose queries did not signal any special needs. There was no difference in response rates when public schools were contacted in the same fashion.
---
Marlton's teachers, students and staff aren't only fighting for smaller classrooms and a moratorium on new charters. They are fighting for Deaf culture.
---
That's not necessarily because charters set out to be discriminatory, says Julian Vasquez Heilig, a professor in the College of Education at Sacramento State University. But they end up discriminating because students in need of specialized instruction are expensive. "When they design an individualized education plan, that costs money. If a student has to be assigned an aide all day, that costs money." For a Deaf student in a mainstream school, an interpreter can cost an extra $50,000 a year or more.
"Not all charter schools have the resources to pay that," Vasquez Heilig says. Some — though not all — also employ lower-skilled, uncertified (and non-union) teachers in an effort to save money, teachers who may not have experience teaching special ed kids.
But for Janette Durán-Aguirre, there's even more to it than that. Deaf people don't always view deafness as a disability. "Deaf" is an identity, with its own language. Marlton, which was founded in 1968, "was created to provide students with an environment where they could communicate with everyone on staff without an interpreter," she says. Elsewhere, Deaf students have to adapt to a hearing environment. At Marlton, it's the other way around.
Or at least it's meant to be. Neglect from the district, she claims, has caused its standards to deteriorate. School administrators have been hired that lack fluency in ASL, and Marlton has had five principles in eight years, plus some interim administrators. Sports, drama and vocational programs have been cut, leading students to defect to the state-run California School for the Deaf in Riverside County. "That," says Durán-Aguirre, "led to even less funding and fewer resources for those students who remain," almost all of whom are from low-income families, and are consequently less able to move or commute. The school educates only 135 of the roughly 2,100 Deaf students in the school district.
The teachers, students and staff who stood out in last week's downpours weren't only fighting for smaller classrooms and a moratorium on new charters. They were fighting for Deaf culture. And for the students who joined them, there has been another benefit, in both the strike's short and long term, says John Rogers. "It affords them opportunities to see their teachers fighting for them and for their communities," he says. On the picket line, "they forge an understanding that we don't have to just accept the conditions we face in daily life. When we examine them and come to the conclusion that they're inadequate, we can change them."
---
Copyright Capital & Main