Meningitis Outbreak: Unregulated Labs' Disgraceful Legacy
Wikimedia
Fifteen people have died and several hundred have been infected in an outbreak of meningitis contracted from contaminated spinal steroid injections. The numbers are growing and so is awareness of the growth of a little known corner of the pharmaceutical industry, called compounding pharmacies, which is responsible for the tragedy. "We're nowhere near the end of this problem," Dr. William Schaffner, an infectious diseases expert at the Vanderbilt University Medical Center in Nashville, told CBS This Morning.
The compounding pharmacies originally were supposed to provide customized medication for individual patients but have morphed into bulk manufacturers outside of FDA's regulatory reach.
At the heart of the tragedy is the compounders' successful track record blocking FDA authority that could have averted the disaster. Their efforts are a textbook model of industry opposition to new rules that could save lives. Their arguments are the same that the Chamber of Commerce and industry are using today to block clean air, workplace safety and financial industry protections, and they are the same they've used to fight every existing health, safety, consumer and environmental protection we take for granted.
Unfortunately, the compounding pharmacies' success in avoiding FDA oversight has led to tragedy for families.
In 1997, at the urging of regulators who were concerned that the compounders looked increasingly like mass-producing pharmaceutical manufacturers, Congress passed a law that gave the FDA clearer authority to treat drug compounders like drug makers. Four people died from meningitis in 2001-02 after they received contaminated back pain shots. In 2002, the compounders sued and the U.S. Supreme Court struck down the 1997 law.
In October 2003, the Senate Committee on Health, Education, Labor and Pensions held hearings in response to "a significant number of very real problems caused by compounded drugs." Senator Christopher Bond reported that they had "received reports of non-sterile eye drops causing blindness, spinal injections contaminated with bacteria and/or fungus, resulting in hospitalization and, in some cases, death, and children poisoned as a result of pharmacy compounding errors."
The industry testified — successfully — against FDA regulation.
Daniel A. Herbert, President, American Pharmacists Association, urged the adoption of "voluntary, non-punitive" but not mandatory disclosure by pharmacists of the risks associated with compounded drugs.
A Congressional proposal to create an FDA advisory panel on compounding pharmacies was killed when the International Academy of Compounding Pharmacists (IACP) mobilized its 2700 members to target key lawmakers including Texas Congressman Tom Delay, whose district was home to IACP's headquarters.
In 2007, Senators Edward Kennedy (D-Mass.), Pat Roberts (R-Kan.), and Richard Burr (R-N.C.) proposed the Safe Compounding Drug Act to address the regulatory gaps.
The bipartisan legislation would have given the FDA authority to inspect compounding pharmacies, regulate interstate sales and focus compounding on the original purpose of providing individualized medications rather than becoming stealth mass production manufacturers that operated outside of FDA oversight.
Industry groups inundated Capitol Hill with all too familiar predictions of disaster and unintended consequences. The IACP warned that FDA regulation would put their industry "in jeopardy."
They denied there was a problem that required federal regulation since "state boards of pharmacy have done a great job," according to L.D. King, executive director of IACP.
A letter from a coalition of nine pharmacy organizations claimed that the legislation would have unintended consequences and would "negatively impact patient access to necessary compounded prescription medications."
IACP executive David Miller told Reuters that the federal regulations would "strangle the industry."
They warned of it would "create onerous [read: big government], new requirements."
And finally, they claimed they were taking care of the problem. In 2006, responding to earlier contaminations and deaths, the pharmacist groups created an industry-run voluntary accreditation process for compounders.
In the face of industry mobilization, Kennedy's legislation never made it out of committee.
It is now clear that the compounders were wrong — tragically wrong.
The results are in and voluntary industry self-regulation doesn't work. As of October 2012, only 162 of the thousands of these pharmacies have been accredited.
It's clear that state-level regulation isn't enough. The compounding pharmacies are adept at maneuvering through the patchwork of regulatory peaks and valleys, and state agencies charged with monitoring the pharmacies certainly simply aren't doing the "great job" that industry claims.
Finally, the typical predictions of economic disaster for industry and for patients are simply unsubstantiated smokescreens intended to frighten policy makers and consumers.
The consequences of inaction aren't idle speculation. Hundreds of people have become ill and too many have died from using contaminated compound medicines over the last 15 years. Congressman Edward Markey (D-MA) is urging Congress to take quick action. Given their track record, compounders will likely use the same misleading rhetoric and ramp up their spending on lobbyists and campaign contributions to block new proposals to put them under FDA rules. The IACP has increased their lobbying spending from $20,000 in 2001 to $116,189 in 2011. Hopefully, Congress will finally realize that industry is crying wolf and take the step it should have taken 15 years ago to close the regulatory loophole. If not, more lives will almost certainly be lost.
This post first appeared on Huffington Post and is republished with permission.

Rick Scott Invested in the Same Financial Firms As Florida's Pension System
Co-published by MapLight
For most of his time in office, Florida's governor has shielded his investments from public view. A new disclosure shows Rick Scott and his wife have invested at least $18 million in financial firms managing money for the state's pension system that he oversees.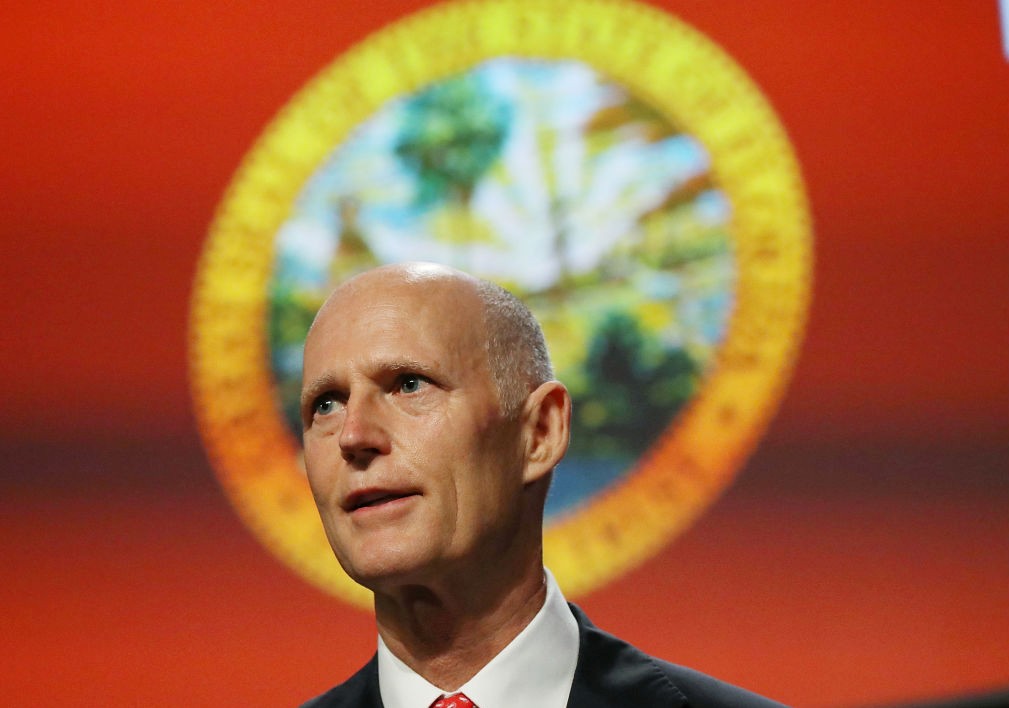 ---
Former SEC Lawyer: "There needs to be an investigation into whether the state is subsidizing Rick Scott's personal returns."
---
Co-published by MapLight
Florida Gov. Rick Scott and his wife have invested at least $18 million in three financial firms managing money for the state's pension system that Scott oversees — a situation that intertwines the governor's personal finances with his responsibility for supervising state employees' retirement savings.
The investments were first divulged in a federal financial disclosure form that Scott filed as part of his U.S. Senate campaign in July. For most of his time in office, Scott has shielded his investments from public view, and only reported their overall value in his blind trust.
The terms of Scott's investments remain undisclosed. The firms' own corporate documents say they can give certain investors special preferences not afforded to other investors — and experts have in recent years argued that hedge funds, private equity firms, and other "alternative investments" are giving such preferences to elite investors. One former Securities and Exchange Commission attorney told MapLight and Capital & Main that Scott must disclose whether he is being given such preferences.
---
Critics have raised questions about how blind the Scott family trusts really are.
---
Florida ethics laws are supposed to prohibit state officials from entering into contractual relationships with companies that do business with their agencies. However, after Scott became governor in 2011, state ethics officials said he and his family members could put their assets into a blind trust to avoid conflicts of interest and still maintain their investments in companies operating in Florida.
Critics have raised questions about how blind the Scott family trusts really are. Scott placed one of his longtime business associates in charge of managing his blind trust. The Tampa Bay Times reported that Scott's blind trust has invested with a private equity firm tied to a high-speed rail project in Florida. The trust also had an indirect interest in a cancer treatment company that received tax breaks from Scott's administration.
---
"The question is whether Rick Scott is being allowed to invest on better terms than the state pension fund."
---
"When Governor Scott was elected, he put all of his assets in a blind trust, which is managed by an independent financial professional who decides what assets are bought, sold or changed," said Scott campaign spokesperson Lauren Schenone. "The rules of the blind trust prevent any specific assets or the value of those assets within the trust from being disclosed to the governor, and those requirements have always been followed."
Scott is one of three state officials who serve as trustees for the Florida State Board of Administration, which manages a $160 billion fund for roughly 400,000 retirees. Scott, Attorney General Pam Bondi, and Chief Financial Officer Jimmy Patronis oversee lucrative state investment deals granted to cash-hungry Wall Street firms.
The three firms that have received $325 million worth of Florida pension investments have allowed the Scott family's blind trusts to simultaneously invest their personal fortunes in these funds. Scott's investments in the funds did not appear in a 2014 disclosure itemizing his holdings. His campaign did not say when the investments were made.
"There are no ethics rules that prohibit or limit a trustee from investing in funds also invested in by the SBA," said SBA spokesperson John Kuczwanski, though he added that trustees are subject to Florida's general code of ethics. Kuczwanski said that the governor has no involvement in specific pension investment decisions.
Don Hinkle, a Democratic lawyer, filed a lawsuit last year alleging that the governor has failed to comply with the state's blind trust and financial disclosure laws. He said he was surprised by the news that Scott had invested in the same firms as the Florida pension system.
"I would think that he would have avoided investments where the state of Florida's money is propping his up," Hinkle told MapLight and Capital & Main.
In 2011, a few months after Scott became governor, the SBA committed $150 million to Highline Capital Partners, a New York-based hedge fund. Scott's financial disclosure shows that his family's trusts have invested at least $4 million in the same Highline fund as the state.
The SBA also committed $100 million in 2015 to a hedge fund managed by Canyon Capital Advisors, a Los Angeles-based firm created by veterans of the notorious investment bank Drexel Burnham Lambert, which was driven into bankruptcy as a result of illegal and unethical trading practices. Scott and his family have invested at least $12 million in Canyon funds, according to his financial disclosure.
Before Scott became governor, the SBA invested $75 million with VSS, a New York-based private equity firm that was launched by a co-founder of Psychology Today. Scott and his wife, Ann, have invested more than $2.2 million in another VSS fund. A spokesperson for VSS said the firm doesn't comment on its investors.
All three firms' SEC filings say they can offer certain investors special fee terms or other benefits not offered to other investors.
"Alternative investment funds have the ability to offer every investor different fees at a different rate of return, so the question is whether Rick Scott is being allowed to invest on better terms than the state pension fund," said former SEC attorney Edward Siedle, whose Florida-based firm conducts forensic investigations of state pension systems.
"If you give one investor an advantage, another investor has to be disadvantaged," Siedle said. "That means there needs to be an investigation into whether the state is actually subsidizing Rick Scott's personal returns and whether the governor enjoys advantages that are harming the retirees."
Schenone, Scott's spokesperson, said that his blind trust has "been upheld multiple times by the State Commission on Ethics and the court system. Governor Scott has also followed the requirements of all state and federal financial filings."
She noted that former Florida Republican Gov. Jeb Bush and Scott's 2010 Democratic opponent Alex Sink had also used blind trusts, although Scott's campaign attacked Sink for hers at the time.
"Blind trusts sound good but can run afoul of state laws requiring public officials to disclose their personal finances," a Scott campaign ad said in 2010. "[But] simply moving large amounts of money into a blind trust does not magically erase the knowledge of what you own."
---
This piece was reported by Andrew Perez of MapLight and David Sirota of Capital & Main, and published in partnership with the Florida Center for Investigative Reporting.