Mass Appeal: LA's New Embrace of Public Transit
When my parents started to work longer and longer hours to support their five kids, they sat me down and told me I had to start taking the bus to school. At 11 years old, this was the best news I could have imagined. Yes, I had to wake up at 6 am to get ready for school and catch the 212 and 33 bus lines, but that sense of independence I got from being able to "roam" around the city was priceless. (Well, almost…if you don't include the price of a bus pass.) I learned to take the bus to Hollywood, the Montebello Mall, Santa Monica — places that seemed so far away from home in South LA. 
It wasn't always fun, of course: I have many memories of sitting at the La Brea/Venice bus bench for 45 minutes trying to catch the Line 212 after a long school day. I eventually learned to cope by reading a lot, getting homework done and daydreaming. When bus rides turned into two-hour voyages home, the bus became my second "hangout spot" for me and my friends—the "bus crew." We did "girl talk," discussed politics and music and practically ran a mobile-tutoring lab in the back of the bus.
The thing is, when you grow up poor, the idea of taking public transit is a no-brainer. I learned very early that driving was a privilege, and that taking public transit was the only way I would be able to go to school and eventually get to work.
While mass transit was a necessity for me and many other working-class people of color, the service wasn't exactly stellar. How I dreamed of one day being able to get around on a subway, like in D.C or New York, or taking the bus to the beach without having to crowd around with 50 other people wanting to do the same thing. I always wondered why public transit was so neglected by elected officials and the Los Angeles County Metropolitan Transit Agency itself. Was it because most of those who depended on it were poor folks and people of color?
The limited mobility options of working people of color was what initially drove me to urban planning, where I eventually ended up many years later. But the million-dollar question has always been: what is it going to take for everyone in L.A. to care about investing in public transit?
Similar to the economy, people really begin paying attention to the issue when it starts to affect their own wallets. With wages stagnating and prices at the pump increasing by the day, funding public transit became not just a concern for poor people but for all Angelenos. Since 2007, gas prices have been steadily increasing and I can't remember the last time I paid under $3 for a gallon of gas (full disclosure: I do have a car on "retainer" that I occasionally drive…since after all, it is L.A.). Was this the wake-up call L.A. needed?
That seems to be the case.
A new survey of Southern California voters sponsored by Move LA, Natural Resources Defense Council and the American Lung Association in CA found that 80% of respondents supported local government expanding public transit — which includes trains, buses and light rail.
Source: Move LA
What I found most surprising was the response to this question: Which of the following do you think should be the highest priority for future investments to improve transportation in Southern California? Nearly two-thirds (66%) of voters surveyed indicated that the "highest priority for future investments to improve transportation in Southern California" should be the "expansion of public transportation, including trains, buses and light rail." Only 29% of respondents actually mentioned the expansion of roads and freeways as a priority.
Source: Move LA
With budgets tightening in cities across the country, I am still concerned about how we're going to pay for expanded public transit and keep the service running (Metro recently had to scale back a lot of bus service). But I'm still optimistic about Angelenos and residents across Southern California finally changing their attitudes towards public transit. And with Metro rolling out a plan to modernize our transit system with 12 bus rapid transit, light rail and subway lines, we seem to going in the right direction.

Can the EPA Roll Back California's Clean Air Standards?
Co-published by The American Prospect
The Trump administration wants to argue that California has no special right to regulate greenhouse gas emissions from cars and trucks. But their case, experts say, is weak.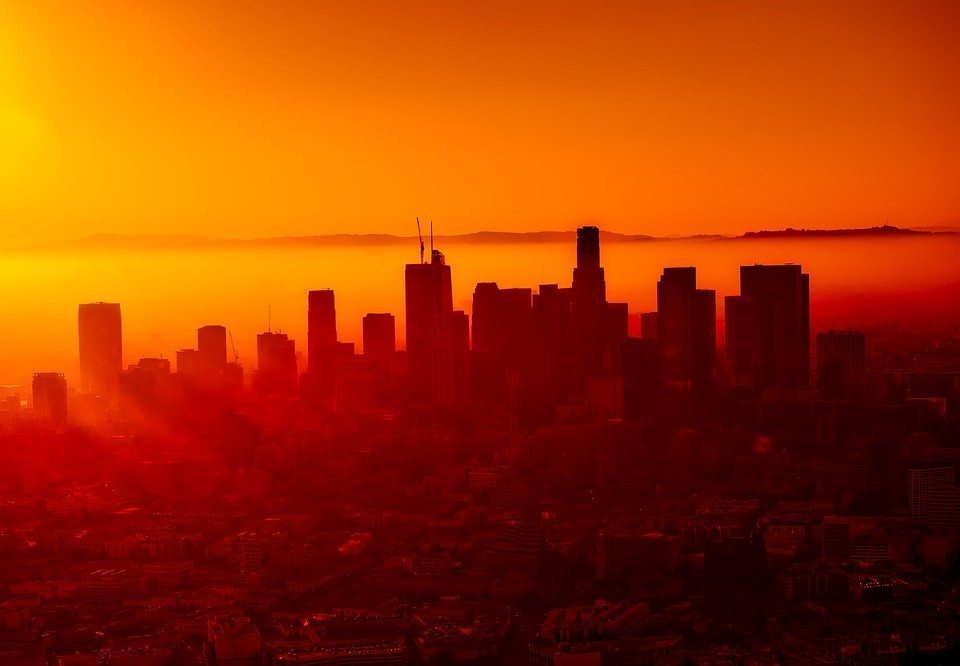 ---
The new Safer and Affordable Fuel-Efficient Vehicles rule would nullify California regulations to reduce greenhouse gas emissions from tailpipes and its zero-emission vehicle program.
---
Co-published by The American Prospect
When officials within the Trump administration, on August 2, proposed scaling back Obama-era fuel-economy standards and revoking California's authority to regulate greenhouse gas emissions from tailpipes, they were betting on the chance that courts can't tell the difference between a law against gas guzzlers and one against carbon belchers. Low-mileage cars and low-emissions cars are often one and the same, they may have reasoned. If you're requiring a car to emit less carbon dioxide, you're also asking that it burn less fuel.
That part might be mostly true, although there are emissions controls that have nothing to do with gas mileage. But from a legal standpoint, fuel economy and tailpipe emissions take distinctly different routes to regulation. Fuel-economy standards, known as the Corporate Average Fuel Economy, or CAFE standard, as defined in the Energy Policy Conservation Act, forbid states from making their own rules. The National Highway Traffic Safety Administration enforces them; states have no control.
The 1970 Clean Air Act, on the other hand, gives California the explicit authority to regulate air pollution, albeit with EPA sign-off in the form of a "waiver" each time the state wants to impose a new standard. Other states can adopt California's stricter rules (12 of them and the District of Columbia, have). Or states can stick with the standards set by the federal government. Tailpipe emissions of other pollutants from cars and trucks — carbon monoxide and nitrous oxides, for starters — have long been a chief source of air pollution, and California since 1961 has acted to curtail them.
---
"California regulators were the first to understand how smog was formed, the first to act on how to control that smog."
---
That's one of the reasons why the administration might lose its coming battle with 19 states and a host of environmental groups gearing up to fight the "Safer and Affordable Fuel-Efficient Vehicles" rule, as the Environmental Protection Agency calls its apocalypse-hastening rollback, which would freeze the CAFE standard at 37 miles per gallon instead of aiming toward the 54.5 miles per gallon by 2025 that the previous administration had set. It would nullify not only California regulations to reduce greenhouse gas emissions from tailpipes but also California's zero-emission vehicle program, which requires carmakers to market a certain number of all-electric or hydrogen vehicles in the state.
But the rollback doesn't pass legal muster, says Irene Gutierrez, clean-energy attorney with the Natural Resources Defense Council. Among its many legal and factual flaws, the proposed rule seeks to revoke California's authority over tailpipe emissions of greenhouse gases on the grounds that "the environmental problems it addresses are not particular or unique to California." Yet nowhere does the Clean Air Act mention "particular or unique" as a waiver requirement.
---
California's transportation sector puts more carbon-dioxide and its equivalents into the atmosphere than any state but Texas.
---
"The EPA has not in the past looked at California and said, 'Prove to us that your ozone problems are worse than any other place in the country,'" Gutierrez says. "It's not like there aren't polluted air basins in other states." When past waivers were granted — there have been more than 50 — it wasn't because California and California alone had an air-quality problem. It was because California was seen as particularly aggressive about cleaning up its air and, in 1970, was far ahead of the federal government in doing so.
"California regulators were the first to understand how smog was formed, the first to act on how to control that smog," says Meredith Hankins, a legal scholar at the University of California, Los Angeles. So it allowed the state to forward with what's known as "technology-forcing" regulation.
"Technology-forcing means regulators aren't picking the technology, aren't picking the winners and losers," Hankins says. "They're saying 'You figure it out — you're the technology experts. All we care about is public health.'"
---
Climate change is undeniably hitting the state now with a particular and unique dose of fury.
---
But even if the law said California had to be unique in its suffering from greenhouse gas emissions, it would not be hard to make the case that it is. For one thing, with its glut of cars, California has an urgent responsibility to reduce its contribution to greenhouse gas pollution from cars and trucks. Forty-one percent of California's greenhouse gas emissions come from transportation, according to the California Air Resource Board's latest climate inventory. The state's transportation sector puts more carbon-dioxide and its equivalents into the atmosphere than any state but Texas.
Plus, climate change is undeniably hitting the state this moment with a particular and unique dose of fury. "There are 18 fires burning in the state right now, and none of them are contained," Gutierrez says. Several more have already leveled neighborhoods. One of them, near Redding, in Northern California, burned so hot that it scorched away a layer of earth.
It's an odd time, then, for the Environmental Protection Agency to be fighting against environmental protection. Especially in California.
California's climate gas waiver for cars was first denied by the Bush administration in 2008, when then-EPA Administrator Stephen Johnson made basically the same case: That California does not "need to meet compelling and extraordinary conditions" with respect to greenhouse gas pollution. Six months into the Obama administration, the EPA officially reversed that decision. "Opponents of the waiver have not demonstrated that California does not need its greenhouse gas emission standards to meet compelling and extraordinary conditions," EPA Administration Lisa Jackson wrote at the time. She also affirmed that "Congress recognized that California could serve as a pioneer and a laboratory for the nation in setting new motor vehicle emissions standards."
"Trump is trying to rehash those old Bush administration arguments," Gutierrez says. Trump's administration is also adding a bonus caveat: that clean vehicles are, by definition, small and unsafe. The proposal claims that canceling out both national fuel standards and California's waiver will reduce traffic fatalities by 12,700 from 2021 to 2029.
Never mind that it's possible to produce a substantial, low-emissions plug-in hybrid, such as Chrysler's Pacifica minivan, just as it is to make a smaller car that pollutes (the 2009 model of the Ferrari F430, for instance, isn't particularly big, but it packs the same climate wallop as the 2001 model of the hulking Ford Explorer.) Carmakers are getting better all that time at designing more substantial, longer-range and affordable cars that qualify as clean. Nearly every manufacturer has a plug-in hybrid crossover SUV on the line for 2019. Even Ford, which has been slow to the EV game — dutifully churning out "compliance" vehicles just to qualify for the strict California market — has announced a plug-in hybrid model of its crossover SUV, the Escape.
Besides, the goal of saving 12,000 lives rings a little hollow when you consider that heat, according to the Centers for Disease Control and Prevention, is the leading cause of all annual weather-related deaths in the U.S. The World Health Organization predicts that between 2030 and 2050, 250,000 people will die globally due to climate-related health impacts. Maybe we could all just drive a little more carefully.
---
Copyright Capital & Main