Martin Luther King Jr. on the Haves and Have-nots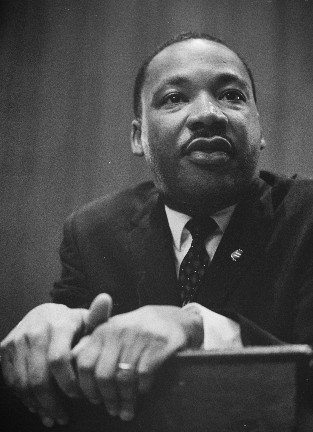 As we celebrate his birthday, it is easy to forget that Rev. Martin Luther King Jr. was a democratic socialist.
In 1964, accepting the Nobel Peace Prize in Oslo, he observed that the United States could learn much from Scandinavian "democratic socialism." He often talked about the need to confront "class issues," which he described as "the gulf between the haves and the have-nots."
In 1966 King confided to his staff:
"You can't talk about solving the economic problem of the Negro without talking about billions of dollars. You can't talk about ending the slums without first saying profit must be taken out of slums. You're really tampering and getting on dangerous ground because you are messing with folk then. You are messing with captains of industry. Now this means that we are treading in difficult water, because it really means that we are saying that something is wrong with capitalism. There must be a better distribution of wealth, and maybe America must move toward a democratic socialism."
In holding these views, King followed in the footsteps of many prominent, influential Americans whose views and activism changed the country for the better. In the 1890s, a socialist Baptist minister, Francis Bellamy, wrote "The Pledge of Allegiance" and a socialist poet, Katherine Lee Bates, penned "America the Beautiful." King was part of a proud tradition that includes such important 20th century figures as Jane Addams, Eugene Debs, Florence Kelley, John Dewey, Upton Sinclair, Helen Keller, W.E.B. DuBois, Albert Einstein, A. Philip Randolph, Bayard Rustin, and Walter Reuther.
Today, America's most prominent democratic socialist is Senator Bernie Sanders, a candidate for the Democratic Party's presidential nomination. Like King, Sanders says that the U.S. should learn from Sweden, Norway and Denmark — countries with greater equality, a higher standard of living for working families, better schools, free universities, less poverty, a cleaner environment, higher voter turnout, stronger unions, universal health insurance, and a much wider safety net. Sounds anti-business? Forbes magazine ranked Denmark as the #1 country for business. The United States ranked #18.
Concerns about the political influence of the super-rich, the nation's widening economic divide, the predatory practices of Wall Street banks, and stagnating wages, have made more and more Americans willing to consider the idea seriously. A December 2011 Pew survey found that nearly half of young voters under the age of 29, regardless of their political party affiliation, viewed socialism positively. Since Sanders began running for president and openly identified himself as a democratic socialist, the idea has gotten more traction. A New York Times/CBS News poll conducted November, discovered that 56 percent of Democratic primary voters nationally said they felt positive about socialism as a governing philosophy, compared to 29 percent who had a negative view. A new poll found that 43 percent of likely voters in the February 1 Democratic Iowa caucuses would use the word "socialist" to describe themselves.
Regardless of how Americans identify themselves ideologically, the majority embrace ideas that some might call socialist. For example, 74 percent think corporations have too much influence; 73 percent favor tougher regulation of Wall Street; 60 percent believe that "our economic system unfairly favors the wealthy;" 85 percent want an overhaul of our campaign finance system to reduce the influence of money in politics; 58 percent support breaking up big banks; 79 percent think the wealthy don't pay their fair share of taxes; 85 percent favor paid family leave; 80 percent of Democrats and half the public support single-payer Medicare for all; 75 percent of Americans (including 53 percent of Republicans) support an increase in the federal minimum wage to $12.50, while 63 percent favor a $15 minimum wage; well over 70 percent support workers' rights to unionize; and 92 percent want a society with far less income disparity.
If these ideas seem "radical," it is worth remembering that many things that today we take for granted — Social Security, the minimum wage, child labor laws, voting rights for women and African Americans, Medicare, and laws protecting consumers from unsafe products and protecting workers from unsafe workplaces — were once considered radical, too. Ideas that were once espoused by socialists and seemed radical have become common sense.
It is easy to forget that, in his day, in his own country, Rev. Martin Luther King Jr. was considered a dangerous troublemaker. King was harassed by the FBI and vilified in the media. The establishment's campaign to denigrate King worked. In August 1966 — as King was bringing his civil rights campaign to Northern cities to address poverty, slums, housing segregation and bank lending discrimination — the Gallup Poll found that 63 percent of Americans had an unfavorable opinion of King, compared with 33 percent who viewed him favorably.
Today King is viewed as something of an American saint. A recent Gallup Poll discovered that 94 percent of Americans viewed him in a positive light. His birthday is a national holiday. His name adorns schools and street signs. In 1964, at age 35, he was the youngest person to receive the Nobel Peace Prize. Many Hollywood films — most recently Ava DuVernay's brilliant "Selma" — explore different aspects of King's personal and political life, but generally confirm his reputation as a courageous and compassionate crusader for justice. Politicians, preachers, and professors from across the political spectrum invoke King's name to justify their beliefs and actions.
King was a radical. He challenged America's class system and its racial caste system. He was a strong ally of the nation's labor union movement. He was assassinated in April 1968 in Memphis, where he had gone to support a sanitation workers' strike. He opposed U.S. militarism and imperialism, especially the country's misadventure in Vietnam.
In his critique of American society and his strategy for changing it, King pushed the country toward more democracy and social justice.
If he were alive today, he would certainly be standing with Walmart employees, fast food workers, and others fighting for a living wage and the right to unionize. He would be in the forefront of the battle for strong gun controls and to thwart the influence of the National Rifle Association. He would protest the abuses of Wall Street banks, standing side-by-side with homeowners facing foreclosure and crusading for tougher regulations against lending rip-offs. He would be calling for dramatic cuts in the military budget to reinvest public dollars in jobs, education and health care.
It is hardly a stretch to envision King marching with immigrants and their allies in support of comprehensive immigration reform and a path to citizenship. He would surely be joining hands with activists seeking to reduce racial profiling and the killing of young black men by police. He would stand with activists organizing to end the mass incarceration of young people. Like most Americans in his day, King was seemingly homophobic, even though one of his closest advisors, Bayard Rustin, was gay. But today, King would undoubtedly stand with advocates of LGBT rights and same-sex marriage, just as he challenged state laws banning interracial marriage.
Indeed, King's views evolved over time. He entered the public stage with some hesitation, reluctantly becoming the spokesperson for the Montgomery bus boycott in 1955, at the age of 26. King began his activism in Montgomery as a crusader against racial segregation, but the struggle for civil rights radicalized him into a fighter for broader economic and social justice and peace. Still, in reviewing King's life, we can see that the seeds of his later radicalism were planted early.
King was born in Atlanta, Georgia, in 1929, the son of a prominent black minister. Despite growing up in a solidly middle-class family, King saw the widespread human suffering caused by the Depression, particularly in the black community. In 1950, while in graduate school, he wrote an essay describing the "anticapitalistic feelings" he experienced as a youngster as a result of seeing unemployed people standing in breadlines.
During King's first year at Morehouse College, civil rights and labor activist A. Philip Randolph, a socialist, spoke on campus. Randolph predicted that the near future would witness a global struggle that would end white supremacy and capitalism. He urged the students to link up with "the people in the shacks and the hovels," who, although "poor in property," were "rich in spirit."
After graduating from Morehouse in 1948, King studied theology at Crozer Theological Seminary in Pennsylvania (where he read both Mohandas Gandhi and Karl Marx), planning to follow in his father's footsteps and join the ministry. In 1955, he earned his doctorate from Boston University, where he studied the works of Reinhold Niebuhr, the influential liberal theologian. While in Boston, he told his girlfriend (and future wife), Coretta Scott, that "a society based on making all the money you can and ignoring people's needs is wrong."
When King moved to Montgomery to take his first pulpit at the Dexter Avenue Baptist Church, he was full of ideas but had no practical experience in politics or activism. But history sneaked up on him. On Thursday, December 1, 1955, Rosa Parks, a seamstress and veteran activist with the National Association for the Advancement of Colored People (NAACP), decided to resist the city's segregation law by refusing to move to the back of the bus on her way home from work. She was arrested. Two other long-term activists — E. D. Nixon (leader of the NAACP and of the Brotherhood of Sleeping Car Porters) and Jo Ann Robinson (a professor at the all-black Alabama State College and a leader of Montgomery's Women's Political Council) — determined that Parks' arrest was a ripe opportunity for a one-day boycott of the much-despised segregated bus system. Nixon and Robinson asked black ministers to use their Sunday sermons to spread the word. Some refused, but many others, including King, agreed.
The boycott was very effective. Most black residents stayed off the buses. Within days, the boycott leaders formed a new group, the Montgomery Improvement Association (MIA). At Nixon's urging, they elected a hesitant King as president, in large part because he was new in town and not embroiled in the competition for congregants and visibility among black ministers. He was also well educated and already a brilliant orator, and thus would be a good public face for the protest movement. The ministers differed over whether to call off the boycott after one day but agreed to put the question up to a vote at a mass meeting.
That night, 7,000 blacks crowded into (and stood outside) the Holt Street Baptist Church. Inspired by King's words — "There comes a time when people get tired of being trampled over by the iron feet of oppression" — they voted unanimously to continue the boycott. It lasted for 381 days and resulted in the desegregation of the city's buses. During that time, King honed his leadership skills, aided by advice from two veteran pacifist organizers, socialist Bayard Rustin and Rev. Glenn Smiley, who had been sent to Montgomery by the pacifist group, Fellowship of Reconciliation. During the boycott, King was arrested, his home was bombed, and he was subjected to personal abuse. But — with the assistance of the new medium of television — he emerged as a national figure.
Between 1957 and 1968, King traveled over six million miles, spoke more than 2,500 times, and was arrested at least 20 times, always preaching the gospel of nonviolence. King attended workshops at the Highlander Folk School in Tennessee, which connected him to a network of radicals, pacifists and union activists from around the country whose ideas helped widen his political horizons.
It is often forgotten that the August 1963 protest rally at the Lincoln Memorial, where King delivered his famous "I Have a Dream" speech, was called the March on Washington for Jobs and Freedom. King was proud of the civil rights movement's success in winning the passage of the Civil Rights Act in 1964 and the Voting Rights Act the following year. But he realized that neither law did much to provide better jobs or housing for the masses of black poor in either the urban cities or the rural South. "What good is having the right to sit at a lunch counter," he asked, "if you can't afford to buy a hamburger?"
King had hoped that boycotts, sit-ins and other forms of civil disobedience would stir white southern moderates, led by his fellow clergy, to see the immorality of segregation and racism. In his famous "Letter from a Birmingham Jail," written in 1963, King outlined a strategy of using nonviolent civil disobedience to force a response from the southern white establishment and to generate sympathy and support among white liberals and moderates. "The purpose of our direct-action program is to create a situation so crisis-packed that it will inevitably open the door to negotiation," he wrote, and added, "We know through painful experience that freedom is never voluntarily given by the oppressor; it must be demanded by the oppressed."
King eventually realized that many white Americans had at least a psychological stake in perpetuating racism. He began to recognize that racial segregation was devised not only to oppress African Americans but also to keep working-class whites from challenging their own oppression by letting them feel superior to blacks. "The Southern aristocracy took the world and gave the poor white man Jim Crow," King said from the Capitol steps in Montgomery, following the 1965 march from Selma. "And when his wrinkled stomach cried out for the food that his empty pockets could not provide, he ate Jim Crow, a psychological bird that told him that no matter how bad off he was, at least he was a white man, better than a black man."
When King launched a civil rights campaign in Chicago in 1965, he was shocked by the hatred and violence expressed by working-class whites as he and his followers marched through the streets of segregated neighborhoods in Chicago and its suburbs. He saw that the problem in Chicago's ghetto was not legal segregation but "economic exploitation" — slum housing, overpriced food and low-wage jobs – "because someone profits from its existence."
These experiences led King to develop a more radical outlook. King supported President Lyndon B. Johnson's declaration of the War on Poverty in 1964, but, like his friend and ally Walter Reuther, the president of the United Auto Workers, King thought that it did not go nearly far enough. As early as October 1964, he called for a "gigantic Marshall Plan" for the poor — black and white. That's when he began to talk openly about radical-but-practical solutions to America's problems, including some version of democratic socialism.
King became increasingly committed to building bridges between the civil rights and labor movements. Invited to address the AFL-CIO's annual convention in 1961, King observed:
The labor movement did not diminish the strength of the nation but enlarged it. By raising the living standards of millions, labor miraculously created a market for industry and lifted the whole nation to undreamed of levels of production. Those who today attack labor forget these simple truths, but history remembers them.
In a 1961 speech to the Negro American Labor Council, King proclaimed, "Call it democracy, or call it democratic socialism, but there must be a better distribution of wealth within this country for all God's children." Speaking to a meeting of Teamsters union shop stewards in 1967, King said, "Negroes are not the only poor in the nation. There are nearly twice as many white poor as Negro, and therefore the struggle against poverty is not involved solely with color or racial discrimination but with elementary economic justice."
King's growing critique of capitalism coincided with his views about American imperialism. By 1965 he had turned against the Vietnam War, viewing it as an economic as well as a moral tragedy. But he was initially reluctant to speak out against the war. He understood that his fragile working alliance with LBJ would be undone if he challenged the president's leadership on the war. Although some of his close advisers tried to discourage him, he nevertheless made the break in April 1967, in a bold and prophetic speech at the Riverside Church in New York City, entitled "Beyond Vietnam — A Time to Break Silence."
King called America the "greatest purveyor of violence in the world today" and linked the struggle for social justice with the struggle against militarism. King argued that Vietnam was stealing precious resources from domestic programs and that the Vietnam War was "an enemy of the poor." In his last book, Where Do We Go from Here: Chaos or Community? (1967), King wrote, "The bombs in Vietnam explode at home; they destroy the hopes and possibilities for a decent America."
In early 1968, King told journalist David Halberstam, "For years I labored with the idea of reforming the existing institutions of society, a little change here, a little change there. Now I feel quite differently. I think you've got to have a reconstruction of the entire society, a revolution of values."
King kept trying to build a broad movement for economic justice that went beyond civil rights. In January, 1968, he announced plans for a Poor People's Campaign, a series of protests to be led by an interracial coalition of poor people and their allies among the middle-class liberals, unions, religious organizations and other progressive groups, to pressure the White House and Congress to expand the War on Poverty. At King's request, democratic socialist activist Michael Harrington (author of The Other America, which helped inspire Presidents Kennedy and Johnson to declare a war on poverty) drafted a Poor People's Manifesto that outlined the campaign's goals.
In April, King was in Memphis, Tennessee, to help lend support to striking African American garbage workers and to gain recognition for their union. There, he was assassinated, at age 39, on April 4, a few months before the first protest action of the Poor People's Campaign in Washington, DC.
President Johnson utilized this national tragedy to urge Congress to quickly enact the Fair Housing Act, legislation to ban racial discrimination in housing, which King had strongly supported for two years. He signed the bill a week after King's assassination.
The campaign for a federal holiday in King's honor, spearheaded by Detroit Congressman John Conyers, began soon after his murder, but it did not come up for a vote in Congress until 1979, when it fell five votes short of the number needed for passage. In 1981, with the help of singer Stevie Wonder and other celebrities, supporters collected six million signatures on a petition to Congress on behalf of a King holiday. Congress finally passed legislation enacting the holiday in 1983, 15 years after King's death. But even then, 90 members of the House (including then-Congressmen John McCain of Arizona and Richard Shelby of Alabama, both now in the Senate) voted against it. Senator Jesse Helms, a North Carolina Republican, led an unsuccessful effort – supported by 21 other senators, including current Senator Charles Grassley (R-Iowa) — to block its passage in the Senate.
The holiday was first observed on January 20, 1986. In 1987, Arizona governor Evan Mecham rescinded King Day as his first act in office, setting off a national boycott of the state. Some states (including New Hampshire, which called it "Civil Rights Day" from 1991 to 1999) insisted on calling the holiday by other names. In 2000, South Carolina became the last state to make King Day a paid holiday for all state employees.
In his final speech in Memphis the night before he was killed, King told the crowd about a bomb threat on his plane from Atlanta that morning, saying he knew that his life was constantly in danger because of his political activism.
"I would like to live a long life. Longevity has its place. But I'm not concerned about that now. I just want to do God's will. And he's allowed me to go up to the mountain, and I've looked over, and I've seen the Promised Land. I may not get there with you. But I want you to know tonight that we as a people will get to the Promised Land."
We haven't gotten there yet. But Dr. King is still with us in spirit. The best way to honor his memory is to continue the struggle for human dignity, workers' rights, racial equality, peace and social justice.
---
(This column is cross-posted on the Huffington Post.)
Is Goldman Sachs' New Fund Really Just Greenwashing Stocks?
Critics are questioning the motives behind a banking giant's socially responsible investment strategy.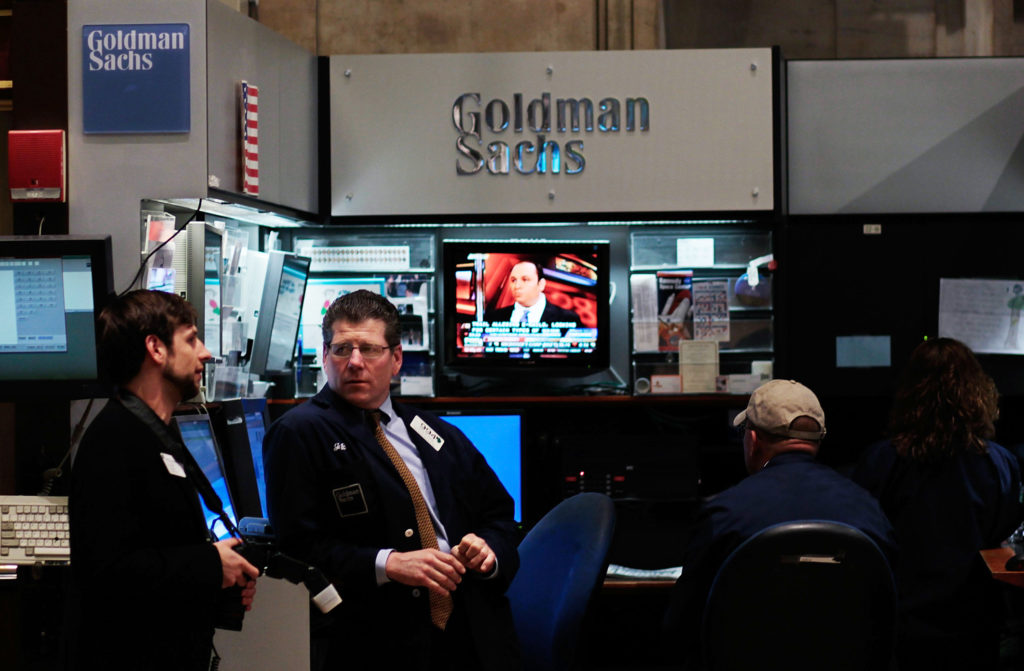 ---
Even as Goldman Sachs markets itself as a champion of social responsibility, it is helping CEOs block key environmental and social justice reforms proposed by their shareholders.
---
Co-published by The Guardian
When Goldman Sachs and billionaire Paul Tudor Jones announced a partnership three months ago to help socially conscious investors support "just business behavior," they promised that their new index fund would generate solid returns for savers while directing their investment dollars towards truly humane companies.
"Capitalism should be a positive force for change," said Jones in a press release announcing the fund, which is designed to track an index of socially responsible companies identified by his nonprofit JUST Capital. "Its future will be driven by a new definition of corporate success that is aligned with the values and priorities of the public."
---
 Socially responsible investing (SRI) offers
Wall Street an image makeover in a time of growing public distrust in the financial system.
---
The partnership comes as pension funds, university endowments and other institutional investors increasingly seek to put their financial weight behind ethical and sustainable corporate behavior — and as Goldman Sachs tries to shed its reputation as a "vampire squid." So far, the rebrand seems to be working: The JUST fund debuted in June to rave reviews from the financial press and ended its first day of trading with over $250 million in assets, making its launch one of the most successful in recent history.
However, a Capital & Main review of corporate documents shows that some of JUST's largest investments are in fossil fuel firms that have been sued for suppressing global climate research, Wall Street behemoths fined for defrauding investors, a social media platform accused of helping rig elections and a tech industry giant criticized for paying its workers starvation wages.
Moreover, proxy voting records reveal that even as Goldman Sachs now markets itself as a champion of social responsibility, the firm has been using its existing stakes in many JUST fund companies to help CEOs block key environmental and social justice reforms proposed by their shareholders. Those initiatives range from gender pay gap and diversity initiatives to corporate governance reforms; from efforts to increase lobbying transparency to prohibitions on doing business with companies tied to genocide and other human rights violations.
Meanwhile, in the months before JUST fund's launch, Goldman was slammed for blocking a human rights resolution at its own company — and one of Goldman's key lobbying groups in Washington was working to shape Republican legislation that would make it far more difficult for shareholders to file environmental, human rights and other socially minded initiatives in the future.
"You shouldn't be able to, with a straight face, invest in the Dakota Access Pipeline with your left hand, and with your right hand tell people that you're doing responsible investing," Lisa Lindsley, Capital Markets Advisor for the shareholder advocacy group SumOfUs, told Capital & Main. "The compartmentalization is very hypocritical."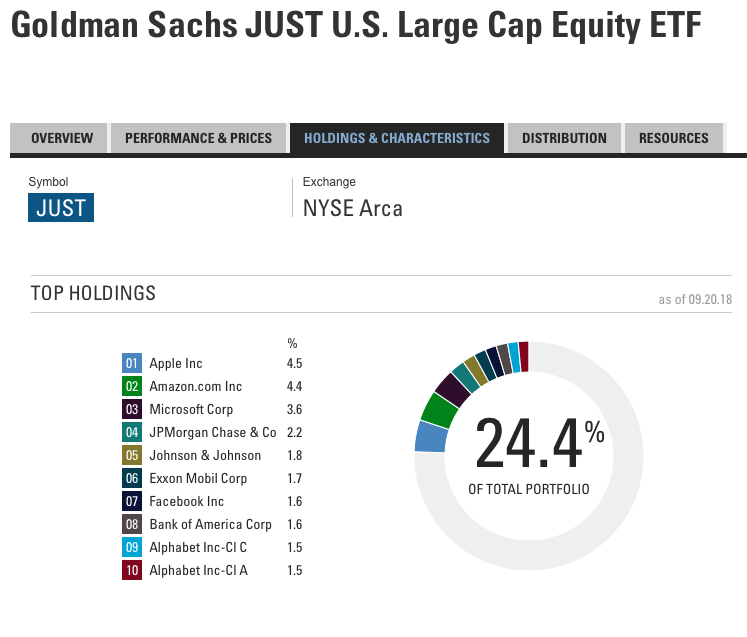 Through a spokesperson, Goldman Sachs declined to comment on the process by which its equity funds vote on shareholder proposals, and how that process may differ with the JUST fund — which, as a newly launched fund, has not yet participated in proxy voting for any of the companies in which it holds stock.
"Ethically Motivated Versus a More Greenwashing Approach"
Goldman's new fund spotlights socially responsible investing (SRI) — a financial strategy that represents Wall Street's more affirmative answer to negative or exclusionary "screening" tactics like divestment from fossil fuel producers and tobacco firms.
While a recent directive by the Trump administration has been viewed by some experts as an effort to limit SRI strategies, the market for such investments remains strong. According to the Forum for Sustainable and Responsible Investment, U.S.-based assets managed using SRI strategies more than doubled to $8.7 trillion between 2012 and 2016, and now account for more than one in five dollars under professional management in the country.
---
Goldman's hostility toward many SRI initiatives is illustrated by its votes on resolutions at the companies now in its JUST fund.
---
The rise in SRI investment comes amid questions about whether corporate boards are adequately evaluating environmental and social justice concerns when they look at their company's long-term financial prospects. PwC's 2017 survey of corporate officials found "that directors are clearly out of step with investor priorities in some critical areas" and the report added that "one of these areas is environmental issues."
High-profile initiatives like the JUST fund are a chance for the industry to tout its eagerness, as Goldman Sachs executive Timothy O'Neill put it in a press release, to "[allow] investment to flow toward a more sustainable and equitable future, while seeking to generate attractive returns for investors."
The trend has given Wall Street an opportunity for an image makeover in a time of growing public distrust in the financial system: According to a Gallup poll conducted last month, fewer than half of Americans under 30 report having a positive view of capitalism, a 12-point drop in just the past two years.
For some activists and investors, though, the rapid expansion of the market for SRI-branded financial products has raised concerns about greenwashing — the practice by which companies market themselves as socially or environmentally responsible without actually adopting business practices that meet those goals.
"Putting the word 'ethical' or 'sustainable' in the name of a fund does not make it so," said a report by British investment advisory firm Castlefield, whose recent reports documented how some environmental funds include investments in fossil fuel firms. "It is increasingly important to differentiate between those funds genuinely responding to customer demand for a sustainable approach and those which use terms like ethical, Socially Responsible Investment or stewardship in their name but include companies such as British American Tobacco or Shell in their key holdings."
Goldman's Record on Socially Responsible Investing
Amid surging interest in SRI funds, Goldman's JUST U.S. Large Cap Equity ETF aims to convince investors that the company is serious about injecting a spirit of ethics and morality into its financial strategies. To that end, the fund says it directs money only into companies that are ranked highly by JUST Capital.
The 426 companies featured in the JUST index were selected on the basis of their performance across seven different criteria, including labor practices, customer service and environmental impacts. Goldman itself ranks in the top tenth of the JUST rankings, despite the company being attacked for supporting the fossil fuel industry and also being fined $5 billion in 2016 by the Department of Justice for "serious misconduct in falsely assuring investors that securities it sold were backed by sound mortgages, when it knew that they were full of mortgages that were likely to fail."
Whether Goldman's new JUST fund represents a step in a larger shift towards socially responsible investment remains to be seen. Baruch College's Jared Peifer says that one way to judge a firm's commitment to social responsibility is to watch how it deals with resolutions brought by shareholders, whereby investors attempt to force management to adopt socially responsible policies.
"There is variance to the degree that SRI funds are ethically motivated versus a more greenwashing approach," Peifer told Capital & Main. "Is the fund dialoguing with management? Issuing shareholder proxy votes, voting on others? If so, that seems like a more ethically motivated fund to me, because they are exerting additional effort many other funds do not bother with."
In recent years, Goldman executives have been fighting off SRI resolutions at their own company, including initiatives that have asked management to more transparently disclose their political lobbying and create a human rights committee to review the company's policies regarding doing business with governments engaged in censorship and repression. Only three months before Goldman announced the JUST fund, Goldman successfully pressed the Securities and Exchange Commission to bless its move to block shareholders from voting on a resolution asking the company to honor indigenous peoples' rights.
"The company's extraordinary no action request shows the notable lengths that the Company is willing to go, and to stretch credulity, in order to prevent its directors from shouldering fiduciary obligations on indigenous and human rights," wrote shareholder proponents at the time.
Last year, Goldman was lauded by Share Action, an SRI activist group, for switching its position and using its holdings to support a series of climate-change-related shareholder initiatives. In its proxy voting guidelines, Goldman says it will generally vote for proposals asking companies to report on "policies, initiatives and oversight mechanisms related to environmental sustainability, or how the company may be impacted by climate change."
However, those guidelines do not make the same commitment when it comes to initiatives requiring companies to actually reduce their carbon emissions. The guidelines also say the company will generally vote against "proposals requesting increased disclosure of a company's policies with respect to political contributions." The company further says it will vote to remove representatives of employees or organized labor from a company's board if they are overseeing company audits or executive compensation, and if there is no legal requirement for them to be in that position.
Goldman Votes Against Resolutions at JUST Fund Companies
Goldman's hostility toward many SRI initiatives is illustrated by its votes on resolutions at the companies now in its JUST fund.
For example, there is Chevron Corporation, which ranks as the JUST fund's 17th-largest holding as it faces accusations that it is trying to intimidate environmentalists and avoid cleaning up pollution in the Amazon rainforest.
In May, the oil giant's shareholders were asked to vote on a slate of seven proposals, including a requirement for the company's board to nominate a director with environmental experience; the preparation of a report on transitioning to a low-carbon business model; increased transparency relating to lobbying activities; and stronger prohibitions on Chevron's interests overseas from doing business with governments that are complicit in genocide or crimes against humanity.
As shareholders in Chevron, 14 different Goldman Sachs Asset Management (GSAM) funds voted on these proposals. The majority of funds voted in support of just one, a request for the company to prepare a report on its efforts to minimize methane emissions. In every other case, the funds unanimously or overwhelmingly opposed the proposals.
Proxy-voting records from dozens of shareholder meetings reviewed by Capital & Main show a similar pattern. In rare cases, Goldman funds did vote in favor of some shareholder reforms, including the preparation of a report on the gender pay gap at Facebook and Google. At several pharmaceutical companies, including AbbVie, Amgen and Eli Lilly, Goldman funds supported increased accountability for executives regarding high drug prices.
Such votes, however, were few and far between. Of the 10 companies that make up the largest share of Goldman's JUST fund, eight considered shareholder-proposed reforms that were overwhelmingly opposed by Goldman-managed funds at their most recent annual meetings. The proposals included prohibitions on offshore tax avoidance schemes, increased transparency on lobbying activities and requirements that companies appoint an independent board chair — a governance model that advocates say leads to more responsible corporate behavior. The remaining two companies, Microsoft and Visa, did not consider any shareholder proposals.
At JPMorgan, the recipient of JUST's fourth-largest investment, Goldman funds voted unanimously against a requirement for the company to release a report on its investments in PetroChina, a firm that activists accuse of helping to fund crimes against humanity due to its ongoing business relationships with oppressive regimes in Syria and Sudan. Goldman made that move despite its own proxy voting guidelines saying the company would "generally vote for proposals requesting a report on company or company supplier labor and/or human rights standards and policies, or on the impact of its operations on society."
Eighteen of the 19 Goldman funds with shares in JPMorgan also voted against an effort to prohibit the accelerated vesting of awards for executives who enter government service, a practice often criticized for fueling the revolving door between Wall Street and financial regulators.
A shareholder proposal to the board of pharmaceutical manufacturer Johnson & Johnson, expressing concern that the company's compensation practices "may insulate senior executives from legal risks" relating to the opioids crisis, recommended that opioid-related litigation costs be factored into executive pay. All 16 Goldman funds with stock in Johnson & Johnson voted to defeat the proposal.
Goldman asserts that its fund is designed to invest in firms that rank well in JUST Capital's ratings. But even that assertion is not what it seems.
Because the index features companies ranked in the top half of their respective industries, it includes dozens of firms in sectors like energy and financial services that score poorly overall. For example, the fund invests in both National Oilwell Varco, a drilling equipment firm, and Entergy, a Louisiana utility, despite the fact that the companies rank 626th and 676th, respectively, among the 875 companies evaluated by JUST Capital.
"Every industry is represented at approximately the same weight as [in] the Russell 1000," said JUST Capital's Hernando Cortina, referring to the best-known index fund tracking the largest publicly traded companies. Cortina added that the JUST fund is designed to feature responsible companies "while providing diversified equity exposure to every industry."
Lisa Lindsley of SumOfUs said the situation spotlights how socially responsible investing is seen on Wall Street not as a values-based cause, but as yet another way to trick investors into believing that the investment industry has reformed itself a decade after the financial crisis.
"The reason they're going into this is that there's money there. It's all driven by greed," she said. "It's pretty easy to do some greenwashing and call yourself a responsible investment manager."
As Goldman now markets its JUST fund, it remains unclear whether the company will change its proxy voting or its posture towards shareholder resolutions in general. Those resolutions, though, could be more rare, if congressional Republicans pass their legislation that would make it more difficult for shareholder resolutions to qualify for a vote. Federal records show that the American Bankers Association — which lists Goldman Sachs as a member — has been lobbying on that bill, which critics say could undermine the SRI movement.
"Shareholder proposals play an important role in ensuring that owners get a say in how their companies are run, and in setting the broader agenda across the market," wrote Dimitri Zagoroff of the shareholder advisory firm Glass Lewis. "Making it harder for shareholder proposals to be resubmitted from year to year would make it that much harder for proponents to refine their ideas and build a coalition of support. This often takes several years, both to generate interest in the underlying topic, and to convince other shareholders that the specific proposal offers the appropriate means of addressing the topic."
---
Copyright Capital & Main