Making a "C" Change in Campaign Spending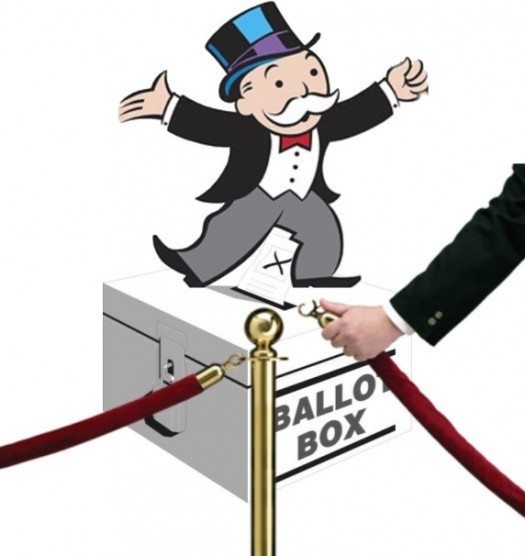 Driven by disgust for the way our democracy seems to be for sale to the highest bidder, several dozen activists from Los Angeles gathered in Mount Washington this past Saturday to rally support for Proposition C, a symbolic measure on the May 21 ballot that urges area legislators to push for renewed limits on political campaign spending.
In late February, the Los Angeles City Council voted 10 to 1 to put the following question on the ballot, introduced by Councilmember Richard Alarcon, who represents the northeast San Fernando Valley and who attended the Mount Washington gathering:
"Shall the voters adopt a resolution that there should be limits on political campaign spending and that corporations should not have the constitutional rights of human beings and instruct Los Angeles elected officials and area legislative representatives to promote that policy through amendments to the United States Constitution?"
By itself, the ballot measure will have no direct effect on campaign fundraising—in Los Angeles or anyplace else—but rather is designed to help focus public attention on the increasingly disruptive role big money plays in today's elections. If the measure succeeds in liberal Los Angeles, its backers at Common Cause and the California Public Interest Research Group (CALPIRG) will likely attempt to have the issue put on a statewide California ballot. Already, Colorado and Montana—hardly lefty enclaves—have passed similar measures, as have Boston, Chicago, and San Francisco.
Money has always been the mother's milk of politics, as long-ago California Assembly Speaker Jesse "Big Daddy" Unruh famously said, but the campaign cash flow has become a preposterous torrent in recent years. For example, a single Vegas casino operator spent $200 million in last November's election, and 61 wealthy donors gave $285 million through political action committees, the same amount it took 1.4 million regular Janes and Joes to contribute through their contributions of $200 or less.
A particular focus for activists has been the effect of the U.S. Supreme Court's 2010 Citizens United v. Federal Election Commission (FEC) ruling that prohibits the government from restricting independent political expenditures by corporations, labor unions, and special interest groups, arguing that such expenditures are a form of protected political speech. (Restrictions on direct donations to campaigns by corporations remain in place, and the right of individuals—however rich—to give whatever they want to campaigns was already protected by the 1976 Supreme Court Buckley v. Valeo decision.)
Citizens United has become a rallying cry for activists across the country who have used it as an organizing tool to push for fairer and free elections, as with L.A.'s energized Money Out/Voters In organization and WolfPac, organized by Cenk Uygur's Young Turks.
In their fondest hopes, the activists behind Prop C and measures like it see these messages prompting members of Congress to support a constitutional amendment overturning the Citizen United ruling. All acknowledge that's certainly an uphill battle, as such an amendment would require a two-thirds vote in both houses of Congress, followed by ratification by three-fourths of the 50 state legislatures—this from a Congress that can't pass background check requirements for gun purchasers in the wake of epidemic gun violence and from state legislatures around the country that are busy requiring trans-vaginal probes for women seeking abortions.
Which is not to downplay the groundswell of support L.A.'s activist community has gathered to ensure Prop C's passage. Clearly, Councilman Alarcon and State Senator Kevin de León, who also attended the gathering, are well aware of the corrosive effect big money is having on our political fabric.
If enough elected officials are similarly influenced by events such as Saturday's gathering and two upcoming demonstrations next Saturday, perhaps momentum can build for public financing of elections—and possibly the Supreme Court would be motivated to modify its Citizens United stance.
Saturday's event was organized by LA Progressive and Common Cause, whose executive director Kathy Feng spoke at the event and whose Anjuli Kronheim and Brooke Erdman did all the legwork to make the event succeed.
(Dick Price is the editor of LA Progressive, where this post first appeared. Republished with permission. Please Note: Frying Pan News neither endorses nor opposes this ballot measure.)

Rick Scott Invested in the Same Financial Firms As Florida's Pension System
Co-published by MapLight
For most of his time in office, Florida's governor has shielded his investments from public view. A new disclosure shows Rick Scott and his wife have invested at least $18 million in financial firms managing money for the state's pension system that he oversees.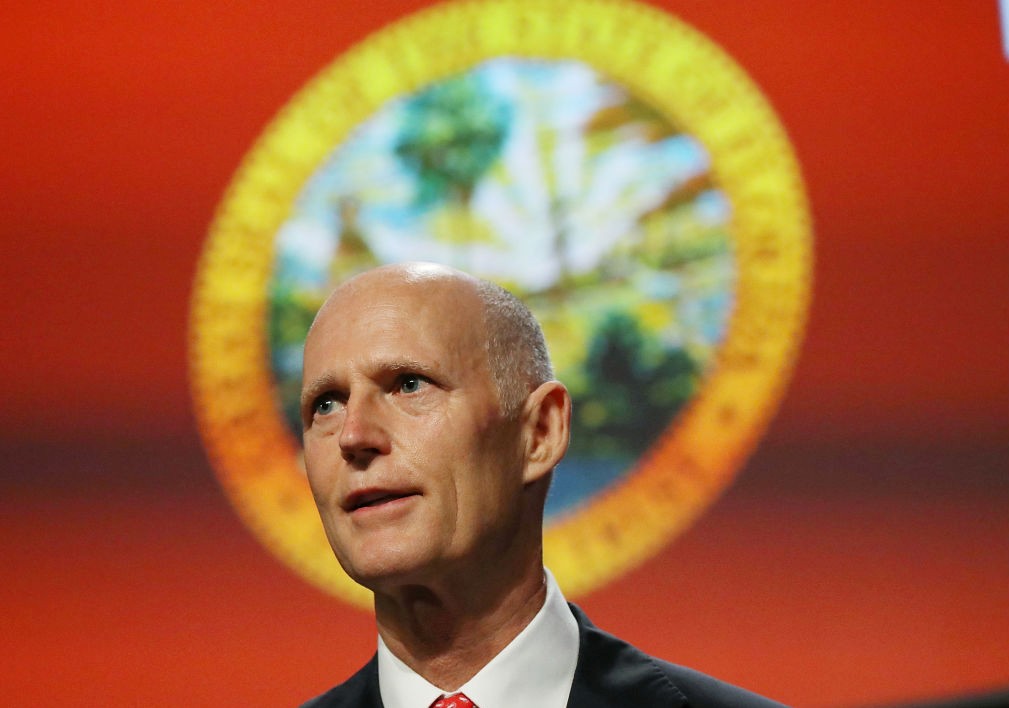 ---
Former SEC Lawyer: "There needs to be an investigation into whether the state is subsidizing Rick Scott's personal returns."
---
Co-published by MapLight
Florida Gov. Rick Scott and his wife have invested at least $18 million in three financial firms managing money for the state's pension system that Scott oversees — a situation that intertwines the governor's personal finances with his responsibility for supervising state employees' retirement savings.
The investments were first divulged in a federal financial disclosure form that Scott filed as part of his U.S. Senate campaign in July. For most of his time in office, Scott has shielded his investments from public view, and only reported their overall value in his blind trust.
The terms of Scott's investments remain undisclosed. The firms' own corporate documents say they can give certain investors special preferences not afforded to other investors — and experts have in recent years argued that hedge funds, private equity firms, and other "alternative investments" are giving such preferences to elite investors. One former Securities and Exchange Commission attorney told MapLight and Capital & Main that Scott must disclose whether he is being given such preferences.
---
Critics have raised questions about how blind the Scott family trusts really are.
---
Florida ethics laws are supposed to prohibit state officials from entering into contractual relationships with companies that do business with their agencies. However, after Scott became governor in 2011, state ethics officials said he and his family members could put their assets into a blind trust to avoid conflicts of interest and still maintain their investments in companies operating in Florida.
Critics have raised questions about how blind the Scott family trusts really are. Scott placed one of his longtime business associates in charge of managing his blind trust. The Tampa Bay Times reported that Scott's blind trust has invested with a private equity firm tied to a high-speed rail project in Florida. The trust also had an indirect interest in a cancer treatment company that received tax breaks from Scott's administration.
---
"The question is whether Rick Scott is being allowed to invest on better terms than the state pension fund."
---
"When Governor Scott was elected, he put all of his assets in a blind trust, which is managed by an independent financial professional who decides what assets are bought, sold or changed," said Scott campaign spokesperson Lauren Schenone. "The rules of the blind trust prevent any specific assets or the value of those assets within the trust from being disclosed to the governor, and those requirements have always been followed."
Scott is one of three state officials who serve as trustees for the Florida State Board of Administration, which manages a $160 billion fund for roughly 400,000 retirees. Scott, Attorney General Pam Bondi, and Chief Financial Officer Jimmy Patronis oversee lucrative state investment deals granted to cash-hungry Wall Street firms.
The three firms that have received $325 million worth of Florida pension investments have allowed the Scott family's blind trusts to simultaneously invest their personal fortunes in these funds. Scott's investments in the funds did not appear in a 2014 disclosure itemizing his holdings. His campaign did not say when the investments were made.
"There are no ethics rules that prohibit or limit a trustee from investing in funds also invested in by the SBA," said SBA spokesperson John Kuczwanski, though he added that trustees are subject to Florida's general code of ethics. Kuczwanski said that the governor has no involvement in specific pension investment decisions.
Don Hinkle, a Democratic lawyer, filed a lawsuit last year alleging that the governor has failed to comply with the state's blind trust and financial disclosure laws. He said he was surprised by the news that Scott had invested in the same firms as the Florida pension system.
"I would think that he would have avoided investments where the state of Florida's money is propping his up," Hinkle told MapLight and Capital & Main.
In 2011, a few months after Scott became governor, the SBA committed $150 million to Highline Capital Partners, a New York-based hedge fund. Scott's financial disclosure shows that his family's trusts have invested at least $4 million in the same Highline fund as the state.
The SBA also committed $100 million in 2015 to a hedge fund managed by Canyon Capital Advisors, a Los Angeles-based firm created by veterans of the notorious investment bank Drexel Burnham Lambert, which was driven into bankruptcy as a result of illegal and unethical trading practices. Scott and his family have invested at least $12 million in Canyon funds, according to his financial disclosure.
Before Scott became governor, the SBA invested $75 million with VSS, a New York-based private equity firm that was launched by a co-founder of Psychology Today. Scott and his wife, Ann, have invested more than $2.2 million in another VSS fund. A spokesperson for VSS said the firm doesn't comment on its investors.
All three firms' SEC filings say they can offer certain investors special fee terms or other benefits not offered to other investors.
"Alternative investment funds have the ability to offer every investor different fees at a different rate of return, so the question is whether Rick Scott is being allowed to invest on better terms than the state pension fund," said former SEC attorney Edward Siedle, whose Florida-based firm conducts forensic investigations of state pension systems.
"If you give one investor an advantage, another investor has to be disadvantaged," Siedle said. "That means there needs to be an investigation into whether the state is actually subsidizing Rick Scott's personal returns and whether the governor enjoys advantages that are harming the retirees."
Schenone, Scott's spokesperson, said that his blind trust has "been upheld multiple times by the State Commission on Ethics and the court system. Governor Scott has also followed the requirements of all state and federal financial filings."
She noted that former Florida Republican Gov. Jeb Bush and Scott's 2010 Democratic opponent Alex Sink had also used blind trusts, although Scott's campaign attacked Sink for hers at the time.
"Blind trusts sound good but can run afoul of state laws requiring public officials to disclose their personal finances," a Scott campaign ad said in 2010. "[But] simply moving large amounts of money into a blind trust does not magically erase the knowledge of what you own."
---
This piece was reported by Andrew Perez of MapLight and David Sirota of Capital & Main, and published in partnership with the Florida Center for Investigative Reporting.