Making a "C" Change in Campaign Spending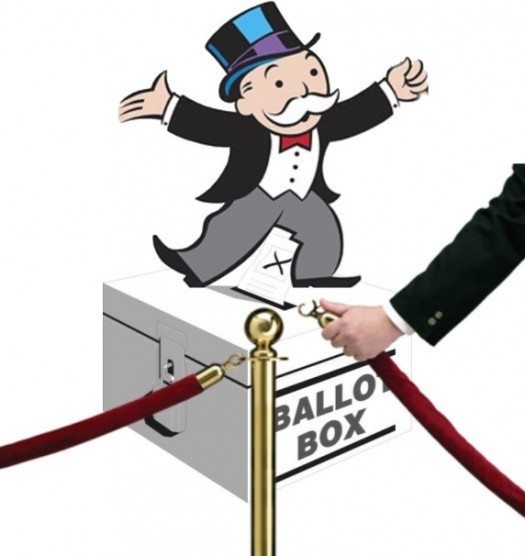 Driven by disgust for the way our democracy seems to be for sale to the highest bidder, several dozen activists from Los Angeles gathered in Mount Washington this past Saturday to rally support for Proposition C, a symbolic measure on the May 21 ballot that urges area legislators to push for renewed limits on political campaign spending.
In late February, the Los Angeles City Council voted 10 to 1 to put the following question on the ballot, introduced by Councilmember Richard Alarcon, who represents the northeast San Fernando Valley and who attended the Mount Washington gathering:
"Shall the voters adopt a resolution that there should be limits on political campaign spending and that corporations should not have the constitutional rights of human beings and instruct Los Angeles elected officials and area legislative representatives to promote that policy through amendments to the United States Constitution?"
By itself, the ballot measure will have no direct effect on campaign fundraising—in Los Angeles or anyplace else—but rather is designed to help focus public attention on the increasingly disruptive role big money plays in today's elections. If the measure succeeds in liberal Los Angeles, its backers at Common Cause and the California Public Interest Research Group (CALPIRG) will likely attempt to have the issue put on a statewide California ballot. Already, Colorado and Montana—hardly lefty enclaves—have passed similar measures, as have Boston, Chicago, and San Francisco.
Money has always been the mother's milk of politics, as long-ago California Assembly Speaker Jesse "Big Daddy" Unruh famously said, but the campaign cash flow has become a preposterous torrent in recent years. For example, a single Vegas casino operator spent $200 million in last November's election, and 61 wealthy donors gave $285 million through political action committees, the same amount it took 1.4 million regular Janes and Joes to contribute through their contributions of $200 or less.
A particular focus for activists has been the effect of the U.S. Supreme Court's 2010 Citizens United v. Federal Election Commission (FEC) ruling that prohibits the government from restricting independent political expenditures by corporations, labor unions, and special interest groups, arguing that such expenditures are a form of protected political speech. (Restrictions on direct donations to campaigns by corporations remain in place, and the right of individuals—however rich—to give whatever they want to campaigns was already protected by the 1976 Supreme Court Buckley v. Valeo decision.)
Citizens United has become a rallying cry for activists across the country who have used it as an organizing tool to push for fairer and free elections, as with L.A.'s energized Money Out/Voters In organization and WolfPac, organized by Cenk Uygur's Young Turks.
In their fondest hopes, the activists behind Prop C and measures like it see these messages prompting members of Congress to support a constitutional amendment overturning the Citizen United ruling. All acknowledge that's certainly an uphill battle, as such an amendment would require a two-thirds vote in both houses of Congress, followed by ratification by three-fourths of the 50 state legislatures—this from a Congress that can't pass background check requirements for gun purchasers in the wake of epidemic gun violence and from state legislatures around the country that are busy requiring trans-vaginal probes for women seeking abortions.
Which is not to downplay the groundswell of support L.A.'s activist community has gathered to ensure Prop C's passage. Clearly, Councilman Alarcon and State Senator Kevin de León, who also attended the gathering, are well aware of the corrosive effect big money is having on our political fabric.
If enough elected officials are similarly influenced by events such as Saturday's gathering and two upcoming demonstrations next Saturday, perhaps momentum can build for public financing of elections—and possibly the Supreme Court would be motivated to modify its Citizens United stance.
Saturday's event was organized by LA Progressive and Common Cause, whose executive director Kathy Feng spoke at the event and whose Anjuli Kronheim and Brooke Erdman did all the legwork to make the event succeed.
(Dick Price is the editor of LA Progressive, where this post first appeared. Republished with permission. Please Note: Frying Pan News neither endorses nor opposes this ballot measure.)
Reviewed: A DIY Guide for "The Magicial Resistance"
A new book offers practical tips on how to organize — and cast spells — for equality and the environment.
Religion and politics have gone hand in hand at least from the time of Hammurabi's Code. Though we are guaranteed separation of church and state in the United States, many a prayer has been uttered for political gain. Any and all religions make no bones about their desire to influence social events and governmental organizations using their own methods and views of the Divine, whether it's the Catholic Workers marching for the rights of the poor, Baptist churches rallying for the right of the unborn — or witches casting spells to protect the environment.
---
At a time when many people feel helpless, ceremonial magic places power firmly in the hands of people who want to see positive change for the future.
---
While mainstream faithful said their prayers, conservative chaos magicians invoked Pepe the Frog to aid the 2016 elections. Since then, sorcerers of all stripes and more than few faithful in the Abrahamic faiths have been very publicly throwing down to counteract what they perceive as harmful acts by the current administration.
David Salisbury's Witchcraft Activism is a smart, direct guide to incorporating activism into your witchcraft practice, or experimenting in your activism by adding a little extra whammy. An experienced, long-time activist and well-respected pagan practitioner, Salisbury lays out a guide for activism that incorporates strategy, defense, offense, victory and loss with spiritual tools and magical methods drawn from Western European folk magic traditions.
He begins with setting intention and leads us to getting off the couch and carrying out an action, be it letter writing, participating in marches, attending city council meetings or lobbying — each with certain magical additions to aid in success. Salisbury also gives results based on his actions incorporating magic and suggests a variety of means for different scenarios. Concentration, visualization and focus are stressed as tools, with the addition of sigils, herbs and incantations.
Spiritual actions range from the simple to the complex. Whether meditating before a meeting, doing a divination for suggested actions, writing out a petition and placing it under a candle or using advanced magical practices like egregores, the acts suggested by Salisbury increase dedication to our causes and shift perspective, creating space for new ideas, for relief from burnout and for refocusing on goals.
Over 1.5 million in the United States identify as Pagan or Wiccan in a 2014 Pew Research Center poll—and that's not counting those witches, sorcerers and others who do not identify in those categories. The numbers of magical practitioners have risen steadily over the decades, perhaps because organized religions may not offer a sense of personal connection, of gnosis, or may have goals that are in opposition to participants'. At a time when many people feel helpless, witchcraft, ceremonial magic and folk/indigenous faiths place power firmly in the hands of people who want to see positive change for the future.
Don't believe in magic? Give Salisbury's methods a try and see what happens. You may be surprised, success is your proof. Just stay away from the Goetia!
---
Copyright Capital & Main