Making a "C" Change in Campaign Spending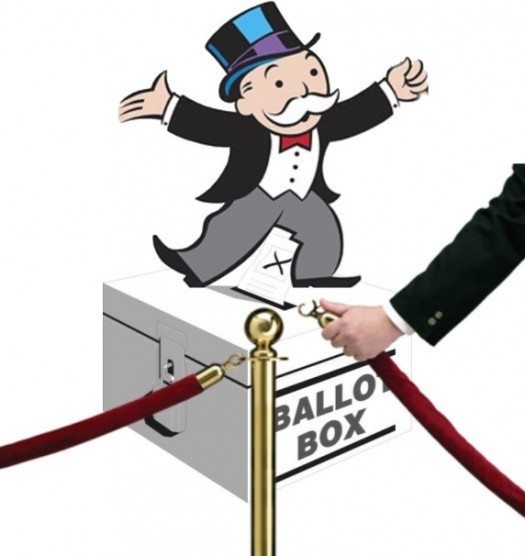 Driven by disgust for the way our democracy seems to be for sale to the highest bidder, several dozen activists from Los Angeles gathered in Mount Washington this past Saturday to rally support for Proposition C, a symbolic measure on the May 21 ballot that urges area legislators to push for renewed limits on political campaign spending.
In late February, the Los Angeles City Council voted 10 to 1 to put the following question on the ballot, introduced by Councilmember Richard Alarcon, who represents the northeast San Fernando Valley and who attended the Mount Washington gathering:
"Shall the voters adopt a resolution that there should be limits on political campaign spending and that corporations should not have the constitutional rights of human beings and instruct Los Angeles elected officials and area legislative representatives to promote that policy through amendments to the United States Constitution?"
By itself, the ballot measure will have no direct effect on campaign fundraising—in Los Angeles or anyplace else—but rather is designed to help focus public attention on the increasingly disruptive role big money plays in today's elections. If the measure succeeds in liberal Los Angeles, its backers at Common Cause and the California Public Interest Research Group (CALPIRG) will likely attempt to have the issue put on a statewide California ballot. Already, Colorado and Montana—hardly lefty enclaves—have passed similar measures, as have Boston, Chicago, and San Francisco.
Money has always been the mother's milk of politics, as long-ago California Assembly Speaker Jesse "Big Daddy" Unruh famously said, but the campaign cash flow has become a preposterous torrent in recent years. For example, a single Vegas casino operator spent $200 million in last November's election, and 61 wealthy donors gave $285 million through political action committees, the same amount it took 1.4 million regular Janes and Joes to contribute through their contributions of $200 or less.
A particular focus for activists has been the effect of the U.S. Supreme Court's 2010 Citizens United v. Federal Election Commission (FEC) ruling that prohibits the government from restricting independent political expenditures by corporations, labor unions, and special interest groups, arguing that such expenditures are a form of protected political speech. (Restrictions on direct donations to campaigns by corporations remain in place, and the right of individuals—however rich—to give whatever they want to campaigns was already protected by the 1976 Supreme Court Buckley v. Valeo decision.)
Citizens United has become a rallying cry for activists across the country who have used it as an organizing tool to push for fairer and free elections, as with L.A.'s energized Money Out/Voters In organization and WolfPac, organized by Cenk Uygur's Young Turks.
In their fondest hopes, the activists behind Prop C and measures like it see these messages prompting members of Congress to support a constitutional amendment overturning the Citizen United ruling. All acknowledge that's certainly an uphill battle, as such an amendment would require a two-thirds vote in both houses of Congress, followed by ratification by three-fourths of the 50 state legislatures—this from a Congress that can't pass background check requirements for gun purchasers in the wake of epidemic gun violence and from state legislatures around the country that are busy requiring trans-vaginal probes for women seeking abortions.
Which is not to downplay the groundswell of support L.A.'s activist community has gathered to ensure Prop C's passage. Clearly, Councilman Alarcon and State Senator Kevin de León, who also attended the gathering, are well aware of the corrosive effect big money is having on our political fabric.
If enough elected officials are similarly influenced by events such as Saturday's gathering and two upcoming demonstrations next Saturday, perhaps momentum can build for public financing of elections—and possibly the Supreme Court would be motivated to modify its Citizens United stance.
Saturday's event was organized by LA Progressive and Common Cause, whose executive director Kathy Feng spoke at the event and whose Anjuli Kronheim and Brooke Erdman did all the legwork to make the event succeed.
(Dick Price is the editor of LA Progressive, where this post first appeared. Republished with permission. Please Note: Frying Pan News neither endorses nor opposes this ballot measure.)
ICE's Stealth Campaign to Expand Its Budget
The new Democratic majority in the House of Representatives could pose a challenge to the agency's chronic overspending — and to its aggressive detention and deportation policies.
---
In June the Dept. of Homeland Security asked Congress to allow it to transfer $200 million to ICE to cover agency overspending, continuing a pattern of such requests.
---
Big spending on immigration enforcement at the Department of Homeland Security promises to be a major sticking point as Congress prepares to negotiate a budget deal early next month.
Even though illegal immigration to the United States appears to be at its lowest point in 46 years, spending on immigration enforcement is at an all-time high. (The U.S. Border Patrol reported that in 2017, the last year for which statistics are available, apprehensions at the U.S.-Mexico border had dropped to 303,000, and had been declining nearly every year since 2000, when a record 1.6 million people were arrested.)
---
 By overspending its congressional allocation, ICE is effectively writing its own budget.
---
U.S. Immigration and Customs Enforcement's detention operations exceeded the agency's budget this year, while ICE spending on its vast system of immigration jails shows no sign of slowing.
But a newly elected Democratic majority in the House of Representatives could pose a challenge to the agency's chronic overspending — and to its aggressive detention and deportation policies.
ICE jailed so many immigrants in 2018 that it ran out of space in its more than 200 lock-ups, and placed 1,600 people in medium-security prisons.
Congress set detention and deportation spending for 2018 at $4.4 billion, enough to detain some 40,520 people annually.
However, by June, 44,000 men and women languished in immigration detention, filling 4,000 more beds than Congress authorized. DHS asked Congress to allow it to transfer $200 million to ICE to cover agency overspending. The department plucked the funds from several of its agencies, including the Federal Emergency Management Agency, the Coast Guard and the Transportation Security Administration.
Critics of ICE say that by overspending its congressional allocation, the agency has engineered a stealth expansion of the U.S. detention system, effectively writing its own appropriation, and skirting the Constitution's separation of powers in which Congress, not the executive branch, has the authority to set spending limits.
---
Congressman: "We shouldn't be using FEMA as a piggy bank to fund detention beds."
---
"It allows them to quickly expand the detention system contrary to congressional intent," said Heidi Altman, director of policy at the National Immigrant Justice Center, a non-profit immigrant rights group.
Such intradepartmental funds transfers aren't uncommon, but a congressional staffer who asked that his name not be used for this story said this one was controversial because nearly all of the money went to ICE for detention and deportation. ICE has received other big budget increases in the past two years. In March 2017, the agency got a $2.6 billion supplemental appropriation; three months later, ICE was back, requesting that Congress approve a $91 million funds transfer.
The $200 million June 2018 transfer, wrote DHS spokeswoman Katie Waldman in an email, was "in line with the FY 2019 president's budget request for U.S. Immigration and Customs Enforcement."
However, the additional funds covered FY 2018 overspending – not future shortfalls in 2019; Congress has yet to agree to a permanent fiscal year 2019 budget. Waldman didn't answer an email asking to clarify her comments.
---
Congressional Staffer: Whenever ICE outspends its budget and adds detention beds, it gains leverage for the next round of budget negotiations.
---
The same congressional staffer who discussed the controversy surrounding the $200 million DHS funds transfer also noted that when ICE outspends its budget and adds detention beds, it gains leverage for the next round of budget negotiations because reducing beds would mean freeing detainees and, ICE argues, their release could jeopardize public safety.
Growth by funds transfer also generally avoids public scrutiny. Transfer documents submitted by government agencies are not released to the public. But earlier this year, Sen. Jeff Merkley (D-OR) released DHS's June 2018 transfer and reprogramming request, noting that $10 million had been taken from FEMA just as Hurricane Florence was making landfall in North Carolina.
DHS shot back, claiming the funds were administrative and weren't earmarked for hurricane relief. But according to Ur Jaddou, director of the advocacy group DHS Watch, and a former Chief Counsel at U.S. Citizenship and Immigration Services, the DHS agency that oversees immigration and citizenship applications, "The government these days doesn't operate on a plethora of administrative resources. It's really functioning on a very limited budget. When they say they're using unused money, it's just a ruse."
Congress has shown its frustration with ICE's disregard for its authority, but hasn't acted to rein in agency spending.
---
Congress has scolded ICE for its "lack of fiscal discipline and cavalier management."
---
In budget recommendations for fiscal year 2019, the Senate Appropriations Committee wrote, "In light of the Committee's persistent and growing concerns about ICE's lack of fiscal discipline, whether real or manufactured, and its inability to manage detention resources…the Committee strongly discourages transfers or reprogramming requests to cover ICE's excesses."
Two years before, the explanatory language in the supplemental appropriations bill was even harsher. Appropriators pointed to a "lack of fiscal discipline and cavalier management" of detention funding, saying the agency seemed to think its detention operations were "funded by an indefinite appropriation. This belief is incorrect."
"We shouldn't be using FEMA as a piggy bank to fund detention beds," said Rep. Dutch Ruppersberger (D-MD). "Unelected agency heads shouldn't unilaterally shift taxpayer dollars for purposes they weren't intended."
Still, despite congressional annoyance with ICE's free-spending ways, it hasn't conducted meaningful oversight of the immigration detention system, said Greg Chen, director of government relations for the American Immigration Lawyers Association.
"The current leadership in Congress hasn't been interested in conducting hearings on detention spending and whether detention is even necessary at the scale it is now," Chen said.
When President Trump issued an executive order calling for no-holds-barred arrests of undocumented immigrants in January 2017, the border patrol reported that apprehensions at the U.S.-Mexico border were lower than at any time since 1972 — when the detention population was a fraction of its current size.
ICE reported that in fiscal year 2017, 41 percent of crimes of which detainees had been convicted were traffic- or immigration-related.  Just 11.4 involved murder, sexual assault, kidnapping, robbery or assault.
Chen argued that ICE has a legal responsibility to screen each person in its custody for risk – either of flight or to public safety. "ICE is just not doing that and defaulting to the practice of detaining people."
Democrats in Congress could take on a more robust role in overseeing ICE spending, now that they've gained a majority in the House. They could put conditions on spending, call for Government Accounting Office reports and hearings, cut funding, demand answers if ICE overspends and bring its actions to the attention of the press, said DHS Watch director Ur Jaddou, who is also a former congressional staffer.
"The next time they [ICE] need something," Jaddou said, Congress can respond, 'Do you really want it? You better listen.'"
---
Copyright Capital & Main