L.A. Tackles the Infrastructure Crisis
Former Governor Arnold Schwarzenegger once termed it the "stuff [I] used to blow up in the movies." But America's vital infrastructure—highways, railways, bridges and thruways—now face a doom worse than the Terminator ever imagined. That's the destruction from the rust, decay and corrosion of trillions of dollars worth of elderly tracks, canals, ports, structures and causeways that carry our trade and traffic all over the United States.
Sixty-one thousand bridges, located mostly in local jurisdictions, are potentially dangerous. That U.S. rail systems are about $60 billion behind on maintenance (as of five years ago) was tragically illustrated by the recent fatal Pennsylvania Amtrak disaster, blamed on the delayed installation of a new control system. Last month's burst oil pipeline in Santa Barbara County also underscored the deterioration of even private infrastructure. Both tragedies demonstrated that continued neglect comes with a fast rising cost in both money and lives. For more than a decade, interests ranging from politicians to the American Society of Civil Engineers (ASCE) to construction unions to nationwide development firms have sounded the alarm.
Last month these interests had their say at the nonprofit RAND Corporation's Santa Monica campus. The gathering's nominal subject was "Fast Forward to the Connected City.'' But the reality, as several panelists admitted, is that most U.S. cities are a long way from electrical smart grids and sensor-driven streets carrying self-driving autos through LEED Green Building-filled downtowns. Cities more often are struggling instead to maintain crumbling streets and elderly overpasses, bursting water mains and hemorrhaging sewer lines, erratic street lighting and inadequate rail systems—infrastructure that is often several generations past its sell-by date. The conference was called to talk about the bright urban future, but the dim present kept getting in the way.
Former Pennsylvania governor Ed Rendell, widely known for once referring to the U.S. as "a Nation of Wusses," took the lead on the topic by asking, "How many tragedies will it take?" America, he contended, just doesn't want to face the grim infrastructural reality. As it happens, Rendell is a co-chair of Building America's Future, a Washington-based promoter of infrastructure reconstruction, with plenty of skin in the infrastructure game. He quoted a report from ASCE foreseeing that, minus infrastructure investment, 877,000 jobs could be lost and economic growth would be stifled to the tune of $3.1 trillion by 2020. Avoiding this will require an investment of about $1.7 trillion by that year, the report said.
Today the Highway Trust Fund is about to run dry, and both houses of Congress are deadlocked over what kind of short-term funding will keep it alive for a few months. There have been more than 20 doses of short-time congressional funding so far, which makes long-term planning almost impossible.
For Americans concerned with high unemployment and under-employment, however, that $1.7 trillion infrastructure rehab figure should shine like a golden mountain on the economic horizon.
For every $1 billion increase of federal investment in transportation infrastructure, an estimated 13,000 jobs are created, according to the U.S. Department of Transportation. Simple arithmetic suggests that at this rate, a $1.7 trillion infrastructural investment could produce more than 2.2 million new jobs—most of them temporary, but all salaried in the well-paid construction trades. (There were 8,674,000 jobless Americans in May.)
But that's pretty much a dream at this point. It's unlikely that the GOP-dominated Congress, determined to cut spending and block new taxes, is going to do any such thing. Yet in 2008, the Congressional Budget Office calculated that well-targeted government spending of $185 billion a year on infrastructure would generate economic and social benefits that would exceed that sum. These benefits would include training and employment of many thousands of new workers and apprentices whose salaries would stabilize families and neighborhoods, as well as build local, state and national economies. All the while creating myriads of safer and more efficient bridges, rail lines, roads, utility grids, canals and ports.
To wield a cliché, it sounded like a long-run win-win. And, six years ago, the American Recovery and Reinvestment Act demonstrated this when its $600 billion in infrastructure spending helped to stop a depression. But how would such a program now be funded nationally?
Perhaps the answer can be found locally.  Los Angeles City and County have been collaborating since 2008 on just such a program, the Construction Careers Policy (CCP), whose expected total investment will total $12 billion when the current involved projects are completed.
Sparked in 2008 by the Los Angeles Alliance for a New Economy (LAANE) and the L.A. Building Trades Council, in response to the recession's employment crises, a coalition of community and labor leaders successfully promoted a Construction Careers Policy at the Community Redevelopment Agency-Los Angeles. The CRA has since closed, but not before CCP completed $690 million worth of housing and expanded. "It doesn't just build jobs," said former LAANE Deputy Director Vivian Rothstein in an interview. "It addresses community needs.'' (Disclosure: I happen to be married to Ms. Rothstein )
Current CCP partners include L.A. County's Exposition Line Phase II Authority, its Metro transit agency; the City of Los Angeles' Department of Public Works, the new MLK King Outpatient Center and the Port of Los Angeles.
The CCP is involved in nearly $10 billion in Metro rail construction. According to Metro, nearly half the jobs in three current projects could fall under the program.
"It's the first program of its kind—Numero Uno, Ichiban" said Metro's Manager of Diversity and Economic Opportunities Miriam Long, in a phone interview: "We are very proud of it."
These union jobs include apprenticeships starting at $16.52 an hour, and targeted positions for disadvantaged workers. According to a LAANE report, the program has created $129 million in wages for disadvantaged workers and a total  $749 million in economic activity. Essential to this were Project Labor Agreements between contractors and construction unions, requiring prevailing wages and benefits, in exchange for a guarantee against labor interruptions. Another requirement is opening jobs to specifically identified underserved communities.
"[CCP] fought for many years to ensure public investment created good construction jobs for communities most impacted by poverty and unemployment," Jackie Cornejo, who is Project Director for LAANE's Don't Waste LA campaign, said in an e-mail. "We also wanted to make sure that we increased access to apprenticeship programs for individuals facing real barriers to employment."
These projects will cover more than 56,700 workers through 2017, Cornejo estimates.
Los Angeles County Supervisor Mark Ridley-Thomas, a prime backer of the CCP program, stated in an e-mail:
"Metro's agency-wide Project Labor Agreement paves a new way for how major construction projects can, should and will be built across the nation. Here in Los Angeles, we first implemented this policy on the Crenshaw/LAX Line, which runs through the heart of South Los Angeles. Communities need to share in the benefits of public works investments. Almost 20 percent of the line has been completed, and so far 60 percent of workers have come from surrounding targeted 'economically  disadvantaged areas.' We are not just building a rail line, we are rebuilding a community by making real employment and training opportunities available to those who actually reside in this area."
So that's how things have worked in L.A. County. Let's imagine scaling that program for a national CCP, focused on renewing infrastructure. And at the same time, pushing poverty out of thousands of America's most challenged communities.
---
Marc Haefele is a commentator on KPCC's Off Ramp program and has written for the
New York Times
and
Los Angeles Times
.
(Sepulveda Dam photo: Mokwella)

What the NLRB's About-Face on McDonald's Means for Franchise Workers
While the National Labor Relations Board is currently divided 2-2, the confirmation of another Trump appointee will restore the Republican majority — which is bad news for fast-food-chain workers.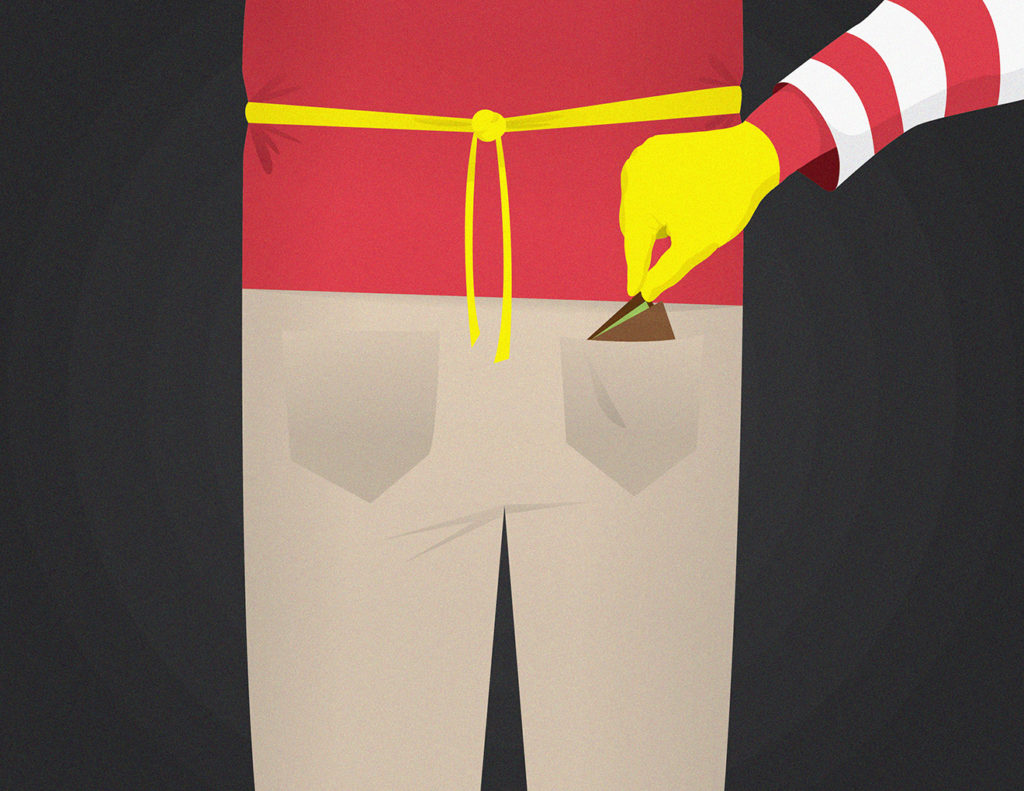 ---
With Donald Trump's election, the momentum at the NLRB is now with employers.
---
Workers at McDonald's joined the union-backed Fight for $15 campaign because many found that they could not get by on minimum wage without the help of family and public assistance. But joining that campaign spurred retaliation, with dozens of employees alleging that they lost money or their job for organizing to get better pay.
Enter the U.S. National Labor Relations Board.
In a victory for workers, the board decided the McDonald's Corporation was jointly responsible for punitive actions against employees across the country because the company dictates, among other things, how those employees cook and clean. That 2015 decision, in a case called Browning-Ferris, established a broad definition of "joint employer." It made franchisors potentially liable for the actions of individual franchises, citing the "indirect" control they exercised over employees and their workplaces. And it meant fast-food chains, among others, would have to collectively bargain with employees who joined a union.
Donald Trump was elected president the next year. By December 2017, the NLRB was back on the side of business with respect to who is and who is not a joint employer, the board overturning with a 3-2 vote the "indirect control" standard of Browning-Ferris.
Then a Republican member of the board retired, evenly dividing the NLRB along partisan lines. The board's inspector general then issued a report in February 2018 saying the December decision never should have been made — that, in particular, a Trump appointee should have recused himself due to a conflict of interest. The decision was thrown out, with congressional Democrats, such as Massachusetts Senator Elizabeth Warren, calling for hearings.
By that point, however, the NLRB had already ordered its lawyers to retreat in the most visible battle over the "indirect" joint-employer standard.
When an administrative trial began back in 2016, the NLRB had said McDonald's was jointly responsible for alleged labor violations at its franchises, including reduced hours, surveillance and wrongful termination of employees who had been organizing for better pay.
"If McDonald's is involved in determining working conditions at its franchised operations, it is responsible for what happens to workers subject to those conditions," NLRB lawyer Jamie Rucker said at the time.
But the NLRB sought and won a 60-day suspension of that trial earlier this year. Lawyers representing the Fight for $15 movement and its allies say the NLRB is now rushing through a proposed settlement that would see McDonald's get off without a finding of joint liability — which won't make it any easier for low-wage workers to collectively bargain.
"What I see is an attack on workers' ability to form a union," said attorney Marni von Wilpert of the progressive Economic Policy Institute (EPI). "If you were able to find a joint-employment relationship with the corporate [franchisor], then all of a sudden they all have one big employer, and all the employees can go to corporate McDonald's. That's really what it's all about, whether workers can organize."
Under the proposed settlement, McDonald's admits no wrongdoing, but its franchisees agree to cover back pay for workers fired as a result of their organizing.
The NLRB "is proposing a sham settlement," said Mary Joyce Carlson, a lawyer representing Fight for $15. "McDonald's directed a wave of retaliation that stretched from coast to coast and included illegally harassing, surveilling and firing workers in the Fight for $15. The hardworking cooks and cashiers who were organizing to get off of food stamps and out of poverty deserve a ruling in their case, not a settlement hammered out at the last minute in collusion with the Trump administration."
With Trump's election, the momentum at the NLRB is now with employers. Any setbacks would appear to be temporary: while divided 2-2 for now, the confirmation of another Trump appointee will restore the Republican majority. Once that happens, the NLRB can be expected to seek another opportunity to overturn the Browning-Ferris joint employer standard.
While Browning-Ferris did not explicitly pertain to the franchise model, it clearly spooked those who depend on it — and inspired those who think franchisors like McDonald's should be liable for the mistreatment of employees at locations bearing its name.
Fight for $15 has prioritized organizing at fast-food businesses, but forming unions is extremely difficult when a dozen small restaurants with the same name may have a dozen different owners. There are over 14,000 McDonald's restaurants in the United States, with only one in 10 owned by the corporation. The ability to collectively bargain with McDonald's, the corporate franchisor, would make a union's task easier — and help address the sort of labor violations that regulators routinely find at fast-food franchises. An EPI report says unionized workers are half as likely to be victims of wage theft, for example.
At an April 5 hearing, Fight for $15 attorney Kathy Krieger urged NLRB Administrative Law Judge Lauren Esposito to reject the settlement. Krieger argued that McDonald's had conspired with its franchises to thwart worker organizing, the corporation recommending, she said, that franchisees "restrict crew members from taking their meals or their rest breaks outside the crew room" as a means "to prevent concerted activity."
McDonald's attorney Willis Goldsmith said the company would never accept a settlement identifying it as a joint employer. "The franchisees, they're independent business people," he said. "They did whatever they did, and if they are willing to concede that, they're going to have to pay people. It's not our job."
While it appears the NLRB under Trump will ultimately reimpose the stricter, pre-Browning-Ferris standard that a joint employer must have direct rather than indirect control of workers, industry groups aren't taking any chances.
Jenna Weisbord, a communications manager at the International Franchise Association to which McDonald's belongs, said her group is looking to Congress to pass the "Save Local Business Act," which would legislatively reimpose the pre-Browning-Ferris standard. "We understand the Senate will take on this task later this year," she said of the bill, which passed the House last year.
A television ad campaign sponsored last year by the franchise association and the U.S. Chamber of Commerce argues the measure would restore "balance to labor law" in the face of a "runaway government agency." That agency, in the era of Trump, is increasingly tilting in the favor of business.
---
Copyright Capital & Main