L.A. School Board Set to Rumble Over Charter Schools
The stage has been set for a Tuesday showdown between charter school operators and the Los Angeles Unified School District office charged with charter school oversight.
The stage has been set for an apparent showdown between charter school operators and the Los Angeles Unified School District office charged with charter school oversight, when the LAUSD school board votes on an unprecedented 14 recommendations for charter petition denials at Tuesday's special board meeting.
The meeting had originally been scheduled to consider 34 charter school petitions — including 28 renewals — as part of a routine formality, in which the board signs off on staff recommendations after months of rigorous vetting of the applications by its charter division.
Late last week, however, 12 of the 14 denials that were posted on the school board's website were revealed to have been triggered after four defiant charter operators had refused to include mandated regulatory language in their petitions. The action, which consisted of the charters essentially writing in their own diluted versions of district rules, was widely seen as a signal of charter-industry impatience to get regulatory relief from the recently elected pro-charter board majority, after that industry had spent $9.7 million on the most expensive campaign in LAUSD board history.
"We have known that seeking better policies could cause complications for our petitions," the schools' CEOs admitted in a joint statement released Wednesday. "This is a risk we have been willing to take. We remain hopeful that the LAUSD board on November 7th will do the right thing for students, make decisions based on the academic, fiscal and governance quality of our schools, and approve our petitions."
The gambit puts at risk eight schools from the district's largest charter management organization (CMO), the 25-school Alliance College-Ready Public Schools franchise, and two schools from the mid-range Magnolia Public Schools group. Petitions for a new Equitas Academy charter and a new STEM Preparatory Elementary also triggered rejections.
Those CMOs are part of a larger, 17-member coalition known as the Los Angeles Advocacy Council that had been negotiating over the past year with the district to roll back so-called District Required Language (DRL). The boilerplate contract provisions, which are required by most charter authorizers, have been developed over the past 20 years by the district as a way to ensure that charter petitioners conform to both state and federal education codes, while providing a measure of transparency to stakeholders. The language covers everything from admissions policies to expulsion and disciplinary procedures, to compliance with state rules governing English language learners and special education guarantees.
The charters contend that recommendations by district staff are inconsistent with site visits made by the charter division and that the district's Office of Inspector General exercises too much authority in charter school investigations that lack transparency, go on too long and too often result in technical "material revision denials" of otherwise academically sound programs. But the dispute also echoes a more fundamental philosophical conflict between the communitarian values of public schools and the corporate management style of charters.
Publicly funded but privately managed, charter schools are legally held to a far higher degree of accountability under the law in exchange for freedom from many of the rules that govern the operation of public schools. Charters are thus required to renew their petitions —which serve as both a kind of school constitution and bill of rights — every three or five years to show that they not only meet state-mandated minimum criteria for academic achievement but also demonstrate significant performance gains in student achievement. But because charters typically tend to see test scores as the only metric that matters to a renewal or revocation, whereas districts have a legal responsibility to weigh competing measures of financial and educational viability and social equity, authorizers and the authorized often find themselves at odds.
The present controversy was dramatically foreshadowed in September when pro-charter board member Ref Rodriguez was forced to resign the school board presidency after being charged with three felony counts connected to his alleged laundering of $24,000 of his own money in donations to his 2015 campaign.
Though the California Fair Political Practices Commission (FPPC) has closed the complaint until the criminal charges are resolved, Rodriguez's refusal to step down from the board leaves his fellow majority members in a hazy ethical light. A board reversal of the denial recommendations, which the pro-public school minority would presumably oppose, would require the tie-breaking vote of an accused felon to pass.
In a district that rarely rejects charter petitions, and whose 277 active charter schools makes LAUSD the largest district charter authorizer in the nation, risking rejection is probably a safe gamble for a charter. Should the board choose to stand by its charter division staff, the schools would simply appeal to the State Board of Education in Sacramento or the politically appointed Los Angeles County Office of Education, where only last year Magnolia received reversals after the previous LAUSD board rejected three renewals over financial improprieties arising from the chain's ties to an alleged immigration fraud ring run by Turkish cleric Fethullah Gulen.
Regardless of how the board's new majority passes this first significant test of its mettle, the charter division is standing firm.
"We must ensure that the independent charters we oversee are safe, publically accountable and provide learning environments that support student success," a district spokesperson said in a written statement on Thursday. "While we cannot speculate on what will happen at Tuesday's board meeting, we remain committed to providing options for our students and families."
Branding Irony: OC High School Students Rebel Against Confederate Mascot
Co-published by The Daily Beast

Will an Orange County high school drive Old Dixie down and replace its Confederate-soldier mascot of 50 years?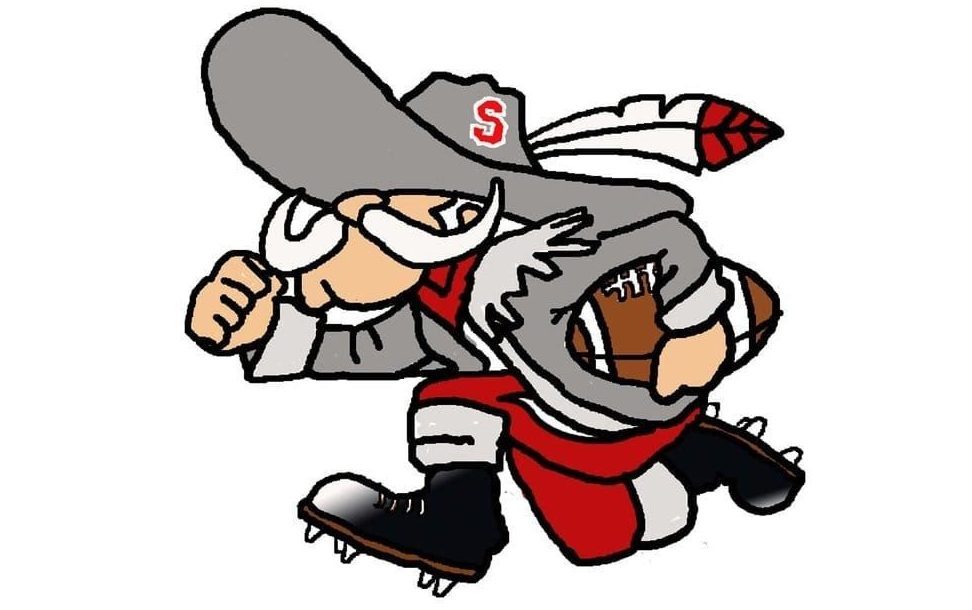 Whistling Dixie: Savanna High School's football-team version of its mascot.
An Orange County icon
of white supremacy
is being challenged.
---
Co-published by The Daily Beast

Savanna High School has a Confederate soldier for a mascot, and defenders of  "Johnny Rebel" — chosen by the student body back during the civil rights movement — argue that the branding is part of their heritage. However, Savanna High School is not in the Deep South, where one might expect such a controversy, but in Southern California's Orange County, a few miles from Disneyland.
Lay-Onna Clark, 15, didn't give it much thought until she and some friends formed a black student union last August, the start of her junior year. It was when they started designing T-shirts that it really hit them: "The mascot supports white supremacy — that one race is superior to another," she said in an interview. Indeed, it literally represents one race fighting to enslave another.
According to a flier handed out by anti-mascot activists at a Thursday, November 2 meeting of the Anaheim Union High School District Board of Trustees, the predominantly white students in the class of 1967 who chose to be represented by Johnny Rebel — a term for a Confederate soldier, and the stage name of a prominent white supremacist musician — did so to send "a clear message that people of color were not welcome at Savanna High School or in Anaheim."
Savanna H.S. Alumnus:
"1999 is when the Confederate flag became a problem. I was in the basketball program… and we hosted Compton High School."
A lot has changed in 50 years. Whites now make up less than 10 percent of the student body at Savanna and, as of the 2010 Census, are but a slim majority in Anaheim. But a lot of things haven't changed, too. The election of President Donald Trump, and subsequent displays of explicit white supremacy in the streets of cities like Charlottesville, Virginia (and a 2016 Ku Klux Klan rally in Anaheim), have served as a reminder of that, driving home what "heritage" means with respect to the Confederacy.
Clark said realizing the meaning of Johnny Rebel — depicted on a large quilt hung behind the board of trustees as a soldier clad in gray, charging with rifle in hand — led her and three friends to campaign for its removal. They approached the school board last fall with their concerns, and the board has responded by initiating a process that seems likely to see Savanna's mascot at the very least rebranded.
On October 25 the Orange County Register reported that 56 percent of students had voted to "rebrand" Johnny Rebel, with another 18 percent expressing support for doing away with the mascot altogether; 26 percent sided with the status quo. The vote came eight years after the school tore down an old, dilapidated statue of the Confederate mascot, the paper noted.
The non-binding vote came after a student-led forum on the issue, and after the school devoted a week to raising "awareness and understanding" of the mascot's place in history.
"I believe this could be a teachable moment for the entire country," Superintendent Michael Matsuda said ahead of Thursday's meeting.
Gabriel San Román graduated from Savanna in 2000. A staff writer for OC Weekly, he's written about how, when he was there, the school still featured the battle flag of the pro-slavery South at its pep rallies. In an interview, he recalled how the school's "rebel" theme used to be even more explicitly tied to white supremacy, and how that required changing.
"Nineteen ninety-nine is when the Confederate flag became a problem. I was in the basketball program… and we hosted Compton High School." With many black students expected to attend the game, the schools' respective principals decided something should probably be done about the large symbol of white supremacy in the gymnasium. "So what they had the cheerleaders do is make a bunch of signs, and those signs were awkwardly placed… to cover the shame of the Confederate flag during that game."
After that, the school began quietly phasing out the Confederacy.
"I think it's happening now because Anaheim has changed, demographically, and with that so has the political makeup of the school board," San Román said of the latest controversy. As the city has become less white, it's become more liberal.
A Johnny Rebel supporter warned of a slippery slope where we "remove all the things in the history books that offend people."
But change should be not overstated. Since she began campaigning against her school's mascot, Clark said she's discovered that white supremacy still lurks in the halls.
Social media — "Snapchat and Instagram" — is where the abuse is most brazen. "They were calling us niggers and all kinds of stuff, saying they were going to jump me after school," she said. She no longer takes the bus home from school; instead, she waits in the principal's office for her mother to pick her up.
But "it's not about feeling safe," Clark said. "I think the mascot is more about people feeling comfortable being themselves." She's not sure what should replace it — "maybe a bird?" — but she wants one "that will make everybody feel equal. Not just for the African-American community, also for the Latino community, the Korean community, Pacific-Islanders. The majority of people in this district. It's not just African-American and white. It's not that type of battle."
Yet it's not a battle without resistance. At the November 2 board meeting, several people, including one man from out of town who said he read about the debate in a local paper, spoke in favor of keeping Johnny Rebel.
And Jeanne Tenno, of the class of 1976, said she is "proud to be a Savanna Rebel," and warned of a slippery slope where we "remove all the things in the history books that offend people — the bad history."
"Let's correct the historical record," she continued. "Give back the American Indians their land; the land that belonged to Mexico; the kingdom of Hawaii. And let's return the land that was stolen from the interned Japanese. Because that's what this is becoming."
A decision on whether to head down that road could come as soon as today, November 6, when the Savanna school board will host a special forum with students at the high school.
---
Update: Anaheim's school district voted Nov. 6 to rebrand Savanna High School's mascot — shedding the Confederate image and name of Johnny Rebel, but retaining the school's  "rebel" identity.