L.A. Residents Voice Olympic Anxiety at Public Forum
With its storybook marriage of private investment and civic management, the myth of the 1984 L.A. Olympics is alive and well at City Hall. But not everyone's memories of the Summer of '84 are quite so golden.

The police and militarization panel at the NOlympics public forum. From left: David Stein, Ace Katano, Michael Novick, John Motter, Melina Abdullah.
Photo via NOlympics LA
.
---
For Mayor Eric Garcetti and the rest of the bid committee working to bring the Summer Olympics back to Southern California, the 1984 Los Angeles games are not just a beloved chapter of local history, but one to be emulated as closely as possible. With its storybook marriage of private investment and civic management, the myth of the glorious L.A. Olympics is alive and well at City Hall. But not everyone's memories of the Summer of '84 are quite so golden.
"The reality was very different. Communities were under siege," recalled Pete White of the Los Angeles Community Action Network (LA CAN) while speaking to residents last week at "Stop Playing Games: A Public Forum on the L.A. Olympic Bid."
The event was hosted by the NOlympics LA coalition, a community activist network campaigning against the city's bid for the Summer Games. For the past four months, NOlympics LA sought to bring increased scrutiny to L.A.'s bid through grassroots action and protests. But now that Los Angeles — pending ratification of the bid by the International Olympic Committee in September — is set to host the 2028 Summer Games, NOlympics LA will focus on raising awareness of the impact the next 11 years of Olympic preparations are likely to have on residents.
For his part, White was clear about how the new promises of assistance to at-risk communities stack up against what was being said in 1984: "It's a remix. We're on repeat."
The evening featured panel discussions on major issues of community concern, including accelerated gentrification and displacement, an increased law enforcement presence and the redistribution of resources towards Olympic-centric infrastructure. Panelists were a mix of organizers, activists and academics, and included Melina Abdullah, a prominent Black Lives Matter organizer and California State University, Los Angeles professor. Abdullah, who was on the policing and militarization panel, had been arrested earlier that day protesting the killing of 18-year-old Carnell Snell Jr. by the Los Angeles Police Department.
The first forum panel dealt with housing and displacement, covering issues likely to be exacerbated by the upcoming games, from gentrification and rent hikes to increased inspections and building code enforcement. The latter can result in displacement for those unable to pay fines or for newly required improvements.
"You will see very different impact in the white community and black community," said Damien Goodmon, executive director of the Crenshaw Subway Coalition. Increased selective law enforcement was a recurring theme of the night, with most panelists agreeing that policies that appear benign in more affluent communities can be catastrophic to vulnerable and marginalized people.
The evening's police and militarization panel also drew a line between the increased security for the games and the danger to communities of color. "Police function as an occupying army in communities of color," said Michael Novick of Anti-Racist Action. "The problem is not police misconduct. The problem is the conduct of the police."
"The role of policing is to impose specific order on specific people," said Ace Katano, a public defender and Ground Game LA organizer. Increased enforcement and an emphasis on so-called "broken windows" policing can lead to more arrests and prosecutions for misdemeanors and minor crimes, he explained. There is a disproportionate impact on the poor, for whom even relatively small fines or short jail terms can mean the difference between being able to work and pay rent or losing everything.
The final panel discussed accountability and oversight, both points of contention with community leaders who complain that the L.A. Olympic bid committee and Mayor Garcetti have refused to meet publicly with them to discuss their concerns about hosting the games. The City Council voted on August 11 to cover any cost overruns on a bid that was originally calculated with venue and vendor contracts in place for 2024, but repurposed for 2028 and rushed through the approval process to meet an August 18 deadline set by the International Olympic Committee.
Organizers invited Garcetti and other members of the bid committee to participate in the public forum, but none accepted.

'Skeleton Crew' Is a Play With a Moral Spine
Set in a Detroit automobile outfitting plant, Dominique Morisseau's drama grabs you from the start with its focus on blue-collar men and women, and their struggle for dignity and self-respect.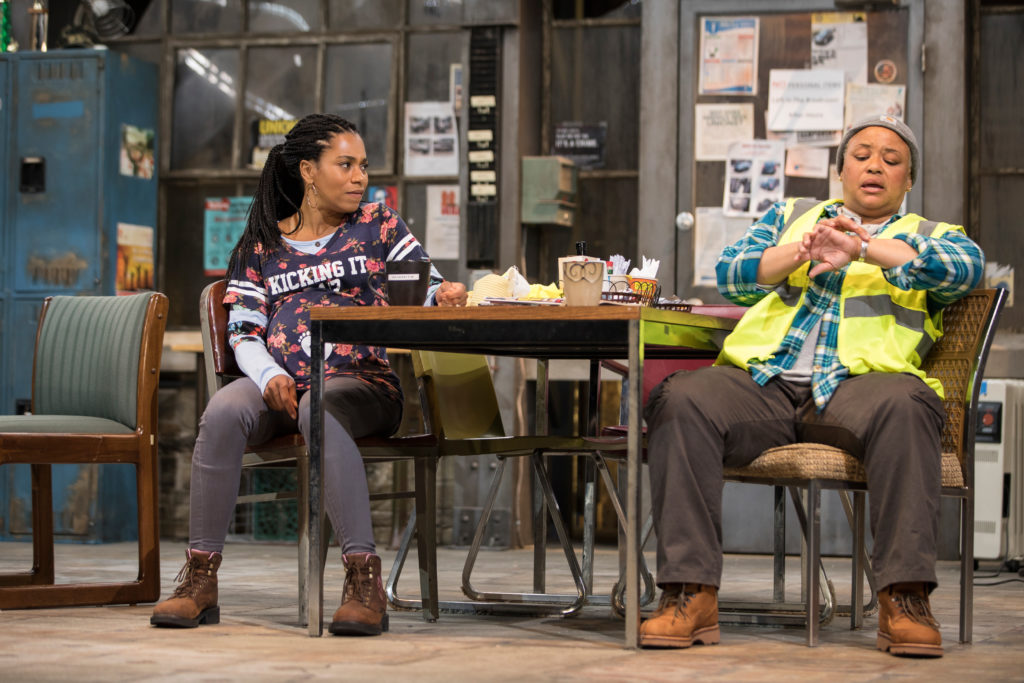 Working-class men and women of color are rarely front and center in today's media and, likewise, are presented all too occasionally on the American stage. So it's buoying to see that trend bucked in playwright Dominique Morisseau's percipient and well-crafted drama, Skeleton Crew. The play is the final installment in her Detroit  Project Trilogy; the first, Paradise Blue, is set in the 1940s amidst displacement caused by urban renewal and gentrification, while the second, Detroit '67, transpires on the eve of the 1967 Detroit riots sparked by a police action.
Directed by Patricia McGregor at Los Angeles' Geffen Playhouse, Skeleton Crew is a play with a moral spine. It takes place in 2008, when the shrinking U.S. auto industry is being further downsized. Morisseau's engaging quartet of characters — Faye (Caroline Stefanie Clay), Dez (Armari Cheatom), Shanita (Kelly McCreary) and Reggie (DB Woodside) – are employed at an automobile outfitting plant. Faye, Dez and Shanita are workers on the line while Reggie (who has a wife and kids, and has pulled himself together after a troubled youth) is their supervisor.
The first three customarily mingle in their break room (designer Rachel Myers' impressively cluttered, dingy and detailed set), trading the sort of familiar barbs and genuine concern for each other common among longtime co-workers. They also face off on philosophy: Upper-middle-aged Faye and the younger, pregnant Shanita take pride in their labor, while Dez, though a good worker, is a malcontent scornful of management and firm in the belief that everyone needs to watch out for himself. He's a thorn in Reggie's side, for while Reggie wants to be supportive of his workers, he must act at the behest of higher management. For his part, Dez resents Reggie's authority, and a palpable unease exists between them.
Besides this male matchup, we're made privy to Dez's attraction to Shanita, who mostly turns away his advances, but every now and then displays a hint of interest. Most poignant is Reggie's regard and affection for the lesbian Faye, which has roots in his boyhood when she loved, and lived, with his now-deceased mom.
These people's various predicaments intensify when rumors spread of the plant's shutdown — a disaster for all, but a particular calamity for the already near-broke Faye who, one year short of retirement, would lose her pension. The crisis forces each of these people to make a choice.
A sound piece of social realism, Skeleton Crew grabs you from the start in its focus on blue-collar men and women, and their struggle against odds for dignity and self-respect. Morisseau not only furnishes these characters a platform for their travails, she endows them with strong values, big hearts and the opportunity to choose between right and wrong.
Unfortunately, the performance I attended did not soar. Many exchanges lacked a fresh edge. The actors certainly had their characters down, but too often they appeared to be coasting on technique. (This seemed particularly true of Clay, who performed the role to great accolades in Washington, DC in 2017, also under McGregor's direction). Additionally, some of the stage movement was not entirely fluid; in confrontations, actors sometimes would just stand and face each other in an artificial way. And Cheatom's interpretation of Dez struck me as a bit overly churlish and depressive: I needed more glimpses of the intelligence and edge that would secretly attract the strong, self-directed Shanita.
The most compelling moments belong to Woodside, well-cast as a man trying his best in difficult circumstances to do the right thing.
---
Gil Cates Theater at the Geffen Playhouse, 10886 Le Conte Ave., Westwood Village; Tues.-Fri., 8 p.m.; Sat., 3 & 8 p.m. Sun., 2 & 7 p.m.; through July 8. (310) 208-5454 or www.geffenplayhouse.org