L.A.'s Public Health Advocates Warn of Unintended Consequences on Eve of Crucial Consolidation Vote
The nation's largest county government is poised to move forward Tuesday with a plan that critics say could roll back innovative public health programs and compromise everything from infectious disease containment to the prevention of smoking, obesity and sexually transmitted diseases.
On August 11, the Los Angeles County Board of Supervisors will vote on a proposed consolidation of three health agencies — the Department of Health Services (DHS), the Department of Public Health (DPH) and the Department of Mental Health (DMH). The plan has the backing of liberal supervisors Mark Ridley-Thomas and Sheila Kuehl, as well as their conservative colleague Mike Antonovich — all of whom argue that it will improve care but are opposed by an array of public health and mental health advocates.
"This consolidation has the potential to cripple public health," said a high-ranking official with DPH, who spoke on the condition of anonymity. "Critical prevention services that Public Health carries out could be severely reduced or even eliminated if it's determined that funding is necessary for county hospitals."
Public health advocates fear that a mega-agency would favor medical care, relegating ambitious prevention initiatives to second-class status. In a recent op-ed published by the Daily News, former DPH director Dr. Jonathan Fielding and his co-authors charged that "a similar organizational structure…in place prior to 2006 essentially crippled public health, reducing its responsiveness and hobbling its prevention programs."
Fielding notes that, "since 2006, life expectancy in L.A. County has increased and death rates have declined by double digits for coronary heart disease, stroke, lung cancer and infant mortality." The implication is that these advances could easily be reversed if the consolidation goes forward. Equally troubling to public health advocates is the prospect of a county government unprepared to mount large-scale flu vaccination efforts, or worse, fight the outbreak of an infectious disease.
Over the past decade, DPH has rolled out a number of high-profile programs aimed at preventing disease and violence. These include campaigns targeting secondhand smoke and sugar-sweetened beverages, as well as Parks After Dark, which has been credited with significant decreases in violent offenses.
Advocates point to the success of these initiatives as proof that public health should not be subordinated to medical care. "Chronic disease is the biggest killer in L.A. County," said the DPH official. "By the time you get to a clinic or hospital many times it's too late. Prevention is key. We have to invest more in prevention, and that investment is at risk."
Kuehl dismisses the idea that valuable prevention programs could get the axe.
"The issue of whether or not Public Health will somehow be hurt in its overall goal is at the moment a sort of fantasy," she told Capital & Main. Kuehl notes that, unlike in the past, DHS has plenty of money in the era of Obamacare and has no reason to try to take resources from DPH.
"The federal government, through Obamacare, has said it really wants there to be more integration of health service delivery because disintegration has not served our clients, and that's what we heard from the clients," said Kuehl. "I believe it's much better to get integrated health care."
Mitch Katz, the current head of DHS — and the man considered most likely to lead the proposed mega-agency — is another strong proponent of consolidation. Katz has argued that merging the departments would streamline care and reduce costs.
"What's being proposed is an agency where you maintain the independence of three departments, you maintain the budgets of three departments, but essentially what the agency does is coordinate those activities in ways that most benefit the patient," Katz said on KPCC's AirTalk. "It can also benefit public health because the health service system takes care of many of the people who are most affected by today's public health problems, like obesity."
Critics of the plan are skeptical of Katz's claim that under the new mega-agency public health and mental health will retain their independence, let alone their full funding.
Manal Aboelata, managing director at the nonprofit Prevention Institute, expressed concern that L.A. County's forward-looking disease prevention programs could easily be eroded under the proposed mega-agency. Her group, like others, wants to ensure that DPH remains fully funded and has a strong, independent voice before county government.
"We would like to see a plan and vision articulated for how we in the county are going to move forward to prevent illness and injury in the first place before we move forward with a massive reorganization," she said.
A coalition of 135 organizations is urging the Board of Supervisors to adopt an alternative plan that would preserve the current autonomy of the three health agencies but improve coordination between them. Kuehl, for one, doesn't seem inclined to change her position. "It's a collaborative model. Nothing has kept them from doing that in the past five years except themselves. They should have all been cooperating but they don't."
Fielding, however, says the alternative plan would achieve the same goal of collaboration while protecting against domination by the Department of Health Services.

Rick Scott Invested in the Same Financial Firms As Florida's Pension System
Co-published by MapLight
For most of his time in office, Florida's governor has shielded his investments from public view. A new disclosure shows Rick Scott and his wife have invested at least $18 million in financial firms managing money for the state's pension system that he oversees.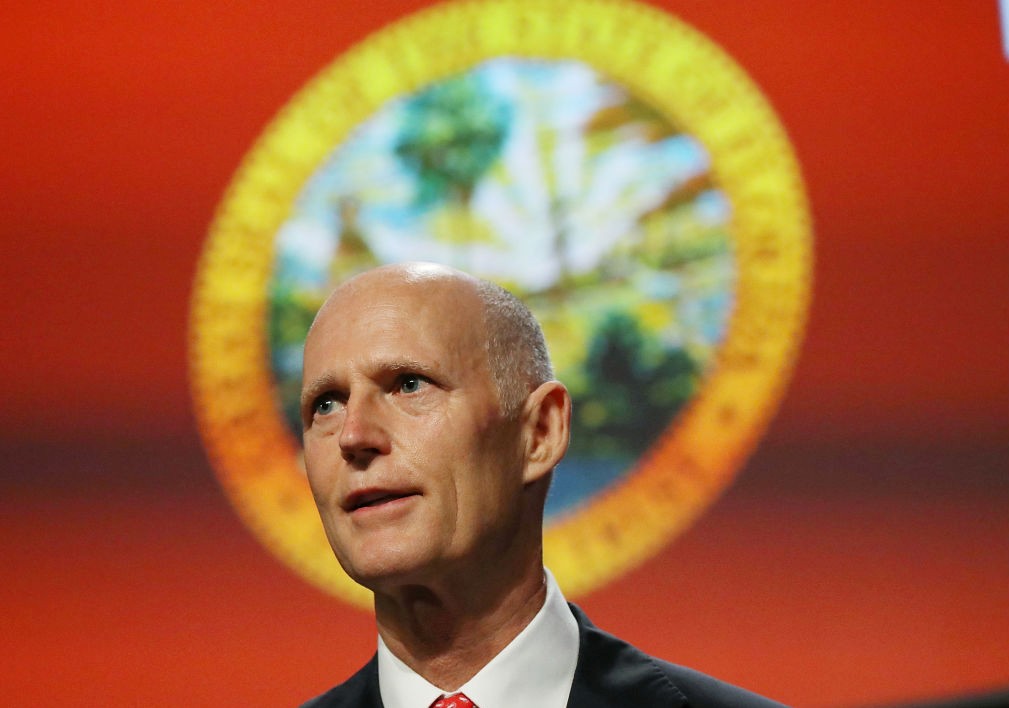 ---
Former SEC Lawyer: "There needs to be an investigation into whether the state is subsidizing Rick Scott's personal returns."
---
Co-published by MapLight
Florida Gov. Rick Scott and his wife have invested at least $18 million in three financial firms managing money for the state's pension system that Scott oversees — a situation that intertwines the governor's personal finances with his responsibility for supervising state employees' retirement savings.
The investments were first divulged in a federal financial disclosure form that Scott filed as part of his U.S. Senate campaign in July. For most of his time in office, Scott has shielded his investments from public view, and only reported their overall value in his blind trust.
The terms of Scott's investments remain undisclosed. The firms' own corporate documents say they can give certain investors special preferences not afforded to other investors — and experts have in recent years argued that hedge funds, private equity firms, and other "alternative investments" are giving such preferences to elite investors. One former Securities and Exchange Commission attorney told MapLight and Capital & Main that Scott must disclose whether he is being given such preferences.
---
Critics have raised questions about how blind the Scott family trusts really are.
---
Florida ethics laws are supposed to prohibit state officials from entering into contractual relationships with companies that do business with their agencies. However, after Scott became governor in 2011, state ethics officials said he and his family members could put their assets into a blind trust to avoid conflicts of interest and still maintain their investments in companies operating in Florida.
Critics have raised questions about how blind the Scott family trusts really are. Scott placed one of his longtime business associates in charge of managing his blind trust. The Tampa Bay Times reported that Scott's blind trust has invested with a private equity firm tied to a high-speed rail project in Florida. The trust also had an indirect interest in a cancer treatment company that received tax breaks from Scott's administration.
---
"The question is whether Rick Scott is being allowed to invest on better terms than the state pension fund."
---
"When Governor Scott was elected, he put all of his assets in a blind trust, which is managed by an independent financial professional who decides what assets are bought, sold or changed," said Scott campaign spokesperson Lauren Schenone. "The rules of the blind trust prevent any specific assets or the value of those assets within the trust from being disclosed to the governor, and those requirements have always been followed."
Scott is one of three state officials who serve as trustees for the Florida State Board of Administration, which manages a $160 billion fund for roughly 400,000 retirees. Scott, Attorney General Pam Bondi, and Chief Financial Officer Jimmy Patronis oversee lucrative state investment deals granted to cash-hungry Wall Street firms.
The three firms that have received $325 million worth of Florida pension investments have allowed the Scott family's blind trusts to simultaneously invest their personal fortunes in these funds. Scott's investments in the funds did not appear in a 2014 disclosure itemizing his holdings. His campaign did not say when the investments were made.
"There are no ethics rules that prohibit or limit a trustee from investing in funds also invested in by the SBA," said SBA spokesperson John Kuczwanski, though he added that trustees are subject to Florida's general code of ethics. Kuczwanski said that the governor has no involvement in specific pension investment decisions.
Don Hinkle, a Democratic lawyer, filed a lawsuit last year alleging that the governor has failed to comply with the state's blind trust and financial disclosure laws. He said he was surprised by the news that Scott had invested in the same firms as the Florida pension system.
"I would think that he would have avoided investments where the state of Florida's money is propping his up," Hinkle told MapLight and Capital & Main.
In 2011, a few months after Scott became governor, the SBA committed $150 million to Highline Capital Partners, a New York-based hedge fund. Scott's financial disclosure shows that his family's trusts have invested at least $4 million in the same Highline fund as the state.
The SBA also committed $100 million in 2015 to a hedge fund managed by Canyon Capital Advisors, a Los Angeles-based firm created by veterans of the notorious investment bank Drexel Burnham Lambert, which was driven into bankruptcy as a result of illegal and unethical trading practices. Scott and his family have invested at least $12 million in Canyon funds, according to his financial disclosure.
Before Scott became governor, the SBA invested $75 million with VSS, a New York-based private equity firm that was launched by a co-founder of Psychology Today. Scott and his wife, Ann, have invested more than $2.2 million in another VSS fund. A spokesperson for VSS said the firm doesn't comment on its investors.
All three firms' SEC filings say they can offer certain investors special fee terms or other benefits not offered to other investors.
"Alternative investment funds have the ability to offer every investor different fees at a different rate of return, so the question is whether Rick Scott is being allowed to invest on better terms than the state pension fund," said former SEC attorney Edward Siedle, whose Florida-based firm conducts forensic investigations of state pension systems.
"If you give one investor an advantage, another investor has to be disadvantaged," Siedle said. "That means there needs to be an investigation into whether the state is actually subsidizing Rick Scott's personal returns and whether the governor enjoys advantages that are harming the retirees."
Schenone, Scott's spokesperson, said that his blind trust has "been upheld multiple times by the State Commission on Ethics and the court system. Governor Scott has also followed the requirements of all state and federal financial filings."
She noted that former Florida Republican Gov. Jeb Bush and Scott's 2010 Democratic opponent Alex Sink had also used blind trusts, although Scott's campaign attacked Sink for hers at the time.
"Blind trusts sound good but can run afoul of state laws requiring public officials to disclose their personal finances," a Scott campaign ad said in 2010. "[But] simply moving large amounts of money into a blind trust does not magically erase the knowledge of what you own."
---
This piece was reported by Andrew Perez of MapLight and David Sirota of Capital & Main, and published in partnership with the Florida Center for Investigative Reporting.