Why Has Los Angeles' DA Been Slow to Expunge Old Pot Convictions?
As San Francisco and San Diego counties moved forward with automatic resentencing for old cannabis-related crimes, the Los Angeles District Attorney's office balked — saying, in effect, that people with convictions were on their own.

Up to a million Californians have been convicted of crimes that may no longer exist. Those convictions remain on their records, however, and removing them — especially in Los Angeles County — may take years. Proposition 64, the voter-approved 2016 ballot measure, legalized the recreational use of marijuana and reclassified most state-level felony cannabis offenses as misdemeanors. Some misdemeanors were reduced to mere infractions.
This change in the law means that many of those who have a cannabis conviction on their records are eligible for resentencing. Some are even eligible to have old convictions expunged. The chance to remove or reduce existing criminal convictions represents an opportunity to erase an obstacle to finding steady employment or stable housing.
---
Resentencing past pot offenders can be long and complicated, taking time and money that many people dealing with life after their convictions don't have.
---
But now comes the hard part. Prop. 64 allows those convicted of a cannabis offense to petition a judge to have their old convictions reexamined. However, like most procedures in the criminal justice system, resentencing can be long and complicated, and takes time and resources that many people dealing with life after their convictions simply don't have.
"Even under the new rules, there are still a lot of barriers for folks who have been affected by the criminal justice system," said Eunisses Hernandez, a policy coordinator for the Drug Policy Alliance in Los Angeles, a group that advocates for the rethinking drugs as a health and non-criminal issue. "Where do you get a copy of your criminal docket? Will you be charged for getting copies of that document? What other documents do you need? Attorneys can charge people $2,000 to do an expungement, but lots of folks don't have those resources."
Consequently, while there may be as many as a million cannabis-related convictions eligible for resentencing in California, state statistics show fewer than 5,000 people initiated the process statewide during the first year of the new cannabis rules.
District attorneys' offices in San Francisco, Alameda and San Diego counties have indicated their willingness to proactively comb through old cannabis conviction records. This review of records means that people with previous cannabis-related convictions in those jurisdictions will see their convictions reduced or expunged automatically.
But as San Francisco and San Diego counties moved forward with automatic resentencing, the Los Angeles District Attorney's office balked. On February 2, District Attorney Jackie Lacey issued a statement saying, in effect, that people with convictions were on their own. Her statement also said that those most affected by these convictions should petition the court "rather than wait for my office to go through tens of thousands of case files."
Lacey's problem is one of scale. There are wildly varying estimates of marijuana convictions that should be expunged: San Francisco authorities have identified nearly 5,000 felonies alone, dating back to 1975, and Lacey's office estimates that 40,000 felonies have been recorded in Los Angeles since 1993; L.A.'s public defender's office claims there are about 200,000 felony and misdemeanor convictions in the county eligible for expunging. Going through those old case files and evaluating whether they qualify for resentencing or expungement takes time and resources that might not be immediately available.
Less than two weeks after Lacey issued her statement, however, the Los Angeles County Board of Supervisors unanimously passed a motion announcing that it intends to take steps towards the meaningful criminal-justice reform provided under Prop. 64. That motion, pushed by supervisors Mark Ridley-Thomas and Hilda Solis, instructs several county agencies, including the district attorney's office, to collaborate and draft a plan for addressing the thousands of cannabis-related convictions in the county, as well as ensuring greater equity in the ever-evolving landscape of legal cannabis.
"The war on drugs led to decades-long racial disparities in cannabis-related arrests and convictions," Supervisor Ridley-Thomas said when the motion passed. "We have a responsibility now to seek widespread reclassification and resentencing for those with minor cannabis convictions on their records, including the destruction of court records for youth."
At the February board meeting, Supervisor Solis said she understands that "the district attorney's office has concerns and some hesitation. The DA prosecuted more marijuana-related cases than any other jurisdiction in the state of California, and going through those case files would take a lot of time … I would urge our own DA to expand its role in helping people get their records expunged, and help them get their second chance in life. I believe that this board will support those efforts."
Following the supervisors' action, Lacey's office revised its public posture, telling Capital & Main in an email:
"In response to the board's motion, the District Attorney's Office is committed to working with the Public Defender's Office and other county departments to create an equitable solution that will make it easier for people seeking to reduce or dismiss prior convictions involving marijuana to get the legal relief to which they are entitled under Proposition 64."
The goal, looking forward, is for the district attorney's office, working with several other county agencies, to have a plan ready for the supervisors to consider by June. But exactly how the county is going to do that remains an open question.
"It would be best if the DA would take responsibility and reduce or reclassify the 40,000 marijuana felonies that currently exist in the system," said the Drug Policy Alliance's Hernandez.
For Jonatan Cvetko, founder of the cannabis advocacy organization Angeles Emeralds, "the best thing would be if people just get a nice letter in the mail saying, 'Your record has been expunged. Have a nice day.' Considering that San Francisco and San Diego are taking that route, there's no reason in the world why Los Angeles County cannot be following suit."
---
Copyright Capital & Main
The Hard Work of Diversifying Higher Education in California
In California, where 76 percent of its K-12 enrollment is students of color, diversifying public colleges and universities is a top priority.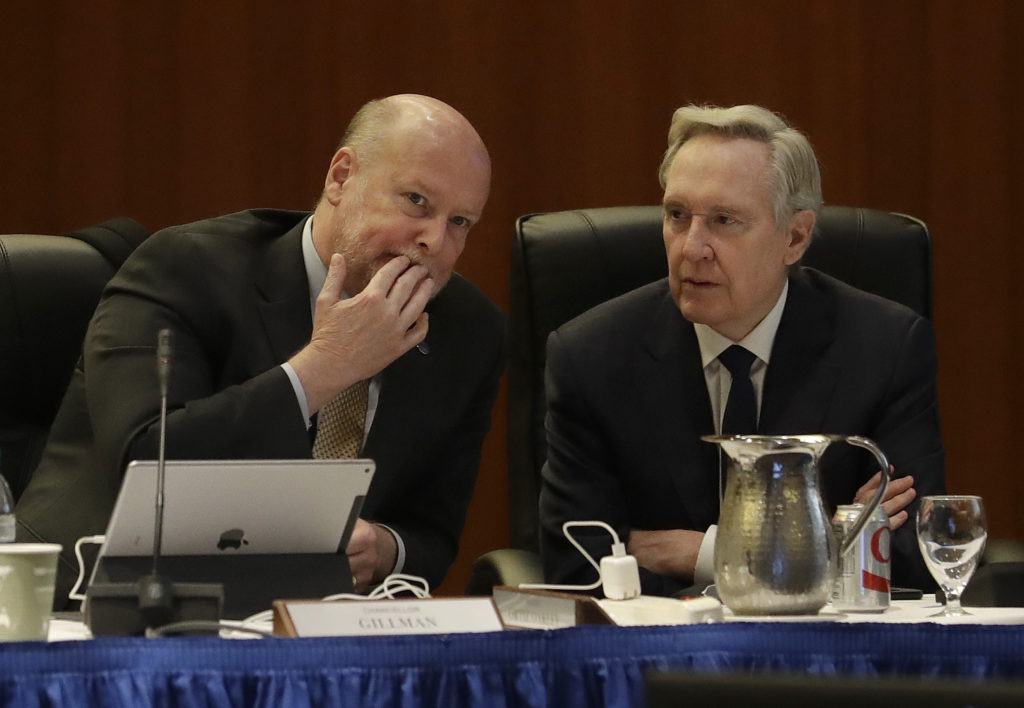 ---
USC Professor: "The only way that we're going to change educational outcomes is if we have faculty that are racially literate."
---
On April 30 Thomas Kanewakeron Gray, 19, and Lloyd Skanahwati Gray, 17, two Native American Mohawk brothers, joined a campus tour of Colorado State University, a sprawling, public research university located just an hour north of Denver. They had scrimped and saved, their mother would later say, to make the seven-hour drive from the family's home in Santa Cruz, New Mexico to "their dream school."
The two teens joined the tour somewhat late, provoking one nervous mother, who was white, to call 911 and describe them as "Hispanic" kids "from Mexico" who "joined our tour" yet "weren't a part of our tour." The bewildered boys, who had been invited there by the university's admissions office, quickly found themselves being frisked and questioned by campus police, before they were released. (Colorado State University is nearly 80 percent Caucasian; the senior leading the tour later admitted she hadn't even noticed the police remove the Grays.)
The brothers' ordeal illustrates the degree to which higher education's path to economic security and enlightened citizenship is increasingly crossing a battleground for a broader American promise of equal opportunity called diversification. The Colorado incident is part of a recent minefield of what psychologists label microaggressions — the everyday indignities of racially themed slights, snubs, insults and general indifference whose hurt tends to be invisible to its perpetrators but is experienced by marginalized groups as a very real, if low-level and wearying state of dread. When they occur on a college campus, their impact on degree completion can be profound.
---
Success for first-in-their-family college students of color can be dramatically improved by hiring more faculty
that look like those students.
---
"The only way that we're going to change educational outcomes is if we have faculty that are racially literate," University of Southern California's Rossier School of Education educational equity professor Estela Mara Bensimon told Capital & Main by phone. "In other words, they have an awareness of how the classroom can be a racialized space, where microaggression or other kinds of circumstances are detrimental to students of color."
In racially diverse California, those circumstances included last month's furor over the latest fraternity hijinks at Cal Poly San Luis Obispo, a California State University campus that holds the distinction of being the least diverse public university in the state. It's a lack of diversity that tends to play out at Cal Poly fraternities in near-annual rites of disparaging ethnic and racial minorities. The targets of April's incident, which triggered campus protests when photos turned up on social media of fraternity members in minstrel blackface and dressed as Mexican-American gang members, were African-Americans and Latinos. In 2013, the insult was to women and Native Americans. Last year, it was the idea of diversity itself.
For California, which boasts both the fifth-largest economy in the world, and where 76 percent of its K-12 enrollment is students of color (and still surging), diversifying public colleges and universities is a top priority. Producing the educated workforce needed to continue growing the economy means not only recruiting students of color but also seeing them complete a degree.
Or at least that's the argument made in a new study by the college-equity advocacy group Campaign for College Opportunity (CCO). Called Left Out: How Exclusion in California's Colleges and Universities Hurts Our Values, Our Students, and Our Economy, the report found that although systemwide student diversity at California's public colleges and universities is a robust 69 percent (second only to Hawaii), its faculty and senior leadership tend to often be white and male.
Using data for the 2016-17 academic year for all three segments of the state's higher education system — University of California (UC); California State University (CSU) and California Community College (CCC) — it found that tenured faculty was at least 32 percent racially diverse, while senior leadership came in at roughly 40 percent diverse and academic senates scored a disappointing 26 percent. Women were significantly underrepresented in college governance, with men making up about two-thirds of the system's regents, trustees and Community College Board of Governors. The least diversified faculties and leadership were the 10 UC campuses; California's 114 Community Colleges were the most diverse systemwide — with the exception of its academic senates.
The other wrinkle, says CCO senior vice president Audrey Dowd, were nagging gaps between college access and degree success for minority students. "When we look at completion, that's where we see a huge disparity in rates of success. So we know that Latinx students, black students and then some subgroups within the Asian American population, are not fairing as well, they are just not completing at the same rate as their white counterparts."
The findings add to an already well-supported argument that college success for often first-in-their-family college students of color can be dramatically improved merely by hiring more faculty that look like those students.
"Our work looking at faculty of color has found that they're more likely to employ teaching practices that we know are good for underserved students," said J. Luke Wood, director of the Doctoral Program in Community College Leadership at San Diego State University. "You have to be exposed to people who look like you at some point, or else it's hard to envision yourself doing the kinds of things that they're recommending you do to be successful."
That's what Devon Graves, a black third-year Ph.D. candidate at the University of California, Los Angeles and a first-generation college student from Riverside County, said happened to him when he met the popular political science professor Renford Reese while Graves was an undergraduate at Cal Poly Pomona, the 81 percent diversified sister campus to Cal Poly San Luis Obispo. Reese became his undergraduate adviser.
"He was one of a few African-American tenured professors, but he did play an important role in where I'm at today," Graves recalled. "I just remember still having a tough time transitioning onto campus, having that impostor syndrome, thinking that I didn't belong. … If it wasn't for him, I would have never thought of myself as someone who can pursue a Ph.D. and do the research that I do and see myself as a professor. So seeing someone who looked like me in that position, and who helped mentor me to get to that next level made a world of difference."
One of the more outstanding exceptions in the CCO report was 60,000-student East L.A. College, whose president, Marvin Martinez, hosted the organization in March when it came to Los Angeles to present the study's community college findings. With its 67 percent Latinx enrollment, 72 percent diversified faculty and a college leadership that was 80 percent Latinx (and 60 percent Latina), Martinez said that diversity has actually been the school's most potent recruitment tool.
"It's one major reason students come to East L.A. college," he said at the conference. "It's also a [faculty] recruitment tool, by the way. … I ask them, 'Why East L.A. College? Why are you interested in this campus?' And many give me the same response: 'I feel at home here.' 'I like it here.' 'I feel that the people know me.'"
But it's one thing to make the case that a more diversified faculty and administration will lead to greater college completion for minorities that will attract more faculty of color, which will be ultimately good for all Californians — and another to actually get that ball rolling.
Bensimon, who as the director of USC's Center for Urban Education also teaches diversifying colleges how to "re-script" their hiring processes, pointed out that California has what she calls "a locked system of hiring" that has evolved precisely to preserve power by yielding primarily white candidates.
That's partly because policies like hiring preferences trickle down from the top in California's system of public higher education, where the "top" is whoever is sitting behind the governor's desk. California's governors appoint the UC regents, the CSU trustees and the CCC board of governors, which is why their complexions tend to mirror the overwhelmingly white, male makeup of the state's political elite. It's also why CCO has injected the issue into the governor's race by hosting three gubernatorial forums on higher education. It is not a done deal.
"It's really about whiteness as an institutional culture and an institutional practice that most whites are not able to see," Bensimon reflected. "Unless we begin to make that more transparent and be able to talk about it, I just think it's really hard to change, to help institutions of higher education be more equity-producing."
---
Copyright Capital & Main