Why Has Los Angeles' DA Been Slow to Expunge Old Pot Convictions?
As San Francisco and San Diego counties moved forward with automatic resentencing for old cannabis-related crimes, the Los Angeles District Attorney's office balked — saying, in effect, that people with convictions were on their own.

Up to a million Californians have been convicted of crimes that may no longer exist. Those convictions remain on their records, however, and removing them — especially in Los Angeles County — may take years. Proposition 64, the voter-approved 2016 ballot measure, legalized the recreational use of marijuana and reclassified most state-level felony cannabis offenses as misdemeanors. Some misdemeanors were reduced to mere infractions.
This change in the law means that many of those who have a cannabis conviction on their records are eligible for resentencing. Some are even eligible to have old convictions expunged. The chance to remove or reduce existing criminal convictions represents an opportunity to erase an obstacle to finding steady employment or stable housing.
---
Resentencing past pot offenders can be long and complicated, taking time and money that many people dealing with life after their convictions don't have.
---
But now comes the hard part. Prop. 64 allows those convicted of a cannabis offense to petition a judge to have their old convictions reexamined. However, like most procedures in the criminal justice system, resentencing can be long and complicated, and takes time and resources that many people dealing with life after their convictions simply don't have.
"Even under the new rules, there are still a lot of barriers for folks who have been affected by the criminal justice system," said Eunisses Hernandez, a policy coordinator for the Drug Policy Alliance in Los Angeles, a group that advocates for the rethinking drugs as a health and non-criminal issue. "Where do you get a copy of your criminal docket? Will you be charged for getting copies of that document? What other documents do you need? Attorneys can charge people $2,000 to do an expungement, but lots of folks don't have those resources."
Consequently, while there may be as many as a million cannabis-related convictions eligible for resentencing in California, state statistics show fewer than 5,000 people initiated the process statewide during the first year of the new cannabis rules.
District attorneys' offices in San Francisco, Alameda and San Diego counties have indicated their willingness to proactively comb through old cannabis conviction records. This review of records means that people with previous cannabis-related convictions in those jurisdictions will see their convictions reduced or expunged automatically.
But as San Francisco and San Diego counties moved forward with automatic resentencing, the Los Angeles District Attorney's office balked. On February 2, District Attorney Jackie Lacey issued a statement saying, in effect, that people with convictions were on their own. Her statement also said that those most affected by these convictions should petition the court "rather than wait for my office to go through tens of thousands of case files."
Lacey's problem is one of scale. There are wildly varying estimates of marijuana convictions that should be expunged: San Francisco authorities have identified nearly 5,000 felonies alone, dating back to 1975, and Lacey's office estimates that 40,000 felonies have been recorded in Los Angeles since 1993; L.A.'s public defender's office claims there are about 200,000 felony and misdemeanor convictions in the county eligible for expunging. Going through those old case files and evaluating whether they qualify for resentencing or expungement takes time and resources that might not be immediately available.
Less than two weeks after Lacey issued her statement, however, the Los Angeles County Board of Supervisors unanimously passed a motion announcing that it intends to take steps towards the meaningful criminal-justice reform provided under Prop. 64. That motion, pushed by supervisors Mark Ridley-Thomas and Hilda Solis, instructs several county agencies, including the district attorney's office, to collaborate and draft a plan for addressing the thousands of cannabis-related convictions in the county, as well as ensuring greater equity in the ever-evolving landscape of legal cannabis.
"The war on drugs led to decades-long racial disparities in cannabis-related arrests and convictions," Supervisor Ridley-Thomas said when the motion passed. "We have a responsibility now to seek widespread reclassification and resentencing for those with minor cannabis convictions on their records, including the destruction of court records for youth."
At the February board meeting, Supervisor Solis said she understands that "the district attorney's office has concerns and some hesitation. The DA prosecuted more marijuana-related cases than any other jurisdiction in the state of California, and going through those case files would take a lot of time … I would urge our own DA to expand its role in helping people get their records expunged, and help them get their second chance in life. I believe that this board will support those efforts."
Following the supervisors' action, Lacey's office revised its public posture, telling Capital & Main in an email:
"In response to the board's motion, the District Attorney's Office is committed to working with the Public Defender's Office and other county departments to create an equitable solution that will make it easier for people seeking to reduce or dismiss prior convictions involving marijuana to get the legal relief to which they are entitled under Proposition 64."
The goal, looking forward, is for the district attorney's office, working with several other county agencies, to have a plan ready for the supervisors to consider by June. But exactly how the county is going to do that remains an open question.
"It would be best if the DA would take responsibility and reduce or reclassify the 40,000 marijuana felonies that currently exist in the system," said the Drug Policy Alliance's Hernandez.
For Jonatan Cvetko, founder of the cannabis advocacy organization Angeles Emeralds, "the best thing would be if people just get a nice letter in the mail saying, 'Your record has been expunged. Have a nice day.' Considering that San Francisco and San Diego are taking that route, there's no reason in the world why Los Angeles County cannot be following suit."
---
Copyright Capital & Main
No Walk in the Garden for the Urban Homeless
Throughout Los Angeles, landscaping is put to aggressive use, functioning as a weapon of anti-homelessness under the guise of beautification.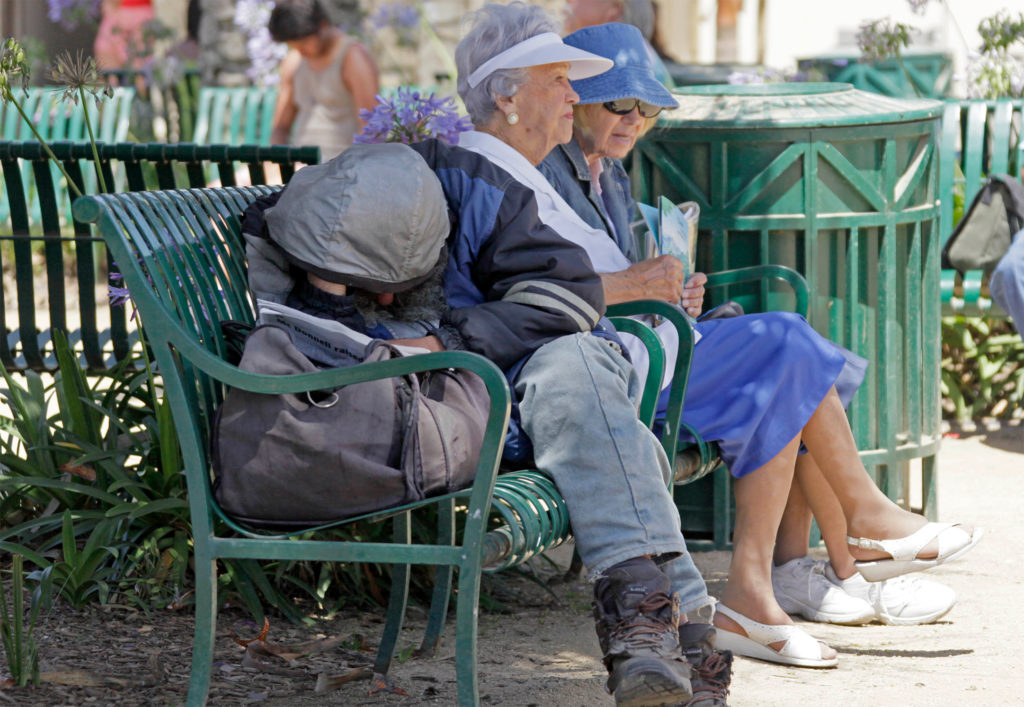 ---
The phenomenon of hostile landscaping in Los Angeles has further marginalized a swelling unhoused population.
---
Last May, in Los Angeles' coastal Venice neighborhood, Adam Smith noticed a series of planter boxes in the middle of a familiar sidewalk. Affixed near the intersection of Third and Sunset avenues, mere blocks from a Google campus and a suite of oceanside cafes, the standalone planters ran roughly the length of a wall delineating a parking lot behind a luxury condo complex.
Previously, Smith told Capital & Main, a group of six to 10 homeless people had regularly slept in tents on that block, favoring it for its relatively plentiful street light. A volunteer for the Culver-Palms Burrito Project, which prepares and serves the titular food to the unhoused of West Los Angeles, he'd become acquainted with individuals living there over the course of several years.
Once the planters were installed, however, the sidewalk was clear. "That next day, after I saw [the planter boxes] for the first time, I went there to look around because I figured they were sleeping somewhere else," Smith said. "I found people up around the corner, just, like, a block away."
---
Companies are privatizing public space to create more "landscape" for their businesses.
---
Throughout Los Angeles, landscaping is put to aggressive use, functioning as a weapon of anti-homelessness under the guise of beautification. Just as both public and private architectural design throttle space available to the unhoused internationally — via, among other examples, spikes on ledges and bars on benches to discourage sitting and lying down — and cities such as San Francisco arrange boulders to deter homeless encampments, the phenomenon of hostile landscaping in Los Angeles has further marginalized a swelling unhoused population.
Nearly 20 miles from Venice, a Los Feliz traffic median at the intersection of Vermont and Prospect avenues, and Hollywood Blvd., has regularly seen encampments arranged on its concrete ground, abutting a raised patch of desert landscaping and sycamore trees.
Christened "Vermont Triangle," the median's first redesign occurred in 2008, when the now-defunct Community Redevelopment Agency spearheaded a project to "improv[e] the pedestrian amenities" and "enhanc[e] the physical appearance of the existing median park." According to the Los Angeles Times, this yielded seating areas, lampposts to echo those at nearby Barnsdall Art Park, and the sycamores. Eventually, unhoused people began to pitch tents, availing themselves of the median's modest stretches of open public space.
Now, due to pressure from local business owners, Vermont Triangle is in flux. City Councilmember David Ryu's office, the Times noted, plans to invest $18,000 in another redesign, following a 2013 re-landscape. The 2013 update was financed in part by the Hollywood Hotel and Kaiser Permanente, according to Jeff Zarrinnam, who serves on the board of governors of the East Hollywood Business Improvement District. (Ryu's office couldn't be reached for comment.) Current proposals range from adding art installations and neighborhood signs, which Zarrinnam said the Los Feliz Neighborhood Council and East Hollywood Neighborhood Council have floated, to putting in planters.
Zarrinnam said he supports "bridge housing," a term the municipal government, neighborhood councils and local businesses use to favorably denote temporary homeless shelters and transitional housing. Yet reports indicate that the current state of temporary housing for many homeless people in Los Angeles County — who, as of May, numbered approximately 53,000 — is nothing short of abysmal. A recent investigation by radio station KPCC found infestations, harassment and medical negligence, among other scourges at various facilities throughout Los Angeles County, including those funded by the Los Angeles Homeless Services Authority (LAHSA), which conducts the county's annual homeless census.
Steve Diaz, an organizer for Los Angeles Community Action Network (LA CAN) who works with unhoused populations in downtown and South L.A., calls hostile landscaping of public space "the next level of criminalization" of homelessness. He alluded to an industrial neighborhood overlapping Skid Row, whose business owners call "The North Sea": a cluster of converted seafood warehouses and factories painted the same hues of oceanic blue — complete with landscaped sidewalks.
"They started breaking the concrete and taking away from the sidewalk to place different types of flowers, whatever garden they were putting in," Diaz said. "You have a major street [on] Skid Row that, at one point, was home to a lot of homeless folks now being gated off, and then the concrete being broken to start using these gardening pockets within the space to eliminate sidewalk access." (Miguel Nelson, a North Sea business owner involved in the area's marketing efforts, declined to respond publicly.)
As private property owners adopt guerrilla tactics to thwart homeless encampments, legal issues arise. Skid Row activist General Jeff Page has observed that, while property owners are permitted to control up to three feet of sidewalk extending from their buildings, "The North Sea is taking upwards of five to 10 feet of sidewalk, allowing only for ADA (Americans with Disabilities Act) compliance and zero space for homeless tents and/or encampments." (The Los Angeles Department of Public Works stated that the North Sea sidewalk landscaping is currently under investigation and thus couldn't comment further on the matter.)
What's more, business owners in South L.A. have illegally installed fences around their property, which, according to Diaz, will eventually give way to sidewalk landscaping. Relatedly, Adam Smith has been corresponding with city officials to ascertain the permit status of the Venice planters. The West L.A. office of the Bureau of Engineering, which issues revocable permits, told Capital & Main that it did not have a permit on file for the planters. Without one, according to the bureau, "no portion of the public right-of-way, including sidewalk, is allowed for private use."
Nevertheless, the planters remain and, according to Smith, have multiplied. Additional boxes, he said, are now ensconced in the sidewalk around the corner, to where the previously ousted people had first moved.
"For some people, [landscaping] sounds like a great idea," Diaz said. "But you're literally privatizing public space to create more 'landscape' for your business."
---
Copyright Capital & Main