Living Homeless in California: The Uneasy Sanctuary of Shelters
"What was scary about that place was the men were right there," says one formerly homeless woman. "They were on one side and we were on the other, where we were sleeping. People hallucinated and some sleep-walked."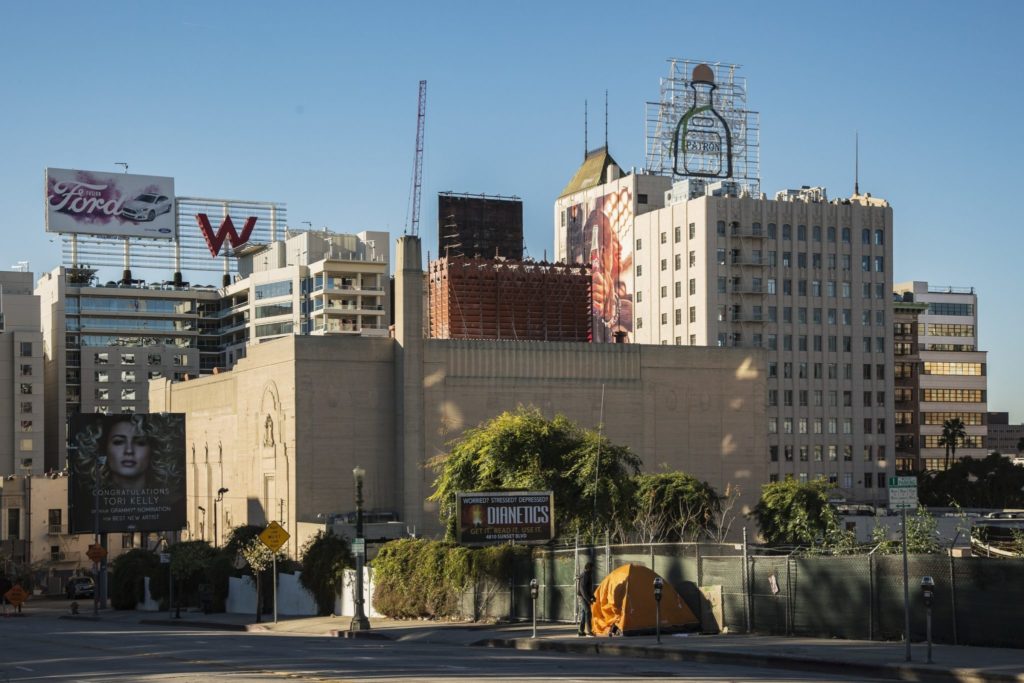 ---
For the 31 percent of the homeless population who are women,
staying in a shelter can be terrifying
 

.
---
Why don't the homeless just go to a shelter?
It's an easy question to ask when you see people sleeping on sidewalks. The short answer — if you are one of the 53,000 homeless in Los Angeles County and 5,000 in Orange County — is that sometimes you can't.
---
Sometimes the mesh of private and public efforts that make up the current shelter system is too daunting. Sometimes a shelter can't admit you because they have too few beds. Or maybe they won't admit you because of requirements that you can't or won't meet — you may not be allowed to bring your pet, or you may have to sleep separately from your partner, or you may have to join a 12-step program.
For the 31 percent of the homeless population who are women, it can be too scary to stay in a shelter. "Women who have slept in shelters at some point, or who are currently sleeping in shelters, report dangerous and unsafe living conditions, including violence, a lack of clean restrooms and showers," said Ana Velouise, Director of Communications and Policy at the Downtown Women's Center, which transitions homeless women into permanent housing.
Pamela Walls, who moved into permanent housing in 2007 with support from DWC, had stayed in at least five shelters after her Section 8 apartment converted to standard rent rates in 2001 and she lost her home.
"I slept everywhere. On picnic tables. Bus stops. I was scared," she said.
---
"They wanted to put me in AA. They wanted me to put away 70 percent of my money.
I wasn't going to do that."
---
"I got a job as a cashier at Macy's. I was walking at night and standing in the daytime. My knees would buckle underneath me."
Shelters were unwelcoming. "They wanted to put me in AA and all that. They wanted me to put away 70 percent of my money — I wasn't going to do that. I was the kind of person who was a lost girl. I'd go back and forth from Santa Monica to Pasadena sleeping on the bus."
The first shelter she went to, in Pasadena, "was a dormitory-type place. They were very kind to me." But, as she put it, "They wanted my money, and I wasn't going to give it to them." She then went to the National Guard Armory in Glendale — an L.A. County cold-weather shelter.
"What was scary about that place was the men were right there. They were on one side and we were on the other, where we were sleeping. People hallucinated and some sleep-walked, and some man pulled a woman off her cot and she hit her head. It was terrible to hear it."
For a while she stayed at New Image — located in unincorporated L.A. County at the time, and now at 38th St. and Broadway in Los Angeles. "It was in a Safeway warehouse and it was terrible. There was an area where the men showered, separated by a board, like cardboard, flat wood. When they showered the water came over to the women's side and the women had to walk through it to get to the restroom."
---
After 1,000 people from Santa Ana River homeless camps were removed, a scant 250 shelter beds were available to receive them.
---
For veterans on the front lines of shelter provision, shelters are about beds.
The federal government requires counties to do an annual inventory — "How many beds and what different types do you have?" explained Scott Larson of HomeAid Orange County.
The issue of homelessness in Orange County recently gained national attention after the removal of some 1,000 residents from camps along the Santa Ana River, in the shadows of Angel Stadium and Disneyland. A scant 250 shelter beds were available to receive them.
According to Larson, "The issues along the Santa Ana riverbed, the visual nature of the homelessness we were already dealing with, came to life. The population became visible."
"The chronic homeless population is one component of the people that experience homelessness — but it's not the only one," he said. "You have people with rising rent, job loss, medical expenses things that land people into homelessness. So how do we prevent that? And then minimize the length of staying homeless?"
---
Two voter-passed housing initiatives in Los Angeles signal a big shift from the classic two-hots-and-a-cot shelter strategy.
---
Many Orange County residents have been outraged by plans to locate temporary shelters in suburban communities.
In the city of Los Angeles, however, voters passed bond Measure HHH in 2016 to support the creation of 10,000 permanent supportive-housing units. The Los Angeles County Board of Supervisors recently voted on a boost of $143 million to support homelessness prevention and shelters — money made available from a sales tax enacted by Measure H, approved last year.
Both steps signal a big shift from the classic two-hots-and-a-cot shelter strategy.
"Shelter is a sort of classic term that sometimes is used broadly to describe short-term housing solutions," said Tommy Newman, public affairs director at United Way, which advocates a homing-first model rather than short-term shelter. "Other times it's used to describe bridge housing; other times crisis housing — which is where you're going to sleep that night."
"Bridge housing is the current best practice-supported version of interim housing" for people to rebuild stability, Newman added.
Los Angeles Mayor Eric Garcetti recently announced his "A New Home" strategy that allots $20 million to create a shelter in each city council district.
"Their only barrier to entry is capacity. They will be open 24/7. They will not require sobriety. They will allow pets," the mayor's office said in an email to Capital & Main. Each facility includes intensive case-management services, ranging from mental health to drug and alcohol treatment.
As in Orange County, the plan has run into some heavy sledding. Koreatown residents have rallied to oppose a shelter there. Some community leaders cite a lack of proper outreach on the city's part that might have mitigated local concerns.
Los Angeles' advocacy community has been moving toward workable policy step-by-step, Newman said. "When you have 75 percent of the population of people experiencing homelessness unsheltered, that's out of whack," he said. "We need that number to be smaller, and we need to have the solutions to get folks indoors and to have safe places to sleep."
---
Copyright Capital & Main