Living Homeless in California: For Many Kids, Home Is Where the School Is
The Los Angeles Unified School District has more homeless students than many school districts have in total enrollment. In response, the district has created some innovative policies.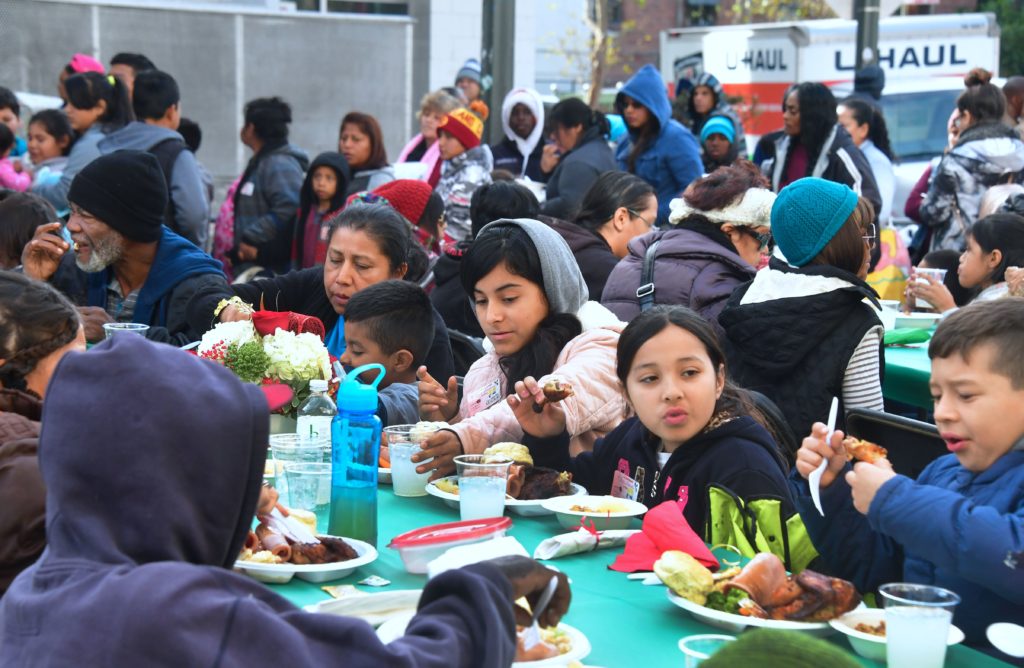 For the teachers, counselors and school liaisons comprising the thin front line of educators grappling with the Golden State's homeless student population explosion, the dire reality of what it means for the 268,699 young Californians public school districts identified last year as lacking "a fixed, regular, and adequate nighttime residence" comes into grim focus during the home visit.
"I would find places where there was a garage [and] they would have an extension cord going to the front house," Los Angeles Unified School District (LAUSD) Homeless Education Program coordinator Angela Chandler told Capital & Main, recalling her time as a district counselor in L.A.'s San Fernando Valley. "The [floor] would be concrete with no carpet or anything, and there would be no real running water. The family would have to go to the front [house] to use the restroom."
In a city like Los Angeles, whose high poverty and low housing affordability edged out San Francisco for the stop spot on Forbes' 2018 list of the worst American cities for renters, veterans like Chandler have long become accustomed to seeing two, three and even four families "doubled up" in apartments meant for one.
In 2016-2017, 80 percent of Los Angeles County's 71,727 homeless-identified students checked "doubled-up" on the Student Residency Questionnaire for incoming public and charter school students mandated by the McKinney–Vento Homeless Assistance Act. The 1987 federal law, which first spelled out the education rights for the nation's homeless students, requires all schools and districts to provide homeless students "equal access to the same free, appropriate public education, including a public preschool education, as provided to other children and youths." The first step is to recognize them when they walk through the door.
But in California, where parents are already uncomfortable with a perceived social stigma around homelessness, the same climate of fear ushered in by Donald Trump that has already spooked immigrant families from using the country's safety net, has introduced a new skittishness to being identified as homeless.
"We get phone calls from some schools, from our liaisons there, that parents are apprehensive," Chandler explained. "[Parents] thought that it was tied to residency status instead of nighttime residency, like where you live."
That apprehension could explain how when the official homeless head count for the city conducted by the U.S. Department of Housing and Urban Development (HUD) soared 23 percent from the previous year, LAUSD's homeless count dropped from 17,258 students in 2016-17 — to what Chandler said was a little over 15,000 in 2017-18.
Nevertheless, even that drop gives LAUSD more homeless students than many school districts have in total enrollment. Chandler serves them with an astonishingly skeletal staff: eight classified aides work the phones, coordinating the daily flood of district-wide calls for technical assistance and student supports; a sole "senior parent community facilitator" performs district-wide outreach; and the program's heavy lifting falls to its 18 full-time counselors, who are charged with keeping the district's homeless kids in the classroom and on track to escape the cycle of homelessness.
With homelessness, the clock is always ticking; the longer it lasts, the more dramatic its impact. Compared to non-homeless students, homeless kids become even more likely to be held back from grade to grade, to be chronically absent, to fail courses, have more disciplinary issues, and to drop out of high school. As with all extreme poverty, the traumas and deprivations of homelessness are just as toxic to early development and learning, to performance in middle and high school and to diverting kids into the juvenile justice system.
"Every time they change schools, they have setbacks," Chandler said. "It's harder for them to adjust. And we already know that their life is very chaotic, and some of it's traumatic. So our focus is to minimize the amount of changes that these youth and children have to go through so that they at least have one stable, safe place to go on a daily basis, which is their school sites."
Providing that safe place is why, Chandler said, so much of the program is focused on training school personnel and community partners. LAUSD requires each principal to designate a staff member as homeless liaison, who is responsible for meeting and assessing the needs of each homeless student in home visits. But that person must first be able to interpret federal guidelines for who is homeless. McKinney-Vento's "fixed, regular and adequate" definition is much broader than the narrower, unsheltered street sense used by the U.S. Department of Housing and Urban Development (HUD) and by homeless service providers.
To pay for that service, LAUSD, like all California school districts, has been more or less left to cobble together money from wherever it can. Much of it comes from federal Title I funding for disadvantaged students, with some state money funneled through California's new Local Control Funding Formula (LCFF). Anything beyond that is up to Chandler's grant-writing prowess.
Last month, for example, the latter landed the district a competitive, $250,000, three-year federal Education for Homeless Children and Youths Grant. Chandler's ingenuity wrangled money for three additional program positions when she managed to piggyback onto a Los Angeles County Office of Education proposal for tapping dollars from Measure H, the quarter-percent sales tax passed by county voters in 2017 for homeless services and prevention.
But Chandler was also instrumental in developing the strategy that has proved to be a game-changer for the district — the coup of bureaucratic diplomacy that wed LAUSD's Homeless Education Program with L.A. County's new Coordinated Entry System (CES), the database created in 2010 putting the most vulnerable of the homeless population in the front of the available housing queue. Practically, it meant co-locating LAUSD staffers inside the homeless-services providers to help train and aid them in referrals by meeting with families as they came for their intake sessions.
"Prior to them being there, trying to negotiate where these kids went to school or keeping them in the same school was incredibly difficult, because we don't speak the same language that the districts do necessarily," said Kris Freed. She is the chief programs officer for L.A. Family Housing, which owns and operates affordable housing and permanent supportive housing in the San Fernando Valley. "[Now] they're huddled with us, if you will, so they hear everything that's happening and can engage at any point and say, 'I can help. I can step in. I can do this.' "
Chandler's dream for the program is to build it into something that looks a lot more like L.A.'s robustly funded foster care system. Administered through the county's Department of Children and Family Services, foster care provides kids with full-time, dedicated advocates and greater access to resources like scholarships and tuition programs to get into universities and colleges. It even offers independent living programs, so once kids age out or time out of the system, they land in some type of stable housing.
"The way out of poverty is through education," she said. "We want our youth to become self-sustaining, so they can go on to school or get a decent job and are not homeless adults."
---
Copyright Capital & Main
California Tries to Close Its College Degree Equity Gap
It's been no secret that public higher education in California is badly broken, following four decades of disinvestment and tuition hikes.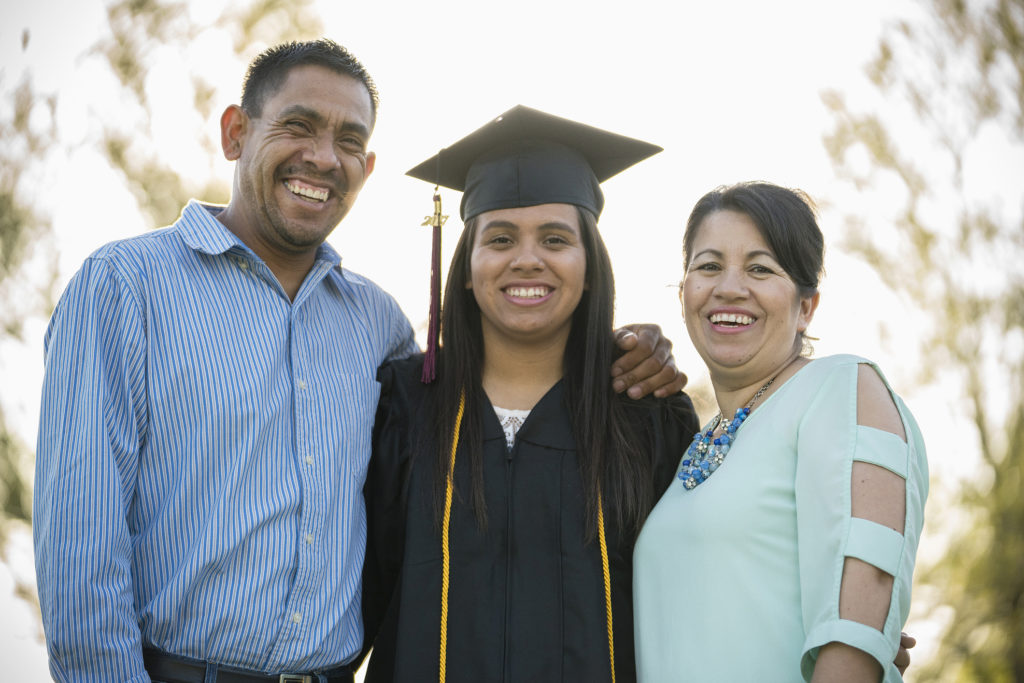 Today, with California's higher education system cartwheeling from one crisis to the next, the state's vaunted Master Plan for Higher Education, which in 1960 revolutionized matriculation with a modern, multi-segmented system of public colleges and research universities, is being attacked as an obstacle to opportunity. Its outworn ideas of access and excellence have been rendered so thoroughly obsolete by demographical change and austerities that education reformers won't waste their breath or political capital on a master plan redesign. Instead, change advocates are focused on improving delivery.
"We don't need another blue ribbon commission or task force to study it," argues Audrey Dow, senior vice president at the research and advocacy group Campaign for College Opportunity. "What we need is a governor who's going to take action and say, 'Okay, I'm setting the goal. I'm going to take these policies and make sure that ones [already] on the books are implemented. And then I'm going to add this, and then with my January budget, this is what I'm going to do.'"
That person would be Governor-elect Gavin Newsom, who, on the campaign trail, embraced the idea — if not an actual number — of a state college completion goal. Sacramento has already passed a handful of reforms aimed at streamlining on-time graduations. After inauguration, Newsom will launch "California Promise," his sweeping education agenda that includes some of the college access, affordability and infrastructure pieces that advocates like Dow insist are needed to close equity gaps.
It's been no secret that public higher education in California is badly broken. Four decades of disinvestment and dizzying tuition hikes, on top of some of the country's highest costs of living, have put its world-renowned, formerly low-cost degrees disproportionately out of reach for low-income students and students of color. This year, that sustained neglect was formally recognized when the university system that gave the world its fifth-largest economy slipped from its top rankings spot in the annual QS World University Rankings.
"The big story here is, we've had tremendous historical success," notes John Douglass, a senior research fellow at the University of California, Berkeley's Center for Studies in Higher Education, who has written on the crisis. "But this system is starting to break down, and it's just not clear where we're going, and nobody's offered a vision on how we can maintain access for Californians to our higher public ed system and the robust relationship of the universities with economic development."
It's little wonder that an election eve poll conducted by the Public Policy Institute of California (PPIC) found that a majority of likely voters said the level of state funding for public higher education was insufficient, and 61 percent thought there is not enough government funding for scholarships and grants for students who need financial help. That's almost exactly the same percentage that cast their ballots for Newsom, who promised to make affordability and degree completion a top priority.
Better late than never. For the past decade PPIC has issued warnings that California risks crippling its economy if it doesn't close what the nonpartisan research group says by 2030 will otherwise be a workforce skills gap of 1.1 million baccalaureate degrees. For a state that increasingly relies on — and rewards — highly educated workers to grow its knowledge economy, a degree deficit will translate into lower wages, reduced tax revenues and a widening chasm of income inequality.
Similar concerns in 2009 led the new Obama administration to set a national goal to have 60 percent of all 25-to-34-year-olds complete at least an associate degree by 2020. By 2017, 45 states had adopted or were considering their own college attainment targets. California, however, conspicuously failed to follow suit.
"There's really been at the state level no real leadership to say, 'Hey, this is the gap, this is how we're going to close it, and we're going to align policy and budget to that, to ensure we set an attainment goal, and hit that attainment goal," explains Dow.
The irony, she adds, is that more Californians are going to college — and graduating — than ever before. This includes Latinos, who now account for half of the state's K-12 students. But those numbers are too few and rising too slowly to meet the projected demand. Which is why the College Opportunity campaign has been lobbying Newsom to adopt a statewide college credential attainment goal of 60 percent of adults — or 1.7 million additional degrees — by 2030.
"Within that goal we have to be closing racial equity gaps," she emphasizes. "There's just no way that it's mathematically possible for California to hit 60 percent without closing racial and ethnic gaps in attainment."
What is possible is for Newsom to combine political leadership with an arsenal of research-proven strategies developed to mitigate the worst completion rates in the state. The 70 percent share of all California's public college students who attend the 114-campus community college system is an artifact of the Master Plan, which designed the two-year colleges to take all the mostly underserved students whose grades left them ineligible for the elite four-year University of California, and who couldn't get into the California State University system. Unfortunately, the 2.1 million community college students have only a 47 percent chance of graduating, transferring to a four-year school, or earning some sort of certificate after six years.
One of the more divisive methods being proposed to boost completions is a Jerry Brown pay-for-performance funding scheme from the Gates Foundation that would withhold part of the schools' $6.7 billion in general funding until specific transfer targets are met. Newsom has remained noncommittal. An early success at clearing a transfer path to the CSUs was the Associate Degrees for Transfer program, in which any student with the certificate is guaranteed admission. Its effectiveness persuaded UC to sign onto a similar program last spring. There's also Assembly Bill 705, which requires community colleges to consider high school grades rather than placement tests in order to reduce non-credit remedial coursework. Which was also the point last year of CSU's controversial decision to simply do away with remedial classes altogether as it tries to double its 19 percent four-year graduation rate to 40 percent by 2025.
It is to eliminate such frictions that Newsom has vowed to revive a version of the defunct California Postsecondary Education Commission (CPEC) to coordinate student-centered reforms across the UC, CSU and community colleges. Jerry Brown had eliminated CPEC in a 2011 line-item budget veto, claiming it had become "ineffective," then vetoed a subsequent effort to revive it. The new commission will also oversee what could be Newsom's most impactful proposal — an integrated data system to both track student progress and act as early-intervention radar by anticipating problems on the degree track. But as promising as that might sound on paper, university veterans of past budgetary battles may require convincing.
"At the moment, I don't really know how high higher education is in Newsom's agenda," Douglass says warily. "I think it could be like Jerry Brown's, which was not very high. The only issues he really cared about was the politically popular issue of freezing tuition, not looking at, well, what is the financial model? How can the system grow with the state's population and needs?"
But Newsom's campaign trail commitments to degree equity and to expanding affordability have already persuaded Dow and other college education advocates. The real proof will come in how much he'll include for higher education in his first, January budget, and in how soon he'll honor his campaign pledge to double the state's current year of free community college or to expand Cal Grant B Access awards for low-income students as a pathway to a debt-free degree.
"Those are the costs that really put students into debt or keep students from going full time," Dow argues. "We have to be thinking about time-to-degree as an affordability issue. When students at a community college take six years to complete, that's four additional years that they're paying for tuition when it should have been two years."
The truth is, Dow would have good reason to be optimistic about any young governor entering office at the head of a mandate-like blue wave of legislative Democratic supermajorities, and with a projected $14 billion surplus to turn his promises into policies.
"We will see what happens," she says.
---
Copyright Capital & Main