Living Homeless in California: Finding Shelter — Veterans Are Broke But Not Broken
Homeless veterans live solitary and nomadic existences. At night, some sleep in cars parked near VA facilities, under freeway overpasses or in public parks.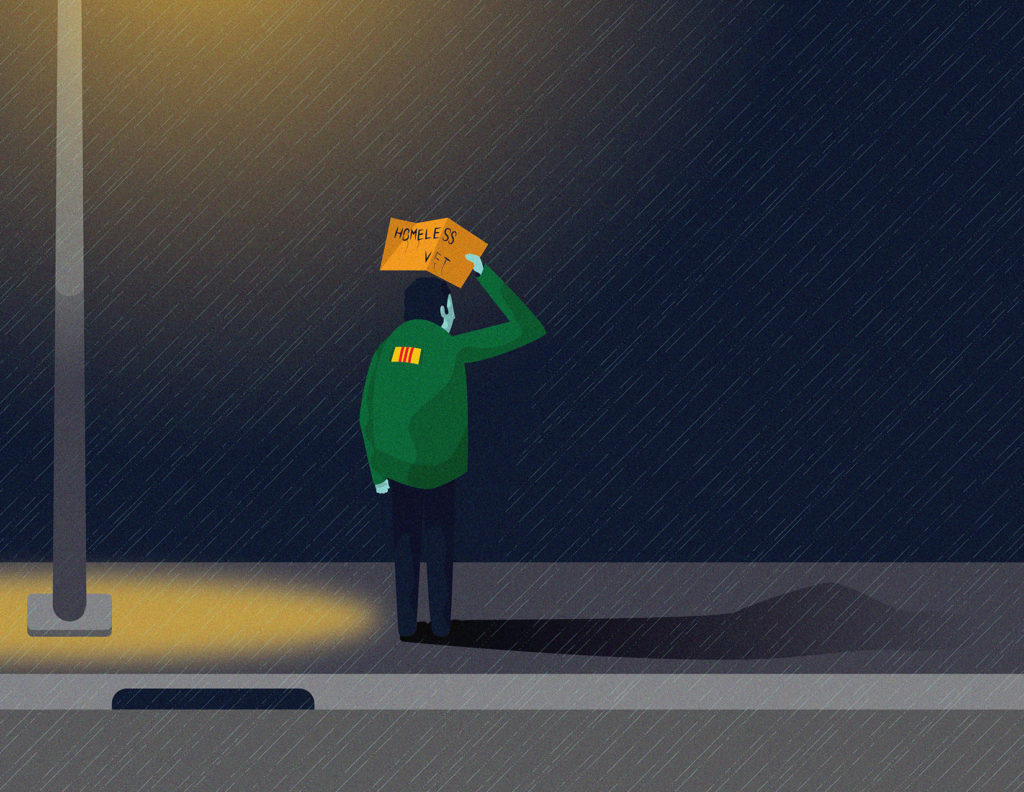 ---
"I don't think any veteran wakes up and says, 'I want to be on the street,'" says one ex-Marine.
---
Jack Rumpf sits on a circular bench at the corner of Wilshire and San Vicente boulevards in West Los Angeles, and talks about ghosts. Wearing a long white beard, dirty sweatpants, white socks and slippers, he turns and sweeps an arm towards the empty spaces next to him. "There used to be 15 or 20 people sitting with me here," he says, lowering his voice to a melancholic whisper. "They are all dead now."
Rumpf says he is a Navy veteran, a brother of five sisters, an observer of our current political scene and a lover of dogs. He is also homeless and has been so almost three decades.
Every morning he drives his beat-up Mustang from where he parked it at night to sleep, and finds a space near the Veterans Affairs hospital. Rumpf "flies a sign" – a placard asking for money – at a Wilshire Blvd. intersection. He says that Dan Aykroyd, Whoopi Goldberg and Robin Williams have given him money, and that he has the process down to a science. "There are 30 cars at every light, which lasts 2.5 minutes," he points out. "If half the cars give me a quarter that's over $40 an hour."
His beloved dog, Layla, perched in the driver's seat, watches over the car a few yards away.
The 59-year-old Rumpf says he's "done every damn drug that's been known" and regards homelessness as "pretty much my fault." He became homeless 28 years ago when he lost a job. He takes antibiotics, has high blood pressure and uses an inhaler for asthma. He caught pneumonia three times in one year. "I'm not young anymore so I have a hard time enduring the elements."
---
"Mental health is not like breaking your leg, where everyone can see it.
Unaddressed, it gets worse."
---
Rumpf is one of nearly 5,000 homeless veterans in Los Angeles County. Those on the Westside sleep under overpasses beneath the San Diego Freeway, on the sidewalk near the VA or tucked in vacant doorways along Wilshire or Santa Monica boulevards. When hearing their stories, there is often the suspicion that they might be tampering with the evidence of their own lives, as if they were struggling to sort out the "facts" of their personal stories.
Harry Shaw beds down each night near an ally at Park and Speedway in Venice, just yards from the beach. He embraces a strict moral code about what he will and will not do to feed himself and his dog Lulu, who he calls "part of my soul."
"I'll starve before I'll eat anything gross," he says as he eats the last of a bag of jellybeans he was given. "I won't eat out of the garbage and I won't sell my body, and Lulu eats before I do. I may be broke but I'm not broken."
Shaw alleges that he was medically discharged from the Army with less than full benefits after 23 years of service because he couldn't reach what he says was a 160-pound weight requirement for a person of his height, although published Army height-to-weight ratios contradict his claim. He is 5 feet 8 inches tall. "I could eat like a horse or eat 20 meals a day but I would only reach 155 pounds," he says.
A veteran of the Iraq War, he is suing Veterans Affairs for full benefits but meanwhile collects nothing, refusing to take the 35 percent he says the VA offered. "The VA destroys the vets," he says.
Shaw drove a car from Tennessee to San Francisco, sold it and took a bus to Los Angeles. Now he flies the sign every morning near the Santa Monica Pier. According to his moral logic, panhandling is when you ask someone, "Can you spare some change?" while flying the sign is work.
He recently made $2 during a six-hour period, a daily ritual that he calls his "mission." He wanted a slice of pizza but the cost at the local pizza joint was two dollars plus tax, so he bought a can of food for his dog instead. "The hardest part is finding a place to clean yourself," he notes.
If offered housing assistance by the VA Shaw might consider it, but he prefers to sleep on the streets and fight for his full benefits. "I'd rather have a recreational vehicle where I can go wherever the heart and mind desires," he says.
Shaw's antipathy towards the VA is not atypical for homeless veterans. For whatever reason – bureaucratic hurdles, negative staff or physician interactions, or the vet's own contributions to an already difficult situation – complaints abound.
---
The VA is now planning 1,200 units of permanent housing for homeless veterans.
---
The original purpose of the West Los Angeles land that was donated to the federal government in 1887 was to house homeless veterans. Over the years, however, VA budgeting priorities directed towards the hospital and questionable land leases left the campus dilapidated and underutilized.
As a result of a 2011 lawsuit filed on behalf of homeless vets initiated by local attorneys and the American Civil Liberties Union, the VA is now committed to repurposing the 388-acre campus, located near the 405 Freeway, to house veterans.
Jesse Creed, executive director of Vets Advocacy LA (a party to the lawsuit), believes the land could house every homeless veteran in Los Angeles County. "It's as much land as UCLA, which has 45,000 students," he says.
The VA is now planning 1,200 units of permanent housing for homeless veterans. A private sector developer is being chosen to finance construction and operate the housing facility.
Monte Williams is one of 54 veterans who currently live in permanent housing on the VA campus. An ex-Marine, he describes becoming homeless as a "process."
"I don't think any veteran wakes up and says, 'I want to be on the street,'" he says. Williams lost his job when mental health issues got the best of him: "Mental health is not like breaking your leg, where everyone can see it. Unaddressed, it gets worse."
---
One L.A. vet pushes a shopping cart filled with his tent and other belongings half a mile up a small hill to make his hospital appointments.
---
Williams, who became homeless in 2010, had an epiphany while looking to buy alcohol near the VA hospital. "Another older homeless veteran I was with pointed to the hospital and told me to go to the emergency room and my sanity just came back," he says with tears in his eyes.
He is appreciative of the programs and housing that the VA has provided and now helps his new family — other homeless vets. "My daily life is sharing my story with other veterans…helping them gain their life back."
Donald Leslie Peterson sleeps under the 405 Freeway. The story that he tells about himself is difficult to follow. He says he was shot during a rescue mission in Panama in 1989, that he has two Purple Heart medals for wounds suffered in Afghanistan and Syria, and that he was on protection duty 30 feet behind John F. Kennedy's car in Dallas.
Peterson takes the medication Abilify (prescribed for schizophrenia and bipolar disorder) and says he stays close to the hospital so he can see his social worker and apply for housing. "Unless I sit down and think about things, my thinking gets a little bit crowded," he says. He pushes a shopping cart filled with his tent and other belongings half a mile up a small hill to make his hospital appointments.
---
"Parents tell us we scare their children but I think the parents are scared more than the children."
---
He becomes animated when he talks about his family — two girls who, he says, attend UCLA and visit him every other night. "The biggest challenge is keeping the bond of my family together," he says. "It's hard not being able to sit down with my family and have a meal. I mean, we sit on buckets and crates and joke and play, but when you come right down to it, it's not funny."
Heidi Marston, Director of Community Engagement and Reintegration Services at the Greater Los Angeles VA, believes that the VA has a program and approach that can reach homeless veterans where they are. "We use a housing-first approach, which means that housing is the first step for you. There are no barriers to getting into housing … so you don't have to be sober and you don't have to be in treatment," she explains.
Asking a homeless veteran what they think the future holds for them is a way of asking about the kind of life they want — or fear.
Marc Cote, a five-year Army veteran who lives in a tent in Westwood Park, a few blocks from the VA hospital, wants to be left alone. Cote pushes himself around backwards in a wheelchair, using public bathroom sinks to clean up — what the homeless refer to as "birdbaths." Parents walk by holding their children's hands heading to soccer games and tennis matches. "The parents tell us we scare their children but I think the parents are scared more than the children," he says.
Park rangers patrol the ground and sometimes demand that Cote take his tent down before 6 a.m. "I would be happy to stay here if they would leave me be," he says one recent Saturday afternoon. "I don't make a mess or argue or fight or throw things."
It will take years until the 1,200 planned residential units are complete. Meanwhile thousands of veterans will remain on the street, finding food, shelter and companionship where they can.
Jack Rumpf remembers an incident from when he was flying his sign at a stoplight in Brentwood. "The guy pulled a gun on me and didn't shoot. I said, 'You schmuck, why didn't you shoot me? If I was dead this would be all over.'" Rumpf believes that his near future is "leaving this world." For now he settles for a safe parking space at night for himself and his dog.
Monte Williams, who has housing, feels an urgency towards his fellow veterans. "I refuse to believe that any veteran, or any human, wants to be on the streets," he says. "Something has to happen, so I just want society to know – to try to understand."
---
Copyright Capital & Main
Living Homeless in California: Pet Owners on the Streets
Pets can provide an invaluable source of companionship, comfort and security. That's especially true for those without stable housing.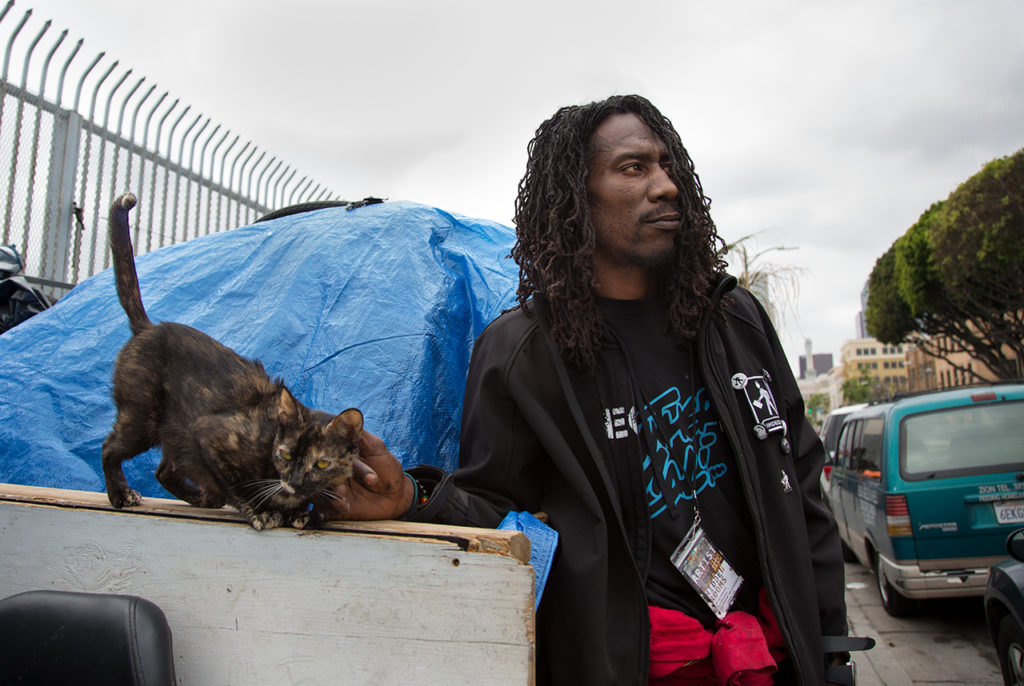 An estimated five to 10 percent of homeless people in the United States have pets, according to the Nevada nonprofit organization, Pets of the Homeless. Take a trip through the tent cities that line the sidewalks of downtown Los Angeles and you'll see dogs, cats, even birds. As any pet owner can tell you, animals provide affection, comfort and stability, something that can be particularly meaningful when your life's possessions could be swept away at any time by a police raid.
The animals benefit too. Most pets would prefer constant companionship outdoors to solitary shelter.
But many homeless shelters and housing programs don't allow pets. The expenses, logistics and liabilities involved in housing animals can be prohibitive for programs that are already underfunded. The number of shelters that allow animals are on the rise, however.
I recently visited with a handful of homeless and formerly homeless pet owners in Los Angeles to learn about their lives.
---
Maria, 64
Maria sells off-brand cigarettes in front of a row of tents on a busy street in downtown Los Angeles. She keeps her tobacco merchandise arranged neatly on a small plastic tray, and beside her a tiny Chihuahua puppy, Cici, runs and plays amid the sidewalk foot traffic, or naps in the small carrier at Maria's feet.
Maria has been living here since getting out of jail in November, she says, "for something I didn't do. It took them 35 days to realize I didn't do it." She emerged to find her husband of 37 years was gone. "He disappeared with all my money and all my stuff," she adds. "The day I came out I slept on the sidewalk. My pillow was the cement and my blanket was the jacket I was wearing."

"I was angry the first few months," she continues. But in February she bought Cici from a street vendor for $40. "She has taken me out of my depression over what my husband did. She's become everything to me. She's my life."

Maria knows everyone in her tent community. People stop by every few minutes to say hi. A couple even buy cigarettes, including a young man named Toby. "I call him my adopted son from the street, I take care of him. He's been on the street since he was 16." Toby recently turned 20, Maria says. "I got him a big-ass cake and some money, some clothes. I'm the first person who celebrated his birthday on the street."
In a little over a month, Maria is scheduled to move to federally subsidized Section 8 housing in Long Beach. It's far from her friends here, but she's happy to go. "All I want is a roof over my head. As long as me and my dog got that, I'll be alright."
---
Craig, aka Taco, 58
"He's my best friend," Taco says of his 10-month-old puppy, Hambone. "I didn't realize that a person could have such an attachment to an animal. But I do."
Taco tells me he's lived in California all his life, "except for I lived in Chicago for nine years. I loved Chicago, the weather, everything about Chicago. My ex-wife, she didn't like the weather. We relocated back to L.A."
Taco is single now. "My guards are still up, but I want to have those old feelings back again. Because I'm somewhat of a romantic type guy." But Taco doesn't get lonely, because he has Hambone. "He cheers me up when I'm sad. He'll nudge me. He'll come with concern, and then he'll start playing, trying to make me laugh."
Taco and Hambone live in a small single-room occupancy apartment, or SRO, in a building run by a nonprofit social services agency. "I came down here to Skid Row for the resources. A friend was telling me about the housing."
He says his apartment is nice, and much better than shelters he's stayed in, "but you're on Skid Row. Skid Row's like the courtyard, if you've ever been to the penitentiary. You have be ready, you have to have your shoes strapped up."
Taco says he's on the list for Section 8 housing, and looking forward to moving. He thinks he might like to live near Staples Center. A woman walks by with a small dog, and Hambone strains on his leash, whimpering and sniffing the other dog. "Stop it, stop it," Taco scolds. "That's a girl dog. She snapped at you, right? You'll learn, you'll learn women too."
---
Thomasina, 30
"I've had Flower since she was a puppy," Thomasina says of her yellow Chihuahua mix. "This lady had a box of them in front of a store. The people I was staying with at the time bought her for their daughter, but they didn't take care of her. She was so small, covered in fleas, so scared. So I started taking care of her. And ever since she's been by my side. My little partner in crime."
That was five years ago, when Thomasina's life was in chaos. She had no stable place to live, and few opportunities. "I wanted to be in the working world, but had to live my life in the street. I got into prostitution by default." She came to Skid Row in search of housing and social services, a move that was inspired in part by Oprah Winfrey. "I saw this clip of Oprah, and her words spoke to my heart," she says, laughing. "She was saying, you have to help yourself, you have to do what you have to do."
Thomasina was placed in dog-friendly SRO housing. "That room was my peace of mind," she said. But living on Skid Row was often frightening. "Females down there usually have brothers or a boyfriend, people that can help them. It was just me and my dog. I didn't have anyone watching my back. I was an easy target." She was frequently harassed, sometimes by other residents in the building, and spent a lot of time hiding in her room. It was claustrophobic, she says, but having her dog kept her sane.
When Flower had a litter of puppies a couple of years ago, Thomasina gave them all away, but one was returned because he was too timid. Now both dogs are registered emotional support animals. Last year Thomasina moved from Skid Row to a small apartment she describes as "perfect." But she was facing homelessness again when the landlord recently decided pets were no longer allowed. The nonprofit HEART helped her contest the eviction and stay in her home with her little Chihuahua family.
---
Crushow, 40
Crushow describes himself as a community activist and "art Jedi." He's on the way to his studio and can only talk for a few minutes. "I have show this weekend at Hotel Rendon. It's called Art at the Rendon. Each artist gets their own room to install their art."
Crushow introduces me to his three pit bulls and a tortoiseshell cat named Justice. The cat perches calmly of the edge of Crushow's makeshift shelter, surveying the neighborhood. Crushow says when he's away, neighbors take care of his pets, and he does the same for them. "We all try to look out for each other."
Crushow is philosophical about life on the street. "Your box is bigger than mine, so what? I got another box I go to. And an office I go to. And an art studio I go to. It doesn't matter what box it is. People are constricted and taught how to think. And I'm not."
He shrugs. "Get caught up in that rat race all you want to, but when you die, what do you have? What did you do while you were here? Just thought about yourself and your big-ass box?"
---
Carol, age unknown
"I like walking around here," Carol says, walking through Little Tokyo with a giant grey pit bull named Boss. She gestures toward Skid Row where she lives. "It's like a war zone down there." When I ask how long she's been there, she replies, "Too long. Too long!"
Carol says she's been depressed since Mother's Day. Her own mother died a couple years ago, and it's especially painful at certain times of the year. "Anniversaries are hard. Her birthday is hard." Walking Boss helps cheer her up a little.
Carol tells me that she looks after Boss and a few other dogs for friends. He was one of a litter of nine puppies. "I took care of his mama, Lady, when she was in labor. It took 14 hours for all those puppies to be born!" That was a year ago. "We didn't let their paws touch the sidewalk till they'd all had their shots. They can get Parvo that way."
Carol is happy to talk but decides against being photographed.
Two weeks later, I meet a man on Skid Row who introduces me to four pit bulls he keeps in a pen next to his tent. One slips out the side of the pen and comes running over. It's Boss! Then a couple of the other dogs follow his lead, and I realize the pen is nothing more that propped-up fencing. The dogs could easily knock it down – but they know better. After I play with the dogs for a while, their owner orders them back into the pen and they all trot home obediently. He tells them to sit for my camera, and they do, wagging their tails. I want to learn more about how he got so good at training dogs, but he shakes his head. "I don't do interviews."
---