Let's Not Gamble with Los Angeles' Garbage
I am particularly fond of Kenny Rogers' song "The Gambler."  At a recent hearing for the Los Angeles City Council Ad Hoc Committee on Waste Reduction and Recycling, I kept thinking about this song as I heard many business groups and trade associations lobby against true reform of L.A.'s waste collection system.
The debate stems from how the City of L.A. should reform its system for dealing with waste at businesses and large apartment buildings.  On one end, you have the Don't Waste L.A. coalition, to which I belong through the Natural Resources Defense Council. It is a broad coalition of environmental, community, faith-based, economic justice and labor groups, advocating for a comprehensive solution to dealing with L.A.'s waste woes, instead of kicking the can down the road.  You can read more about the coalition's positions here and here.  On the other hand, some business lobbying groups and trade associations are advocating for a system that keeps the status quo in place.
In fact, these business groups have formed a new alliance called ACE — Angelenos for a Clean Environment.  I had a hard time figuring out what was more strange about the group's name, the playing card reference in the acronym or the fact that they chose an alliance that sounds more like an environmental group, instead of a conglomeration of trade groups.  But after digesting their unsupported and weak positions on waste in Los Angeles, they probably should have chosen a name that conjures up images of the two of clubs, instead of the powerful ace.
At an ad hoc hearing of the City Council last week, the business group ACE vociferously argued against reforming the city's system for dealing with waste at businesses and apartment buildings.  During this testimony I kept thinking of the following verse of the Gambler:  "So if you don't mind my sayin', I can see you're out of aces. For a taste of your whiskey, I'll give you some advice."  Heck, to the business associations in ACE, I will give you some advice without the taste of whiskey. Your position on the City of Los Angeles' future changes to the waste system is antiquated and actually not good for those Angelenos who want a clean environment.
Over the last half year, I've been attending public hearings with the Don't Waste L.A. coalition to testify about the importance of creating a more rational, less polluting system for hauling away recycling and waste from large apartment and commercial buildings in Los Angeles.  The environmental groups in Don't Waste L.A., like the Sierra Club, the Coalition for Clean Air, and my own NRDC, signed on because we believe that a strong franchise system is key to protecting the environment from the weaknesses of the status quo. Right now, you can have many different hauling companies serving the same city block – that means many times the impact on traffic, air pollution and city streets.
With the strong franchise system sought by Don't Waste L.A., we'll not only reduce unnecessary trash truck trips, but we'll be able to hold the franchisee accountable for maximizing recycling in a way that's just not possible under the status quo.  And, maximizing recycling is not only good for the environment through reduced air pollution and need for space-hogging landfills, but it also is good for job creation.  For every one job in a landfill, there are 10 jobs created through recycling, and even more job creation can happen through reuse of materials. If the city is serious about meeting its zero-waste goals, it needs to follow the requests from the Don't Waste L.A. coalition
By contrast, the business group ACE testifies at hearings in favor of maintaining the low-road status quo.  The ACE position does nothing to eliminate high-impact trucks and inefficient routes. The ACE position does nothing to create accountability for our waste haulers. What's even more confusing is their arguments have virtually never even addressed the environmental impact of the status quo – they mostly complain that big business and large property owners have sweet deals with their haulers, and they don't want to lose them.  There is too much at stake to allow these big business deals deter the city from real reform of its waste system.  And the city surely should not let a business group that claims it is for a "clean environment" thwart real and necessary change.
In the end, "You gotta know when to hold them, know when to fold them. Know when to walk away and know when to run."  Given the lack of merit to ACE's arguments, I suggest the business associations that formed this group fold their opposition to necessary reform of L.A.'s  waste system.  Their unsupported arguments in favor of the status quo are not the kind of leadership needed in this time of environmental challenges and lack of jobs.  The Don't Waste L.A. coalition has done and continues to do its research on the issues, and the conclusion is that an exclusive franchise system with strong standards is really what residents of L.A. need, instead of gambling on the same old system that got us into this mess in the first place.

Can the EPA Roll Back California's Clean Air Standards?
Co-published by The American Prospect
The Trump administration wants to argue that California has no special right to regulate greenhouse gas emissions from cars and trucks. But their case, experts say, is weak.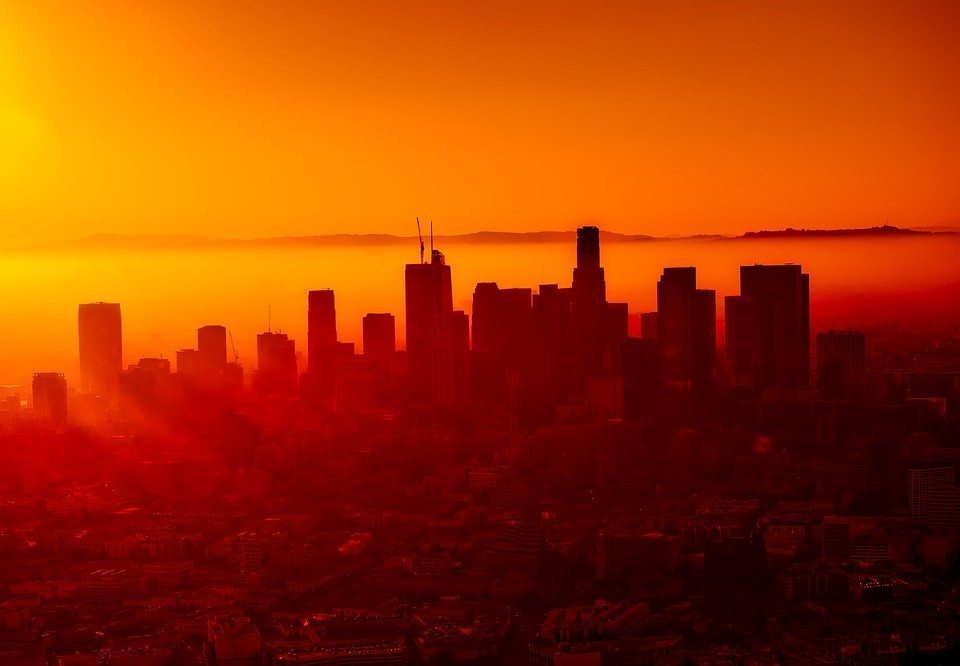 ---
The new Safer and Affordable Fuel-Efficient Vehicles rule would nullify California regulations to reduce greenhouse gas emissions from tailpipes and its zero-emission vehicle program.
---
Co-published by The American Prospect
When officials within the Trump administration, on August 2, proposed scaling back Obama-era fuel-economy standards and revoking California's authority to regulate greenhouse gas emissions from tailpipes, they were betting on the chance that courts can't tell the difference between a law against gas guzzlers and one against carbon belchers. Low-mileage cars and low-emissions cars are often one and the same, they may have reasoned. If you're requiring a car to emit less carbon dioxide, you're also asking that it burn less fuel.
That part might be mostly true, although there are emissions controls that have nothing to do with gas mileage. But from a legal standpoint, fuel economy and tailpipe emissions take distinctly different routes to regulation. Fuel-economy standards, known as the Corporate Average Fuel Economy, or CAFE standard, as defined in the Energy Policy Conservation Act, forbid states from making their own rules. The National Highway Traffic Safety Administration enforces them; states have no control.
The 1970 Clean Air Act, on the other hand, gives California the explicit authority to regulate air pollution, albeit with EPA sign-off in the form of a "waiver" each time the state wants to impose a new standard. Other states can adopt California's stricter rules (12 of them and the District of Columbia, have). Or states can stick with the standards set by the federal government. Tailpipe emissions of other pollutants from cars and trucks — carbon monoxide and nitrous oxides, for starters — have long been a chief source of air pollution, and California since 1961 has acted to curtail them.
---
"California regulators were the first to understand how smog was formed, the first to act on how to control that smog."
---
That's one of the reasons why the administration might lose its coming battle with 19 states and a host of environmental groups gearing up to fight the "Safer and Affordable Fuel-Efficient Vehicles" rule, as the Environmental Protection Agency calls its apocalypse-hastening rollback, which would freeze the CAFE standard at 37 miles per gallon instead of aiming toward the 54.5 miles per gallon by 2025 that the previous administration had set. It would nullify not only California regulations to reduce greenhouse gas emissions from tailpipes but also California's zero-emission vehicle program, which requires carmakers to market a certain number of all-electric or hydrogen vehicles in the state.
But the rollback doesn't pass legal muster, says Irene Gutierrez, clean-energy attorney with the Natural Resources Defense Council. Among its many legal and factual flaws, the proposed rule seeks to revoke California's authority over tailpipe emissions of greenhouse gases on the grounds that "the environmental problems it addresses are not particular or unique to California." Yet nowhere does the Clean Air Act mention "particular or unique" as a waiver requirement.
---
California's transportation sector puts more carbon-dioxide and its equivalents into the atmosphere than any state but Texas.
---
"The EPA has not in the past looked at California and said, 'Prove to us that your ozone problems are worse than any other place in the country,'" Gutierrez says. "It's not like there aren't polluted air basins in other states." When past waivers were granted — there have been more than 50 — it wasn't because California and California alone had an air-quality problem. It was because California was seen as particularly aggressive about cleaning up its air and, in 1970, was far ahead of the federal government in doing so.
"California regulators were the first to understand how smog was formed, the first to act on how to control that smog," says Meredith Hankins, a legal scholar at the University of California, Los Angeles. So it allowed the state to forward with what's known as "technology-forcing" regulation.
"Technology-forcing means regulators aren't picking the technology, aren't picking the winners and losers," Hankins says. "They're saying 'You figure it out — you're the technology experts. All we care about is public health.'"
---
Climate change is undeniably hitting the state now with a particular and unique dose of fury.
---
But even if the law said California had to be unique in its suffering from greenhouse gas emissions, it would not be hard to make the case that it is. For one thing, with its glut of cars, California has an urgent responsibility to reduce its contribution to greenhouse gas pollution from cars and trucks. Forty-one percent of California's greenhouse gas emissions come from transportation, according to the California Air Resource Board's latest climate inventory. The state's transportation sector puts more carbon-dioxide and its equivalents into the atmosphere than any state but Texas.
Plus, climate change is undeniably hitting the state this moment with a particular and unique dose of fury. "There are 18 fires burning in the state right now, and none of them are contained," Gutierrez says. Several more have already leveled neighborhoods. One of them, near Redding, in Northern California, burned so hot that it scorched away a layer of earth.
It's an odd time, then, for the Environmental Protection Agency to be fighting against environmental protection. Especially in California.
California's climate gas waiver for cars was first denied by the Bush administration in 2008, when then-EPA Administrator Stephen Johnson made basically the same case: That California does not "need to meet compelling and extraordinary conditions" with respect to greenhouse gas pollution. Six months into the Obama administration, the EPA officially reversed that decision. "Opponents of the waiver have not demonstrated that California does not need its greenhouse gas emission standards to meet compelling and extraordinary conditions," EPA Administration Lisa Jackson wrote at the time. She also affirmed that "Congress recognized that California could serve as a pioneer and a laboratory for the nation in setting new motor vehicle emissions standards."
"Trump is trying to rehash those old Bush administration arguments," Gutierrez says. Trump's administration is also adding a bonus caveat: that clean vehicles are, by definition, small and unsafe. The proposal claims that canceling out both national fuel standards and California's waiver will reduce traffic fatalities by 12,700 from 2021 to 2029.
Never mind that it's possible to produce a substantial, low-emissions plug-in hybrid, such as Chrysler's Pacifica minivan, just as it is to make a smaller car that pollutes (the 2009 model of the Ferrari F430, for instance, isn't particularly big, but it packs the same climate wallop as the 2001 model of the hulking Ford Explorer.) Carmakers are getting better all that time at designing more substantial, longer-range and affordable cars that qualify as clean. Nearly every manufacturer has a plug-in hybrid crossover SUV on the line for 2019. Even Ford, which has been slow to the EV game — dutifully churning out "compliance" vehicles just to qualify for the strict California market — has announced a plug-in hybrid model of its crossover SUV, the Escape.
Besides, the goal of saving 12,000 lives rings a little hollow when you consider that heat, according to the Centers for Disease Control and Prevention, is the leading cause of all annual weather-related deaths in the U.S. The World Health Organization predicts that between 2030 and 2050, 250,000 people will die globally due to climate-related health impacts. Maybe we could all just drive a little more carefully.
---
Copyright Capital & Main