California's Schools Chief Candidates Double Down on Accusations
State superintendent's race turns angry. Trump says gender is all in the crotch. Math scores dive.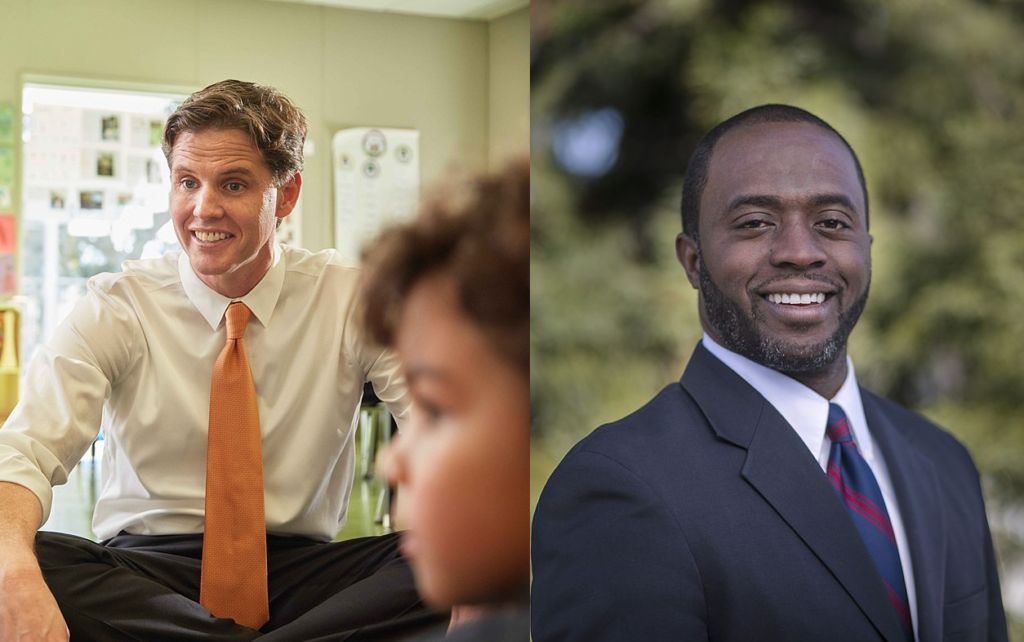 ---
"Learning Curves" is a weekly roundup of news items, profiles and dish about the intersection of education and inequality. Send tips, feedback and announcements of upcoming events to  braden@capitalandmain.com, @BillRaden.
---
With the California Schools Superintendent race in its final stretch, the Marshall Tuck and Tony Thurmond campaigns traded angry broadsides last week over each camp's ads. The sparring began with an October 12 cease and desist letter from Tuck over a Thurmond-produced TV spot claiming Tuck "is a paid backer of charter schools," supported by Betsy DeVos and "financed by the same billionaires behind" the Trump education secretary. Thurmond in turn called on "Tuck and his supporters" to take down a cable TV ad that falsely suggested the progressive assemblymember was responsible for West Contra Costa Unified's fiscal problems and had earned an Obama administration "reprimand" over district mishandling of sexual harassment during his term on WCCUSD's school board.
Though an EdVoice fact-check slapped both with truth demerits and singled out the reprimand claim as "false," it noted that some of the billionaire donors behind the now-$26 million raised by the two pro-Tuck EdVoice charter school super PACs have also written checks to a pair of DeVos nonprofits. Thurmond spokesperson Maddie Franklin, who said the campaign stands by its spot, added that as recently as 2015, Tuck was still a salaried board member of the Eli Broad- and Walton Family-funded charter lobby group Parent Revolution. Tuck spokesperson Andrew Blumenfeld was adamant that the campaign had no reason nor the legal means to even publicly call for EdVoice to pull the anti-Thurmond ad. "Not only don't we have control," Blumenfeld told Learning Curves, "it would be illegal for me to … communicate with them in any way about the content they produce. We're talking about two very different things."
Above: Thurmond attacks Tuck. Below: Tuck attack Thurmond.
Some 1.4 million American adults who define their gender as different from their biological sex at birth woke last weekend to headlines announcing that the Trump administration is set to define their sexual identities "out of existence." On Monday, Donald Trump confirmed he is considering redefining gender as fixed at birth by a person's genitalia. The move would reverse, among other things, the Obama administration's 2016 guidance recognizing gender largely as an individual's choice under Title IX of the Education Amendments of 1972 that bans sex discrimination in schools.
Last year, Betsy DeVos withdrew that guidance in one of her first acts as education department chief. Since then, Inside Higher Ed reports, numerous colleges have failed to enforce transgender rights in disputes over admissions policies and access to bathrooms, residence halls and athletic programs. And an August investigation by Politico found many complaints by elementary and secondary trans students and their families have been dismissed by the U.S. education department.
College entrance exam results for 2018 high school graduates are in and the news isn't great. Math scores plunged to an average of 20.5 —their lowest level in more than 20 years, according to exam data released last week by ACT in its annual report on college readiness. Average composite ACT scores fell in all racial and ethnic groups except for Asian-Americans. "We're at a very dangerous point," ACT chief executive officer Marten Roorda told EdWeek.
Not so fast, averred former National Council of Teachers of Mathematics president Matt Larson: "As a country, we've reached the limits of what we can get out of standards alone. We need to pay more attention to what is taking place in the classroom." In a separate statement, Bob Schaeffer, public education director for FairTest, which tracks testing trends, went further, declaring, "This provides additional evidence that K-12 test-and-punish policies pursued by the federal government and many states have not improved readiness for higher education."
---
Copyright Capital & Main