Labor Organizes at Netroots Nation
(Photo: Jesse Luna)
(The following post about the Netroots Nation conference, recently concluded in San Jose, California, first appeared on JesseLuna.com and is reprinted with permission. Jesse Luna is a communications specialist with SEIU Local 721.)
The labor message was strong at the Netroots Nation 2013 conference. There was a consistent message across sessions and activities, a strong focus on the rise of what is being called "Alt Labor" and there were some good worker actions. Labor must be a part of the progressive movement.
Sessions and Activities
It was common to have pro-union voices at the different sessions and even during the activities. During a taco truck lunch event, several elected officials took to the microphone and spoke about the need to raise the minimum wage. Two young people also spoke about their experiences working at fast food places, the low wages and poor working conditions there. Because of the long lines at the taco trucks and natural lunchtime socializing, only a smaller group of around 50 people were engaged in the speeches but the fact that these speeches were a part of the afternoon's program provided good exposure to these important national worker needs. We must raise the wage.
There was a labor caucus session that ended up splitting into three areas – Alt Labor, Immigration and Digital Strategies. I attended the Digital Strategies breakout and found that many of my union brothers and sisters are also working diligently on trying to use tools and technologies to help advance campaigns. I've done several member trainings on using social media and will continue to do so because new organizing is more than just a trend, it's a necessity.
The Rise of Alt Labor
I'm used to seeing various forms of coalitions in the labor community but Alt Labor, a term that was coined by labor journalist Josh Eidelson earlier this year, is a new beast. During one presentation I learned that there are worker groups that are forming across the country with the focus of improving workplaces for non-unionized workers. For example, Dancer's Alliance is a worker-led organization that helps workers organize for better working conditions for dancers. They have managed to win a good contract with things they never thought they could win, like health benefits and a wage increase. It has some support from SAG-AFTRA but Dancer's Alliance itself is not a union.
Alt Labor groups like the Dancer's Alliance also have a contemporary twist to them as they have a big social media presence and use it to help drive campaigns with videos and other memes. Galen Hooks @GalenHooks is the head of the Dancer's Alliance and her organization is on Twitter at @DancersAlliance. You can also look at the #altlabor hashtag to see the conversations held at Netroots for Alt Labor.
This is one of Dancer's Alliance's videos which has received over 11,000 views so far.
Building Activism – Google Action
I loved participating in the Google action, where two busloads of Netroots Nation attendee activists went to the Google campus to march with workers and support better working conditions and salaries for security officers. Right now there are over 3,000 security officers in Silicon Valley helping to keep workers and worksites safe. The action was organized by SEIU (Service Employees International Union). Disclosure: I am a Communications Specialist for SEIU Local 721 out of Ventura County as well as a blogger and Labrador walker.
At the action, workers and their families held large Google-style colorful letters that spelled out GOOGLE, DON'T BE EVIL on them, then we all marched up to the complex and held a rally in the outside courtyard. One brave security officer, Manuel Cardenas, spoke up at the rally with his young daughter at his side. He said that he had delivered a petition to [CEO] Larry Page but that he was refused access to Page.
You can listen to the brief interview with Manuel Cardenas here.
I was surprised to hear a couple of activists who are very involved in politics mention that this was their first worker "action." I think that involving more activists in these kinds of actions is a good way to build support for labor because they are impactful and fun.
Reporter Josh Eidelson was on the bus that went to the Google HQ and wrote on the action –Union Activists Bring 'Don't Be Evil' Message to Google Headquarters.
Here's a very quick view of the Google action.

'Skeleton Crew' Is a Play With a Moral Spine
Set in a Detroit automobile outfitting plant, Dominique Morisseau's drama grabs you from the start with its focus on blue-collar men and women, and their struggle for dignity and self-respect.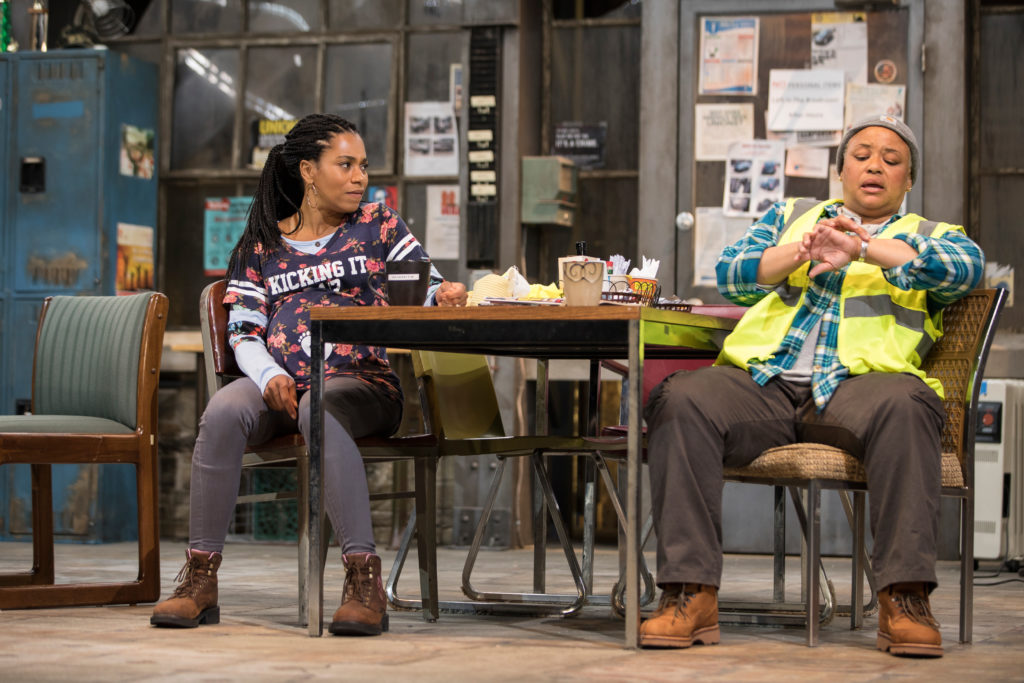 Working-class men and women of color are rarely front and center in today's media and, likewise, are presented all too occasionally on the American stage. So it's buoying to see that trend bucked in playwright Dominique Morisseau's percipient and well-crafted drama, Skeleton Crew. The play is the final installment in her Detroit  Project Trilogy; the first, Paradise Blue, is set in the 1940s amidst displacement caused by urban renewal and gentrification, while the second, Detroit '67, transpires on the eve of the 1967 Detroit riots sparked by a police action.
Directed by Patricia McGregor at Los Angeles' Geffen Playhouse, Skeleton Crew is a play with a moral spine. It takes place in 2008, when the shrinking U.S. auto industry is being further downsized. Morisseau's engaging quartet of characters — Faye (Caroline Stefanie Clay), Dez (Armari Cheatom), Shanita (Kelly McCreary) and Reggie (DB Woodside) – are employed at an automobile outfitting plant. Faye, Dez and Shanita are workers on the line while Reggie (who has a wife and kids, and has pulled himself together after a troubled youth) is their supervisor.
The first three customarily mingle in their break room (designer Rachel Myers' impressively cluttered, dingy and detailed set), trading the sort of familiar barbs and genuine concern for each other common among longtime co-workers. They also face off on philosophy: Upper-middle-aged Faye and the younger, pregnant Shanita take pride in their labor, while Dez, though a good worker, is a malcontent scornful of management and firm in the belief that everyone needs to watch out for himself. He's a thorn in Reggie's side, for while Reggie wants to be supportive of his workers, he must act at the behest of higher management. For his part, Dez resents Reggie's authority, and a palpable unease exists between them.
Besides this male matchup, we're made privy to Dez's attraction to Shanita, who mostly turns away his advances, but every now and then displays a hint of interest. Most poignant is Reggie's regard and affection for the lesbian Faye, which has roots in his boyhood when she loved, and lived, with his now-deceased mom.
These people's various predicaments intensify when rumors spread of the plant's shutdown — a disaster for all, but a particular calamity for the already near-broke Faye who, one year short of retirement, would lose her pension. The crisis forces each of these people to make a choice.
A sound piece of social realism, Skeleton Crew grabs you from the start in its focus on blue-collar men and women, and their struggle against odds for dignity and self-respect. Morisseau not only furnishes these characters a platform for their travails, she endows them with strong values, big hearts and the opportunity to choose between right and wrong.
Unfortunately, the performance I attended did not soar. Many exchanges lacked a fresh edge. The actors certainly had their characters down, but too often they appeared to be coasting on technique. (This seemed particularly true of Clay, who performed the role to great accolades in Washington, DC in 2017, also under McGregor's direction). Additionally, some of the stage movement was not entirely fluid; in confrontations, actors sometimes would just stand and face each other in an artificial way. And Cheatom's interpretation of Dez struck me as a bit overly churlish and depressive: I needed more glimpses of the intelligence and edge that would secretly attract the strong, self-directed Shanita.
The most compelling moments belong to Woodside, well-cast as a man trying his best in difficult circumstances to do the right thing.
---
Gil Cates Theater at the Geffen Playhouse, 10886 Le Conte Ave., Westwood Village; Tues.-Fri., 8 p.m.; Sat., 3 & 8 p.m. Sun., 2 & 7 p.m.; through July 8. (310) 208-5454 or www.geffenplayhouse.org