Koch Brother Groups Fined for 2012 Campaign Violations
It should serve as more than mere cold comfort that Charles and David Koch – the oil billionaires with a desire to remake America according to their own Dickensian vision of society –  are about to be fined $1 million by California's Fair Political Practices Commission. Today's Los Angeles Times reports that a pair of the brothers' political money funnels, Americans for Responsible Leadership  and the Center to Protect Patient Rights, unlawfully directed $11 million to a campaign account set up to defeat Proposition 30 and promote Proposition 32 in 2012.
The first proposition, which aimed to raise tax dollars for public education, passed; the latter measure, intended to cripple the ability of public employee unions to participate in politics, didn't.
Frying Pan News readers will remember how writers Matthew Fleischer and Bill Raden exposed the role of the out-of-state Brothers Koch and their moneyed front groups in the 2012 campaign. Considering that the Kochs, now facing a potential $100 billion windfall from the Keystone Pipeline, each earn about $3 million an hour, a $1 million fine is barely a slap on their cufflinks. Still, it's the thought that counts.
The Tests Facing California's New Governor
Gavin Newsom now leads the state with the nation's biggest economy and largest population — and one riven by economic inequality. What will be his most important challenges?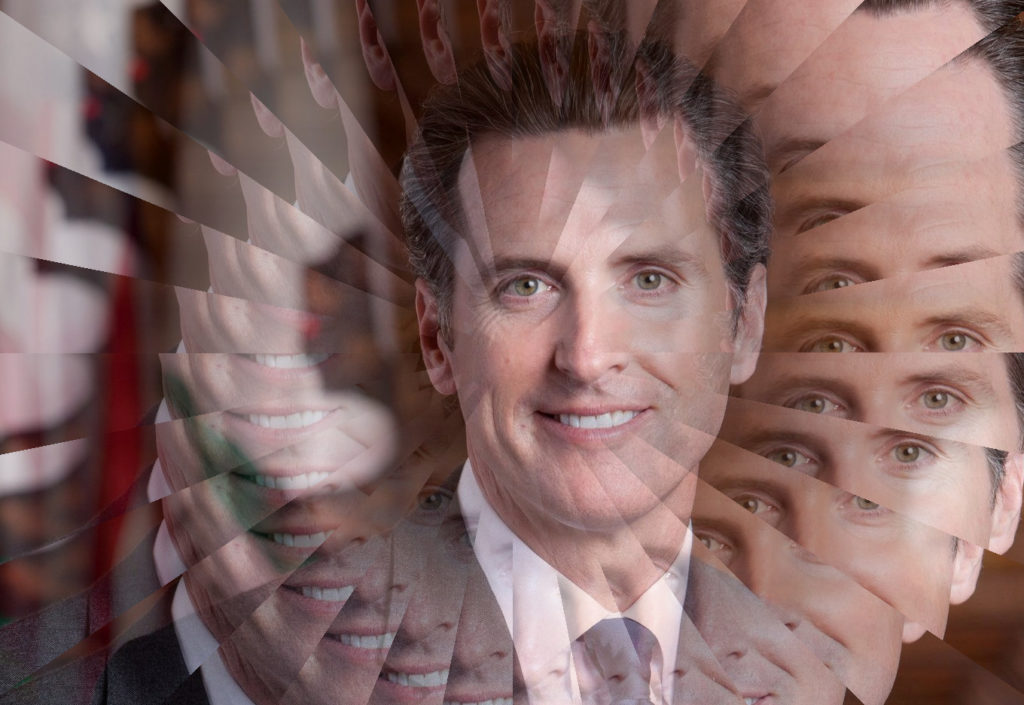 Gavin Newsom inherits a state that should be any governor's dream: A California that is the cradle of the tech revolution and brims with prosperity, a one-party state with supermajorities in both chambers for Newsom's Democrats. But there are clouds darkening the horizon: Daily prophecies tell of coming economic storms; legislative initiatives taken on behalf of immigrants, retirement security and the stemming of global warming are increasingly thwarted by a bellicose White House. And that Democratic Party monopoly in Sacramento masks a deepening ideological fault line dividing pro-business moderates and progressives – the latter of which have largely chafed for the last 16 years under the thrifty administrations of Jerry Brown and Arnold Schwarzenegger, and are eager to burst out with far-reaching (if pricey) legislation.
Then, there are memories of three high-riding liberal governors (Pat and Jerry Brown, and Gray Davis) whose programs or careers were derailed by resentful taxpayers. There are more recent memories, too: Of an impulsive, hard-partying San Francisco mayor whose blunted ambitions led him to spend eight years in the ceremonial wilderness of the lieutenant governor's office. Newsom is said to have matured into a more circumspect, pragmatic politician, although some of the old doubts were fanned back to life by an unflattering New Yorker profile that appeared shortly before his landslide victory November 6.
Perhaps overriding all these auguries is the undeniable fact that despite its enviable economy, its abundance of billionaires-in-residence and laudable array of social services, California still has the highest poverty rate in the U.S., nearly half of its children live in poverty or near-poverty, and merely finding an affordable place to live has become an existential challenge for many. These and similar factors superimpose on the state another kind of fault line, that of economic inequality. Most of the new governor's time will be spent wrangling crises that spring from this disparity. Which is why the following Capital & Main stories primarily focus on the inequality that separates so many Californians from one another.
Affordable Housing, by Jessica Goodheart.
Single-Payer Health Care, by Gabriel Thompson.
Climate Change and Big Oil, by Judith Lewis Mernit.
Inequality Interviews with Manuel Pastor, Ann Huff Stevens and David Grusky.
Early Childhood Education, by Bill Raden.
Inequality in California: Six Takeaways.
---
Copyright Capital & Main