Jumbotrons & Thundersticks: Parent Revolution Throws a Convention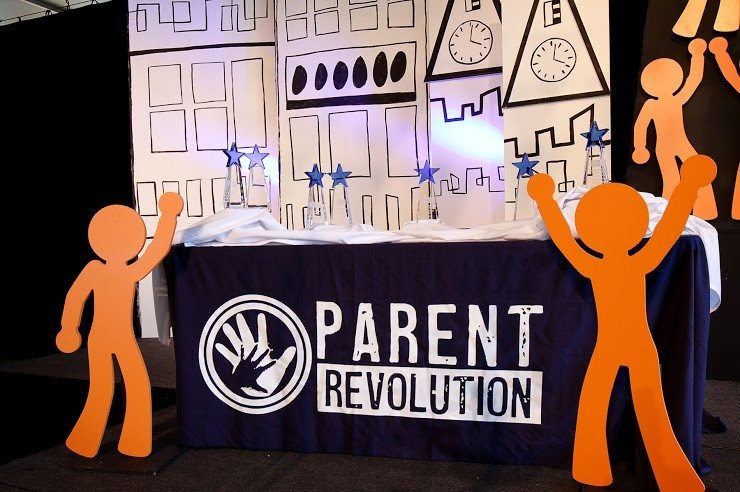 The big white tent at Los Angeles Trade Technical College was festooned with balloons, draped in orange and white pennants and full of music. Swelling gospel-flavored sounds, Stevie Wonder's "Signed, Sealed, Delivered" and the ubiquitous party song "No te Metes con Mi Cucu" signaled a break in the program after a parade of speakers.
The floor was covered with AstroTurf.
Last Saturday's "Parent Power Convention" was the first-ever national gathering held by Parent Revolution, an organization founded here in 2009. With its feel-good inclusive vibe, the November 15 assembly attracted hundreds of parents, mostly African-American and Latino, from neighborhoods with failing and struggling schools.
Invitations offered free local transportation and childcare. There were many out-of-state visitors. Just as a national political party convention would be organized, delegates sat at tables with tall vertical signs that announced where they were from—Texas, Louisiana, Oklahoma, Mississippi – or identified the "parent unions" at various local schools in L.A., including West Athens and 24th Street elementary schools.
"How is everybody today?" Parent Revolution executive director Ben Austin called out.
A low-energy cheer.
"Let me ask again—how IS everybody today?" A louder burst of applause followed.
Two Jumbotrons on either side of the stage projected images of Austin and subsequent speakers and recipients of the Parent Power Awards. Several hundred people erupted in applause and vigorously whacked together inflatable thundersticks emblazoned with the motto "Educational Justice for All."
The thundersticks were included in the bright orange swag-bags handed out at registration—along with T-shirts that proclaimed "I Am the Revolution." Box lunches came with the registration.
The whole thing was beautifully packaged as a grassroots event. But it really wasn't. It was more like a well-funded launch of a national front in the ground war for the future of public education.
Almost everyone agrees that things need to change at the Los Angeles Unified School District (LAUSD) and in other big-city schools.
But Parent Revolution—launched by charter school operator Steve Barr and backed by, and allied with some of the biggest corporate interests in the world–promotes one single way to reform urban schools: the unfortunately named "trigger" law that sets the stage for private takeovers of public schools.
First passed in California in 2010, the Golden State's version of the trigger law stipulates that if 51 percent of parents at a given school sign a petition—that's the "trigger"– the outcome can include sacking the principal, laying off the entire staff– and/or handing the school off to a charter school operation.
Charter schools enjoy a reputation for innovation and great education—but have little accountability or transparency when they use public funding to run what is essentially a private enterprise. What's more, their reputations often outshine their performances – research shows that on average charters perform no better than public schools – and in many instances, worse. Charters divert school funding to private entities instead of to school districts, draining local public schools. The districts still must share and underwrite the charters' facilities. California's first use of its parent trigger law, in the High Desert town of Adelanto, has resulted in administrative chaos and an exodus of teachers and staff.
"Parents should have a choice," education activist Mary Johnson tells Capital & Main. "But not when it's manipulated by billionaires." Johnson, who has organized parents for two decades, did not attend the Parent Power Convention.
The billionaires in question include a host of household names united by the belief that failing schools should be privatized.
Research on the Parent Revolution's corporate backing is well-trodden territory—its creation was supported by a $1-million budget supplied by the Bill & Melinda Gates Foundation, the Wasserman Foundation, the Eli and Edythe Broad Foundation, the Hewlett-Packard Foundation, and the Walton Family Foundation (the Walmart-based group that has funded one out of every four charter school startups in the nation.)
"They have been the most highly funded organization that purports to do educational organizing," says John Rogers of UCLA's Institute for Democracy, Education and Access.
On Saturday morning parents met in breakout sessions that included "Using the Parent Trigger Law: What Have We Learned," along with a panel that evaluated the political status of trigger laws across the nation. Seven states have passed a version of the trigger law since 2010.
Rogers calls the trigger metaphor "problematic on so many levels."
"It accents violence and presumes there is necessarily a conflict to be fought out." Most research shows that trust between teachers and parents produces the best results at local schools, he says.
"'Trigger'" seems to start with an assumption of conflict," Rogers adds.
Many of the problems the parents want to address "stretch far beyond the school walls," Rogers says. In low-income areas like Compton and Adelanto where parents demanded a school trigger, the "communities have to deal with a failure of the economic crisis."
But "trigger" definitely drove the agenda at the Parent Revolution convention. After the lunchtime rally participants gathered at tables alongside the signs that identified their states or schools. The mission: vote on a set of resolutions that pledged support and promotion of parent trigger legislation in Texas, Louisiana and Tennessee, and identify and train parents to "address future threats to Parent Trigger legislation and campaigns."
The resolutions had been explained from the stage in Spanish (there were headsets for simultaneous English translation available) and their texts also appeared in the pre-printed program that laid out the context. The parent trigger emerged "from the imagination of Ben Austin," Parent Revolution's executive director and a long-time political operative whose background includes a stint in the Clinton White House and time as a deputy mayor to Richard Riordan.
At one table surrounded by parents from a Parent Revolution-organized "union" at an LAUSD school, the facilitator, an energetic young woman, spoke Spanish as she broke down the resolutions and asked for questions.
One participant asked if they would become law or…? These are proposals, the facilitator explained.
She called for a vote. Nearly everybody raised their hands. The discussion had lasted no more than 15 minutes.
Now it was time to pick a spokesperson to convey the delegation's "yes" vote on the resolutions. All you have to do is announce your delegation's name and the vote, that's all, she explained.
A woman with a broad smile shyly raised her hand.
Across the tent a delegation of some 30 participants stood in a circle voting raucously, jumping up and down as they approved each resolution with a loud "Si!"
"I'm not a fan of the Parent Revolution," parent organizer Mary Johnson says flatly, even though she is on the side of parents who want to take charge of their children's schools.
For years Johnson worked with what she calls the most effective parent advisory committees in LAUSD—the Parent Collaborative, which she headed up, and the District Advisory Committee (DAC). The LAUSD eliminated both—which is why she is not exactly a fan of LAUSD either. But she is passionately involved in school reform—just not the corporate, parent-trigger style.
"The DAC taught parents how to navigate—it was so powerful because they knew the rules of engagement," she says.
She's critical of schools superintendent Ramon Cortines, who was appointed last month to his third, non-consecutive term at the district in the wake of John Deasy's resignation. Last week Cortines gave his blessing to re-instate the parent trigger law for LAUSD.
A waiver from the U.S. Department of Education had enabled LAUSD to opt out by exempting the district from penalties for not meeting a 2014 deadline for 100-percent math and reading proficiency, as mandated by the No Child Left Behind (NCLB) law created by President George W. Bush.
"The district got a NCLB waiver," she says. "If Cortines can lift the ban on the trigger—why not NCLB? It seems like he's being selective."
We need to grow our own parents to be leaders, train parents on how to navigate the school system, Johnson says.
"There are lots of options before you go to trigger."
---
(Photo by Bobbi Murray)