Jumbotrons & Thundersticks: Parent Revolution Throws a Convention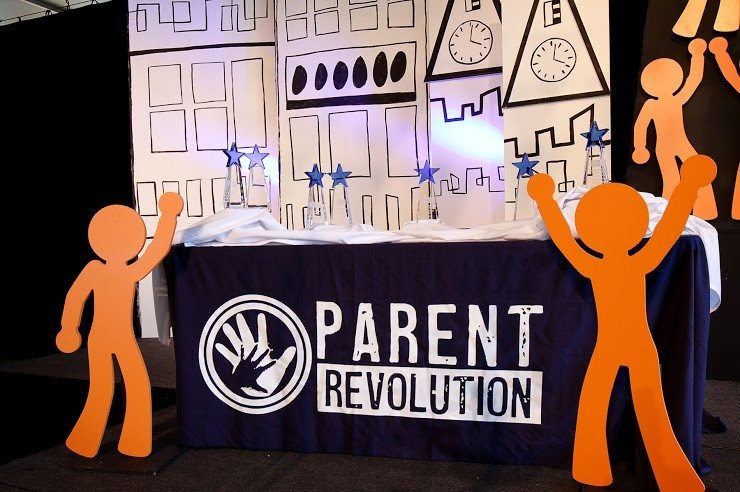 The big white tent at Los Angeles Trade Technical College was festooned with balloons, draped in orange and white pennants and full of music. Swelling gospel-flavored sounds, Stevie Wonder's "Signed, Sealed, Delivered" and the ubiquitous party song "No te Metes con Mi Cucu" signaled a break in the program after a parade of speakers.
The floor was covered with AstroTurf.
Last Saturday's "Parent Power Convention" was the first-ever national gathering held by Parent Revolution, an organization founded here in 2009. With its feel-good inclusive vibe, the November 15 assembly attracted hundreds of parents, mostly African-American and Latino, from neighborhoods with failing and struggling schools.
Invitations offered free local transportation and childcare. There were many out-of-state visitors. Just as a national political party convention would be organized, delegates sat at tables with tall vertical signs that announced where they were from—Texas, Louisiana, Oklahoma, Mississippi – or identified the "parent unions" at various local schools in L.A., including West Athens and 24th Street elementary schools.
"How is everybody today?" Parent Revolution executive director Ben Austin called out.
A low-energy cheer.
"Let me ask again—how IS everybody today?" A louder burst of applause followed.
Two Jumbotrons on either side of the stage projected images of Austin and subsequent speakers and recipients of the Parent Power Awards. Several hundred people erupted in applause and vigorously whacked together inflatable thundersticks emblazoned with the motto "Educational Justice for All."
The thundersticks were included in the bright orange swag-bags handed out at registration—along with T-shirts that proclaimed "I Am the Revolution." Box lunches came with the registration.
The whole thing was beautifully packaged as a grassroots event. But it really wasn't. It was more like a well-funded launch of a national front in the ground war for the future of public education.
Almost everyone agrees that things need to change at the Los Angeles Unified School District (LAUSD) and in other big-city schools.
But Parent Revolution—launched by charter school operator Steve Barr and backed by, and allied with some of the biggest corporate interests in the world–promotes one single way to reform urban schools: the unfortunately named "trigger" law that sets the stage for private takeovers of public schools.
First passed in California in 2010, the Golden State's version of the trigger law stipulates that if 51 percent of parents at a given school sign a petition—that's the "trigger"– the outcome can include sacking the principal, laying off the entire staff– and/or handing the school off to a charter school operation.
Charter schools enjoy a reputation for innovation and great education—but have little accountability or transparency when they use public funding to run what is essentially a private enterprise. What's more, their reputations often outshine their performances – research shows that on average charters perform no better than public schools – and in many instances, worse. Charters divert school funding to private entities instead of to school districts, draining local public schools. The districts still must share and underwrite the charters' facilities. California's first use of its parent trigger law, in the High Desert town of Adelanto, has resulted in administrative chaos and an exodus of teachers and staff.
"Parents should have a choice," education activist Mary Johnson tells Capital & Main. "But not when it's manipulated by billionaires." Johnson, who has organized parents for two decades, did not attend the Parent Power Convention.
The billionaires in question include a host of household names united by the belief that failing schools should be privatized.
Research on the Parent Revolution's corporate backing is well-trodden territory—its creation was supported by a $1-million budget supplied by the Bill & Melinda Gates Foundation, the Wasserman Foundation, the Eli and Edythe Broad Foundation, the Hewlett-Packard Foundation, and the Walton Family Foundation (the Walmart-based group that has funded one out of every four charter school startups in the nation.)
"They have been the most highly funded organization that purports to do educational organizing," says John Rogers of UCLA's Institute for Democracy, Education and Access.
On Saturday morning parents met in breakout sessions that included "Using the Parent Trigger Law: What Have We Learned," along with a panel that evaluated the political status of trigger laws across the nation. Seven states have passed a version of the trigger law since 2010.
Rogers calls the trigger metaphor "problematic on so many levels."
"It accents violence and presumes there is necessarily a conflict to be fought out." Most research shows that trust between teachers and parents produces the best results at local schools, he says.
"'Trigger'" seems to start with an assumption of conflict," Rogers adds.
Many of the problems the parents want to address "stretch far beyond the school walls," Rogers says. In low-income areas like Compton and Adelanto where parents demanded a school trigger, the "communities have to deal with a failure of the economic crisis."
But "trigger" definitely drove the agenda at the Parent Revolution convention. After the lunchtime rally participants gathered at tables alongside the signs that identified their states or schools. The mission: vote on a set of resolutions that pledged support and promotion of parent trigger legislation in Texas, Louisiana and Tennessee, and identify and train parents to "address future threats to Parent Trigger legislation and campaigns."
The resolutions had been explained from the stage in Spanish (there were headsets for simultaneous English translation available) and their texts also appeared in the pre-printed program that laid out the context. The parent trigger emerged "from the imagination of Ben Austin," Parent Revolution's executive director and a long-time political operative whose background includes a stint in the Clinton White House and time as a deputy mayor to Richard Riordan.
At one table surrounded by parents from a Parent Revolution-organized "union" at an LAUSD school, the facilitator, an energetic young woman, spoke Spanish as she broke down the resolutions and asked for questions.
One participant asked if they would become law or…? These are proposals, the facilitator explained.
She called for a vote. Nearly everybody raised their hands. The discussion had lasted no more than 15 minutes.
Now it was time to pick a spokesperson to convey the delegation's "yes" vote on the resolutions. All you have to do is announce your delegation's name and the vote, that's all, she explained.
A woman with a broad smile shyly raised her hand.
Across the tent a delegation of some 30 participants stood in a circle voting raucously, jumping up and down as they approved each resolution with a loud "Si!"
"I'm not a fan of the Parent Revolution," parent organizer Mary Johnson says flatly, even though she is on the side of parents who want to take charge of their children's schools.
For years Johnson worked with what she calls the most effective parent advisory committees in LAUSD—the Parent Collaborative, which she headed up, and the District Advisory Committee (DAC). The LAUSD eliminated both—which is why she is not exactly a fan of LAUSD either. But she is passionately involved in school reform—just not the corporate, parent-trigger style.
"The DAC taught parents how to navigate—it was so powerful because they knew the rules of engagement," she says.
She's critical of schools superintendent Ramon Cortines, who was appointed last month to his third, non-consecutive term at the district in the wake of John Deasy's resignation. Last week Cortines gave his blessing to re-instate the parent trigger law for LAUSD.
A waiver from the U.S. Department of Education had enabled LAUSD to opt out by exempting the district from penalties for not meeting a 2014 deadline for 100-percent math and reading proficiency, as mandated by the No Child Left Behind (NCLB) law created by President George W. Bush.
"The district got a NCLB waiver," she says. "If Cortines can lift the ban on the trigger—why not NCLB? It seems like he's being selective."
We need to grow our own parents to be leaders, train parents on how to navigate the school system, Johnson says.
"There are lots of options before you go to trigger."
---
(Photo by Bobbi Murray)

Living Homeless in California: The University of Hunger
A January study found that 11 percent of students on the California State University's 23-campuses reported being homeless during the past year. At Humboldt State nearly a fifth said they'd been homeless at one point during 2017.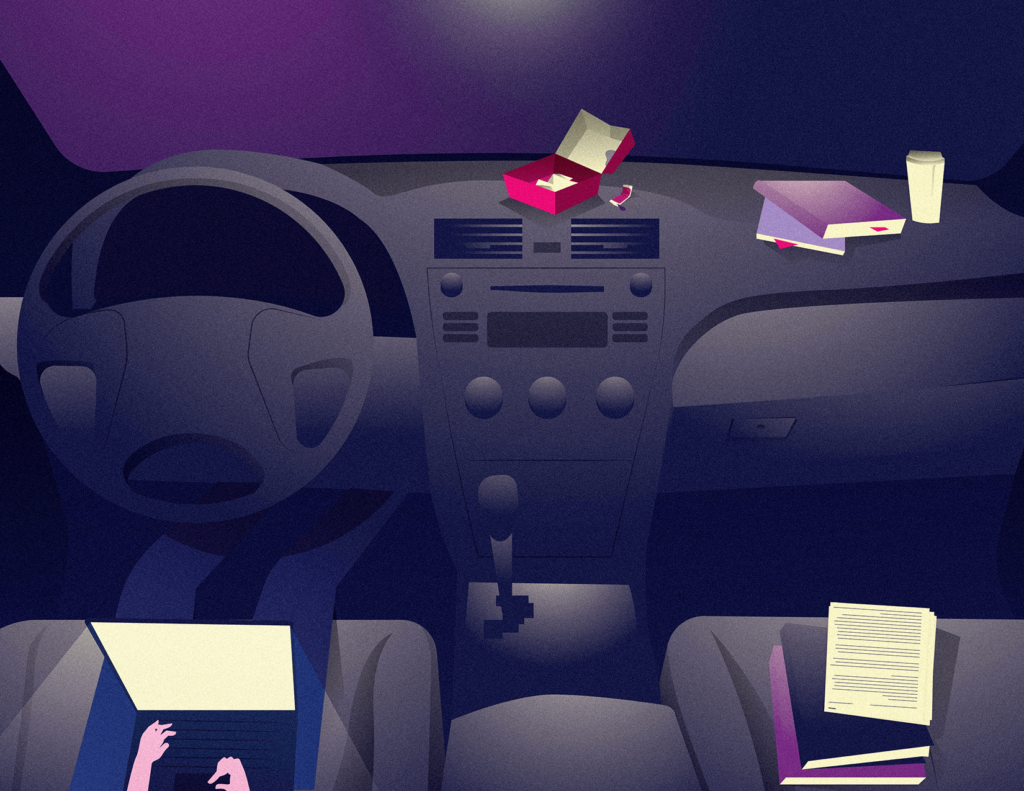 ---
Homeless students told of sleeping in the woods and of completing research assignments at McDonald's, to take advantage of free Wi-Fi.
---
In August of 2016, Chanté Marie Catt left her home in Redding, in the Sacramento Valley, to begin her first semester at Humboldt State University. Catt was 36, with a boyfriend and 1-year-old daughter, and possessed a booming laugh and no small amount of confidence. After nearly two decades running her own pet-care business in Los Angeles, she had begun to feel limited by her lack of a college degree, and several years earlier followed her parents north and enrolled at Redding's Shasta College. The transfer to Humboldt had her dreaming of towering redwoods and cool ocean breezes. "We were excited to start a new life, maybe buy a house," she says.
The couple tried to find a place from Redding, scouring Craigslist for openings without luck. In person, Catt figured, her prospects would improve. Once they had checked into a campground north of the university and enrolled their daughter in daycare, she dedicated her time to visiting property management companies. A week went by, then another. She paid application fees to management companies—$20 here, $43 there—and called through every listing she found, but even with a solid credit and rental history, never heard back. The family bounced from one campsite to another, with occasional stops at a motel to clean up. It was an expensive way to live, and she rapidly blew through $16,000 in financial aid and student loans. One day, out of a combination of anger and desperation, Catt took to Craigslist from her motel room. "I'm a sociology student," she wrote, "starting research on our homeless students and on the property management companies here. Anyone want to share their stories!?"
Within hours, she received more than 150 responses. Homeless students told her of moving from couch to couch, of sleeping in the woods and of completing their research assignments at McDonald's, where they took advantage of free Wi-Fi. "My children are cold, we are broke from all the rental application fees and I'm tired of it," wrote a mother of two. A graduate student who worked full-time revealed that he was living in his car for the second consecutive semester: "I never knew it would be this hard to find a place to rent."
Several weeks later, while still homeless, Catt had organized a campus group, the Homeless Student Advocate Alliance, and was spending her free time passing out fliers to attract more members. They weren't hard to find. "Every couple of students I talked to was experiencing some sort of displacement," she says. For many students at Humboldt, going to college meant becoming homeless.
---
One homeless-student conference included workshops on outdoor living, covering topics like how to light fires to keep homework dry.
---
The true scale of this crisis was revealed last January in a groundbreaking report commissioned by the California State University system. The study found that 11 percent of students on the university's 23-campuses reported being homeless during the past year. The problem was most acute at Humboldt State, where nearly a fifth of the student body had been homeless at one point the previous year.
"In large part, students are homeless because they don't get enough financial aid," says Jennifer Maguire, a Humboldt social work professor, who co-authored the study with Rashida Crutchfield of Long Beach State. "It's even worse here, because we're in a rural area with a very limited housing stock." According to the North Coast Journal, a local newspaper, there aren't even enough rental units in the city of Arcata, where the university is located, for the students who need housing—much less anywhere else. And while the university plans to build more student housing, it can currently only guarantee slots for first-year students.
This shortage allows landlords to crank up rents and reject applicants at whim. For students without a financial cushion, the situation can quickly turn into a full-blown emergency—and in the CSU system, that's a lot of students. More than half the students at Humboldt are the first in their family to attend college, and a third are Latino. Many work full-time; some have kids. "The 'non-traditional' student is now the traditional student," says Maguire.
On a cool April morning, more than 200 people packed into a theater at the College of the Redwoods in nearby Eureka, for a forum on homelessness co-hosted by Humboldt State. "I mentioned to a community member last week that I would be attending this summit today and she asked me, 'What does homelessness have to do with HSU?'" said Humboldt State president Lisa Rossbacher. The crowd laughed, which represented at least some progress. It's no longer a secret that Humboldt State students struggle with homelessness.
---
"My children are cold, we are broke from all the rental application fees and I'm tired of it," wrote a Humboldt State University student.
---
Much of the progress is due to the efforts of activists like Catt. After several months of homelessness, her family eventually landed an apartment, thanks in part to an emergency welfare grant. By that time, she had organized the homeless student alliance, which was pressing the university to finally address the problem. Last fall, the group held a three-day conference at Humboldt State that included workshops on outdoor living, which covered topics like how to light a fire and keep your homework dry. On the third day, a group of students put up tents on the quad and stayed for two nights. They then moved to the library, which they occupied, and demanded that it remain open 24 hours a day to give homeless students a safe and warm place to be.
The next day, an administrator contacted Catt and offered her the position of off-campus housing liaison, which had been one of the alliance's demands. Since January, Catt has worked with more than 100 students, many of whom are in need of housing or have dealt with retaliation from landlords. It's a start, though there are limits to what she can accomplish. One student who was living out of her car recently came to Catt's office, and Catt gave her a code to the campus lockers, which are normally reserved for students taking physical education classes. The student broke down in tears at the prospect of a hot shower. A few days later, Catt texted her that a landlord had recently called with a room to rent, but the student had moved back in with her parents. "She told me it had just been too cold out there," says Catt.
A couple of days after the homeless summit, I met Jasmine Bigham, a 23-year-old transfer student, on the steps of the campus library. Like Catt, she had arrived at Humboldt in 2016, and anticipated finding housing within a week or two. "Weeks turned to months," she says. She spent a semester living out of her Subaru Outback, searching for places to park at night that looked safe, then curling up on the back seat. She didn't tell her parents. "No parents want their kids living like that," she says—and anyways, they didn't have much extra money. Bigham is from a small town in neighboring Siskiyou County, and before college had lived inside a metal shop designed to store tractors and supplies; her parents created walls by hanging tarps. "I sort of grew up having to figure shit out," she says.
---
Homelessness has caused Jasmine to give up on some dreams. She wants a college education, so that means giving up a home.
---
After a semester in the Subaru, she bought a used trailer for $1,000 and parked it at a KOA campground for $600 a month. That felt safer, but then the trailer's ceiling collapsed and an intoxicated neighbor harassed her, so she left for a room in a house that was infested with mold and rats. She could only handle the grime for so long, so last year she sold her Subaru and plowed the rest of her savings—which she earned by waitressing in Lake Tahoe—into a GMC van. Since January, she's been living at a parking lot next to student housing.
As we walk from the library to the parking lot, Bigham outlines her semester budget. Scholarships nearly cover her tuition, and she's in charge of the rest. Right now she's not working, because she's taking 19 units, the maximum allowed. The parking pass is $180 a year, and she rents two lockers, at $5 a piece, for the semester. Each day she stops by the campus food pantry, where she fills plastic containers with soup and picks up rice and beans. She describes the area around campus as a food desert but in reverse—filled with only "really expensive healthy food" that's out of her reach. She takes a bus to Eureka, then walks a mile to reach a more affordable grocery store, where she can load up on quinoa, bell peppers and mangos. She has a camping stove, or else prepares meals for the week at friends' homes.
At the parking lot, she points out several other vehicles where students are living. She'll graduate in December, and tells me that when she returns this fall she hopes to get the other homeless students to park together, to create a greater sense of safety. She opens the back of her van, which is meticulously organized: a plastic container for her clothes, a folded mattress she bought on sale at Ross Dress for Less, an ice chest and cans of beans. "I had to learn what food stays good and what doesn't," she says.
Bigham tells me that she's always felt different. She is an African American from an all-white rural community. She grew up on a "broken-down ranch" with cows and pigs, while many students at Humboldt talk about eating meat as if it were a crime. "The hardest thing is people not understanding," she says, leaning against her van. "If you talk about how people don't have enough to eat, they say, 'Well, why don't they just feed themselves?'"
Homelessness has caused her to give up on some dreams. She loved track, and was recruited by a couple of larger colleges to throw the javelin, but didn't want to live in a big city. She hoped to continue with athletics, but juggling a full academic load while being homeless didn't leave much room for anything else. She shrugs and smiles. "You can either be sad or you can figure it out. If you don't have money, but you still want to do things, you have to give up something," she says. She wants a college education, so that means giving up a home.
---
Copyright Capital & Main