Jumbotrons & Thundersticks: Parent Revolution Throws a Convention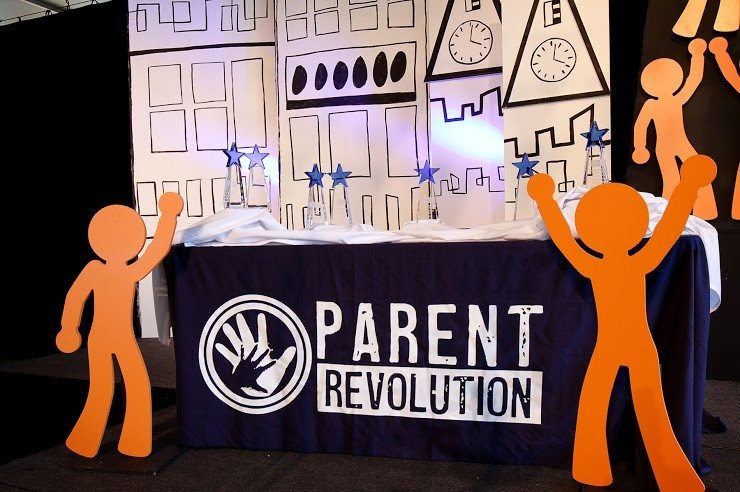 The big white tent at Los Angeles Trade Technical College was festooned with balloons, draped in orange and white pennants and full of music. Swelling gospel-flavored sounds, Stevie Wonder's "Signed, Sealed, Delivered" and the ubiquitous party song "No te Metes con Mi Cucu" signaled a break in the program after a parade of speakers.
The floor was covered with AstroTurf.
Last Saturday's "Parent Power Convention" was the first-ever national gathering held by Parent Revolution, an organization founded here in 2009. With its feel-good inclusive vibe, the November 15 assembly attracted hundreds of parents, mostly African-American and Latino, from neighborhoods with failing and struggling schools.
Invitations offered free local transportation and childcare. There were many out-of-state visitors. Just as a national political party convention would be organized, delegates sat at tables with tall vertical signs that announced where they were from—Texas, Louisiana, Oklahoma, Mississippi – or identified the "parent unions" at various local schools in L.A., including West Athens and 24th Street elementary schools.
"How is everybody today?" Parent Revolution executive director Ben Austin called out.
A low-energy cheer.
"Let me ask again—how IS everybody today?" A louder burst of applause followed.
Two Jumbotrons on either side of the stage projected images of Austin and subsequent speakers and recipients of the Parent Power Awards. Several hundred people erupted in applause and vigorously whacked together inflatable thundersticks emblazoned with the motto "Educational Justice for All."
The thundersticks were included in the bright orange swag-bags handed out at registration—along with T-shirts that proclaimed "I Am the Revolution." Box lunches came with the registration.
The whole thing was beautifully packaged as a grassroots event. But it really wasn't. It was more like a well-funded launch of a national front in the ground war for the future of public education.
Almost everyone agrees that things need to change at the Los Angeles Unified School District (LAUSD) and in other big-city schools.
But Parent Revolution—launched by charter school operator Steve Barr and backed by, and allied with some of the biggest corporate interests in the world–promotes one single way to reform urban schools: the unfortunately named "trigger" law that sets the stage for private takeovers of public schools.
First passed in California in 2010, the Golden State's version of the trigger law stipulates that if 51 percent of parents at a given school sign a petition—that's the "trigger"– the outcome can include sacking the principal, laying off the entire staff– and/or handing the school off to a charter school operation.
Charter schools enjoy a reputation for innovation and great education—but have little accountability or transparency when they use public funding to run what is essentially a private enterprise. What's more, their reputations often outshine their performances – research shows that on average charters perform no better than public schools – and in many instances, worse. Charters divert school funding to private entities instead of to school districts, draining local public schools. The districts still must share and underwrite the charters' facilities. California's first use of its parent trigger law, in the High Desert town of Adelanto, has resulted in administrative chaos and an exodus of teachers and staff.
"Parents should have a choice," education activist Mary Johnson tells Capital & Main. "But not when it's manipulated by billionaires." Johnson, who has organized parents for two decades, did not attend the Parent Power Convention.
The billionaires in question include a host of household names united by the belief that failing schools should be privatized.
Research on the Parent Revolution's corporate backing is well-trodden territory—its creation was supported by a $1-million budget supplied by the Bill & Melinda Gates Foundation, the Wasserman Foundation, the Eli and Edythe Broad Foundation, the Hewlett-Packard Foundation, and the Walton Family Foundation (the Walmart-based group that has funded one out of every four charter school startups in the nation.)
"They have been the most highly funded organization that purports to do educational organizing," says John Rogers of UCLA's Institute for Democracy, Education and Access.
On Saturday morning parents met in breakout sessions that included "Using the Parent Trigger Law: What Have We Learned," along with a panel that evaluated the political status of trigger laws across the nation. Seven states have passed a version of the trigger law since 2010.
Rogers calls the trigger metaphor "problematic on so many levels."
"It accents violence and presumes there is necessarily a conflict to be fought out." Most research shows that trust between teachers and parents produces the best results at local schools, he says.
"'Trigger'" seems to start with an assumption of conflict," Rogers adds.
Many of the problems the parents want to address "stretch far beyond the school walls," Rogers says. In low-income areas like Compton and Adelanto where parents demanded a school trigger, the "communities have to deal with a failure of the economic crisis."
But "trigger" definitely drove the agenda at the Parent Revolution convention. After the lunchtime rally participants gathered at tables alongside the signs that identified their states or schools. The mission: vote on a set of resolutions that pledged support and promotion of parent trigger legislation in Texas, Louisiana and Tennessee, and identify and train parents to "address future threats to Parent Trigger legislation and campaigns."
The resolutions had been explained from the stage in Spanish (there were headsets for simultaneous English translation available) and their texts also appeared in the pre-printed program that laid out the context. The parent trigger emerged "from the imagination of Ben Austin," Parent Revolution's executive director and a long-time political operative whose background includes a stint in the Clinton White House and time as a deputy mayor to Richard Riordan.
At one table surrounded by parents from a Parent Revolution-organized "union" at an LAUSD school, the facilitator, an energetic young woman, spoke Spanish as she broke down the resolutions and asked for questions.
One participant asked if they would become law or…? These are proposals, the facilitator explained.
She called for a vote. Nearly everybody raised their hands. The discussion had lasted no more than 15 minutes.
Now it was time to pick a spokesperson to convey the delegation's "yes" vote on the resolutions. All you have to do is announce your delegation's name and the vote, that's all, she explained.
A woman with a broad smile shyly raised her hand.
Across the tent a delegation of some 30 participants stood in a circle voting raucously, jumping up and down as they approved each resolution with a loud "Si!"
"I'm not a fan of the Parent Revolution," parent organizer Mary Johnson says flatly, even though she is on the side of parents who want to take charge of their children's schools.
For years Johnson worked with what she calls the most effective parent advisory committees in LAUSD—the Parent Collaborative, which she headed up, and the District Advisory Committee (DAC). The LAUSD eliminated both—which is why she is not exactly a fan of LAUSD either. But she is passionately involved in school reform—just not the corporate, parent-trigger style.
"The DAC taught parents how to navigate—it was so powerful because they knew the rules of engagement," she says.
She's critical of schools superintendent Ramon Cortines, who was appointed last month to his third, non-consecutive term at the district in the wake of John Deasy's resignation. Last week Cortines gave his blessing to re-instate the parent trigger law for LAUSD.
A waiver from the U.S. Department of Education had enabled LAUSD to opt out by exempting the district from penalties for not meeting a 2014 deadline for 100-percent math and reading proficiency, as mandated by the No Child Left Behind (NCLB) law created by President George W. Bush.
"The district got a NCLB waiver," she says. "If Cortines can lift the ban on the trigger—why not NCLB? It seems like he's being selective."
We need to grow our own parents to be leaders, train parents on how to navigate the school system, Johnson says.
"There are lots of options before you go to trigger."
---
(Photo by Bobbi Murray)
California Ramps Up College Education Behind Bars
Prisons have been called universities of crime. What if they became, instead, actual universities?
---
A 2014 law is turning state lockups into de facto institutions of higher learning.
---
In January 2017, Peter Fulks, a former police officer, stepped inside the California Correctional Institution (CCI), a sprawling supermax prison of more than 4,000 inmates, located just west of the foothill community of Tehachapi. The previous year, Fulks had accepted a teaching job at Cerro Coso Community College, which serves the sparsely populated eastern end of Kern County. The baby-faced 32-year-old had only a semester under his belt when he had volunteered to take his course about criminal justice inside a criminal justice facility, part of a daring experiment in California to provide face-to-face college courses to people behind bars.
Fulks wasn't sure what to expect at CCI. He admired the idea of teaching prisoners, and believed education could be transformative, but he was also prepared for resistance. "I was ready to argue for four months straight," he said. The first day was rocky. After he announced that he would be dividing the inmates into groups, a man at the back of the classroom interjected, "Professor, I believe we have already established our groups." Fulks looked at his new students, who had organized their seating arrangements by race, as so much else was organized inside the prison, and let it be.
---
Inmate: "Everywhere I turned, people were talking about what classes they have, what homework they had due, how many units they needed to complete their degree. I had to see what this was all about."
---
Like Fulks, his students seemed to believe in the value of education—they had signed up for his intro course, after all—but he sensed they were skeptical that anything positive could come from their time in prison. (And for good reason, Fulks conceded.) The skepticism didn't last. During the semester, they studied the history of prisons, analyzed the budget of the California Department of Corrections and Rehabilitation (CDCR), and wrote letters to elected officials regarding various public safety bills. The inmates were enthusiastic and sharp, and they were soon high-fiving and chest-bumping each other without regard to the institution's racial order.
"I got to see in front of my eyes a complete breakdown of the prison's subculture," Fulks told me. He also saw a side of the criminal justice system that hadn't been visible from the perspective of a beat cop: the talent, drive and dreams of the people he had once put away. After that first semester, he set out with his colleagues to scale up the program and has turned Cerro Coso into what is likely the largest provider of face-to-face college education in the nation. This academic year, 10 full-time and 36 part-time Cerro Coso instructors will teach more than 1,200 inmates at CCI and another state prison located in Kern County, the California City Correctional Facility.
*   *   *
Fulks and Cerro Coso stand at the forefront of a remarkable effort to turn California's prisons into de facto institutions of higher learning, made possible by the passage, in 2014, of state Senate Bill 1391. Inmates had previously been mostly limited to GED, career technical and correspondence programs, but the new law allowed community college professors to teach inside prisons and be compensated for instructing inmates as if they were students on the outside. Though the experiment has been operating largely below the radar, the results have been striking: In the fall of 2018, nearly 5,000 inmates from all security clearance levels took face-to-face college courses. That's more than in any other state, and more than the total number of students enrolled in the federal Second Chance Pell Pilot Program, which began under the Obama administration in 2016.
---
Prison Teacher: "You are entering an area
of supreme control, of which you have none."
---
There is plenty of evidence to support bringing higher education classes into prisons. Nearly all inmates will eventually be released, and a comprehensive 2013 RAND Corporation study found that inmates who participated in educational programs lowered their chances of recidivating by 43 percent. The RAND study also found that each dollar invested in correctional education returns between four and five dollars. And prisoners are often hungry to learn: Thus far, incarcerated students in California who take community college courses are consistently receiving higher grades than their campus counterparts.
One inmate, a student of Fulks who didn't want to include his name, wrote that he had been transferred to a prison for disciplinary reasons. He described himself as a "multi-striker" who had first entered prison in 1993. After his transfer, he noticed "a buzz around the facility that I have never experienced in this environment. Everywhere I turned, people were talking about what classes they have, what homework they had due, how many units they needed to complete their degree. I had to see what this was all about and signed up for whatever I could get."
Last fall, he took five courses, including art history and psychology, and is on track to earn his associate degree later this year. "For the first time in a long time, I don't feel like a 'lost cause,'" he concluded, adding that he was "on the right path to becoming a success story [and a human being again]."
*   *   *
"People talk about reduced recidivism, safer communities, and saving money, and those things are true," said Rebecca Silbert, a senior fellow at the Opportunity Institute in Berkeley and co-director of a statewide initiative, Renewing Communities, that supports providing higher education in prison. "But, fundamentally, this matters because we are a nation that believes in opportunity for all. What is the point of public higher education, if not to create opportunity for the public—meaning all of us, even those who made bad decisions in the past?"
Silbert has been heartened by what California has been able to achieve in a relatively short period. Still, challenges remain. Textbooks are expensive, especially for inmates who might earn only 25 cents an hour. Much of the administrative work is labor intensive and unfunded—to register students, someone has to physically travel to the prison yard with a clipboard. And professors must learn how to design lesson plans that don't require the Internet and avoid assigning banned books, which in California include such titles as Dante's Inferno and Freud for Beginners. There are delicate relationships, as well, to manage between CDCR and the California Correctional Peace Officers Association, the union that represents prison guards. As a teacher in a prison, Fulks told me, "You are entering an area of supreme control, of which you have none."
However, both Fulks and Silbert feel that California is on the right path and can provide a model for other states. Fulks told me that he had recently returned to teach a more advanced course to his initial students, a handful of whom have earned their associate degrees and want to pursue a PhD program. To meet this demand, Cerro Coso will soon be bringing in doctoral students from the University of California, Los Angeles, who will mentor inmates during their final year in prison and help place them into a bachelors-to-PhD program upon their release.
Fulks laughed, thinking about this prison-to-PhD pipeline: "That has happened zero times with my students on the outside."
---
Copyright Capital & Main