Judging Janus: Wisconsin's Shadow
Co-published by AlterNet
Wisconsin provided early examples of scorched-earth labor policies. California unions took note.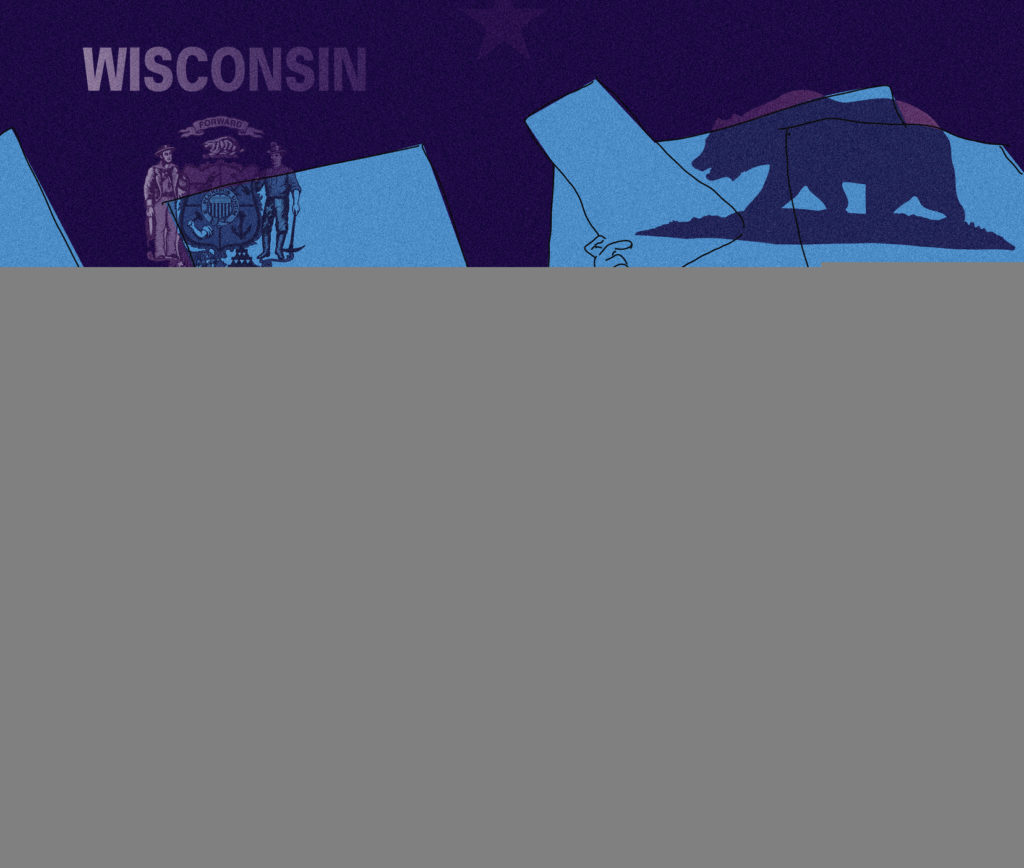 ---
The financial pressure from a pro-Janus
ruling will hamper unions from taking lead roles in policy debates on such issues as health care.
---
Mark Janus, an Illinois child-support worker, will soon argue before the U.S. Supreme Court that his free speech rights have been violated because he must pay "agency fees" to a union that, inter alia, negotiates contracts on his behalf. Last year California elementary school teacher Rebecca Friedrichs made the same First Amendment arguments at the high court against the teachers association to which she paid agency fees. The court deadlocked on Friedrichs' complaint following the death of conservative Justice Antonin Scalia, but his replacement, Justice Neil Gorsuch, is widely expected to cast a decisive vote in favor of Janus and against public-sector unions.

Co-published by AlterNet

Should

Mark Janus prevail in his Supreme Court case, public-sector employees in California and other states who now pay agency fees instead of union dues will be able to  opt out of any payment at all—even though they can still benefit from collective bargaining contracts and turn to the union with grievances, enjoying a free ride that drains union resources.

The ruling would undermine the ability of public-sector unions—about half of U.S. organized labor—to set standards for wage and workplace conditions. The resulting financial pressure will hamper unions from taking lead roles in policy debates on such issues as health care. "The short-term [goal] is to reduce the ability to collect dues," said Raphael Sonenshein, executive director of the Pat Brown Institute for Public Affairs. "The long-term aim is to weaken collective bargaining."

Anti-union forces, often funded by corporate-backed foundations, have been on the attack for decades. One stunning victory was the 2011 passage of Wisconsin's Act 10, that state's "budget repair" bill. Republican Governor Scott Walker, long a vocal enemy of public-sector unions, introduced it to address a $3.6 billion budget shortfall.
By 2014 the once-robust Wisconsin State Employees Union had lost 60 percent
of its members.
Act 10 gutted public-sector union collective bargaining rights, leaving unions unable to negotiate wages—except raises attached to the cost-of-living—along with pensions, work conditions such as hours worked, sick leave and vacations. In other words, all the things that, for many, make it worth paying union dues.
The law also loosened restrictions on local governments' hiring and wage policies, while allowing wage freezes and requiring higher employee health-care contributions.
Act 10 knee-capped labor as a political force in an historically union state — the first to recognize public-sector unions. By 2014 the once-robust Wisconsin State Employees Union had lost 60 percent of its members; its annual budget dropped from $6 million to $2 million. Then came the defections. In 2013 the nearly 6,000 prison guards staffing Wisconsin's correctional facilities voted to leave WSEU for the newly-created Wisconsin Association for Correctional Law Enforcement, which cut dues from WSEU's roughly $36 monthly rate to WACLE's $18. WACLE now represents approximately 5,900 state security workers.
"The two major public-sector unions both lost about 80 percent of dues-paying members," Joel Rogers, a University of Wisconsin, Madison professor of law and sociology, told Capital & Main. Rogers is also the founder of an organization called COWS, touted as "the national high-road strategy center" think tank.  Shrunken union budgets hobbled the ability to operate effectively on policy issues and support labor-friendly candidates. "They are basically nowhere near what they were in terms of political forces," Rogers said.
Wisconsins weren't in a mood to pay dues to unions without collective bargaining power. So they quit—bleeding unions of funds.
Employees whose livelihoods had taken a hit with budget cuts weren't in a mood to pay dues to a union without collective bargaining power. So they quit—bleeding unions of funds.
"Which is what it was all about," said Rogers.
Labor's post-Act 10 relative absence from the Wisconsin policy arena, Rogers continued, has contributed to "an across the board assault on all public goods, starting with the K-12 system and the university—that was about 1.5 billion worth of cuts—environmental deregulation, the Department of Natural Resources stripped of powers and evacuated of scientists, endless stuff on deregulation [and] corporate liabilities have been reduced–increasing pressure to privatize public goods."
Governor Walker, Rogers added, was backed by donors not widely known outside Wisconsin, but whose political footprint extends far beyond the state. They included Diane Hendricks, who made a fortune in the roofing-supply business. A backer of Scott Walker's presidential PAC who donated $500,000 to defeat a union-backed recall effort against the governor, she is heard here in a YouTube clip asking Walker to turn Wisconsin into a red state; he replies that the first step is dealing with public-sector bargaining.
There was also Michael Grebe, a corporate attorney and former Marine, who chaired Walker's gubernatorial and anti-recall campaigns. He recently retired as CEO of the Bradley Foundation, which from 2001 to 2009 donated nearly as much money to ultra-conservative causes as foundations backed by the Koch Brothers and the Scaife family combined. Efforts aimed at dismantling public infrastructure included: vouchers for private schools and cutbacks in public employee benefits and collective bargaining rights.
"We're part of the right-wing movement," Grebe told the Milwaukee Wisconsin Journal-Sentinel. "I don't think it's conspiratorial."
The Wisconsin labor organizations that are now managing to hold their ground are those that had cultivated a strong base before Act 10 and are adjusting strategies to reach their members and different constituencies.
Michael Rosen is a past president of American Federation of Teachers Local 212, which represents 1,400 faculty and professional staff. "Strong unions that were very active and had a mobilized membership were able to maintain [their] membership," Rosen said.
Heather DuBois Bourenane of Wisconsin Public Education Network reflects on her organization's efforts to organize at parent and teacher house meetings, to ramp up use of Facebook and other digital channels, to pack public state budget meetings and to launch postcard campaigns and write letters to news editors.
She was a mother with two kids in the school system holding down two part-time university teaching jobs and a third assistantship when Act 10 passed. She had marched against it and now has a sharpened sense of the need to be on guard. "We hope people look at us in Wisconsin and lift us up as lessons learned."
The Golden State boasts the largest number of union members in the country at 2.6 million, with 53 percent represented by public-sector unions. The American Federation of State, County and Municipal Employees is one of the two largest; Service Employees International Union is another. Janus victorious would not be nearly as onerous for California as Act 10 was for Wisconsin, as Act 10 effectively extinguished public-sector collective bargaining. Still, Janus would provide a huge anti-labor win.
One union began to look at ZIP codes—connecting home-care workers that live within blocks of one another
but who would never meet on the job.
"Rough estimates are that within three years, 20 to 40 percent of union members would stop paying dues," said Fred Ross, a veteran organizer with the International Brotherhood of Electrical Workers Local 1245, which represents 2,500 public-sector transit and power workers throughout California. Unions would have to operate with between 20 and 40 percent less revenue, he added.
Unions are the largest source of campaign contributions to Democratic Party legislators—many of whom support such union-backed measures as worker protections, the $15 hourly minimum wage and immigrant-rights protections, said Steve Barkan, a Los Angeles-area campaign consultant. Janus "tips the scales further toward corporate interests," he said.
Public-sector unions were under attack in California before Janus. Labor activists like Ross have been organizing for months, some for years, to counter its potential effects. Ross' local has developed a targeted strategy based on a volunteer organizing committee. Some 250 union member organizers are charged with building relationships with 10 other members to explain the union's role in winning benefits and protecting rights—and signing them up as voluntary dues-paying members.
Unions for home-care workers — those paid from public funds to work in private homes caring for low-income infirm persons — got hit hard by the 2013 Harris v. Quinn decision that has similarities to the Janus case. The 5-4 Supreme Court ruling said home health-care workers didn't have to support their unions financially.
"Harris is our Janus," said Doug Moore, executive director of the United Domestic Workers Homecare Providers Union (UDW) and an AFSCME International Vice President. Before the Harris decision, "We had 68,000 [people] " Moore said. "We lost 20,000 [fees-paying non-members] overnight" after the decision came down.
As the Harris decision approached, the union went into high-gear to connect with its base. Most of the millions of homecare workers in the U.S. are women of color; about one-quarter live below the poverty line and more than half need public assistance to get by.
The UDW created focus groups that discovered the home-care workers' main concern was being able to obtain more hours for severely infirm clients like those with Alzheimer's. Staff expanded existing efforts at In-Home Supportive Services worker orientation sessions in 21 counties around the state to make presentations. There were house visits, efforts to match Facebook profiles to email, a button on the website to sign up, going paperless and doing sign-ups via tablet—anything that would engage and listen to members, and convey the value of the union. There are now 72,000 dues-paying members — approaching double the UDW's pre-Harris level.
The same story applied to SEIU Local 2015, which also represents public-sector home-care workers. Harris threatened Local 2015's voluntary membership rates. The union began to look at ZIP codes—connecting homecare workers that live within blocks of one another but would never meet on the job. Facebook and Twitter helped. Membership increased by 48 percent, said Kim Evon, a Local 2015 vice-president. "Our demographic tends to be 70 percent women of color—and the average age is 55. We make a lot of assumptions that they are not plugged in but they are. Mail is that thing that piles up and gets stuck in the circulars from Vons."
In a September organizing blitz, 16 different Southern California unions approached adjunct faculty at East Los Angeles College to join the California Federation of Teachers; meanwhile, SEIU 99, which organizes non-professional campus workers, informed child care providers of the benefits of belonging to a union. Private-sector janitors and security guards and other workers visited public-sector workers who are going to be impacted by Janus.
Alfonso Garcia was one of them. A union member since 1987, Garcia is currently an organizer for United Steelworkers Local 675, and has talked to part-time teachers, childcare providers and homecare workers in their homes to explain what a union does—about benefits, job security and meeting with management. "One voice, that's just one person," he said. "One thousand—that's a better voice. The union gives us a voice."
---
Several of the unions cited or quoted in this series are financial contributors to Capital & Main.
Copyright Capital & Main
'Janus' and Its Supreme Court Enablers
The stacking of the U.S. Supreme Court with anti-union justices has allowed the right-to-work movement to circumvent, and undercut, pro-union state policies.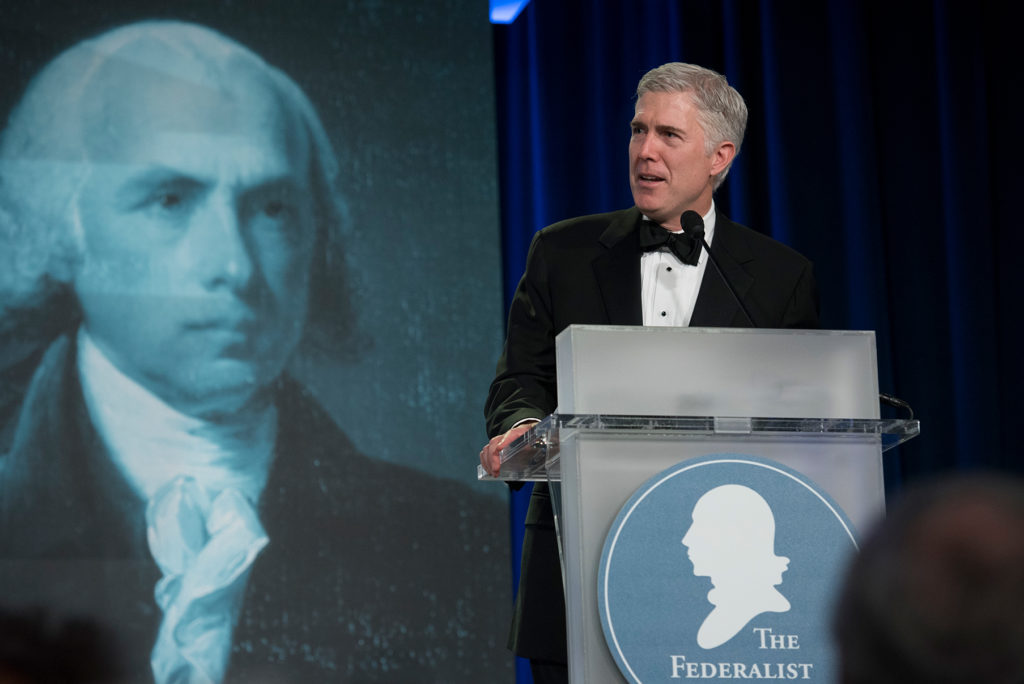 In the fall of 2015, the Federalist Society, a conservative legal organization with a libertarian bent, held its annual lawyers convention at the Mayflower Hotel in Washington, DC. The three-day event included a panel that reviewed the past decade of the John Roberts court, and featured Michael Carvin, a high-powered attorney with Jones Day, who in recent years has taken the fight against labor unions to the Supreme Court.
Carvin began his remarks, curiously, by downplaying the chief justice. "The real consequential thing that happened 10 years ago, frankly, was not John Roberts replacing Chief Justice Rehnquist," he told the crowd. Instead, he argued, the dramatic shift had been the replacement of Sandra Day O'Connor by Samuel Alito.
There was a lot that Carvin and Alito had in common. Both were members of the Federalist Society—Alito had joined in 1983, a year after it was founded; Carvin has served as the chairman of the Society's Civil Rights Practice Group. The men also had worked together at the Justice Department during the Reagan administration. In 2006, when George W. Bush nominated Alito to the Supreme Court, it was Carvin who repeatedly stood up for his former colleague's far-right views. Carvin even went so far as to defend him when the Wall Street Journal revealed that Alito, when applying for the Reagan position, had written that he disagreed with the Supreme Court decision that had established the "one person, one vote" doctrine as the framework for American elections.
At the Mayflower Hotel, Carvin argued that Alito represented "some baby steps toward the return of law." Just two months later, Carvin was in front of Alito and the eight other justices, arguing a case, Friedrichs v. California Teachers Association, that sought to strip public sector unions from "fair share" fees they collected to represent workers who declined to join the union. (By law, a union must represent all workers in a bargaining unit, whether or not they choose to join. It was a far-reaching case that could cripple the power of unions, and would represent the crowning achievement of a conservative movement that had been decades in the making. Disclosure: The California Teachers Association is a financial supporter of this website.)
In a unanimous 2009 decision, the court reaffirmed a 1977 case, Abood v. the Detroit Board of Education, which had ruled that unions could charge such fees. But the ascent of Alito had helped shift the court in a vehemently anti-union direction, and it was widely expected to rule against the unions in Friedrichs. Then Antonin Scalia suddenly died, and the court deadlocked, four-to-four. The reprieve was only temporary, however. In February, the Supreme Court heard a similar case, Janus v. AFSCME Council 31, and with its newest addition, Neil Gorsuch, the court is poised to reverse a precedent that has endured for more than 40 years.
"Here we have the Supreme Court setting an agenda, and very openly—blatantly, you might say—setting out to achieve it," says Linda Greenhouse, who covered the Supreme Court for the New York Times for three decades, and now teaches at Yale Law School. "It's a real unusual tale."
The Supreme Court's transformation into an anti-union institution runs directly through Alito, a 68-year-old from New Jersey who graduated from Yale Law School. He worked as assistant to the solicitor general in the Reagan administration, landing the post in August 1981, the same month Reagan broke the air traffic controllers' strike. Two years later, he would join the Federalist Society, which was co-founded by another Yale law student, Steven Calabresi, who would eventually clerk for the group's first faculty adviser, Antonin Scalia.
Members of the Federalist Society believed that "activist jurisprudence" posed a serious threat to democracy, as then-Attorney General Edmund Meese III told the group in a fiery 1985 speech. Conservative ideologues found a home in the Reagan administration; aside from Alito, Federalist Society members in the administration included the future Chief Justice Roberts and Clarence Thomas.
Alongside its rhetoric against big government, society members have consistently attacked labor unions. One Federalist Society newsletter from 1996 complained about the "increased radicalism of Big Labor officials," and called the requirement that workers pay fees to cover collective bargaining costs a "tyranny of the minority."
There is little to indicate that Alito doesn't share such views. He was nominated to the Third Circuit Court of Appeals in 1990 and held the position for 15 years. At the Third Circuit, Alito consistently ruled against working people and unions. In one case, in a minority dissent, he argued that a group of reporters weren't covered by the overtime compensation requirements of the Fair Labor Standards Act. In another, he reversed a National Labor Relations Board ruling that a company had violated the law because it had refused to rehire an employee who engaged in union activities. (Alito did admit, however, that there was solid evidence the company had threatened union activists with firings and plant closures.)
On the Supreme Court, Alito has made it clear that he relishes the chance to overthrow Abood. In a 2014 decision in Harris v. Quinn that further eroded the right of public sector unions to charge "fair share fees," he wrote in a majority opinion that the Abood decision rested on "questionable foundations," all but inviting a new challenge.
Justice Anthony Kennedy has joined Alito in his anti-union crusade. In 1999, Bill Moyers interviewed Kennedy who spoke about the importance of neutrality on PBS' Frontline. "Our system presumes that there are certain principles that are more important than the temper of the times," he told Moyers. "And you must have a judge who is detached, who is independent, who is fair…That's the meaning of neutrality."
Those are not the attributes Kennedy has demonstrated on the bench when the topic has turned to public sector unions.
Union attorney David Frederick argued during Janus that the current arrangement allows for unions to truly represent all workers, and that the state and the union had an interest in a stable partnership—essentially echoing the "labor peace" logic that was cited in Abood. Kennedy jumped at this notion, and went into a rant.
"It can be a partner with you in advocating for a greater size workforce, against privatization, against merit promotion, against—first teacher tenure, for higher wages, for massive government, for increasing bonded indebtedness, for increasing taxes? That's—that's the interest the state has?"
Frederick had said no such thing, but the exchange illustrated Kennedy's lack of detachment on the issue of public sector unions. Later in the oral argument, Kennedy returned to a political talking point. "I'm asking you whether or not in your view, if you do not prevail in this case, the unions will have less political influence; yes or no?" After Frederick acknowledged that they would have less influence, Kennedy retorted, "Isn't that the end of this case?"
"It is not the end of the case, Your Honor, because that is not the question," Frederick replied. It was clear that Kennedy was not only thinking about the constitutionality of the case, but its political consequences—that he was caught up in the "temper of the time," exactly as he had once counseled against.
Before the confirmation of Neil Gorsuch, the Federalist Society had been instrumental in securing the nominations of two justices, Roberts and Alito. Roberts, during his confirmation hearings, had emphasized his respect for precedent, noting that reversing earlier rulings was a "jolt to the legal system" and that it was "not enough that you may think the prior decision was wrongly decided." Instead, he testified that it depended on considerations like whether the ruling had "proven to be unworkable." In 20 states, plus Washington, DC, laws allow for collective bargaining agreements that compel employees who decline to join unions to pay agency fees. The other "right to work" states do not compel employees to do so. Both arrangements have proven workable.
During the Janus argument, Gorsuch remained silent, but on the Tenth Circuit he amassed a significant history of anti-worker rulings. In a minority dissent in Compass Environmental v. OSHRC (2011), he argued against a $5,500 fine placed on a mining-construction company after an employee who hadn't received proper safety training was killed. In another minority dissent, he ruled against the Labor Department, which had determined that a driver was unlawfully fired after he had detached his truck from his broken-down trailer and driven away, fearing that he could freeze to death had he remained. And in May, he wrote the majority opinion for Epic Systems v. Lewis, which effectively allows employers to force workers to sign away their rights to class action lawsuits for wage and hour claims.
With that sort of history, it appears all but certain that Gorsuch will side with Alito. Indeed, last September, just hours before the Supreme Court announced it would hear Janus v. AFSCME, Gorsuch gave a speech at Trump International Hotel in DC, at a "Defending Freedom" luncheon hosted by the Fund for American Studies. One fund supporter, the Bradley Foundation, also sponsored that evening's gala to celebrate the Fund's 50th anniversary. The Bradley Foundation is a conservative group that "supports organizations and projects that reduce the size and power of public sector unions." It helped fund the Janus case, along with other recent anti-union litigation the Supreme Court has heard.
"He spoke in front of a group at a hotel, and the group is supported by the same folks who are party to a lawsuit he will be hearing," says Gabe Roth, executive director of Fix the Court, which pushes for greater Supreme Court openness and was critical of Gorsuch's decision to speak at the luncheon.
Organizations like the Bradley Foundation, State Policy Network and Illinois Policy Institute have been waging anti-union campaigns at the state level, where they have had some notable successes in moving legislatures and governors to adopt right-to-work laws. But there are still many states, like California and New York, whose voters and politicians have resisted this trend. However, stacking the Supreme Court with anti-union justices has allowed the movement to circumvent, and undercut, pro-union state policies.
"They're going to do what they can to use the First Amendment to cut the legs out from under unions in the public sector," concludes Greenhouse. "It seems to me it puts the court in a very vulnerable position of looking like a lot of politicians in robes that are doing what politicians can't."
---
Copyright Capital & Main