James Lawson, Conscience of History
I have been wading through the three volumes of Taylor Branch's history, America in the King Years, and reliving the dozen years between Montgomery and Memphis. The Montgomery bus boycott catapulted Martin Luther King, Jr., into the national headlines; Memphis was where he was assassinated. Throughout that tumultuous time, the Reverend James Lawson stood just offstage, a key partner in the nonviolent campaign for full citizenship for African Americans.
While King spearheaded the campaign to desegregate the buses in Montgomery, Lawson trained students in Nashville in the ways of nonviolence. He led small workshops tucked away in church basements. He taught his students not to react to taunts and threats. He gave them tools to remain calm and centered while undergoing arrest or physical attacks. Lawson believed that only by enduring the blows of hatred could haters see their own humanity. He brought Gandhi's understanding of nonviolence to this country and he trained thousands of civil rights workers during those years.
The Reverend James Lawson was the person who kept King aligned with nonviolent practice. When the pressure seemed too intense to sustain nonviolence, Lawson coached King to go deeper into himself. When King began writing, Lawson guided him to the sources of strength and clarity that made his work so powerful for religious people across the country. For his efforts in Nashville, Lawson was booted out of Vanderbilt, where he was attending seminary.
I first met Lawson in the early 1970s, when he became pastor of the largest African American United Methodist congregation in Los Angeles. The bishop had appointed him chair of the regional Board of Church and Society and I was a member of that board.
Lawson taught us and led us to a faith-based understanding of the concerns we faced  in those days: Vietnam, the struggle of farm workers and, above all, the economic issues threatening the country – debt and inflation from war, stagnant wages for working men and women, the absence of power to influence the decisions by government and corporate institutions that affect our lives.
Over and over Lawson led the board members to understand the stories behind the headlines, then helped us write the resolutions that addressed them, which we took to the annual meetings of the United Methodist Church. We wrote position papers on economic democracy, rising oil prices and monopoly capitalism. We led church people to the fields of the Coachella Valley to witness the farm workers' struggle first-hand. We led struggles over racism in the church itself.
Throughout the years, I have turned to Lawson for guidance and understanding. He led me to understand and deepen my own practice of nonviolence, helping me see it as a spiritual discipline that comes from the inside out. We were at the table together in the library of his church when CLUE – Clergy and Laity United for Economic Justice — was born to support a living-wage campaign in Los Angeles.
The Rev. Lawson, now retired, but still teaching nonviolence around the nation, will be honored by another social-change organization he helped found following 9/11, ICUJP — Interfaith Communities United for Justice and Peace — that focuses on world peace and domestic justice. A fundraising reception will be held Sunday, September 9, at 5:30 p.m., prior to a 7:30 p.m. keynote address, and is open to all at no cost. For more information, go to icujp.org.
Lawson was the pastor at an African American United Methodist Church in Memphis when he called on his friend Martin Luther King to support the striking garbage workers. It was there, April 4, 1968, that King was assassinated. Someone foolishly thought a moment of violence would end the struggle for justice, but that effort is never finished.

A Woman's Art Is Never Done: The Feminae Exhibition
A striking juxtaposition between the past and present courses throughout the small gallery. Celia Blomberg's "International Women's Day March 8" can't help but make one think of 2017's Women's March, which occurred 37 years after the print's first appearance.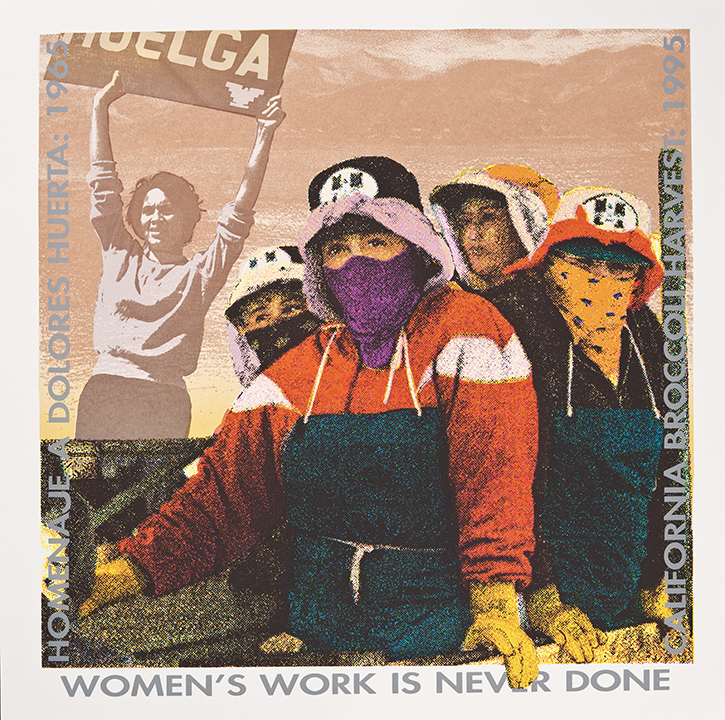 Among the 50-plus works in the Feminae: Typographic Voices of Women By Women exhibit is Yolanda Lopez's "Women's Work is Never Done." Lopez's title is particularly ironic, given the exhibit's gender-based subject matter. The show spans work from the past 50 years, making it easy to understand how much society is still grappling with its themes of gender inequality. Culled from the archives of the Center for the Study of Political Graphics, the graphic images of protest, persuasion and empowerment are truly works of art in their own right.
However, political posters aren't made to merely spruce up walls, but to help figuratively bring barriers down as well.
Two silkscreens from the 1970s, Liliana Porter and John Schneider's "This Woman is Vietnamese" and See Red Woman's Workshop's "So Long As Women Are Not Free People Are Not Free," are particularly powerful, underscoring, as they do, the fact that the subjugation and persecution of women crosses borders and cultures as an unfortunate shared global experience. These two pieces' stark simplicity exemplifies most of the work in the exhibit. In the former, a New York Times photo of a distraught Vietnamese woman with a gun held to her head is centered above these basic words typed out in a typewriter font: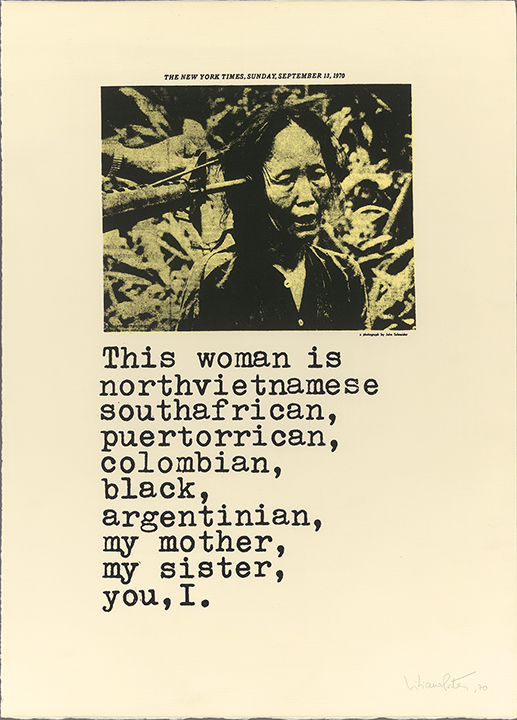 This woman is
northvietnamese
southafrican
puertorrican,
colombian,
black,
argentinian,
my mother,
my sister,
you, I.
By juxtaposing the photo with these words, the creators take the plight of this woman and immediately globalize her pain. In the latter, three female demonstrators are silkscreened in red onto a yellow background. They are marginalized by being stuck in the lower left third of the poster, but two of them are raising their fists skyward and their mouths are open, screaming in defiance. Its non-serif, eponymous type reads: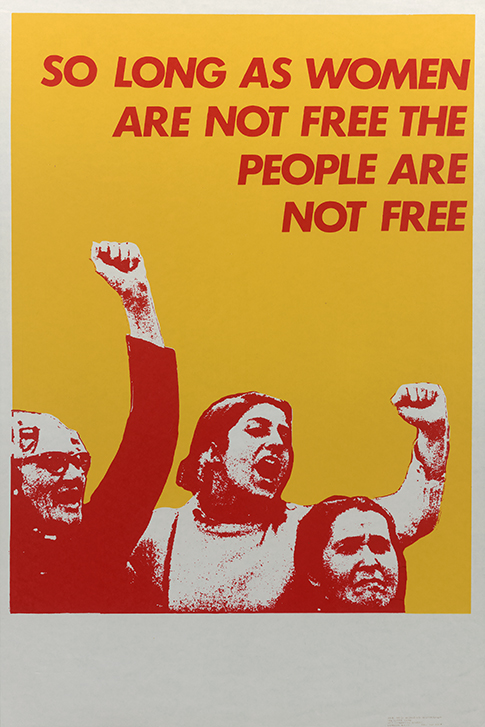 SO LONG AS WOMEN
ARE NOT FREE THE
PEOPLE ARE
NOT FREE
This piece's message takes the global message even farther, making the plight of women a human one — a common theme in the exhibition.
There is also a striking juxtaposition between the past and present that seethes throughout the small gallery. Celia Blomberg's "International Women's Day March 8" can't help but make one think of 2017's Women's March that would take place 37 years later. See Red Woman's Workshop's 1977 "Black Women Will Not Be Intimidated" could easily be repurposed to address the recent spate of blue-on-black brutality. Notable works by Barbara Kruger, Sister Corita Kent and the Guerilla Girls are also included.
Ironically , while it can be surmised that most of these works were made as populist posters to be distributed at the time as banners of protest, their beautiful simplicity and nostalgic elegance probably have resulted in the originals (mostly now found in art museums) sporting hefty vintage-resale prices.
But it is not just the art that has stood the test of time. The fact that the issues addressed in the show — feminism, choice, gender equality, war, immigration, police brutality or violence against women — are all issues at the forefront of debate in 2018 ultimately engenders conflicting feelings.
On one the hand, it is inspiring to see a vibrant exhibit that showcases such diversity in artistic styles, no doubt spawned by the diversity of the artists' own backgrounds. On the other hand, there is a realization that while there has been some progress over the past half century, there is so much work to be done.
Art Center's Hoffmitz Milken Center for Typography, 950 South Raymond Ave., Pasadena; through May 15.
---
Copyright Capital & Main