It Came from Madison Avenue
The other day I was streaming It!, an old science fiction film, and saw something odd on my computer screen. There, in the storage hold of the rocket ship returning from Mars, sat a crate of Heinz soup cans. The box was barely visible – blurry and jammed in the corner of a locker, next to all the cartons of cigarettes the crew members were smoking on their trip back to Earth. Still, we're trained to notice product logos and I couldn't miss Heinz's distinctive lettering on its case of Creole Gumbo.
I was shocked that Heinz had even sold soup in 1958, when the film was made – let alone that they would figure in the story's Tomorrowland of 1973. I did what any futuristic earthling would and Googled "heinz soup." Sure enough, the company did sell a supermarket line in the 1950s, but eventually got out of the business except for its current Heinz Foodservice trade of selling tub-sized containers of Tomato Florentine to institutional clients. Even with the product placement Heinz got in that rocket ship, to say nothing of The Manchurian Candidate's famous Heinz ketchup bottle scene, the company apparently lost the great soup war to Campbell's.
In today's world of product placement, of course, a crate of any brand of soup won't be semi-hidden. Instead, the astronauts (whose spacesuits would resemble NASCAR drivers' ad-splattered outfits) would be playing catch with the cans – in weightless slow motion. This was all cynically enacted for us by Morgan Spurlock in his 2011 documentary, The Greatest Movie Ever Sold. In it, Spurlock takes meeting after meeting with corporations as he tries to finance the very film he is making about product placement – by promising the companies that he will prominently feature their products in it.  The running gag is that even as Spurlock visits potential backers and media critics, he is seen drinking bottles of Pom Wonderful juices – one of his documentary's sponsors.
Not everyone thinks this is so funny. For several years Commercial Alert, a project of Public Citizen, has lobbied government agencies to force film production companies to disclose the consumer products they are embedding into their works. The group's stated position is that without such disclosure, the public will soon be watching infomercials masquerading as sitcoms or movie dramas, and not realize the deception.
Commercial Alert is not alone in its warnings. An extensive 2008 article in the Cardozo Arts & Entertainment Law Journal claimed that:
[P]roduct placement is not merely a trend in the advertising and entertainment industries but a "revolution in its infancy" and a "cataclysmic shift in the financing, packaging and selling of film and television properties."
The author, Sandra Lee, noted that product placement, which began taking off in earnest when Reese Pieces candy conspicuously appeared in E.T., is here to stay. Sure enough, recently BrandChannel noted that even the generally logo-free Breaking Dawn carried a few well-placed, high-end products (Volvo, Belstaff jackets) in its scenes.
Still, I happen to like a little product placement in films – it lends a nice touch of realism, especially if the beer cans or potato chip bags are shot in less obvious three-quarter profiles. These days, though, I have one slight problem with my computer when I turn it on to stream old movies. Nearly every time I land on a Web or blog page, I am greeted by a banner ad for Heinz Foodservice Soup. All because I Googled "heinz soup."
How's that for space-age advertising? It makes me want to warn that rocket crew heading back to Earth – beware what you bring  home from Mars.

'Skeleton Crew' Is a Play With a Moral Spine
Set in a Detroit automobile outfitting plant, Dominique Morisseau's drama grabs you from the start with its focus on blue-collar men and women, and their struggle for dignity and self-respect.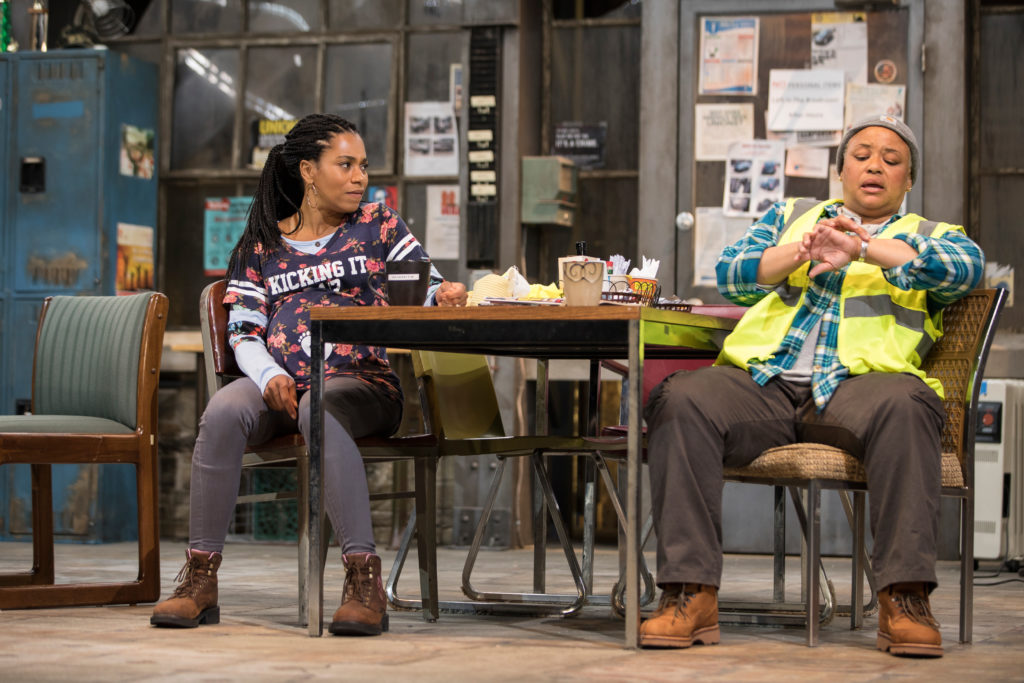 Working-class men and women of color are rarely front and center in today's media and, likewise, are presented all too occasionally on the American stage. So it's buoying to see that trend bucked in playwright Dominique Morisseau's percipient and well-crafted drama, Skeleton Crew. The play is the final installment in her Detroit  Project Trilogy; the first, Paradise Blue, is set in the 1940s amidst displacement caused by urban renewal and gentrification, while the second, Detroit '67, transpires on the eve of the 1967 Detroit riots sparked by a police action.
Directed by Patricia McGregor at Los Angeles' Geffen Playhouse, Skeleton Crew is a play with a moral spine. It takes place in 2008, when the shrinking U.S. auto industry is being further downsized. Morisseau's engaging quartet of characters — Faye (Caroline Stefanie Clay), Dez (Armari Cheatom), Shanita (Kelly McCreary) and Reggie (DB Woodside) – are employed at an automobile outfitting plant. Faye, Dez and Shanita are workers on the line while Reggie (who has a wife and kids, and has pulled himself together after a troubled youth) is their supervisor.
The first three customarily mingle in their break room (designer Rachel Myers' impressively cluttered, dingy and detailed set), trading the sort of familiar barbs and genuine concern for each other common among longtime co-workers. They also face off on philosophy: Upper-middle-aged Faye and the younger, pregnant Shanita take pride in their labor, while Dez, though a good worker, is a malcontent scornful of management and firm in the belief that everyone needs to watch out for himself. He's a thorn in Reggie's side, for while Reggie wants to be supportive of his workers, he must act at the behest of higher management. For his part, Dez resents Reggie's authority, and a palpable unease exists between them.
Besides this male matchup, we're made privy to Dez's attraction to Shanita, who mostly turns away his advances, but every now and then displays a hint of interest. Most poignant is Reggie's regard and affection for the lesbian Faye, which has roots in his boyhood when she loved, and lived, with his now-deceased mom.
These people's various predicaments intensify when rumors spread of the plant's shutdown — a disaster for all, but a particular calamity for the already near-broke Faye who, one year short of retirement, would lose her pension. The crisis forces each of these people to make a choice.
A sound piece of social realism, Skeleton Crew grabs you from the start in its focus on blue-collar men and women, and their struggle against odds for dignity and self-respect. Morisseau not only furnishes these characters a platform for their travails, she endows them with strong values, big hearts and the opportunity to choose between right and wrong.
Unfortunately, the performance I attended did not soar. Many exchanges lacked a fresh edge. The actors certainly had their characters down, but too often they appeared to be coasting on technique. (This seemed particularly true of Clay, who performed the role to great accolades in Washington, DC in 2017, also under McGregor's direction). Additionally, some of the stage movement was not entirely fluid; in confrontations, actors sometimes would just stand and face each other in an artificial way. And Cheatom's interpretation of Dez struck me as a bit overly churlish and depressive: I needed more glimpses of the intelligence and edge that would secretly attract the strong, self-directed Shanita.
The most compelling moments belong to Woodside, well-cast as a man trying his best in difficult circumstances to do the right thing.
---
Gil Cates Theater at the Geffen Playhouse, 10886 Le Conte Ave., Westwood Village; Tues.-Fri., 8 p.m.; Sat., 3 & 8 p.m. Sun., 2 & 7 p.m.; through July 8. (310) 208-5454 or www.geffenplayhouse.org