It Came from Madison Avenue
The other day I was streaming It!, an old science fiction film, and saw something odd on my computer screen. There, in the storage hold of the rocket ship returning from Mars, sat a crate of Heinz soup cans. The box was barely visible – blurry and jammed in the corner of a locker, next to all the cartons of cigarettes the crew members were smoking on their trip back to Earth. Still, we're trained to notice product logos and I couldn't miss Heinz's distinctive lettering on its case of Creole Gumbo.
I was shocked that Heinz had even sold soup in 1958, when the film was made – let alone that they would figure in the story's Tomorrowland of 1973. I did what any futuristic earthling would and Googled "heinz soup." Sure enough, the company did sell a supermarket line in the 1950s, but eventually got out of the business except for its current Heinz Foodservice trade of selling tub-sized containers of Tomato Florentine to institutional clients. Even with the product placement Heinz got in that rocket ship, to say nothing of The Manchurian Candidate's famous Heinz ketchup bottle scene, the company apparently lost the great soup war to Campbell's.
In today's world of product placement, of course, a crate of any brand of soup won't be semi-hidden. Instead, the astronauts (whose spacesuits would resemble NASCAR drivers' ad-splattered outfits) would be playing catch with the cans – in weightless slow motion. This was all cynically enacted for us by Morgan Spurlock in his 2011 documentary, The Greatest Movie Ever Sold. In it, Spurlock takes meeting after meeting with corporations as he tries to finance the very film he is making about product placement – by promising the companies that he will prominently feature their products in it.  The running gag is that even as Spurlock visits potential backers and media critics, he is seen drinking bottles of Pom Wonderful juices – one of his documentary's sponsors.
Not everyone thinks this is so funny. For several years Commercial Alert, a project of Public Citizen, has lobbied government agencies to force film production companies to disclose the consumer products they are embedding into their works. The group's stated position is that without such disclosure, the public will soon be watching infomercials masquerading as sitcoms or movie dramas, and not realize the deception.
Commercial Alert is not alone in its warnings. An extensive 2008 article in the Cardozo Arts & Entertainment Law Journal claimed that:
[P]roduct placement is not merely a trend in the advertising and entertainment industries but a "revolution in its infancy" and a "cataclysmic shift in the financing, packaging and selling of film and television properties."
The author, Sandra Lee, noted that product placement, which began taking off in earnest when Reese Pieces candy conspicuously appeared in E.T., is here to stay. Sure enough, recently BrandChannel noted that even the generally logo-free Breaking Dawn carried a few well-placed, high-end products (Volvo, Belstaff jackets) in its scenes.
Still, I happen to like a little product placement in films – it lends a nice touch of realism, especially if the beer cans or potato chip bags are shot in less obvious three-quarter profiles. These days, though, I have one slight problem with my computer when I turn it on to stream old movies. Nearly every time I land on a Web or blog page, I am greeted by a banner ad for Heinz Foodservice Soup. All because I Googled "heinz soup."
How's that for space-age advertising? It makes me want to warn that rocket crew heading back to Earth – beware what you bring  home from Mars.
The Power of the Poster
Carol Wells, the founder of the Center for the Study of Political Graphics in Los Angeles, talks to Capital & Main about the enduring power of political art.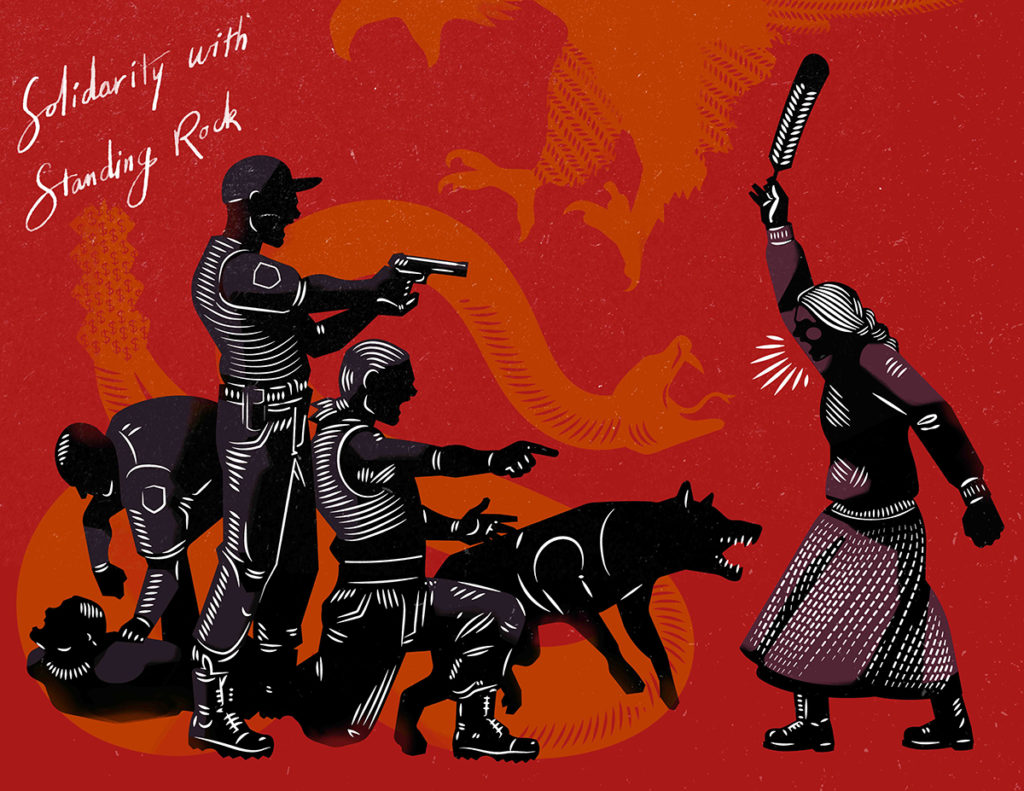 Carol Wells remembers the exact moment she discovered her calling. An art historian at the time, she was on a trip to Nicaragua with her friend David Kunzle, a UCLA art history professor, who was collecting political posters to add to his burgeoning collection. While staying with friends, Wells watched a neighbor's 8-year-old son approach a poster on the wall, stare at it intently, and then start to silently mouth the words. Wells was struck by how engaged the boy was. "In that moment I became obsessed with collecting posters."
Now over 40 years later, Wells is the founder and executive director of the Center for the Study of Political Graphics in Los Angeles. Wells has amassed approximately 90,000 posters, building one of the largest collections of its kind in the world. The Center shares its collection with the public in part through curated exhibits. This year the CSPG has produced Feminae: Typographic Voices of Women by Women and its latest is To Protect & Serve? Five Decades of Posters Protesting Police Violence, running through July 15 at the Mercado La Paloma in downtown Los Angeles.
Since that encounter in Nicaragua in 1981, Wells' obsession with collecting posters hasn't waned. In CSPG's nondescript West L.A. office space, Wells pulls out poster after poster, lecturing passionately on the backstory and cultural impact of each, including one that superimposes text from a New York Times interview with a shocking image of the My Lai massacre ("Q: And babies? A: And babies."). Recently, she managed to sit down with C&M to discuss her passion.
---
Capital & Main: So, you were an art history professor, you happen to see a kid on a trip, and suddenly your life was changed forever?
Carol Wells: Yeah, I'm in Nicaragua alone in the living room with this kid. He's looking around, and all of a sudden, he sees the poster. It was pretty big, bright green, a thick outlines of a woman holding a big basket of coffee beans. And the text in Spanish said, "In constructing the new country, we are becoming the new woman." I see him walk over to the poster and I'm watching him mouth the words. It was a pretty sophisticated concept, so I doubt he figured it out. But I literally had this epiphany: "Oh my God. That's how posters work." You're going about your daily life, and all of a sudden something breaks through the bubble, and it grabs your attention. It's the graphic, it's the color, it's the combination, and it pulls you out of your head and into that poster and it makes you ask a question. "Why is this here? What is this about? What does this mean?" And every time you ask a question, you're a different person than you were before you asked the question.
How many posters do you get a year?
We get between two to five thousand a year donated from all over the world. The bulk of our collection is [from] 1945 and later.
I assume technology has probably hurt the art form, but has it helped get the messages out?
Most people think that, and it's actually not true. Since the internet age started, there's actually a poster renaissance of works on paper. Because you can't walk with your computer monitor in a demonstration. You can't plant your monitor on your lawn.
And you can't put a laptop on the wall…
Exactly. You want to hear a really great story? Truthdig.org published a cartoon [made by] a political cartoonist named Mr. Fish. It was during the Arab spring, and he had superimposed Che Guevara with the stylized beard and King Tut's face, but it had Che's beret. And it [was titled], "Walk like an Egyptian." So, it was a reference to the music, but [it was also] a reference to what was going on the streets of Cairo. I sent it out as our poster of the week to 9,000 people. The very next day, somebody took a photograph on the street of Cairo, with somebody holding a piece of paper with that image on it. A poster can literally go around the world and people will print it out.
What struck me in viewing your exhibits is how many of these posters could still be used today, not only artistically but also, sadly, in the timeliness of their messages.
We had this fabulous poster by Yolanda Lopez, a Bay Area artist, which she first did in 1978. It depicts a young man in Aztec garb pointing a finger like Uncle Sam saying, "Who's the illegal alien, PILGRIM?" And it's a great poster, it's simple, not too many words, funny, provocative. So, we had an exhibit at UCLA in the mid '90s and there were 4 or 5 high school students standing around this poster saying, "Wow, you've got posters up to the minute." And I went over to them and I said, "Look at the date. This is before you were born."
Is that one of your goals with the exhibitions? To show the evergreen nature of this work?
Absolutely. I mean that's why we did the police abuse exhibition now. It basically goes back five decades. It's 50 years of posters protesting police abuse. Mainly in the United States, but also internationally.
What's the goal for CSPG?
Well the aim right now is really to digitize the collection and get it online. We have 10% of the collection digitized. But the mission is to collect and to document, because stories get lost. All the exhibitions, they're showing massacres, they're showing genocide, they're showing police abuse, they're showing all of these horrible things. And people often ask me, "How can you look at this stuff all day long?" I said, "Because the poster artists are optimists. They believe people can change if they have the information."
Yes, that's the reason why they're doing it, right?
That's why they're doing it, and that's why I'm doing this, because I believe that people can change if they knew the truth.
And what happens 20, 50 years from now?
Well, my goal is to stay independent, because the other option is to become part of the university. Universities, for all the fabulous things that they do, they also censor. We did an exhibition at USC in 1992 on the 500 years since Columbus, and how the legacy of racism and exploitation and genocide continues. And one of the board of trustees was Italian and took [the exhibit] as an affront to Columbus. It really wasn't about Columbus, it was about colonialism. And he ordered it down.
Do you have a favorite poster?
I'm always amazed at the creativity and vision of artists. Every week I'll say, "Oh my God, how do they think of that?" But it's always still going to be the poster I saw that kid trying to figure out. It has to be my favorite one because that one changed my life.
What makes a perfect poster?
The right balance between aesthetics and message. If you only rely on the corporate press, the New York Times and L.A. Times, for your information, you're not going to get the side from the street, from the movement, from the activists. The posters are primary historical documents that are recording the issues that were at the time, and the passions that were at the time, and the divisions that were at the time. You're not going to get it anyplace else.
---
Copyright Capital & Main