Is Unemployment About to Go Postal?
It's been a while since the postman rang twice, but he won't even be ringing once on Saturdays, if new proposals to downsize the U.S. Postal Service go into effect. Like so many of the economic wars being waged today, the attack against the post office doesn't make financial sense. The USPS is immensely profitable and it is not a department of the federal government, nor are its operations paid for with tax money. It also remains one of the most efficient and popular services — putting a movie DVD in your mailbox may have been Netflix's neat idea, but that company isn't the outfit whose employees deliver those movies to your home.
And yet closing down the post office and parceling out its services (or at least, the profitable ones) to private companies occupies a special place in the ether dreams of anti-government radicals and free-market privateers.
"We're off-budget," Larry Brown recently told the Frying Pan, explaining where the USPS receives funding. Brown is president of the L.A. local of the letter carriers union, one of four bargaining units that cover different divisions of the postal service. "The post office has made a profit of more than $600 million in each of the past four fiscal years. All our revenue is from postal products and services. Not one dime in tax dollars has been spent on the service in the past 30 years."
The frustration of both USPS management and its union members can be traced to a law passed by a conservative Congress in 2006. The Postal Accountability and Enhancement Act mandated that the postal service had to prefund its employee retirement fund for the next 75 years. That has meant the USPS has had to annually set aside $5.5 billion for the distant retirements of its workers – effectively swallowing its profits.
Another shoe dropped this year, however — the Postal Reform Act of 2011. Introduced by California Congressman Darrell Issa (R-Vista), it would kill Saturday delivery – although even its cheerleaders, including the Washington Post, admit that this will save only $3 billion over four years.
As MSNBC commentator Ed Schultz pointed out, Issa likes to scare people with talk about the post office needing a "bailout" – even though without its staggering retirement-fund obligation, the USPS would probably be just slightly less solvent than Fort Knox. Nevertheless, Issa's and other schemes would cut 120,000 jobs and close more than 3,600 post offices. More insidiously, entire rural communities will find themselves without inexpensive mail-delivery services – and not just individuals and business, but voters who rely on mail-in ballots to exercise the franchise.
Larry Brown does not think Issa's bill will be the end-all for the post office, but sounds wary of the compromises on the table.
"The Obama administration is to [propose] a two-year fix that won't really fix it," Brown said of the president's position. "He's endorsing a five-day delivery."
Brown's and other postal unions are fighting back with a campaign called Save America's Postal Service, which aims to pressure the Joint Select Committee on Deficit Reduction to keep both USPS jobs and Saturday delivery. The campaign supports H.R. 1351, which would mitigate some of the 109th Congress' damage and reduce the amount of money the USPS must prefund its pension benefits.
Why has the post office become the latest chew toy of conservatives? No doubt some of it is reflexive loathing for people who work at well-paid union jobs. But some of it may also be disdain for public institutions that help the majority of Americans. This latter attitude was succinctly expressed by the National Review Online's Josh Barro, who mocked small-town Americans dependent on the post office for their prescription drugs and newspapers.
"[N]obody is forcing anybody to live in a remote town in northern Maine," sneered Barro. "If you want to live there, you should pay a market price to have things delivered to you . . . It's not my responsibility to subsidize your postal service so you can live the rural lifestyle you enjoy at a below-market cost."
The post office is the country's second largest employer and is heavily unionized. Post office jobs have also traditionally provided working Americans with some of the most reliable steps toward middle-class security. Still, it must have occurred to even a ladder-kicker like Issa and other conservatives that cutting so many jobs – union or not – could be seen as an act of economic sabotage. But perhaps that's what all this is about – a plan to wreck the economy and bring about some form of financial end times, where there may be plenty of chaos and misery – but at least no unions.

Rick Scott Super PAC Donations Challenge Federal Anti-Corruption Rule
Co-published by Fast Company
The Florida governor led a group that raked in cash from Wall Street firms after Scott's administration gave them pension deals.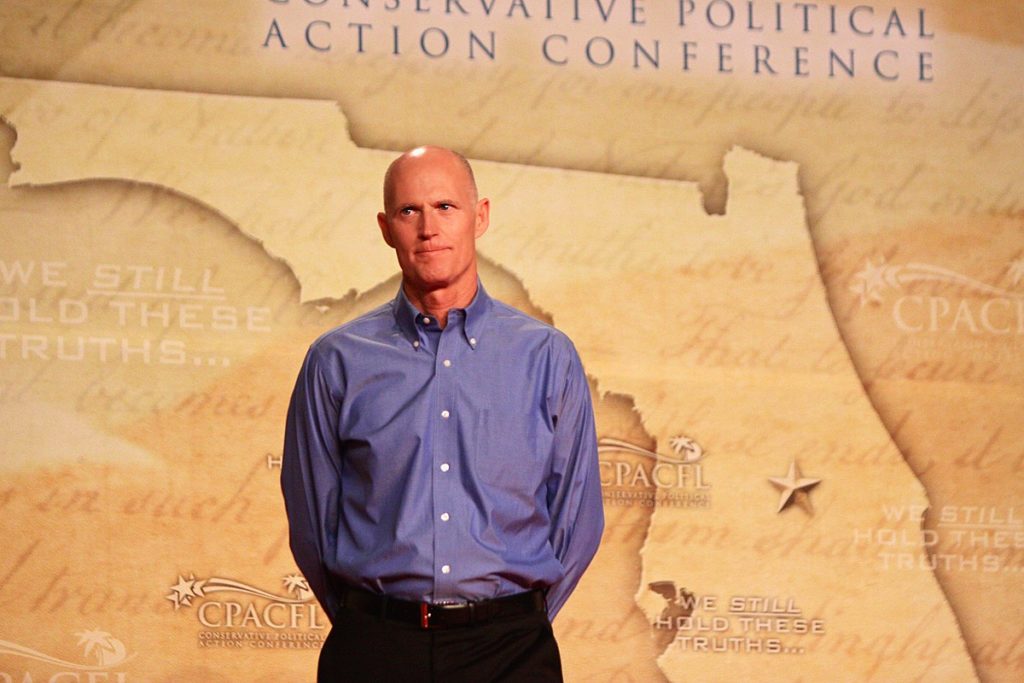 Co-published by Fast Company
A super PAC led by Florida Gov. Rick Scott raked in donations from two private equity executives after Scott's administration directed lucrative state pension investments to their firms, according to government records reviewed by MapLight and Capital & Main.
The donations were made to a committee that's now supporting Scott's U.S. Senate bid, despite a federal rule designed to prevent financial firms from bankrolling the election campaigns of public officials who oversee state pension investments.
Scott, a Republican, began chairing the New Republican PAC in May 2017 and announced his former campaign manager would serve as its executive director. Soon after, the group received $5,000 from New Mountain Capital Chief Executive Officer Steve Klinsky and $50,000 from Energy Capital Partners founder Douglas Kimmelman.
The contributions flowed to the super PAC after New Mountain Capital and Energy Capital Partners received a combined $250 million worth of new investment commitments from Florida's state pension system in 2014 and 2015. Scott is one of three state officials who oversee the $160 billion pension system. During the most recent fiscal year, the Florida investments generated more than $3 million in fees for the firms.
A 2010 Securities and Exchange Commission (SEC) rule prohibits firms from receiving investment fees from public pension systems if their executives donate campaign cash to pension overseers like Scott. SEC officials aimed to prevent investment decisions from being shaped by political influence.
But the commission didn't explicitly bar donations to "independent" political groups, unless the donations were deliberately designed to circumvent the restrictions. And it hasn't addressed whether a state official can lead a super PAC that received donations from firms with pension business and later be supported by the super PAC.
John Kuczwanski, a spokesperson for the Florida State Board of Administration, told MapLight/Capital & Main that Florida's first investments in the two private equity firms happened in 2005 and 2009, and he said Scott had nothing to do with new investments during his governorship, which started in 2011.
"The [state's] initial relationships with both managers predate Governor Scott's time in office," said Kuczwanski, whose agency manages the day-to-day operations of the pension system. "Neither the trustees, nor their appointed investment advisory council members are involved in the investment manager/fund selection process."
Scott's campaign and the super PAC did not respond to questions from MapLight/Capital & Main. New Mountain Capital and Energy Capital Partners did not return requests for comment.
Energy Capital recently completed the purchase of Calpine, whose natural gas power plant near Tampa is regulated by Scott's appointees at the Florida Public Service Commission. Kimmelman, who is now a director of Calpine, also donated $35,000 in 2017 to the National Republican Senatorial Committee, which is backing Scott's Senate campaign.
"A Very Clear Case"
Under the SEC rule — which GOP state parties have tried to overturn — investment executives are not prohibited from donating to independent political groups. But the rule allows regulators to apply restrictions to donations that are deliberately routed through third parties in order to support public officials — a situation that critics argue is happening with Scott and his super PAC.
After the governor announced his Senate bid last week, New Republican PAC's website began promoting his candidacy. End Citizens United, a Democratic-leaning political action committee based in Washington, DC, filed a complaint alleging that Scott has violated Federal Election Commission rules and is using the super PAC, which can accept unlimited donations, to evade contribution limits. Scott's campaign says he stepped down as New Republican PAC's chair in February.
In writing the original rule, SEC officials noted that while they could not restrict all donations to political action committees, contributions to third parties "may effectively operate as a funnel to the campaigns of the government officials." They said the final rule "prohibits acts done indirectly, which, if done directly, would violate the rule."
One ethics expert said that those anti-circumvention provisions should apply to the donations to Scott's super PAC.
"This appears to be a very clear case of close coordination and circumvention of the pay-to-play rule," said Craig Holman, an ethics lobbyist at the government watchdog group Public Citizen. "This is something that I'd like the SEC to pay attention to."
"No Loopholes"
The SEC has only occasionally enforced the pay-to-play rule, and the agency hasn't applied the provisions dealing with third parties to donations to super PACs. Because Scott is a sitting governor who can influence pension investments, he is covered by the rule, which has hampered the fundraising of past governors who tried to run for federal office.
A spokesman for former Texas Gov. Rick Perry's presidential campaign said the rule prevented him from raising enough money to be competitive in the 2012 race. Bloomberg reported that during the same election cycle, then-New Jersey Gov. Chris Christie was rejected as the vice presidential nominee, partly because Republicans feared the rule would prevent them from raising money from Wall Street firms that do business with his state's pension system.
"There is no way around it, and there are no loopholes," said Bill Palatucci, Christie's longtime advisor.
Even so, in recent years the rule has not deterred financial executives from donating to groups that help lawmakers who can influence pension investments. Financial executives whose firms received New Jersey and New Mexico investments continued to donate to the Republican Governors Association (RGA) when Christie and New Mexico Gov. Susana Martinez led the group. During the 2016 election cycle, executives at firms managing state pension money donated nearly $1.3 million to the GOP association, even as the group boosted the campaigns of Republican governors with power over state pension investments.
Last year, U.S. Sen. Tom Udall, D-N.M., called for the SEC to apply the pay-to-play rule to outside groups "to ensure that no one is able to circumvent these laws by using super PACs, dark money groups or other campaign spending vehicles." The RGA has argued that because it funds multiple candidates and does not allow donors to earmark contributions for particular races, it can accept donations from firms with investment business that can be influenced by individual governors. The SEC said in 2016 that donations to outside political groups "are independent expenditures that do not trigger" the rule.
"So long as the PAC faithfully observes the requirement to operate independently of candidates, a contribution to a super PAC will not trigger the [rule], even if the super PAC supports a covered official," Sam Brown, a former advisor to Federal Election Commissioner Ellen Weintraub, wrote in 2016. "Super PACs are increasingly being used in novel ways, and it remains to be seen whether these changes will result in increased circumvention risks."
---
This story is a collaboration between MapLight and Capital & Main.