Is Los Angeles' Homeless Epidemic Spurring Business Vigilantism?
After an Eagle Rock homeless encampment was dismantled, one business allegedly went a step further by covering the sidewalk with what an employee described as a mix of "half lime and half marking lime."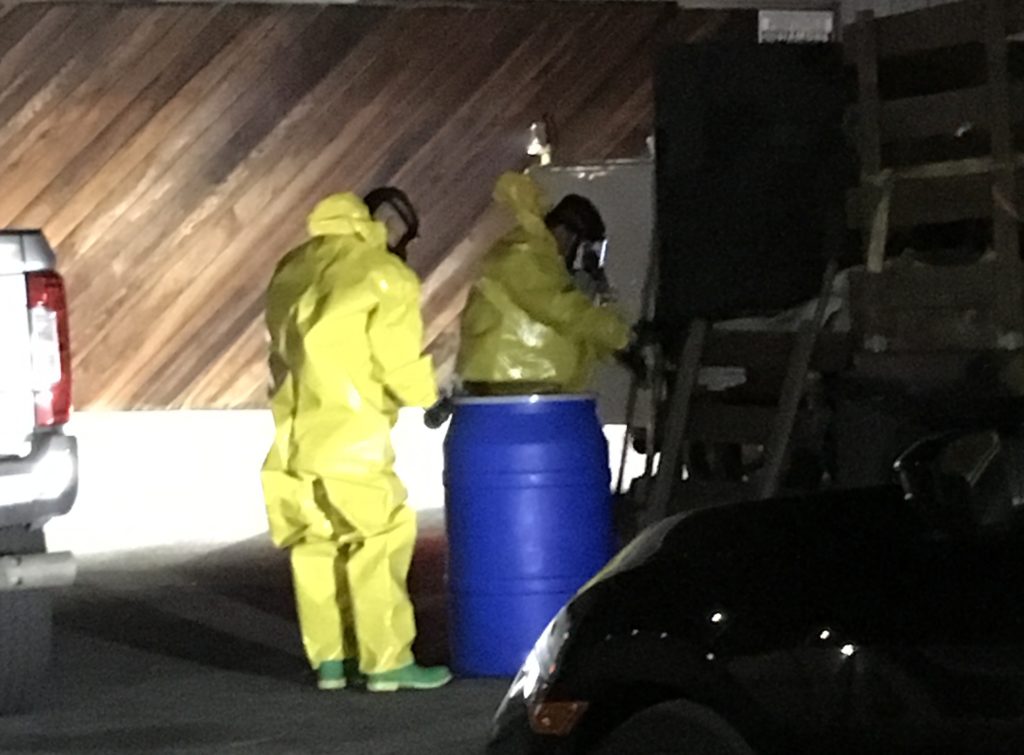 ---
"They took all my shit," a homeless man said. "I feel like the government wants us dead."
---
Los Angeles' inability to arrest a dramatic rise in the number of people sleeping on the city's streets has allegedly spurred one Eagle Rock lumberyard to coat a public sidewalk with a substance that can burn skin, in an apparent effort to discourage the creation of another homeless encampment in this middle-class community.
When the city on January 30 cleared such an encampment from the sidewalk outside Eagle Rock Lumber & Hardware — part of a clean-up effort occurring across Southern California amid the worst Hepatitis A outbreak since a vaccine was released over three decades ago — the business went a step further: It covered that sidewalk with what one employee described as a mix of "half lime and half marking lime."
Lime is not to be touched, according to the Centers for Disease Control and Prevention, which recommends wearing goggles and protective clothing when handling. Contact can result in eye and skin burns, as well as cause the forming of cysts, while inhalation can harm the upper respiratory system.
Marking lime, by contrast, is used on athletic fields and is safe to touch.
L.A. County Fire Dept. Hazmat vehicle at clean-up scene.
The employee, who declined to give his name, citing potential retribution from homeless advocates, claimed the intent was to disinfect and deodorize. The city's sanitation crew may have removed the encampment outside the business, but it did not leave the area clean. "It smelled like piss and all kinds of stuff," the man said. Indeed, the day after the sweep feces could still be seen on the sidewalk, alongside a hypodermic needle. "Our customers are complaining."
But two eyewitnesses maintain that the same employee told them something else, and they suggest a different intention.
Michael Steinborn of Atwater Village was at the lumberyard the morning of January 30, monitoring the city's cleanup as part of a rapid response team formed by the Democratic Socialists of America, Los Angeles, to document the dismantling of homeless encampments. He said the employee told him that he "put lye out," pointing to a stoop on the property, and that he was "gonna pour more all around."
"It was like he was putting blood meal out for rabbits in a garden," Steinborn said, referring to a substance used to discourage pests.
Lye can cause skin and eye burns, as well as temporary hair loss, according to the CDC. (Capital & Main is not aware of any test results that show the actual composition of the substance.)
Two views of the affected sidewalk. (Sidewalkher
photos by Charles Davis)
Jenna Steckel, another DSA member, said she too heard the employee promise to spread "lye." According to Steckel, the man also "told us he had already poured lye on his steps, which he showed us, and there's nothing particularly dirty about those steps." That, she argued, suggests the business simply did not want people sleeping there.
Ryan Kelly, an Eagle Rock resident and DSA member, said he arrived at the scene later that afternoon and a white substance had indeed been spread over the sidewalk. "I saw a young woman [walk] through it in flip flops," he said. "I saw someone walk their dog through it."
Nearly 58,000 people are homeless in Los Angeles County, according to the official 2017 count — a 23 percent jump from the year before, witnessed in the spread of encampments far from the concentrated poverty of Skid Row, the region's traditional home for the shelterless.
The spread has corresponded with what the California Department of Public Health calls "the largest person-to-person… hepatitis A outbreak in the United States" since 1996, when the vaccine was released. Most of those affected by the virus, spread by contaminated feces, are homeless; 21 people have died.
While L.A. County voters last year approved $1.2 billion in spending on housing for the homeless, and millions of dollars more in services to keep them housed, local authorities have also stepped up their dismantling of homeless encampments. Between January 2015 and July 2017, the city of Los Angeles had swept up 16,500 encampments at a cost of $14 million, the Los Angeles Times reported.
The city also removed over 3,000 tons of trash in that time — before the Hepatitis A outbreak began — and a September 2017 report from the Los Angeles City Controller recommended that efforts to dismantle encampments be increased. But many of those living on the streets say that this trash is their stuff, spurring groups such as DSA to document the cleanings, announced by the city 72 hours in advance, to help that ensure clean-up crews abide by the law.
That mission also now extends to ensuring local businesses abide by it too.
Kelly, part of DSA's rapid response team, said he called the Los Angeles Fire Department to report the dumping of what he believed to be lye, after consulting with those who had been evicted from the sidewalk in front of the lumberyard. LAFD spokesman Brian Humphrey confirmed that a crew was sent out that evening in response to the call. "They spent 22 minutes at the scene," he said. "It's not clear what action they took."
According to Kelly, the fire crew was rather hostile. One fireman "gave us a big speech about how business owners were tired of homeless people defecating and urinating everywhere," he said. But that fireman also said he would tape off the area and tell the business owner to clean up the sidewalk, an account supported by Steinborn and another member of DSA, Shelby Li.
The substance was still there on the evening of Wednesday, January 31 — with the addition of two orange traffic cones. Those now living across the street were afraid to go anywhere near their former campsite.
"That's poison," said Michael Anthony, standing outside of a tent. "That shit will eat your body. Obviously it's dangerous because they put cones [out]."
But he was more upset with the city than the business. "They took all my shit," Anthony said. "I feel like they don't care about us. I feel like the government wants us dead."
Lye or lime, the government, in the form of a Los Angeles County Fire Department Hazmat team, did come back. Just after midnight on Friday, February 2, spokesperson Randall Wright said, a team was dispatched to "lend some expertise" to the Los Angeles Police Department. He referred all further questions to the LAPD.
The LAPD did not return calls requesting comment by February 5, but last week confirmed receiving reports about the dumping of white powder at the site.
---
Copyright Capital & Main
No Walk in the Garden for the Urban Homeless
Throughout Los Angeles, landscaping is put to aggressive use, functioning as a weapon of anti-homelessness under the guise of beautification.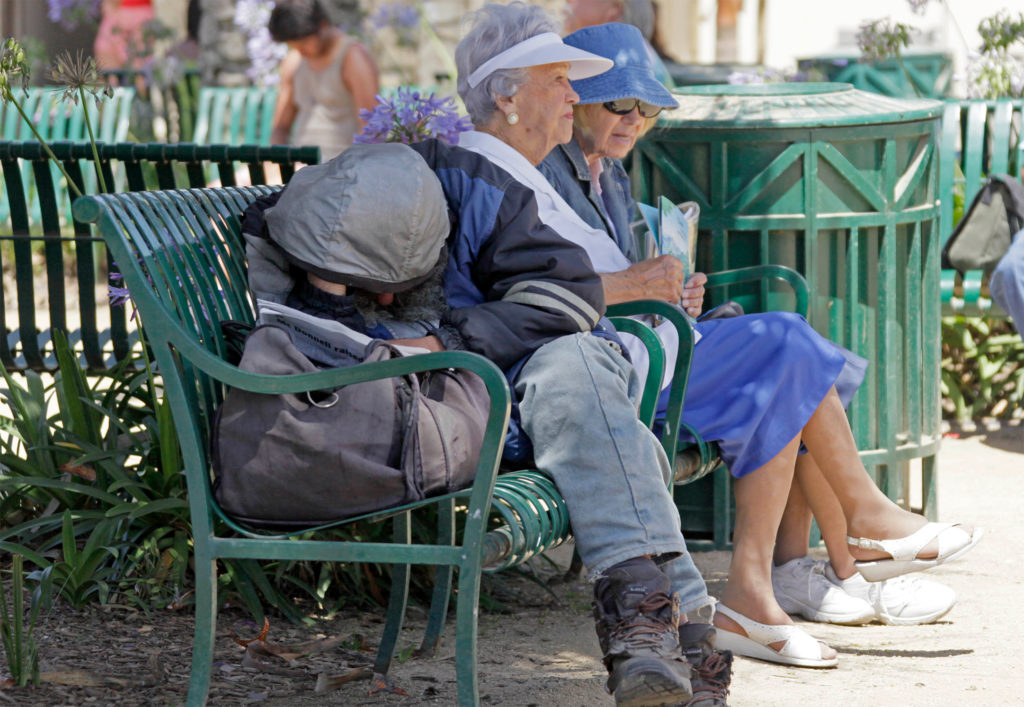 ---
The phenomenon of hostile landscaping in Los Angeles has further marginalized a swelling unhoused population.
---
Last May, in Los Angeles' coastal Venice neighborhood, Adam Smith noticed a series of planter boxes in the middle of a familiar sidewalk. Affixed near the intersection of Third and Sunset avenues, mere blocks from a Google campus and a suite of oceanside cafes, the standalone planters ran roughly the length of a wall delineating a parking lot behind a luxury condo complex.
Previously, Smith told Capital & Main, a group of six to 10 homeless people had regularly slept in tents on that block, favoring it for its relatively plentiful street light. A volunteer for the Culver-Palms Burrito Project, which prepares and serves the titular food to the unhoused of West Los Angeles, he'd become acquainted with individuals living there over the course of several years.
Once the planters were installed, however, the sidewalk was clear. "That next day, after I saw [the planter boxes] for the first time, I went there to look around because I figured they were sleeping somewhere else," Smith said. "I found people up around the corner, just, like, a block away."
---
Companies are privatizing public space to create more "landscape" for their businesses.
---
Throughout Los Angeles, landscaping is put to aggressive use, functioning as a weapon of anti-homelessness under the guise of beautification. Just as both public and private architectural design throttle space available to the unhoused internationally — via, among other examples, spikes on ledges and bars on benches to discourage sitting and lying down — and cities such as San Francisco arrange boulders to deter homeless encampments, the phenomenon of hostile landscaping in Los Angeles has further marginalized a swelling unhoused population.
Nearly 20 miles from Venice, a Los Feliz traffic median at the intersection of Vermont and Prospect avenues, and Hollywood Blvd., has regularly seen encampments arranged on its concrete ground, abutting a raised patch of desert landscaping and sycamore trees.
Christened "Vermont Triangle," the median's first redesign occurred in 2008, when the now-defunct Community Redevelopment Agency spearheaded a project to "improv[e] the pedestrian amenities" and "enhanc[e] the physical appearance of the existing median park." According to the Los Angeles Times, this yielded seating areas, lampposts to echo those at nearby Barnsdall Art Park, and the sycamores. Eventually, unhoused people began to pitch tents, availing themselves of the median's modest stretches of open public space.
Now, due to pressure from local business owners, Vermont Triangle is in flux. City Councilmember David Ryu's office, the Times noted, plans to invest $18,000 in another redesign, following a 2013 re-landscape. The 2013 update was financed in part by the Hollywood Hotel and Kaiser Permanente, according to Jeff Zarrinnam, who serves on the board of governors of the East Hollywood Business Improvement District. (Ryu's office couldn't be reached for comment.) Current proposals range from adding art installations and neighborhood signs, which Zarrinnam said the Los Feliz Neighborhood Council and East Hollywood Neighborhood Council have floated, to putting in planters.
Zarrinnam said he supports "bridge housing," a term the municipal government, neighborhood councils and local businesses use to favorably denote temporary homeless shelters and transitional housing. Yet reports indicate that the current state of temporary housing for many homeless people in Los Angeles County — who, as of May, numbered approximately 53,000 — is nothing short of abysmal. A recent investigation by radio station KPCC found infestations, harassment and medical negligence, among other scourges at various facilities throughout Los Angeles County, including those funded by the Los Angeles Homeless Services Authority (LAHSA), which conducts the county's annual homeless census.
Steve Diaz, an organizer for Los Angeles Community Action Network (LA CAN) who works with unhoused populations in downtown and South L.A., calls hostile landscaping of public space "the next level of criminalization" of homelessness. He alluded to an industrial neighborhood overlapping Skid Row, whose business owners call "The North Sea": a cluster of converted seafood warehouses and factories painted the same hues of oceanic blue — complete with landscaped sidewalks.
"They started breaking the concrete and taking away from the sidewalk to place different types of flowers, whatever garden they were putting in," Diaz said. "You have a major street [on] Skid Row that, at one point, was home to a lot of homeless folks now being gated off, and then the concrete being broken to start using these gardening pockets within the space to eliminate sidewalk access." (Miguel Nelson, a North Sea business owner involved in the area's marketing efforts, declined to respond publicly.)
As private property owners adopt guerrilla tactics to thwart homeless encampments, legal issues arise. Skid Row activist General Jeff Page has observed that, while property owners are permitted to control up to three feet of sidewalk extending from their buildings, "The North Sea is taking upwards of five to 10 feet of sidewalk, allowing only for ADA (Americans with Disabilities Act) compliance and zero space for homeless tents and/or encampments." (The Los Angeles Department of Public Works stated that the North Sea sidewalk landscaping is currently under investigation and thus couldn't comment further on the matter.)
What's more, business owners in South L.A. have illegally installed fences around their property, which, according to Diaz, will eventually give way to sidewalk landscaping. Relatedly, Adam Smith has been corresponding with city officials to ascertain the permit status of the Venice planters. The West L.A. office of the Bureau of Engineering, which issues revocable permits, told Capital & Main that it did not have a permit on file for the planters. Without one, according to the bureau, "no portion of the public right-of-way, including sidewalk, is allowed for private use."
Nevertheless, the planters remain and, according to Smith, have multiplied. Additional boxes, he said, are now ensconced in the sidewalk around the corner, to where the previously ousted people had first moved.
"For some people, [landscaping] sounds like a great idea," Diaz said. "But you're literally privatizing public space to create more 'landscape' for your business."
---
Copyright Capital & Main