Interview With the Director of 'Following the Ninth'
Author and documentary film co-producer (Wal-Mart: The High Cost of Low Price, Iraq for Sale) Kerry Candaele's  newest work records the transformative power that Ludwig van Beethoven's Ninth Symphony has had upon the lives of four people. These stories took him to a dozen countries on five continents, part of a journey of discovery about one of music's greatest achievements. In Candaele's new documentary, Following the Ninth: In the Footsteps of Beethoven's Final Symphony, the Ninth's "Ode to Joy" choral finale emerges as a soundtrack for social justice and world brotherhood.
In this film, which Bill Moyers calls "beautiful and powerful," Candaele recounts the struggles of rebellious students like Feng Congde at Tiananmen Square, who played the "Ode to Joy" over loudspeakers as they faced the tanks, and women activists like Isabel Lipthay, who sang it outside the torture prisons in Pinochet's Chile. Candaele highlights the jubilation as the Berlin Wall came down through the poignant story of Lene Ford, who joined the festivities as Leonard Bernstein conducted the Ninth at the Brandenburg Gate. Finally, he visits Japan where he meets Akira Takauchi, who sings as part of a chorus that takes the Ninth to Fukushima after its devastation by the earthquake and tsunami. I caught up with Candaele as he arrived in town for the film's Friday Los Angeles premiere.
Frying Pan News: What was the impetus for your pursuing this project?
Kerry Candaele: It was the Ninth itself. I was raised on rock, the standard fare — the Beatles, Dylan, the Stones — so I can say [Beethoven's] music truly changed my life. And once I'd discovered it, I kept coming across the Ninth. Like Billy Bragg rewriting the libretto for the symphony.
FPN: Interestingly, the Beatles used a part of the Ninth in their film Help! And it's the European Union's anthem.
Candaele: Exactly, it's everywhere and all around us, for better and for worse sometimes. "Ode to Joy" is used in Die Hard 3, I believe.
FPN: Do you think that its status as the first choral symphony ever written is one reason it resonates with so many popular movements? All those voices in unison, which perhaps suggests Beethoven's own longings for universal brotherhood?
Candaele: Yes, it's about people singing together, working together and often that musical connection is transcendent, in the best of ways. I think it's a symphony of great hope. And what else is there? You have to err on the side of hope. Beethoven's politics were complicated and I think he struggled in writing the symphony with his youthful radicalism, his support of the French Revolution at a time when, as William Wordsworth put it, "Bliss it was in that dawn to be alive, But to be young was very heaven." The Ninth is taking another look, another pass, at [Beethoven's] youthful radicalism. And of course he lived under a repressive Austrian regime at the time. On his best days Beethoven believed in mankind, but he believed in himself and his art even more.
FPN: How did you find the four subjects for your film?
Candaele: I was reading an article by Ariel Dorfman about Chile during the Pinochet years and the repression there. I contacted him and that led me eventually to Isabel and her incredibly inspiring story. Feng was working in New York City for a human rights organization and I found Lene Ford through Craigslist. Her story was so compelling—her spirit and joy, how she had lost someone who'd tried to escape across the wall just months before the wall came down. I got connected to Akira through someone I met in Santa Barbara and was amazed to see the conductor of his orchestra turn to conduct the audience in singing the "Ode to Joy." I'd never seen that before, that kind of inclusion. Very Japanese. Dudamel has that inclusiveness, but I've never seen him turn and actually conduct the audience!
The episodes in the film are utopian moments – not blueprints – for a good society and these utopian moments live on in people and in movements. They sometimes change over time, speak in a different voice, but they almost always return. This is why I was interested in the four stories I chose from Japan, East Germany, Chile and China.
FPN: And the Japanese story is different in that it is not about a social or political struggle, but rather about a society's response to a natural disaster.
Candaele: Yes, it's very personal, about the song's power to heal people, to repair them and help them rebuild society together. Akira and others talk about the Ninth living within their bodies. Music changes lives. Many believe the Ninth is the greatest symphony ever written and it's certainly one of the most popular. These facts made it hugely challenging to work with. I didn't want to make it too polemical, overtly political or agitprop. I wanted to make a human film that most people could identify with.
FPN: And music is the universal language. What is it about the Ninth symphony that affects people in such a powerful and unique way?
Candaele: The great English socialist writer, William Morris, talked about teaching "desire to desire, to desire better." In other words, we often don't really know what we want, we don't know how to desire a more brotherly/sisterly existence until we find it, where we are then confronted with our limitations. Feng discovered this when he went to Tiananmen Square because his computer was broken. He was actually planning on going overseas to study at that time. But once he got to Tiananmen, he never left once he connected to what was happening there. If you listen to the Ninth symphony all the way through and experience the struggle, the longing, the moments of melancholy and then finally reach the "Ode to Joy," something happens that happened to Feng—that is what William Morris perhaps was talking about. You have to experience the pain, the melancholy, the longing in order to get to the joy and freedom. They are all linked and inseparable.
FPN: What is your greatest hope for this film?
Candaele: People came out of the theater in New York crying – I want everyone to have that kind of profound experience. Music knows no boundaries. As Feng described the students who gathered at Tiananmen Square, they all spoke the same language, but before they met on the square no one could hear each other. In the Ninth, humanity speaks as one.
(Opens Friday, November 22. Laemmle's Music Hall, 9036 Wilshire Blvd., Beverly Hills (310) 478-3836.)
See also: Bill Moyers interviews Kerry Candaele.
'Skeleton Crew' Is a Play With a Moral Spine
Set in a Detroit automobile outfitting plant, Dominique Morisseau's drama grabs you from the start with its focus on blue-collar men and women, and their struggle for dignity and self-respect.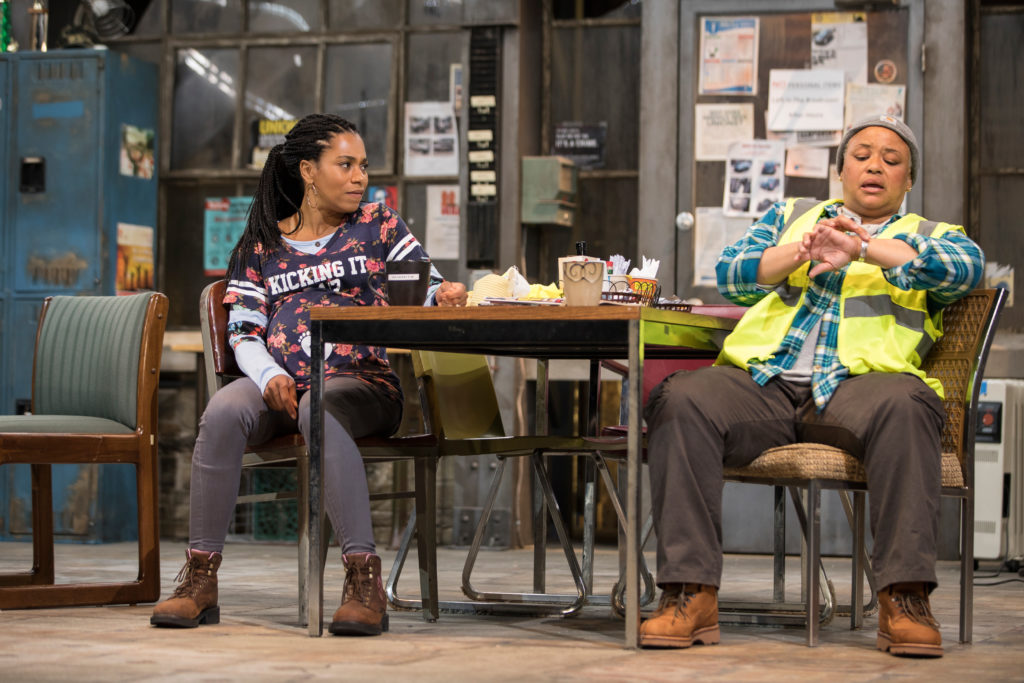 Working-class men and women of color are rarely front and center in today's media and, likewise, are presented all too occasionally on the American stage. So it's buoying to see that trend bucked in playwright Dominique Morisseau's percipient and well-crafted drama, Skeleton Crew. The play is the final installment in her Detroit  Project Trilogy; the first, Paradise Blue, is set in the 1940s amidst displacement caused by urban renewal and gentrification, while the second, Detroit '67, transpires on the eve of the 1967 Detroit riots sparked by a police action.
Directed by Patricia McGregor at Los Angeles' Geffen Playhouse, Skeleton Crew is a play with a moral spine. It takes place in 2008, when the shrinking U.S. auto industry is being further downsized. Morisseau's engaging quartet of characters — Faye (Caroline Stefanie Clay), Dez (Armari Cheatom), Shanita (Kelly McCreary) and Reggie (DB Woodside) – are employed at an automobile outfitting plant. Faye, Dez and Shanita are workers on the line while Reggie (who has a wife and kids, and has pulled himself together after a troubled youth) is their supervisor.
The first three customarily mingle in their break room (designer Rachel Myers' impressively cluttered, dingy and detailed set), trading the sort of familiar barbs and genuine concern for each other common among longtime co-workers. They also face off on philosophy: Upper-middle-aged Faye and the younger, pregnant Shanita take pride in their labor, while Dez, though a good worker, is a malcontent scornful of management and firm in the belief that everyone needs to watch out for himself. He's a thorn in Reggie's side, for while Reggie wants to be supportive of his workers, he must act at the behest of higher management. For his part, Dez resents Reggie's authority, and a palpable unease exists between them.
Besides this male matchup, we're made privy to Dez's attraction to Shanita, who mostly turns away his advances, but every now and then displays a hint of interest. Most poignant is Reggie's regard and affection for the lesbian Faye, which has roots in his boyhood when she loved, and lived, with his now-deceased mom.
These people's various predicaments intensify when rumors spread of the plant's shutdown — a disaster for all, but a particular calamity for the already near-broke Faye who, one year short of retirement, would lose her pension. The crisis forces each of these people to make a choice.
A sound piece of social realism, Skeleton Crew grabs you from the start in its focus on blue-collar men and women, and their struggle against odds for dignity and self-respect. Morisseau not only furnishes these characters a platform for their travails, she endows them with strong values, big hearts and the opportunity to choose between right and wrong.
Unfortunately, the performance I attended did not soar. Many exchanges lacked a fresh edge. The actors certainly had their characters down, but too often they appeared to be coasting on technique. (This seemed particularly true of Clay, who performed the role to great accolades in Washington, DC in 2017, also under McGregor's direction). Additionally, some of the stage movement was not entirely fluid; in confrontations, actors sometimes would just stand and face each other in an artificial way. And Cheatom's interpretation of Dez struck me as a bit overly churlish and depressive: I needed more glimpses of the intelligence and edge that would secretly attract the strong, self-directed Shanita.
The most compelling moments belong to Woodside, well-cast as a man trying his best in difficult circumstances to do the right thing.
---
Gil Cates Theater at the Geffen Playhouse, 10886 Le Conte Ave., Westwood Village; Tues.-Fri., 8 p.m.; Sat., 3 & 8 p.m. Sun., 2 & 7 p.m.; through July 8. (310) 208-5454 or www.geffenplayhouse.org