In DeVos Vote, Arizona's McCain and Flake Weigh Party Loyalty Against Effective School Policy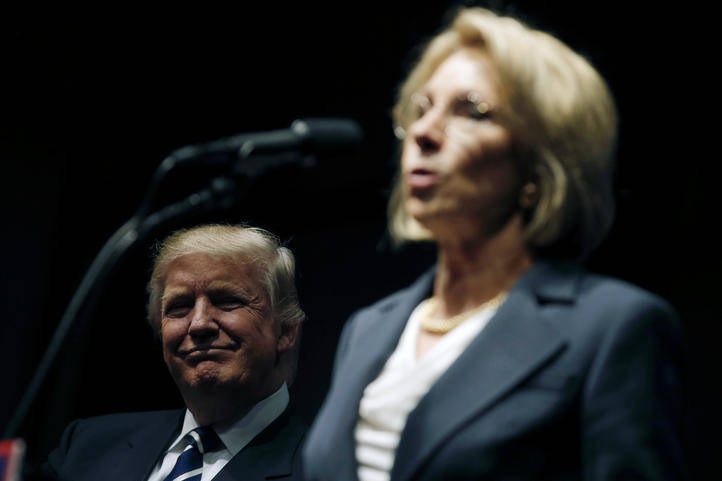 REUTERS/Mike Segar
As the Senate confirmation vote for Betsy DeVos, Donald Trump's nominee for Secretary of Education, comes down to the wire, many Arizona education advocates worry that the nominee's radical priorities will only compound the problems facing a state that already represents a grim vision of what DeVos will push for the rest of the country. The opponents of DeVos are pushing hard to convince Arizona Senators John McCain and Jeff Flake to vote against her confirmation.
Arizona is no stranger to DeVos' program of charter schools, vouchers and deregulation, which allows taxpayer dollars to follow students, regardless of whether it's for public schools, charter schools, virtual schools, private and religious schools or home-based schools. The solidly Republican state passed its charter law in 1996 and, like many other parts of the country, saw a huge expansion of charter schools, including so-called online virtual academies.
It also has funneled hundreds of millions of dollars in taxpayer money to private schools – part of a first-in-the-nation tax credit for private education that was supposed to primarily benefit special needs and low-income students. The diversion of taxpayer funds, however, has not delivered on that promise, while draining resources from the state's traditional public schools. Only about three percent of the so-called scholarship money is designated specifically for special-needs students, with barely a third going to children of low-income families.
Putting DeVos at the head of the Department of Education, said Gene Glass, Regents Professor Emeritus at Arizona State University, will push the state even further into "a full-fledged voucher program" that, he fears, will divert even more public education money to private and religious schools. The tax credit has already put Arizona on the map of states that have allowed taxpayer money to cast doubt on basic science by funding creationist private schools through similar state tuition voucher or scholarship programs.
Arizona now has one of the nation's highest percentage of students enrolled in charter schools – about 17 percent or a little more than three times the national average. The overall performance of the state's charter schools was evaluated in 2014 by the Brookings Institution, which concluded that, on average, these schools "do no better, and sometimes worse, than the traditional public schools." Among the most revealing findings was that attending a charter school was associated with negative impacts on math scores for all grade levels, as well as negative impacts on science scores for students in middle and high schools. There was no evidence that charters had a significant impact on reading scores at any grade level.
The results appear to be significantly worse for Arizona's numerous online charter schools. One study, by Stanford University's Center for Research on Education Outcomes, found that students at cyber charter schools had far fewer days of math and reading instruction compared to students in traditional public schools. "We're running some enormous online charter schools that everybody knows, except Betsy DeVos, are a complete disaster," said Glass of Arizona State University.
One possible explanation for the struggles of Arizona charter schools was uncovered in a recent study by Arizonans for Charter School Accountability. That report found that the majority of Arizona charter schools spend more money on administration and facilities than they do on classroom instruction.
At the same time, said the charter accountability group's Jim Hall, "We have the least restricted charter schools in the country — by far the fewest regulations and the least transparency." DeVos has fought hard against regulation of charter schools, so states like Arizona which have seen unregulated charters flourish and performance languish can likely expect more of the same if she is confirmed.
More troubling to David Berliner, Regents' Professor Emeritus of Education at Arizona State University, is the fact that DeVos has no formal experience in the education field – a fact that he believes McCain in particular should find disqualifying. "Think of what would happen if you would appoint non-military people to the head of military forces," said Berliner. "It doesn't make sense. You really need somebody who knows how the system works."