Immigration Furor: The ICE Man Cometh to Sacramento
Last Friday, the Sheriff of Sacramento County, Scott Jones, announced that he would host a community forum with Thomas Homan, the acting director of Immigration and Customs Enforcement (ICE).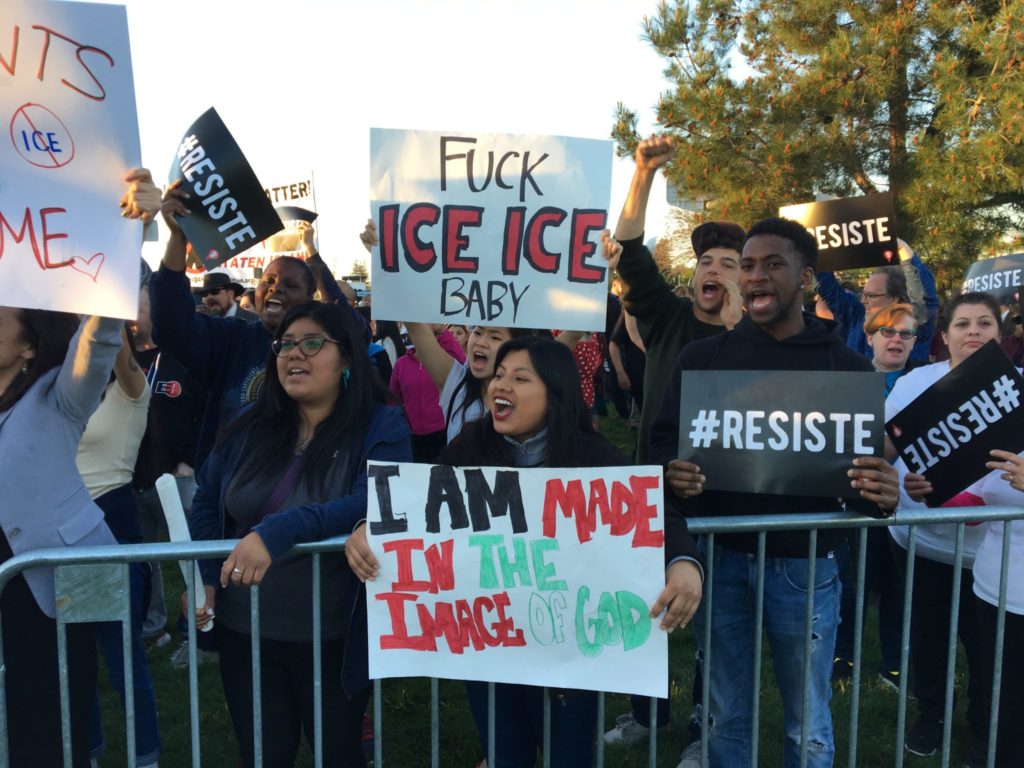 Last Friday, the Sheriff of Sacramento County, Scott Jones, announced that he would host a community forum with Thomas Homan, the acting director of Immigration and Customs Enforcement (ICE). The press release presented the meeting as a sort of public service — a chance to hear directly from an authority who could dispel the swirling rumors and separate immigration fact from fiction. This would allow people to "find common ground" and "reduce fear," during a night that Jones promised would be "interactive and informational."
It was certainly interactive. The forum, which was held Tuesday evening, took place inside a packed basketball gym, after the original venue, a church, was deemed too small to accommodate what promised to be a large crowd. Homan and Jones, each dressed in dark suits, faced several hundred people from behind a table near the court's baseline, beneath a raised backboard. Jones opened with an expression of faith that the proceedings would remain civil. He was interrupted by shouts of "Fuck you!" and, to Homan, "Go back to DC, you piece of shit!" Minutes later, the first group of protesters was ejected. For Homan, who has been with ICE since its creation in 2003, this was definitely an away game.
If Jones or Homan expected anything but a rude greeting, they hadn't been reading California's mood very well. A day earlier, U.S. Attorney General Jeff Sessions again threatened to pull federal funding from sanctuary cities, a broad term that typically refers to localities that don't hold detained crime suspects for ICE. The threat of lost funds is a significant challenge, and at least one municipality, Florida's Miami-Dade County, has revoked its sanctuary status. But in California the ultimatum has been met with concerted pushback. Last December, the State Senate Democratic leader, Kevin de León, introduced a bill that would prevent local and state police from enforcing federal immigration laws, in essence turning California into the first "sanctuary state."
"We celebrate diversity," de León told a crowd of protesters who had gathered before the forum. "We don't ban it, we don't wall it off and we don't deport it."
Maria Marroquin, who runs a day-labor center in Mountain View, came to the forum with several workers, who took up a row towards the back. "The state of fear is so overwhelming," she told me in Spanish. "It's like a psychosis that the whole community is experiencing, that has invaded everything. People have the fear that they could be attacked, that they are no longer welcome. It's a disgrace."
Marroquin ticked off a few of the high-profile stories that have reverberated within immigrant communities. In El Paso, a transgender woman who sought a protective order against her ex-boyfriend for domestic violence was detained in court by ICE; it was possible that the agency had been tipped off by the very man she sought protection from. In Dallas, ICE removed a 26-year-old woman with a brain tumor from a hospital. And in Seattle, Daniel Ramirez Medina, a DACA (Deferred Action for Childhood Arrivals) recipient, was arrested for allegedly being a gang member, a charge for which there is little credible evidence. (An immigration judge released Medina on bond earlier this week; earlier, a federal judge wrote that "many questions remain regarding the appropriateness of the government's conduct.")
Such cases, along with Trump's executive order categorizing virtually all undocumented immigrants as priorities for deportation, has sparked a panic. At the forum, Sheriff Jones suggested that such fear stemmed from a lack of certainty about the law. None of the immigrants I spoke with identified uncertainty as their primary source of fear. They feared ICE.
Homan is squat, with a military crew cut and sullen face. Before Trump appointed him acting director, he ran ICE's Enforcement and Removal Operations. A Washington Post profile in 2016 began, "Thomas Homan deports people. And he's really good at it." If a massive deportation plan is your goal, he is the person you would want to head it. And with Trump's recent call to add another 10,000 ICE deportation officers— roughly tripling the agency's ranks—he would have enough staff at his disposal to make a good attempt.
During the 90-minute forum, Homan didn't break any news. He stated repeatedly that ICE didn't make policies but simply enforced the law, that DACA recipients were not targets and that agents would stay away from sensitive areas, such as churches and schools. Yet the lines are already blurring. In February, ICE detained immigrants who had just left a hypothermia church shelter in Virginia. That same month, officers arrested Romulo Avelica-Gonzalez in Los Angeles as he drove his daughter to school. The sobbing 13-year-old filmed the arrest from the car; her video went viral.
At one point, Bernard Marks stepped to the microphone. The 87 year old runs an environmental engineering company in Sacramento, and wore a sticker on his jacket that read, "Keep American Families Together."
"When I was a little boy in Poland, for no other reason but for being Jewish, I was hauled off by the Nazis," Marks began. He told Jones and Homan that his family had been killed in Auschwitz, and that five years of his childhood had been spent in Auschwitz and Dachau. The crowd fell silent. "Don't forget, history is not on your side," Marks boomed. (See video below.)
One of the last people to speak was Pastor Curtis Smith of Stockton's Destiny Christian Center. He told Homan that on Sunday morning, ICE agents had knocked on the door of a member of his congregation. He claimed that the church member didn't have a criminal record, and that he was the main breadwinner for his wife and children.
"We received a call that he was being deported this afternoon," Smith said. "You say that you're concerned about safety. But who's protecting us from you?"
---
Bernard Marks, 90, survivor of Auschwitz & Dachau, confronts ICE director Thomas Homan and Sacramento Sheriff Scott Jones at public forum. pic.twitter.com/6u4PeoANis

— Gabriel Thompson (@G_Thompson1) March 29, 2017