If JFK Had Lived – He'd Be Very Old Today
It really is true what they say – if you're old enough, you'll remember where you were when you heard President Kennedy was dead. I was onstage rehearsing a fifth-grade play when a teacher (a jovial Texan who seemed to know everything about the history of Dr. Pepper soda) came into the auditorium with the news. He and my own teacher seemed more fascinated than saddened about what had happened in Dallas, and we kids were just happy to suddenly be sent home early. Outside, yellow maple leaves covered the sidewalks, the fall air was tinged with a slight chill and, as it was a Friday, with the smell of burning papers from our school's incinerator.
Today, of course, is the 50th anniversary of the assassination and this month has been all about JFK, especially on television, where Kennedy appears to have been rehabilitated as, once more, the man who was on the verge of changing the world. As was the thinking in the years immediately following his death, TV's anti-revisionists say Kennedy was a president who was going to end hunger in America, eradicate racial discrimination and, of course, get us out of Vietnam. Assessments would change over time – there was that period when it was popular to think of Kennedy as an accidental president, some wealthy playboy who had bought the Oval Office. But now the pendulum has respectfully swung back so that he has once more become the pensive dreamer in photographs whose subtle backlighting suggests a halo.
I'm not the first to say this, but before the assassination I had always thought Rob and Laura Petrie of The Dick Van Dyke Show were supposed to be suburban doppelgangers of Jack and Jackie Kennedy. Like the Petries of New Rochelle, the Kennedys of Pennsylvania Avenue were unbelievably attractive – and funny, when they wanted to be.
But even nine-year-olds like myself couldn't escape the feeling that the president wasn't trying hard enough. Every week it seemed a civil rights worker was killed in the South. And, decades before we began to take the homeless for granted, there was a sense that America, led by our president, should be able to banish poverty, like polio. Why did some of the black kids I played with have to live in garage lofts? Why, that previous spring, had several children burned to death in the abandoned duck coops their families called home?
Every now and then I'll pull out a saved November 23rd edition of the New York Daily News, the paper our family read, to go back in time and see if there's anything new to be learned from the past, something I overlooked the dozens of other times I've turned the paper's brittle pages.
"Our President, Her Love," says the headline beneath the full-page photo of Jackie forlornly walking with her husband's brother, Bobby, at Andrews Air Force Base. In front of them men huddle around the president's bronze casket as it is loaded into a Navy ambulance. This was on the back page, where normally there'd be several sports photos.
The Daily News ventured no guesses as to what JFK would have done had he lived. Perhaps he really would have changed America. But it would be left to his successor, Lyndon Johnson, to make real progress for racial justice and against poverty. Even more so than Johnson, it would remain for the great movement of people who had been fighting for equality since Rosa Parks' arrest to make history.
There is a sentence in David Halberstam's The Best and the Brightest that is so heartbreaking in its understatement and portentousness that it has become, for me, the most incisive summary of Camelot: "A cold day in December." This opening line of the book is an evocation of both a traditional season of hope and the wintery reality that would ultimately leave the promise of Kennedy's administration a stillborn dream. Today the only thing we can say with certainty is the most obvious – if Kennedy were alive now he'd be 96 years old.
The Tests Facing California's New Governor
Gavin Newsom now leads the state with the nation's biggest economy and largest population — and one riven by economic inequality. What will be his most important challenges?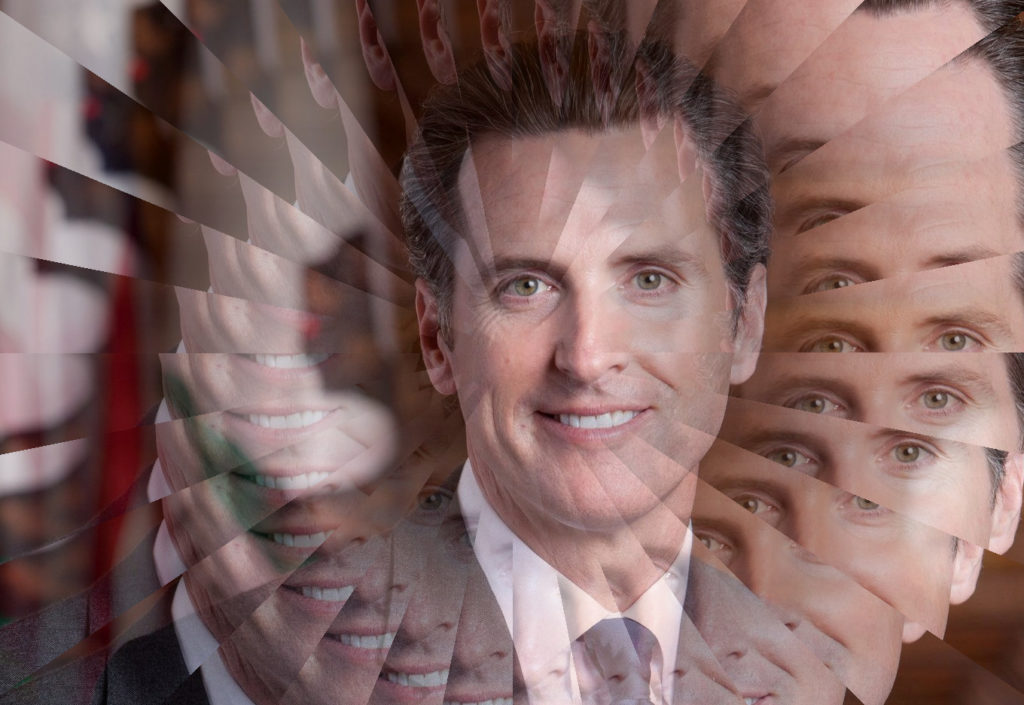 Gavin Newsom inherits a state that should be any governor's dream: A California that is the cradle of the tech revolution and brims with prosperity, a one-party state with supermajorities in both chambers for Newsom's Democrats. But there are clouds darkening the horizon: Daily prophecies tell of coming economic storms; legislative initiatives taken on behalf of immigrants, retirement security and the stemming of global warming are increasingly thwarted by a bellicose White House. And that Democratic Party monopoly in Sacramento masks a deepening ideological fault line dividing pro-business moderates and progressives – the latter of which have largely chafed for the last 16 years under the thrifty administrations of Jerry Brown and Arnold Schwarzenegger, and are eager to burst out with far-reaching (if pricey) legislation.
Then, there are memories of three high-riding liberal governors (Pat and Jerry Brown, and Gray Davis) whose programs or careers were derailed by resentful taxpayers. There are more recent memories, too: Of an impulsive, hard-partying San Francisco mayor whose blunted ambitions led him to spend eight years in the ceremonial wilderness of the lieutenant governor's office. Newsom is said to have matured into a more circumspect, pragmatic politician, although some of the old doubts were fanned back to life by an unflattering New Yorker profile that appeared shortly before his landslide victory November 6.
Perhaps overriding all these auguries is the undeniable fact that despite its enviable economy, its abundance of billionaires-in-residence and laudable array of social services, California still has the highest poverty rate in the U.S., nearly half of its children live in poverty or near-poverty, and merely finding an affordable place to live has become an existential challenge for many. These and similar factors superimpose on the state another kind of fault line, that of economic inequality. Most of the new governor's time will be spent wrangling crises that spring from this disparity. Which is why the following Capital & Main stories primarily focus on the inequality that separates so many Californians from one another.
Affordable Housing, by Jessica Goodheart.
Single-Payer Health Care, by Gabriel Thompson.
Climate Change and Big Oil, by Judith Lewis Mernit.
Inequality Interviews with Manuel Pastor, Ann Huff Stevens and David Grusky.
Early Childhood Education, by Bill Raden.
Inequality in California: Six Takeaways.
---
Copyright Capital & Main