If JFK Had Lived – He'd Be Very Old Today
(Walt Cisco, Dallas Morning News)
It really is true what they say – if you're old enough, you'll remember where you were when you heard President Kennedy was dead. I was onstage rehearsing a fifth-grade play when a teacher (a jovial Texan who seemed to know everything about the history of Dr. Pepper soda) came into the auditorium with the news. He and my own teacher seemed more fascinated than saddened about what had happened in Dallas, and we kids were just happy to suddenly be sent home early. Outside, yellow maple leaves covered the sidewalks, the fall air was tinged with a slight chill and, as it was a Friday, with the smell of burning papers from our school's incinerator.
Today, of course, is the 50th anniversary of the assassination and this month has been all about JFK, especially on television, where Kennedy appears to have been rehabilitated as, once more, the man who was on the verge of changing the world. As was the thinking in the years immediately following his death, TV's anti-revisionists say Kennedy was a president who was going to end hunger in America, eradicate racial discrimination and, of course, get us out of Vietnam. Assessments would change over time – there was that period when it was popular to think of Kennedy as an accidental president, some wealthy playboy who had bought the Oval Office. But now the pendulum has respectfully swung back so that he has once more become the pensive dreamer in photographs whose subtle backlighting suggests a halo.
I'm not the first to say this, but before the assassination I had always thought Rob and Laura Petrie of The Dick Van Dyke Show were supposed to be suburban doppelgangers of Jack and Jackie Kennedy. Like the Petries of New Rochelle, the Kennedys of Pennsylvania Avenue were unbelievably attractive – and funny, when they wanted to be.
But even 10-year-olds like myself couldn't escape the feeling that the president wasn't trying hard enough. Every week it seemed a civil rights worker was killed in the South. And, decades before we began to take the homeless for granted, there was a sense that America, led by our president, should be able to banish poverty, like polio. Why did some of the black kids I played with have to live in garage lofts? Why, that previous spring, had several children burned to death in the abandoned duck coops their families called home?
Every now and then I'll pull out a saved November 23rd edition of the New York Daily News, the paper our family read, to go back in time and see if there's anything new to be learned from the past, something I overlooked the dozens of other times I've turned the paper's brittle pages.
"Our President, Her Love," says the headline beneath the full-page photo of Jackie forlornly walking with her husband's brother, Bobby, at Andrews Air Force Base. In front of them men huddle around the president's bronze casket as it is loaded into a Navy ambulance. This was on the back page, where normally there'd be several sports photos.
The Daily News ventured no guesses as to what JFK would have done had he lived. Perhaps he really would have changed America. But it would be left to his successor, Lyndon Johnson, to make real progress for racial justice and against poverty. Even more so than Johnson, it would remain for the great movement of people who had been fighting for equality since Rosa Parks' arrest to make history.
There is a sentence in David Halberstam's The Best and the Brightest that is so heartbreaking in its understatement and portentousness that it has become, for me, the most incisive summary of Camelot: "A cold day in December." This opening line of the book is an evocation of both a traditional season of hope and the wintery reality that would ultimately leave the promise of Kennedy's administration a stillborn dream. Today the only thing we can say with certainty is the most obvious – if Kennedy were alive now he'd be 96 years old.

A Woman's Art Is Never Done: The Feminae Exhibition
A striking juxtaposition between the past and present courses throughout the small gallery. Celia Blomberg's "International Women's Day March 8" can't help but make one think of 2017's Women's March, which occurred 37 years after the print's first appearance.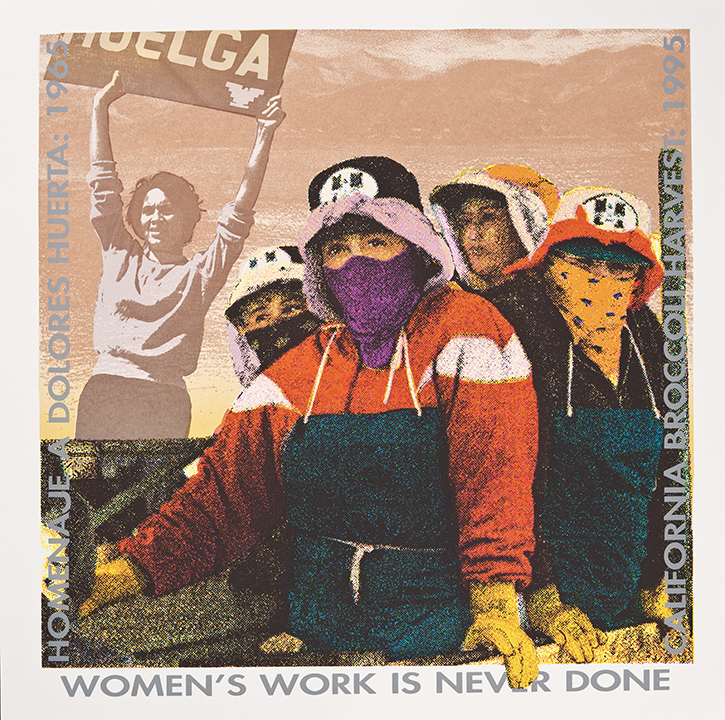 Among the 50-plus works in the Feminae: Typographic Voices of Women By Women exhibit is Yolanda Lopez's "Women's Work is Never Done." Lopez's title is particularly ironic, given the exhibit's gender-based subject matter. The show spans work from the past 50 years, making it easy to understand how much society is still grappling with its themes of gender inequality. Culled from the archives of the Center for the Study of Political Graphics, the graphic images of protest, persuasion and empowerment are truly works of art in their own right.
However, political posters aren't made to merely spruce up walls, but to help figuratively bring barriers down as well.
Two silkscreens from the 1970s, Liliana Porter and John Schneider's "This Woman is Vietnamese" and See Red Woman's Workshop's "So Long As Women Are Not Free People Are Not Free," are particularly powerful, underscoring, as they do, the fact that the subjugation and persecution of women crosses borders and cultures as an unfortunate shared global experience. These two pieces' stark simplicity exemplifies most of the work in the exhibit. In the former, a New York Times photo of a distraught Vietnamese woman with a gun held to her head is centered above these basic words typed out in a typewriter font: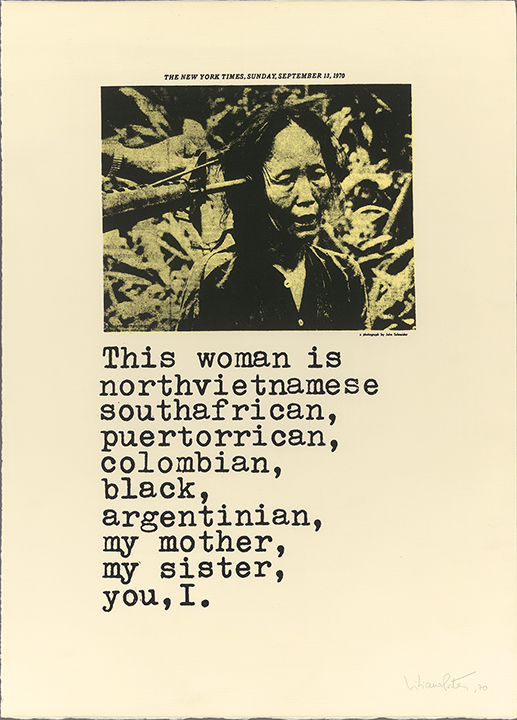 This woman is
northvietnamese
southafrican
puertorrican,
colombian,
black,
argentinian,
my mother,
my sister,
you, I.
By juxtaposing the photo with these words, the creators take the plight of this woman and immediately globalize her pain. In the latter, three female demonstrators are silkscreened in red onto a yellow background. They are marginalized by being stuck in the lower left third of the poster, but two of them are raising their fists skyward and their mouths are open, screaming in defiance. Its non-serif, eponymous type reads: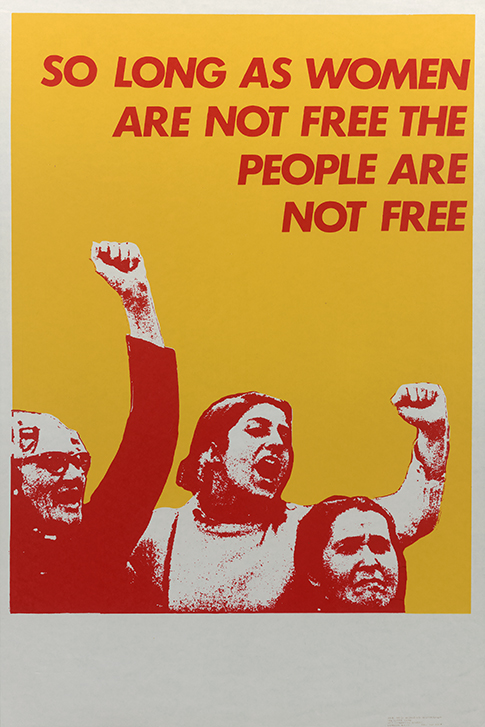 SO LONG AS WOMEN
ARE NOT FREE THE
PEOPLE ARE
NOT FREE
This piece's message takes the global message even farther, making the plight of women a human one — a common theme in the exhibition.
There is also a striking juxtaposition between the past and present that seethes throughout the small gallery. Celia Blomberg's "International Women's Day March 8" can't help but make one think of 2017's Women's March that would take place 37 years later. See Red Woman's Workshop's 1977 "Black Women Will Not Be Intimidated" could easily be repurposed to address the recent spate of blue-on-black brutality. Notable works by Barbara Kruger, Sister Corita Kent and the Guerilla Girls are also included.
Ironically , while it can be surmised that most of these works were made as populist posters to be distributed at the time as banners of protest, their beautiful simplicity and nostalgic elegance probably have resulted in the originals (mostly now found in art museums) sporting hefty vintage-resale prices.
But it is not just the art that has stood the test of time. The fact that the issues addressed in the show — feminism, choice, gender equality, war, immigration, police brutality or violence against women — are all issues at the forefront of debate in 2018 ultimately engenders conflicting feelings.
On one the hand, it is inspiring to see a vibrant exhibit that showcases such diversity in artistic styles, no doubt spawned by the diversity of the artists' own backgrounds. On the other hand, there is a realization that while there has been some progress over the past half century, there is so much work to be done.
Art Center's Hoffmitz Milken Center for Typography, 950 South Raymond Ave., Pasadena; through May 15.
---
Copyright Capital & Main