If JFK Had Lived – He'd Be Very Old Today
(Walt Cisco, Dallas Morning News)
It really is true what they say – if you're old enough, you'll remember where you were when you heard President Kennedy was dead. I was onstage rehearsing a fifth-grade play when a teacher (a jovial Texan who seemed to know everything about the history of Dr. Pepper soda) came into the auditorium with the news. He and my own teacher seemed more fascinated than saddened about what had happened in Dallas, and we kids were just happy to suddenly be sent home early. Outside, yellow maple leaves covered the sidewalks, the fall air was tinged with a slight chill and, as it was a Friday, with the smell of burning papers from our school's incinerator.
Today, of course, is the 50th anniversary of the assassination and this month has been all about JFK, especially on television, where Kennedy appears to have been rehabilitated as, once more, the man who was on the verge of changing the world. As was the thinking in the years immediately following his death, TV's anti-revisionists say Kennedy was a president who was going to end hunger in America, eradicate racial discrimination and, of course, get us out of Vietnam. Assessments would change over time – there was that period when it was popular to think of Kennedy as an accidental president, some wealthy playboy who had bought the Oval Office. But now the pendulum has respectfully swung back so that he has once more become the pensive dreamer in photographs whose subtle backlighting suggests a halo.
I'm not the first to say this, but before the assassination I had always thought Rob and Laura Petrie of The Dick Van Dyke Show were supposed to be suburban doppelgangers of Jack and Jackie Kennedy. Like the Petries of New Rochelle, the Kennedys of Pennsylvania Avenue were unbelievably attractive – and funny, when they wanted to be.
But even 10-year-olds like myself couldn't escape the feeling that the president wasn't trying hard enough. Every week it seemed a civil rights worker was killed in the South. And, decades before we began to take the homeless for granted, there was a sense that America, led by our president, should be able to banish poverty, like polio. Why did some of the black kids I played with have to live in garage lofts? Why, that previous spring, had several children burned to death in the abandoned duck coops their families called home?
Every now and then I'll pull out a saved November 23rd edition of the New York Daily News, the paper our family read, to go back in time and see if there's anything new to be learned from the past, something I overlooked the dozens of other times I've turned the paper's brittle pages.
"Our President, Her Love," says the headline beneath the full-page photo of Jackie forlornly walking with her husband's brother, Bobby, at Andrews Air Force Base. In front of them men huddle around the president's bronze casket as it is loaded into a Navy ambulance. This was on the back page, where normally there'd be several sports photos.
The Daily News ventured no guesses as to what JFK would have done had he lived. Perhaps he really would have changed America. But it would be left to his successor, Lyndon Johnson, to make real progress for racial justice and against poverty. Even more so than Johnson, it would remain for the great movement of people who had been fighting for equality since Rosa Parks' arrest to make history.
There is a sentence in David Halberstam's The Best and the Brightest that is so heartbreaking in its understatement and portentousness that it has become, for me, the most incisive summary of Camelot: "A cold day in December." This opening line of the book is an evocation of both a traditional season of hope and the wintery reality that would ultimately leave the promise of Kennedy's administration a stillborn dream. Today the only thing we can say with certainty is the most obvious – if Kennedy were alive now he'd be 96 years old.

'Skeleton Crew' Is a Play With a Moral Spine
Set in a Detroit automobile outfitting plant, Dominique Morisseau's drama grabs you from the start with its focus on blue-collar men and women, and their struggle for dignity and self-respect.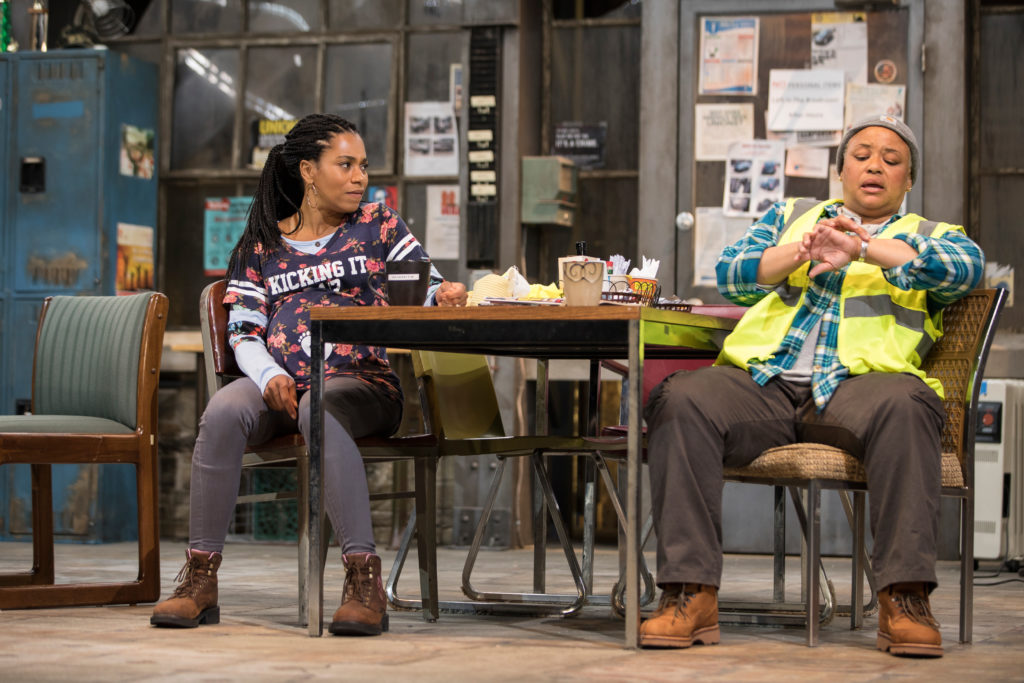 Working-class men and women of color are rarely front and center in today's media and, likewise, are presented all too occasionally on the American stage. So it's buoying to see that trend bucked in playwright Dominique Morisseau's percipient and well-crafted drama, Skeleton Crew. The play is the final installment in her Detroit  Project Trilogy; the first, Paradise Blue, is set in the 1940s amidst displacement caused by urban renewal and gentrification, while the second, Detroit '67, transpires on the eve of the 1967 Detroit riots sparked by a police action.
Directed by Patricia McGregor at Los Angeles' Geffen Playhouse, Skeleton Crew is a play with a moral spine. It takes place in 2008, when the shrinking U.S. auto industry is being further downsized. Morisseau's engaging quartet of characters — Faye (Caroline Stefanie Clay), Dez (Armari Cheatom), Shanita (Kelly McCreary) and Reggie (DB Woodside) – are employed at an automobile outfitting plant. Faye, Dez and Shanita are workers on the line while Reggie (who has a wife and kids, and has pulled himself together after a troubled youth) is their supervisor.
The first three customarily mingle in their break room (designer Rachel Myers' impressively cluttered, dingy and detailed set), trading the sort of familiar barbs and genuine concern for each other common among longtime co-workers. They also face off on philosophy: Upper-middle-aged Faye and the younger, pregnant Shanita take pride in their labor, while Dez, though a good worker, is a malcontent scornful of management and firm in the belief that everyone needs to watch out for himself. He's a thorn in Reggie's side, for while Reggie wants to be supportive of his workers, he must act at the behest of higher management. For his part, Dez resents Reggie's authority, and a palpable unease exists between them.
Besides this male matchup, we're made privy to Dez's attraction to Shanita, who mostly turns away his advances, but every now and then displays a hint of interest. Most poignant is Reggie's regard and affection for the lesbian Faye, which has roots in his boyhood when she loved, and lived, with his now-deceased mom.
These people's various predicaments intensify when rumors spread of the plant's shutdown — a disaster for all, but a particular calamity for the already near-broke Faye who, one year short of retirement, would lose her pension. The crisis forces each of these people to make a choice.
A sound piece of social realism, Skeleton Crew grabs you from the start in its focus on blue-collar men and women, and their struggle against odds for dignity and self-respect. Morisseau not only furnishes these characters a platform for their travails, she endows them with strong values, big hearts and the opportunity to choose between right and wrong.
Unfortunately, the performance I attended did not soar. Many exchanges lacked a fresh edge. The actors certainly had their characters down, but too often they appeared to be coasting on technique. (This seemed particularly true of Clay, who performed the role to great accolades in Washington, DC in 2017, also under McGregor's direction). Additionally, some of the stage movement was not entirely fluid; in confrontations, actors sometimes would just stand and face each other in an artificial way. And Cheatom's interpretation of Dez struck me as a bit overly churlish and depressive: I needed more glimpses of the intelligence and edge that would secretly attract the strong, self-directed Shanita.
The most compelling moments belong to Woodside, well-cast as a man trying his best in difficult circumstances to do the right thing.
---
Gil Cates Theater at the Geffen Playhouse, 10886 Le Conte Ave., Westwood Village; Tues.-Fri., 8 p.m.; Sat., 3 & 8 p.m. Sun., 2 & 7 p.m.; through July 8. (310) 208-5454 or www.geffenplayhouse.org