ICE Detention Facility Locks Out Clergy and Lawyers
After holding a short prayer service under the watchful eyes of San Bernardino sheriff's deputies, a group of activists was told to get off the Adelanto Detention Facility's property.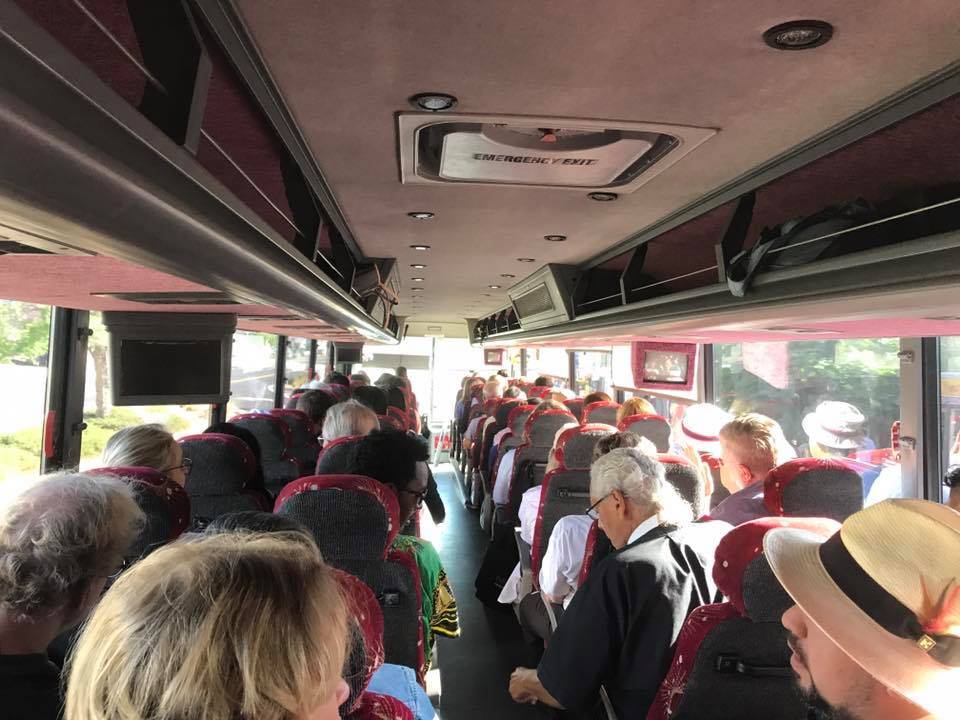 Immigrant rights activists en route to Adelanto. (Photo by Jaime Edwards-Acton)
---
Copyright Capital & Main
Last Tuesday, June 20, which the United Nations observes as World Refugee Day, a charter bus full of clergy, religious activists and lawyers was barred from visiting inmates at the Adelanto Detention Facility, located in the high desert 85 miles northeast of Los Angeles. The intention had been to speak to asylum seekers, green card holders held for minor legal infractions and undocumented immigrants scooped up in recent Immigration and Customs Enforcement (ICE) raids. The nonprofit group CIVIC, which coordinates volunteer visits to 43 of the 211 federal detention centers across the nation, unsuccessfully negotiated for over an hour with prison authorities and ICE for us to get in.
After holding a short prayer service under the watchful eyes of San Bernardino sheriff's deputies, the group was told to leave the detention center's property. As the entire facility was on a lockout status, detainee family members and lawyers were also forced to leave the building and not allowed to meet with those inside, another punishment for the incarcerated. This was only the latest in a series of controversial actions taken by the GEO Group, the nation's largest privately-run prison corporation that runs the facility.
Community Initiatives for Visiting Immigrants in Confinement (CIVIC), is supporting the Dignity Not Detention Act, authored by state Senator Ricardo Lara (D-Bell Gardens). Also known as SB 29, this groundbreaking legislation in California will –
Stop local government from being complicit in the creation and renewal of certain contracts with for-profit immigration detention facilities.
Make the currently unenforceable national immigration detention standards the law in California.
Provide additional protections for detained LGBTQ immigrants.
Allow the state to enforce violations of these protections.
According to Mother Jones magazine, "29 members of Congress sent a letter to ICE and federal inspectors requesting an investigation into health and safety concerns at the facility" in 2015, after several disturbing inmate deaths. Last year there was one complaint filed for sexual abuse, violence, substandard medical care or other personal violations for every 56 residents housed at Adelanto, according to CIVIC co-founder Christina Fialho. Three deaths have occurred at Adelanto alone since March. While the Obama administration's Department of Homeland Security last year announced plans to phase out use of private companies to run federal prisons, citing the "inferiority of the private prison model," according to Mother Jones, under President Trump a $110 million deal was signed with GEO Group in April for a new facility.
While parked across the street from the detention center in 110-degree heat, the activists began calling their political representatives to protest the lockout and the apparent retaliation against visiting family members of those being detained. Despite being funded by public tax monies, the privately run lockup is not subject to regulations that oversee publicly run facilities, making public access arbitrary and accountability difficult. However, Congressman Adam Schiff (D-Burbank) and other legislators agreed to investigate the refusal of entry as well as conditions for eight Central American asylum seekers currently on a hunger strike over alleged substandard conditions and violent treatment inside the facility.
After a small group from the bus gathered at the doors of the anonymous-looking facility for final prayers of hope and resolve to return and bear witness to conditions at the center, the activists returned to Los Angeles.
Up to 2,000 women and men can be housed in Adelanto for indefinite terms, with bail set at between $5,000 and $20,000 — an impossible amount for most being held. According to Fialho, 85 percent of those held at the facility must represent themselves in Immigration Court for pleas for asylum and residency, as they are not provided legal representation. Nationwide, an estimated 42,000 men, women and children are now housed in similar immigration detention centers.
As Fialho explained to the gathered volunteers, "Making it visible is key to making it end." Last week's pilgrimage participants are now working to spread the word about Adelanto – and the efforts of GEO Group to keep Americans from learning the truth about conditions inside.