Hunger Is No Game in This Theater Experiment
Structured as a radio play, Pang! is made up of three stories of struggle and survival distilled from real-life accounts of impoverished families, including one from Los Angeles.

Pictured above: Natalie Camunas, Donna Simone Johnson and Christopher Rivas. (Photo: Will O'Loughlen)
It's a Monday evening in a University of California, Los Angeles lecture room, and multidisciplinary artist Dan Froot has brought together an ensemble of actors and musician/composer Robert Een to preview his upcoming show Pang! — which will be staged in Los Angeles for two performances this weekend.
Structured as a radio play, Pang! is made up of three narratives distilled from the oral histories of three impoverished families — one in Cedar Rapids, Iowa, another here in L.A., and a third in Miami, Florida. These are stories of struggle and survival. The first is about a Burundian immigrant who bicycled to safety as he fled a genocidal militia that wiped out his entire family. The second — a very Los Angeles story — is of an African-American family who lose their home to a con artist. And the third, relayed from the point of view of a 7-year-old boy, reflects the challenges of growing up in a violence-ridden community where the lives of all citizens, regardless of age or lifestyle, are always in peril.
This isn't the first time Froot has applied his many talents to creating art involving poverty and hunger. A dancer, actor, writer, choreographer and puppeteer, he spearheaded two earlier projects, Who's Hungry – West Hollywood (2008) and Who's Hungry – Santa Monica (2012). These were short puppet plays drawn from the oral histories of people engaged in an ongoing struggle to procure sufficient food for themselves and their families. Pang! was also begun with the idea of spotlighting food insecurity, but it soon became obvious to Froot and his team that there were other wrenching dilemmas — having to do with immigration, lack of housing and the proliferation of guns — that poor folks wrestled with on an ongoing basis, and which they wanted to frame in their work.
Donna Simone Johnson (Photo: Will O'Loughlen)
That evening at UCLA, the versatile cast — Natalie Camunas, Donna Simone Johnson and Christopher Rivas — perform behind music stands, where, accompanied by Een and augmented by a plethora of sound effects, they deliver an excerpt from each of the stories. Afterward Froot, currently an adjunct professor at the university's Department of World Arts and Cultures/Dance, explained to the attendees his aims and methods, and his mixing of art with his passion for economic justice. He later spoke to Capital & Main.
---
Capital & Main: What is Pang! 's origin?
I have always felt a strong link between food and theater. My first performance works in New York City in the early '80s were "performance meals," in which the preparation and service to the audience of a full meal was part and parcel of the theatrical actions. Theater and cooking both take disparate ingredients and I put them together alchemically, so that they become something else, which is then consumed by people, which hopefully nourishes them.
What is the main purpose of the project?
Froot: The work aims to decrease the stigma associated with hunger and poverty, and to foster cross-class dialogue on income disparity in America. [Also,] by connecting at the personal level and building relationships with community members, I hope to make Pang! more relevant for people who might not normally attend the theater, because they may now feel a personal connection.
What do you mean by "cross-class dialogue"? How is that done, specifically?
Froot: It's really done in the weeks, months and years leading up to the performances. In all cities where we are performing, we lower barriers to low-income residents by providing cheap or free tickets, childcare and transportation where possible. We provide free food at intermission. We reach out to our social service partners to let them know about the production. In many cases I know their clientele personally.
What agencies have you been involved with here in Los Angeles?
Froot: I volunteered for about a year with Community Services Unlimited, working with teens on their urban mini-farm, and selling locally grown fruits and vegetables at their pop-up markets. I also volunteered with Hunger Action Los Angeles, handing out Market Match vouchers at the St. Agnes Church farmers' market in South Central. I taught performance workshops with the staff and clientele of LIFT Communities Los Angeles, and participated in their annual simulation of the social services system for municipal leaders.
But you also foster this dialogue onsite following the performance, when audience members are invited to the stage, to sit at a table and engage in a dialogue with the performers and families.
Froot: [Yes.] The kitchen table dialogue at its best is simply an exchange of unlike perspectives. Here is a quote from the Cedar Rapids kitchen table:
"I just think when people hear stories like this, for me it's just having that part where you can relate to and have that humility so that if you ever see somebody at Walmart, or if you ever see somebody at a store or on the street who's an immigrant, you don't just have an assumption that this person is having a good life, and they should be thankful and grateful — I think you're going to have a little empathy and a little bit of humanity. "
How were the families chosen?
Froot: I developed partnerships with social service organizations in each city where we are working. [They] pre-screened their clients' families, provided liaison services between me and the families, and also have provided safe, quiet, neutral spaces in which to conduct the oral history interviews.
Tell me something about the writing process
Froot: I generally start with the verbatim oral history text and try to draw out the rhythms and melodies and thematic issues. I call it a violent process, because you are drawing a single thread out of the fabric of a family's lives. The entire adaptation process is a back and forth with the families. I bring in a draft of a scene or two, we read it down and talk about it. Suggestions are made, and I come up with a new draft for the next rehearsal. This is a slow, painstaking method, but we are very happy with the results.
Did the stories evolve in the process?
Froot: Yes! Very much. For the Cedar Rapids episode, we were initially going to tell the story of the family's escape from Burundi into Tanzania, but over the course of the process, we developed a meta-narrative about the way that stories like that get co-opted by well-meaning people.
Why the radio play format?
Froot: We want our audiences to feel that they are "between the ears" of the families whose stories we are telling. We want them to do the work of imagining the scene, so we give them the sonic dimension. That is an active, empathic position for the audience, and that's exactly where we want them to be.
How did you come to work with Robert Een?
Froot: I've known Bob since 1980 in New York City, when he was in Meredith Monk's ensemble and I was her intern. Bob and I were both part of the dance/performance art scene in downtown [there] throughout the '80s and '90s, sometimes getting to play music together. We have co-taught classes at UCLA. This is the first time we have collaborated.
What is the process for integrating the sound with the text?
Froot: We experiment a lot in rehearsal with different sound effects objects, until we find the right one. I have consulted with several sound effects or Foley artists in L.A. for this project, have read a lot of books on the subject, and watched a lot of instructional YouTube videos. Generally, we got the text to a pretty complete draft before integrating sound effects and music.
---
Pang! at the 24th Street Theater, 1117 W.  24th St. (at Hoover), Los Angeles; Sat., 8 p.m.; Sun., 3 p.m.; (213) 745-6516.

Two Cousins and a Magical Ice Cream Truck Figure in Leon Martell's New Play
Although not all of ICE's comedy clicks, Martell's story has both weight and charm. The production's overriding plus is its successful rendering, fashioned with humor and craft, of the difficulties immigrants face.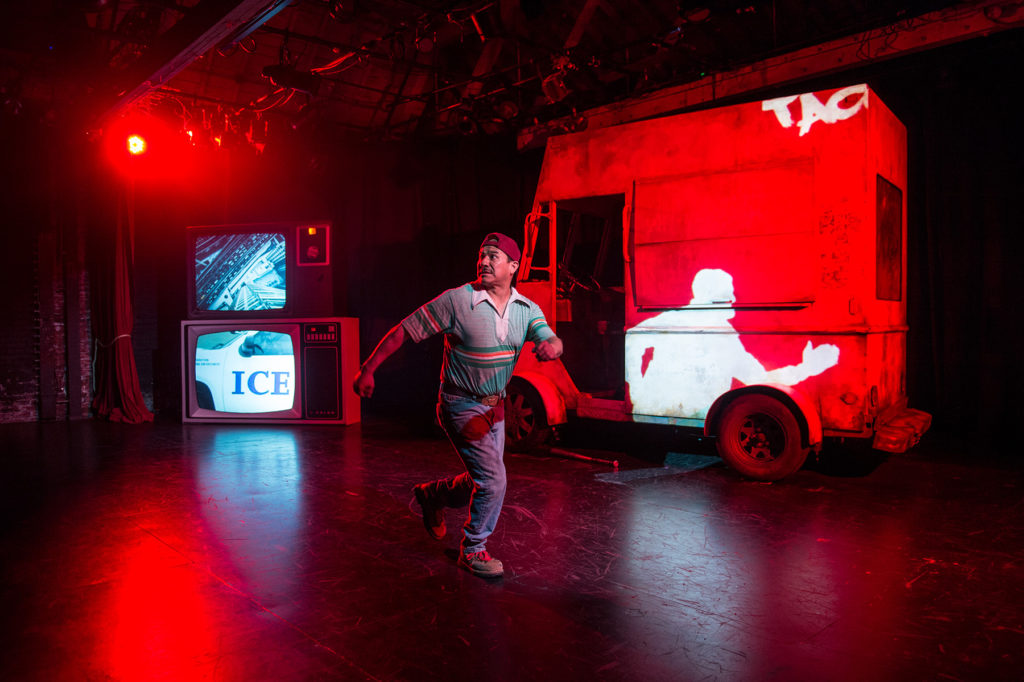 ICE, Leon Martell's family friendly play, takes place in 1988 and follows the misadventures of two undocumented immigrants: Chepe (Jesús Castaños-Chima), an avid baseball fan who dreams of making a fortune selling gourmet tacos; and his cousin Nacho (Tony Dúran), whom the beleaguered Chepe summons from Mexico to assist him in setting up his business. Directed by Debbie Devine at 24th Street Theatre, the show displays plenty of heart, not all of it realized in this premiere production. Despite this, there's enough political relevancy, moral truth and human comedy packed into the show's 65-minute time frame to overlook its shortcomings.
The core of the humor is the difference in personality between the two cousins. The ambitious Chepe is bitter and frustrated about his experience in America, where he's been cheated and lied to by bosses who exploit his labor and pay him next to nothing. Yet he's bought into the American Dream of money and fame, and to achieve that he's purchased a dilapidated old ice cream van to convert into a taco truck. It doesn't run, though, and the secret family salsa recipe is with his kin in Mexico. So, he phones home and implores his mechanic cousin to head north, bringing the salsa recipe as well as his skills.
Cousin Nacho, by contrast, is a sweet old-fashioned guy. He wants success too, but making money isn't the only thing he thinks about. He juggles tomatoes to make kids laugh and indignantly admonishes Chepe for his desperate inclination to do what it takes (steal tomatoes, for example) to score success.
Into the mix Martell tosses a blind, disgruntled priest (Davitt Felder), who plays guitar and wants to launch English classes for children in his parish (the archdiocese turns him down). Then there's Chepe's truck, which has opinions of its own. It breaks out in jingles at random intervals; later, it communicates with Nacho via blinking red letters that eerily appear on the side of the vehicle, furnishing the two men with simple directives and essential advice. When ICE (Immigration and Customs Enforcement) shows up, it alerts them to run.
Although not all of the comedy clicks, Martell's story has both weight and charm. The production's overriding plus is its successful rendering, fashioned with humor and craft, of the difficulties immigrants face. Its main weakness is Castaños-Chima's technically skilled but somewhat chilly depiction of his character, which leaves us wishing for more warmth and complexity. Felder appears awkward in his role of the blind priest, but proves versatile on video as Chepe's various nemeses. Dúran's naïve Nacho is a lovable presence from first to last.
Displayed on a monitor, Matthew G. Hill's video slides add historical and social perspective, and his backwall projections, in tandem with Dan Weingarten's lighting and Chris Moscatiello's sound, help conjure a magical aura to this parabolic piece.
24th Street Theatre, 1117 West 24th St., Los Angeles; Sat., 3 & 7:30 p.m.; Sun., 3 p.m.; through June 10, (213) 745-6516 or 24thstreet.org.
---
Copyright Capital & Main