Hunger Is No Game in This Theater Experiment
Structured as a radio play, Pang! is made up of three stories of struggle and survival distilled from real-life accounts of impoverished families, including one from Los Angeles.
Pictured above: Natalie Camunas, Donna Simone Johnson and Christopher Rivas. (Photo: Will O'Loughlen)
It's a Monday evening in a University of California, Los Angeles lecture room, and multidisciplinary artist Dan Froot has brought together an ensemble of actors and musician/composer Robert Een to preview his upcoming show Pang! — which will be staged in Los Angeles for two performances this weekend.
Structured as a radio play, Pang! is made up of three narratives distilled from the oral histories of three impoverished families — one in Cedar Rapids, Iowa, another here in L.A., and a third in Miami, Florida. These are stories of struggle and survival. The first is about a Burundian immigrant who bicycled to safety as he fled a genocidal militia that wiped out his entire family. The second — a very Los Angeles story — is of an African-American family who lose their home to a con artist. And the third, relayed from the point of view of a 7-year-old boy, reflects the challenges of growing up in a violence-ridden community where the lives of all citizens, regardless of age or lifestyle, are always in peril.
This isn't the first time Froot has applied his many talents to creating art involving poverty and hunger. A dancer, actor, writer, choreographer and puppeteer, he spearheaded two earlier projects, Who's Hungry – West Hollywood (2008) and Who's Hungry – Santa Monica (2012). These were short puppet plays drawn from the oral histories of people engaged in an ongoing struggle to procure sufficient food for themselves and their families. Pang! was also begun with the idea of spotlighting food insecurity, but it soon became obvious to Froot and his team that there were other wrenching dilemmas — having to do with immigration, lack of housing and the proliferation of guns — that poor folks wrestled with on an ongoing basis, and which they wanted to frame in their work.
Donna Simone Johnson (Photo: Will O'Loughlen)
That evening at UCLA, the versatile cast — Natalie Camunas, Donna Simone Johnson and Christopher Rivas — perform behind music stands, where, accompanied by Een and augmented by a plethora of sound effects, they deliver an excerpt from each of the stories. Afterward Froot, currently an adjunct professor at the university's Department of World Arts and Cultures/Dance, explained to the attendees his aims and methods, and his mixing of art with his passion for economic justice. He later spoke to Capital & Main.
---
Capital & Main: What is Pang! 's origin?
I have always felt a strong link between food and theater. My first performance works in New York City in the early '80s were "performance meals," in which the preparation and service to the audience of a full meal was part and parcel of the theatrical actions. Theater and cooking both take disparate ingredients and I put them together alchemically, so that they become something else, which is then consumed by people, which hopefully nourishes them.
What is the main purpose of the project?
Froot: The work aims to decrease the stigma associated with hunger and poverty, and to foster cross-class dialogue on income disparity in America. [Also,] by connecting at the personal level and building relationships with community members, I hope to make Pang! more relevant for people who might not normally attend the theater, because they may now feel a personal connection.
What do you mean by "cross-class dialogue"? How is that done, specifically?
Froot: It's really done in the weeks, months and years leading up to the performances. In all cities where we are performing, we lower barriers to low-income residents by providing cheap or free tickets, childcare and transportation where possible. We provide free food at intermission. We reach out to our social service partners to let them know about the production. In many cases I know their clientele personally.
What agencies have you been involved with here in Los Angeles?
Froot: I volunteered for about a year with Community Services Unlimited, working with teens on their urban mini-farm, and selling locally grown fruits and vegetables at their pop-up markets. I also volunteered with Hunger Action Los Angeles, handing out Market Match vouchers at the St. Agnes Church farmers' market in South Central. I taught performance workshops with the staff and clientele of LIFT Communities Los Angeles, and participated in their annual simulation of the social services system for municipal leaders.
But you also foster this dialogue onsite following the performance, when audience members are invited to the stage, to sit at a table and engage in a dialogue with the performers and families.
Froot: [Yes.] The kitchen table dialogue at its best is simply an exchange of unlike perspectives. Here is a quote from the Cedar Rapids kitchen table:
"I just think when people hear stories like this, for me it's just having that part where you can relate to and have that humility so that if you ever see somebody at Walmart, or if you ever see somebody at a store or on the street who's an immigrant, you don't just have an assumption that this person is having a good life, and they should be thankful and grateful — I think you're going to have a little empathy and a little bit of humanity. "
How were the families chosen?
Froot: I developed partnerships with social service organizations in each city where we are working. [They] pre-screened their clients' families, provided liaison services between me and the families, and also have provided safe, quiet, neutral spaces in which to conduct the oral history interviews.
Tell me something about the writing process
Froot: I generally start with the verbatim oral history text and try to draw out the rhythms and melodies and thematic issues. I call it a violent process, because you are drawing a single thread out of the fabric of a family's lives. The entire adaptation process is a back and forth with the families. I bring in a draft of a scene or two, we read it down and talk about it. Suggestions are made, and I come up with a new draft for the next rehearsal. This is a slow, painstaking method, but we are very happy with the results.
Did the stories evolve in the process?
Froot: Yes! Very much. For the Cedar Rapids episode, we were initially going to tell the story of the family's escape from Burundi into Tanzania, but over the course of the process, we developed a meta-narrative about the way that stories like that get co-opted by well-meaning people.
Why the radio play format?
Froot: We want our audiences to feel that they are "between the ears" of the families whose stories we are telling. We want them to do the work of imagining the scene, so we give them the sonic dimension. That is an active, empathic position for the audience, and that's exactly where we want them to be.
How did you come to work with Robert Een?
Froot: I've known Bob since 1980 in New York City, when he was in Meredith Monk's ensemble and I was her intern. Bob and I were both part of the dance/performance art scene in downtown [there] throughout the '80s and '90s, sometimes getting to play music together. We have co-taught classes at UCLA. This is the first time we have collaborated.
What is the process for integrating the sound with the text?
Froot: We experiment a lot in rehearsal with different sound effects objects, until we find the right one. I have consulted with several sound effects or Foley artists in L.A. for this project, have read a lot of books on the subject, and watched a lot of instructional YouTube videos. Generally, we got the text to a pretty complete draft before integrating sound effects and music.
---
Pang! at the 24th Street Theater, 1117 W.  24th St. (at Hoover), Los Angeles; Sat., 8 p.m.; Sun., 3 p.m.; (213) 745-6516.
The Power of the Poster
Carol Wells, the founder of the Center for the Study of Political Graphics in Los Angeles, talks to Capital & Main about the enduring power of political art.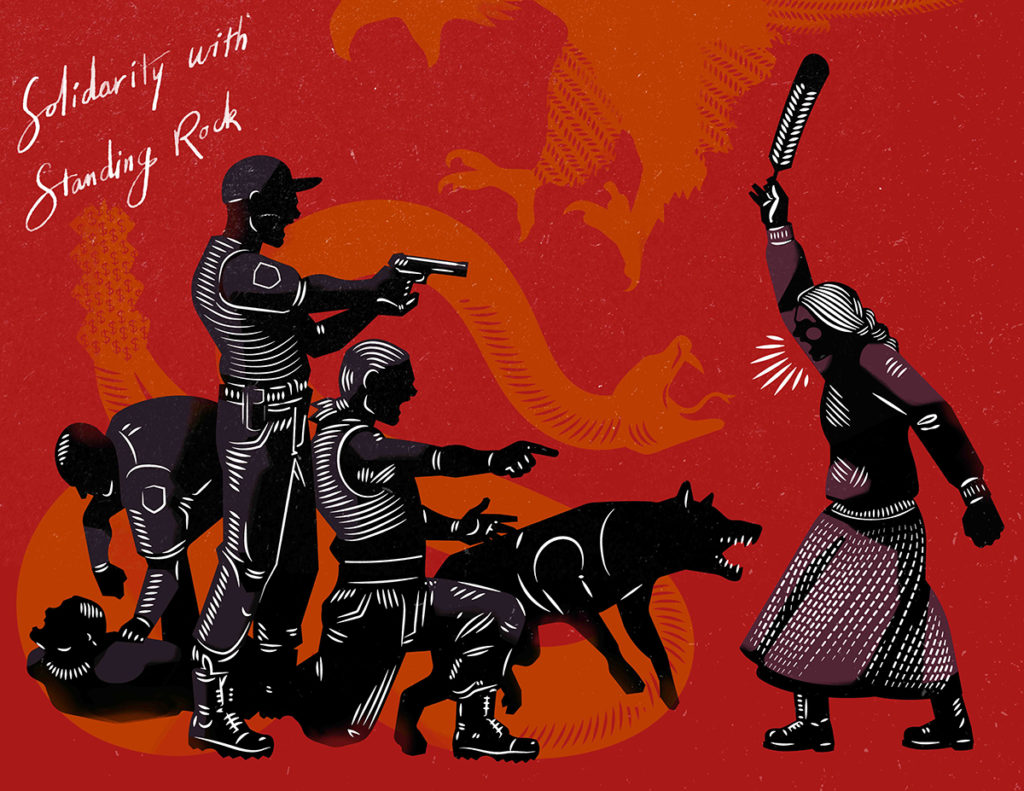 Carol Wells remembers the exact moment she discovered her calling. An art historian at the time, she was on a trip to Nicaragua with her friend David Kunzle, a UCLA art history professor, who was collecting political posters to add to his burgeoning collection. While staying with friends, Wells watched a neighbor's 8-year-old son approach a poster on the wall, stare at it intently, and then start to silently mouth the words. Wells was struck by how engaged the boy was. "In that moment I became obsessed with collecting posters."
Now over 40 years later, Wells is the founder and executive director of the Center for the Study of Political Graphics in Los Angeles. Wells has amassed approximately 90,000 posters, building one of the largest collections of its kind in the world. The Center shares its collection with the public in part through curated exhibits. This year the CSPG has produced Feminae: Typographic Voices of Women by Women and its latest is To Protect & Serve? Five Decades of Posters Protesting Police Violence, running through July 15 at the Mercado La Paloma in downtown Los Angeles.
Since that encounter in Nicaragua in 1981, Wells' obsession with collecting posters hasn't waned. In CSPG's nondescript West L.A. office space, Wells pulls out poster after poster, lecturing passionately on the backstory and cultural impact of each, including one that superimposes text from a New York Times interview with a shocking image of the My Lai massacre ("Q: And babies? A: And babies."). Recently, she managed to sit down with C&M to discuss her passion.
---
Capital & Main: So, you were an art history professor, you happen to see a kid on a trip, and suddenly your life was changed forever?
Carol Wells: Yeah, I'm in Nicaragua alone in the living room with this kid. He's looking around, and all of a sudden, he sees the poster. It was pretty big, bright green, a thick outlines of a woman holding a big basket of coffee beans. And the text in Spanish said, "In constructing the new country, we are becoming the new woman." I see him walk over to the poster and I'm watching him mouth the words. It was a pretty sophisticated concept, so I doubt he figured it out. But I literally had this epiphany: "Oh my God. That's how posters work." You're going about your daily life, and all of a sudden something breaks through the bubble, and it grabs your attention. It's the graphic, it's the color, it's the combination, and it pulls you out of your head and into that poster and it makes you ask a question. "Why is this here? What is this about? What does this mean?" And every time you ask a question, you're a different person than you were before you asked the question.
How many posters do you get a year?
We get between two to five thousand a year donated from all over the world. The bulk of our collection is [from] 1945 and later.
I assume technology has probably hurt the art form, but has it helped get the messages out?
Most people think that, and it's actually not true. Since the internet age started, there's actually a poster renaissance of works on paper. Because you can't walk with your computer monitor in a demonstration. You can't plant your monitor on your lawn.
And you can't put a laptop on the wall…
Exactly. You want to hear a really great story? Truthdig.org published a cartoon [made by] a political cartoonist named Mr. Fish. It was during the Arab spring, and he had superimposed Che Guevara with the stylized beard and King Tut's face, but it had Che's beret. And it [was titled], "Walk like an Egyptian." So, it was a reference to the music, but [it was also] a reference to what was going on the streets of Cairo. I sent it out as our poster of the week to 9,000 people. The very next day, somebody took a photograph on the street of Cairo, with somebody holding a piece of paper with that image on it. A poster can literally go around the world and people will print it out.
What struck me in viewing your exhibits is how many of these posters could still be used today, not only artistically but also, sadly, in the timeliness of their messages.
We had this fabulous poster by Yolanda Lopez, a Bay Area artist, which she first did in 1978. It depicts a young man in Aztec garb pointing a finger like Uncle Sam saying, "Who's the illegal alien, PILGRIM?" And it's a great poster, it's simple, not too many words, funny, provocative. So, we had an exhibit at UCLA in the mid '90s and there were 4 or 5 high school students standing around this poster saying, "Wow, you've got posters up to the minute." And I went over to them and I said, "Look at the date. This is before you were born."
Is that one of your goals with the exhibitions? To show the evergreen nature of this work?
Absolutely. I mean that's why we did the police abuse exhibition now. It basically goes back five decades. It's 50 years of posters protesting police abuse. Mainly in the United States, but also internationally.
What's the goal for CSPG?
Well the aim right now is really to digitize the collection and get it online. We have 10% of the collection digitized. But the mission is to collect and to document, because stories get lost. All the exhibitions, they're showing massacres, they're showing genocide, they're showing police abuse, they're showing all of these horrible things. And people often ask me, "How can you look at this stuff all day long?" I said, "Because the poster artists are optimists. They believe people can change if they have the information."
Yes, that's the reason why they're doing it, right?
That's why they're doing it, and that's why I'm doing this, because I believe that people can change if they knew the truth.
And what happens 20, 50 years from now?
Well, my goal is to stay independent, because the other option is to become part of the university. Universities, for all the fabulous things that they do, they also censor. We did an exhibition at USC in 1992 on the 500 years since Columbus, and how the legacy of racism and exploitation and genocide continues. And one of the board of trustees was Italian and took [the exhibit] as an affront to Columbus. It really wasn't about Columbus, it was about colonialism. And he ordered it down.
Do you have a favorite poster?
I'm always amazed at the creativity and vision of artists. Every week I'll say, "Oh my God, how do they think of that?" But it's always still going to be the poster I saw that kid trying to figure out. It has to be my favorite one because that one changed my life.
What makes a perfect poster?
The right balance between aesthetics and message. If you only rely on the corporate press, the New York Times and L.A. Times, for your information, you're not going to get the side from the street, from the movement, from the activists. The posters are primary historical documents that are recording the issues that were at the time, and the passions that were at the time, and the divisions that were at the time. You're not going to get it anyplace else.
---
Copyright Capital & Main