Hunger Is No Game in This Theater Experiment
Structured as a radio play, Pang! is made up of three stories of struggle and survival distilled from real-life accounts of impoverished families, including one from Los Angeles.

Pictured above: Natalie Camunas, Donna Simone Johnson and Christopher Rivas. (Photo: Will O'Loughlen)
It's a Monday evening in a University of California, Los Angeles lecture room, and multidisciplinary artist Dan Froot has brought together an ensemble of actors and musician/composer Robert Een to preview his upcoming show Pang! — which will be staged in Los Angeles for two performances this weekend.
Structured as a radio play, Pang! is made up of three narratives distilled from the oral histories of three impoverished families — one in Cedar Rapids, Iowa, another here in L.A., and a third in Miami, Florida. These are stories of struggle and survival. The first is about a Burundian immigrant who bicycled to safety as he fled a genocidal militia that wiped out his entire family. The second — a very Los Angeles story — is of an African-American family who lose their home to a con artist. And the third, relayed from the point of view of a 7-year-old boy, reflects the challenges of growing up in a violence-ridden community where the lives of all citizens, regardless of age or lifestyle, are always in peril.
This isn't the first time Froot has applied his many talents to creating art involving poverty and hunger. A dancer, actor, writer, choreographer and puppeteer, he spearheaded two earlier projects, Who's Hungry – West Hollywood (2008) and Who's Hungry – Santa Monica (2012). These were short puppet plays drawn from the oral histories of people engaged in an ongoing struggle to procure sufficient food for themselves and their families. Pang! was also begun with the idea of spotlighting food insecurity, but it soon became obvious to Froot and his team that there were other wrenching dilemmas — having to do with immigration, lack of housing and the proliferation of guns — that poor folks wrestled with on an ongoing basis, and which they wanted to frame in their work.
Donna Simone Johnson (Photo: Will O'Loughlen)
That evening at UCLA, the versatile cast — Natalie Camunas, Donna Simone Johnson and Christopher Rivas — perform behind music stands, where, accompanied by Een and augmented by a plethora of sound effects, they deliver an excerpt from each of the stories. Afterward Froot, currently an adjunct professor at the university's Department of World Arts and Cultures/Dance, explained to the attendees his aims and methods, and his mixing of art with his passion for economic justice. He later spoke to Capital & Main.
---
Capital & Main: What is Pang! 's origin?
I have always felt a strong link between food and theater. My first performance works in New York City in the early '80s were "performance meals," in which the preparation and service to the audience of a full meal was part and parcel of the theatrical actions. Theater and cooking both take disparate ingredients and I put them together alchemically, so that they become something else, which is then consumed by people, which hopefully nourishes them.
What is the main purpose of the project?
Froot: The work aims to decrease the stigma associated with hunger and poverty, and to foster cross-class dialogue on income disparity in America. [Also,] by connecting at the personal level and building relationships with community members, I hope to make Pang! more relevant for people who might not normally attend the theater, because they may now feel a personal connection.
What do you mean by "cross-class dialogue"? How is that done, specifically?
Froot: It's really done in the weeks, months and years leading up to the performances. In all cities where we are performing, we lower barriers to low-income residents by providing cheap or free tickets, childcare and transportation where possible. We provide free food at intermission. We reach out to our social service partners to let them know about the production. In many cases I know their clientele personally.
What agencies have you been involved with here in Los Angeles?
Froot: I volunteered for about a year with Community Services Unlimited, working with teens on their urban mini-farm, and selling locally grown fruits and vegetables at their pop-up markets. I also volunteered with Hunger Action Los Angeles, handing out Market Match vouchers at the St. Agnes Church farmers' market in South Central. I taught performance workshops with the staff and clientele of LIFT Communities Los Angeles, and participated in their annual simulation of the social services system for municipal leaders.
But you also foster this dialogue onsite following the performance, when audience members are invited to the stage, to sit at a table and engage in a dialogue with the performers and families.
Froot: [Yes.] The kitchen table dialogue at its best is simply an exchange of unlike perspectives. Here is a quote from the Cedar Rapids kitchen table:
"I just think when people hear stories like this, for me it's just having that part where you can relate to and have that humility so that if you ever see somebody at Walmart, or if you ever see somebody at a store or on the street who's an immigrant, you don't just have an assumption that this person is having a good life, and they should be thankful and grateful — I think you're going to have a little empathy and a little bit of humanity. "
How were the families chosen?
Froot: I developed partnerships with social service organizations in each city where we are working. [They] pre-screened their clients' families, provided liaison services between me and the families, and also have provided safe, quiet, neutral spaces in which to conduct the oral history interviews.
Tell me something about the writing process
Froot: I generally start with the verbatim oral history text and try to draw out the rhythms and melodies and thematic issues. I call it a violent process, because you are drawing a single thread out of the fabric of a family's lives. The entire adaptation process is a back and forth with the families. I bring in a draft of a scene or two, we read it down and talk about it. Suggestions are made, and I come up with a new draft for the next rehearsal. This is a slow, painstaking method, but we are very happy with the results.
Did the stories evolve in the process?
Froot: Yes! Very much. For the Cedar Rapids episode, we were initially going to tell the story of the family's escape from Burundi into Tanzania, but over the course of the process, we developed a meta-narrative about the way that stories like that get co-opted by well-meaning people.
Why the radio play format?
Froot: We want our audiences to feel that they are "between the ears" of the families whose stories we are telling. We want them to do the work of imagining the scene, so we give them the sonic dimension. That is an active, empathic position for the audience, and that's exactly where we want them to be.
How did you come to work with Robert Een?
Froot: I've known Bob since 1980 in New York City, when he was in Meredith Monk's ensemble and I was her intern. Bob and I were both part of the dance/performance art scene in downtown [there] throughout the '80s and '90s, sometimes getting to play music together. We have co-taught classes at UCLA. This is the first time we have collaborated.
What is the process for integrating the sound with the text?
Froot: We experiment a lot in rehearsal with different sound effects objects, until we find the right one. I have consulted with several sound effects or Foley artists in L.A. for this project, have read a lot of books on the subject, and watched a lot of instructional YouTube videos. Generally, we got the text to a pretty complete draft before integrating sound effects and music.
---
Pang! at the 24th Street Theater, 1117 W.  24th St. (at Hoover), Los Angeles; Sat., 8 p.m.; Sun., 3 p.m.; (213) 745-6516.

'Skeleton Crew' Is a Play With a Moral Spine
Set in a Detroit automobile outfitting plant, Dominique Morisseau's drama grabs you from the start with its focus on blue-collar men and women, and their struggle for dignity and self-respect.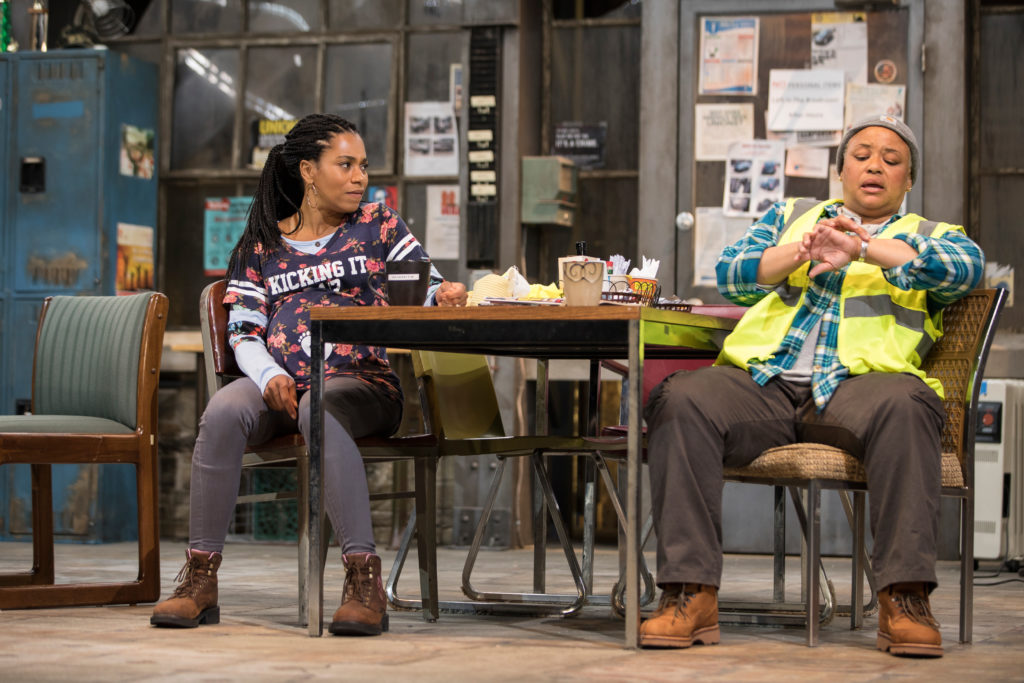 Working-class men and women of color are rarely front and center in today's media and, likewise, are presented all too occasionally on the American stage. So it's buoying to see that trend bucked in playwright Dominique Morisseau's percipient and well-crafted drama, Skeleton Crew. The play is the final installment in her Detroit  Project Trilogy; the first, Paradise Blue, is set in the 1940s amidst displacement caused by urban renewal and gentrification, while the second, Detroit '67, transpires on the eve of the 1967 Detroit riots sparked by a police action.
Directed by Patricia McGregor at Los Angeles' Geffen Playhouse, Skeleton Crew is a play with a moral spine. It takes place in 2008, when the shrinking U.S. auto industry is being further downsized. Morisseau's engaging quartet of characters — Faye (Caroline Stefanie Clay), Dez (Armari Cheatom), Shanita (Kelly McCreary) and Reggie (DB Woodside) – are employed at an automobile outfitting plant. Faye, Dez and Shanita are workers on the line while Reggie (who has a wife and kids, and has pulled himself together after a troubled youth) is their supervisor.
The first three customarily mingle in their break room (designer Rachel Myers' impressively cluttered, dingy and detailed set), trading the sort of familiar barbs and genuine concern for each other common among longtime co-workers. They also face off on philosophy: Upper-middle-aged Faye and the younger, pregnant Shanita take pride in their labor, while Dez, though a good worker, is a malcontent scornful of management and firm in the belief that everyone needs to watch out for himself. He's a thorn in Reggie's side, for while Reggie wants to be supportive of his workers, he must act at the behest of higher management. For his part, Dez resents Reggie's authority, and a palpable unease exists between them.
Besides this male matchup, we're made privy to Dez's attraction to Shanita, who mostly turns away his advances, but every now and then displays a hint of interest. Most poignant is Reggie's regard and affection for the lesbian Faye, which has roots in his boyhood when she loved, and lived, with his now-deceased mom.
These people's various predicaments intensify when rumors spread of the plant's shutdown — a disaster for all, but a particular calamity for the already near-broke Faye who, one year short of retirement, would lose her pension. The crisis forces each of these people to make a choice.
A sound piece of social realism, Skeleton Crew grabs you from the start in its focus on blue-collar men and women, and their struggle against odds for dignity and self-respect. Morisseau not only furnishes these characters a platform for their travails, she endows them with strong values, big hearts and the opportunity to choose between right and wrong.
Unfortunately, the performance I attended did not soar. Many exchanges lacked a fresh edge. The actors certainly had their characters down, but too often they appeared to be coasting on technique. (This seemed particularly true of Clay, who performed the role to great accolades in Washington, DC in 2017, also under McGregor's direction). Additionally, some of the stage movement was not entirely fluid; in confrontations, actors sometimes would just stand and face each other in an artificial way. And Cheatom's interpretation of Dez struck me as a bit overly churlish and depressive: I needed more glimpses of the intelligence and edge that would secretly attract the strong, self-directed Shanita.
The most compelling moments belong to Woodside, well-cast as a man trying his best in difficult circumstances to do the right thing.
---
Gil Cates Theater at the Geffen Playhouse, 10886 Le Conte Ave., Westwood Village; Tues.-Fri., 8 p.m.; Sat., 3 & 8 p.m. Sun., 2 & 7 p.m.; through July 8. (310) 208-5454 or www.geffenplayhouse.org