Sidebar: How Sacramento Fumbled a Lead Cleanup Program
On November 15 Mangan Park residents got more bad news. Homes near the neighborhood's public gun range were discovered to also have been contaminated by lead, almost certainly from the facility. For Jeff Van Slooten, a retired lead expert, the testing came seven months too late.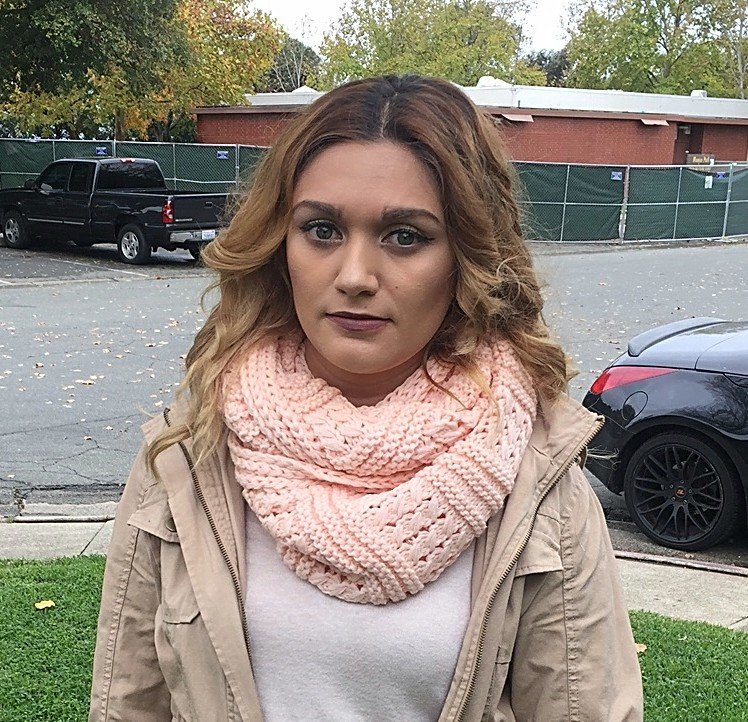 Mayra Arellano with Mangan Park gun range in background. (All photos by Joe Rubin)
On November 15 Mangan Park residents got more bad news. Homes near the neighborhood's public gun range were discovered to also have been contaminated by lead, almost certainly from the facility. For Jeff Van Slooten, a retired official from the Department of Toxic Substances Control (DTSC) and a lead expert, the results came seven months too late.
In April, concerned about what he was learning about lead contamination near the range, Van Slooten independently gathered samples from a few nearby homes, paying for the lab work himself. The tests indicated that the homes were contaminated. But more extensive testing was needed. He sent his results to the DTSC and urged the agency to conduct its own testing. But more than half a year went by before tests were conducted.
"Having worked at the DTSC, I get that government does not operate at the speed of light. But they should have immediately gone out and tested at least the homes across the street."
In the city's recent tests, Mayra Arellano's house was one of the homes with lead levels above what the DTSC considers safe for long-term exposure. Arellano, who is five months pregnant, fought back tears as she described her reaction to the news. "I'm scared and worried about my baby and my little sister — she is only 8." According to the U.S. Centers for Disease Control and Prevention, lead in pregnant women can be passed on to infants and cause problems in brain, kidney and nervous system development.
Jeff Anderson, a Sacramento attorney who specializes in land use and environmental law, said the more than six-month delay in testing homes near the gun range might have had the effect of preventing residents from learning of the health hazard – and thus of their ability to seek legal recourse. That is because California government tort claim laws allow citizens a limited window of six months to file claims seeking damages from city government agencies. The April Sacramento Bee article that broke the lead contamination story, along with a community meeting that followed, arguably started that clock by informing the public of the overall problem, Anderson said.
"If the city is doing anything that hinders the truth coming out in a timely fashion, that really hurts people. This is a serious matter and it can't be just swept under the carpet."
In response to a Capital & Main query about the six-month delay in testing neighborhood homes, city manager spokeswoman Marycon Razo said, "The city could not test the yards until after the county approved the model indicating where the lead dust on the range roof could have been deposited, and then approved the testing work plan."
Eleven of 29 homes near the range were found to be contaminated and will likely need to be scrubbed of lead. But lead experts Peter Green, from the University of California, Davis, and Dr. James Wells, an expert in lead cleanup efforts, blasted the testing protocol and warned that contamination could be worse than is being reported.
The problem, both said, is that the DTSC-approved city lead tests use a process called incremental sampling methodology (ISM). Rather than taking individual samples, the city took 90 samples in front, side and back yards, and blended them together to create three samples from each yard. Put another way, they mixed a whole lot of dirt together – rather than looking at individual samples – and tested the blended dirt. Only if the composited or blended average exceeds 80 parts per million will the homes receive further testing and possible remediation.
Mangan Park's fenced-off archery area.
Wells said that ISM can be helpful in some situations, such as testing large areas under consideration for development, but called the choice in this case "unwise."
"At Exide," said Wells, referring to a large car-battery cleanup site near downtown Los Angeles, where Wells serves as the DTSC-appointed technical advisor for the community, "we are not allowing composite sampling. We are also basing cleanup decisions on the maximum concentrations detected at a residential property and are not even calculating averages."
In an email, Wells described the problem with composite testing. "Let's say I collect samples from four locations, composite the samples, analyze the single composite and the lab reports back a lead concentration of 50 parts per million. I have no idea whether the original samples were 50, 50, 50 & 50 ppm or 1, 1, 1 & 197 ppm."
Wells' point is that the testing methods that the county and DTSC approved could hide potentially dangerous hot spots of lead. "Considering that airborne deposition of metals is known to result in spatial heterogeneity [i.e., to create hot spots in the soil] I would argue that it's important to try to find those hot spots."
Green offered a similar perspective: "It is virtually certain that averaging will hide the worst of the bad news.  Would you want your tap water tested and averaged with other households?"
T
he lead test results provided to Capital & Main by the city of Sacramento showed nine additional homes that had composited lead levels between 50-78 ppm, making it highly likely that the homes had individual hot spots exceeding 80 ppm. Russ Edmondson, a DTSC spokesperson, confirmed to Capital & Main that if a home's blended results do not add up to 80 ppm, it won't be subject to more testing or to cleanup efforts. "We believe," Edmondson said, "that the process used properly applies the ISM methodology. Followup sampling for those properties that exceeded the cleanup goals will be conducted next."
Van Slooten says that the compositing of samples does not make sense. "These are airborne contaminants just like what caused the contamination around the Exide plant," he said. "Why not have the same cleanup standard?"
The cleanup of homes around Exide is much larger. The soil around up to 10,000 homes is slated to be cleansed of lead that exceeds DTSC-approved  levels.
The contamination may have caused levels of the poisonous metal to spike in children. California's Department of Public Health found 3.58 percent of children who live within a mile of the former Exide battery plant had elevated levels of lead in their blood in 2012, compared with 2.41 percent of children who live farther from the plant.
In response to a query, the CDPH said that between 2009-2011, there were seven cases of kids with levels high enough that medical treatment is considered vital in the ZIP code that includes Mangan Park. The rate of lead poisoning cases for the area is eyebrow-raising — two and a half times the average for Sacramento County during that same time period.  Those seven cases represent 11 percent of all cases of lead poisoning in Sacramento County; that is concerning because Mangan Park's ZIP code only has three percent of the county's residents.
Still, lead can come from many sources and the ZIP code covers several miles. It's not known if the Mangan gun range, which for 50 years spewed lead from an unsafe building, impacted children's health, partly because no coordinated public health efforts have been undertaken – despite growing evidence of a problem. A spokeswoman for Sacramento County said that Mangan Park residents who "suspected lead poisoning or [have] concerns about lead should be directed to their health care provider to determine if testing is recommended."
Staring across her front yard to the fenced-off gun range less than 100 feet away, expectant mother Arellano admitted she is frustrated that the county hasn't offered blood tests. "It feels like they just want to cover this up, rather than help people," she said.
Bruce Lanphear is a Vancouver-based MD at Simon Fraser University and an epidemiologist who studies the health impacts of lead. He said that offering residents blood tests is a good idea. But Lanphear cautioned that because the gravest threat, airborne lead, is no longer occurring (because the gun range is no longer operating), current blood tests would be unlikely to offer definitive answers as to how much the public was harmed. "The exposure is in the past and most of the lead is going to be sequestered," he said.
What would be most helpful, said Lanphear, would be for the CDPH to release historical data from the "block census level," which gives a narrower neighborhood picture. Lanphear said that the CDPH released similar historical data about kids who lived around the Exide plant when it was in operation, and he called on the agency to also make available data about young people who lived in the vicinity of the Mangan gun range when it was up and running.
Is Dry Cleaning About to Get Wetter, Safer and Greener?
Professional "wet cleaning," a process developed in Germany in 1991, relies on special computer-controlled machines and detergents to safely clean delicate garments with water. Can California's dry cleaners be persuaded to switch from using toxic chemicals to this most eco-friendly of cleaning methods?
From left: AQUA WET CLEAN's chief technology officer, Paulo Neves, with co-founders Peter Sinsheimer and Hans Kim.
All Photographs by Joanne Kim
---
Faced with the planned phase-out of a dangerous solvent, California's dry cleaners have the chance to break with a toxic past.
When Sung Park's landlord found contamination from a dry cleaning solvent in the soil around her Rancho Cucamonga cleaning business, Park had a choice to make. She could spend tens of thousands of dollars on a new machine that used another polluting — but less toxic — solvent, or invest in a new water-based cleaning technique recommended by her nephew, a biochemist.
She chose professional wet cleaning, a process developed in Germany in 1991, which relies on special computer-controlled machines and detergents to safely clean delicate garments with water. Park's decision in 1999 made her an unlikely environmental advocate and pioneer in an industry under pressure from regulators and landlords to find an alternative to a toxic cleaning solvent that is used by 28,000 cleaners across the country.
I met Park and her nephew, Hans Kim, in mid-September at the site of their new wet-cleaning venture, AQUA  WET CLEAN, as the nephew-aunt team—along with co-founder Peter Sinsheimer — awaited building permits from the city of Los Angeles. We sat around a table in a cavernous former downtown garment factory that was to be their wet-cleaning plant, sipping water from paper cups and talking about the enterprise that was about to take shape.
Los Angeles Dry Cleaner:
"Honestly, I think the clothes come out fresher and more stains come out in the wet-cleaning process than they do in dry cleaning."
When it opens later in November, AQUA will be both a retail cleaner serving downtown and a demonstration site that aims to win over skeptical cleaners from around the state, many of whom are preparing to invest tens of thousands of dollars in new equipment. Cleaners who want to convert to wet cleaning will be able to become licensees of AQUA. In exchange for a monthly fee, they will be able to lease equipment, enter into a service agreement, and also receive training and marketing support.
California is the only state in the nation that is planning a phase-out of the dry-cleaning solvent perchloroethylene—also known as "perc" — which is considered by the U.S. Environmental Protection Agency to be a likely carcinogen. It is associated with a number of cancers, including pancreatic cancer, which killed Kim's father, who was also a dry cleaner.
Long-term exposure can result in central nervous system, liver and kidney damage. If not properly handled, perc can seep through walls and harm those living or working nearby. Perc spills are considered severe environmental accidents that can contaminate underground aquifers, which explains why landlords are not always keen to have perc dry cleaners as tenants.
Green Cleaner (4)

Some 400 Southern California cleaners, under permits from the South Coast Air Quality Management District, must transition away from perc by 2020, according to SCAQMD spokesman Sam Atwood. Several hundred more cleaners in the rest of the state have until 2023 to find another cleaning solvent.
They will face an array of solvents to choose from. Kim and Park hope their colleagues will select what researchers and regulators say is the most eco-friendly approach to professional garment care.
In exchange for a monthly fee, AQUA licensees will be able to lease equipment, enter into a service agreement, and also receive training and marketing support. Many dry cleaners are "hard workers," says Kim, but not good marketers or repair technicians. Like Kim and Park, many cleaners are South Korean immigrants who came to the U.S. in the 1970s and 1980s seeking greater opportunities. "With this venture, we will be able to license all the solutions to small mom-and-pop shops," says Kim, who, along with Sinsheimer, is AQUA's co-founder.
Hans Kim presses a jacket using specialized "tensioning" equipment that prevents shrinkage and helps maintain shape.
But in order to succeed, AQUA—and its licensees—may need to differentiate themselves from other cleaners making similar claims about offering environmentally friendly services, even though the latter may be using solvents that are toxic, combustible or a possible health risk.
I asked Kim, a former food scientist who now owns three cleaners aside from AQUA, and has just finished up a contract to wet clean uniforms at the Marine Corps base in Twentynine Palms, what prompted him to join the family business. He recalled one of his parents' employees "sniffing perc as his morning coffee" and of being overcome by fumes. Soon after, in 1998, Kim responded to an ad in a trade publication offering $12,500 in incentives for cleaners to convert to wet cleaning.
I told Park and Kim that I played a bit role in the story of wet cleaning. For two years, in the mid-1990s, I coordinated an EPA-funded evaluation of the process at a demonstration site in Santa Monica called Cleaner by Nature.
From my home base, a windowless office at the University of California, Los Angeles, I purchased "Dry Clean Only"-labeled garments of all manner of weave, fiber and construction, and sent them to be repeatedly wet cleaned at the demonstration site and at dry cleaners before the effects were evaluated by textile experts. On other days, like a modern-day Frederick Taylor, I sat in a chair with a timer as pressers labored over wet- and dry-cleaned garments to compare labor costs. I was so immersed in the world of wet and dry cleaning that I even wrote a poem about it, "A Dry Cleaner's Love Song."
My two-year obsession with the profession pales in comparison to that of my then co-evaluator Sinsheimer, who was a Ph.D. candidate at the time. Now the director of the Sustainable Technology & Policy Program at the Department of Environmental Health Sciences at UCLA, as well as AQUA's co-founder, he has invested as much time as anyone in evaluating and advocating for wet cleaning.
I called Sinsheimer earlier this year to find out what had happened to the technology since the 1990s. My engagement with the topic had been limited to dropping off and picking up my clothes at a wet cleaner called Sunny Brite in Los Angeles' Eagle Rock neighborhood.
Sinsheimer walked me through the triumphs and letdowns of wet cleaning's 20-year history in California. There was the critical role the technology played in persuading regional air quality regulators to agree to a decades-long phase-out of perc in 2002, in the face of strong opposition from the dry-cleaning and petrochemical industry, a move that was mimicked by the state's Air Resources Board several years later. There was Sinsheimer's unsuccessful attempt to persuade the Federal Trade Commission to require a "Wet Clean" care label in 2014.
Finally, there was Hans Kim's painstaking work to convert about 100 California cleaners into dedicated wet-cleaning shops, an effort aided by state legislation that levies a fee on perc dry cleaners to fund such transitions by providing incentives to cleaners.
Jean Cha was one of those cleaners who converted to wet cleaning, about seven years ago. He faced pressure from his landlord, who wanted him to stop using petroleum hydrocarbon, a perc replacement that is combustible at high temperatures. Cha's Branham Lane Cleaners in San Jose cleans as many as a thousand pieces a day—a relatively high volume for a cleaner—and he was nervous about moving to a brand-new process that could disrupt his business. Cha credits Kim's patient courtship for his decision to go with wet cleaning.
Paulo Neves presses trousers after they have been dried on a specialized machine.
"He stopped by our store like 50 times before we made the decision," says Cha of Kim, who at the time was working as a distributor for Miele, a German-based maker of wet-cleaning equipment. But Kim was not a typical distributor hawking his wares, says Cha. "He really wanted to make my business successful."
But as Kim was steadily converting cleaners to wet cleaning, something else was happening. An alternative set of solvents was taking hold in the industry. The go-to substitute for perchloroethylene in California became petroleum hydrocarbon, the solvent that had troubled Cha's landlord. It is used by about 80 percent of the 3,000 cleaners in state, according to Pierre Cinar, past president of the California Cleaners Association. That solvent produces volatile organic compounds and is consequently regulated by the state's Air Resources Board.
In 2013, Santa Monica's city attorney found that six dry-cleaning businesses had misleadingly marketed themselves as "green" businesses.
Another solvent that emerged was Dow Corning's Green Earth, which is marketed as a nontoxic, environmental alternative to dry cleaning. Concerns about Green Earth surfaced in 2003 after a study linked the silicone-based solvent to cancer in rats at high rates of exposure. The industry maintains that the solvent—which is used in many personal care products—is safe for consumers and workers. Meanwhile, there are fewer than 200 dedicated wet cleaners in the state.
Why hasn't wet cleaning taken a firmer hold? Studies at UCLA and the University of Massachusetts, Lowell have shown that it is an economically viable alternative to dry cleaning, and cleaners attest to its benefits.
"Honestly, I think the clothes come out fresher and more stains come out in the wet-cleaning process than they do in dry cleaning," says London Cleaners' Barry Fein, who wet cleans about 40 percent of garments at his West Los Angeles shop and dry cleans the remaining 60 percent. "But it takes more time to press wet-cleaned garments and that's where it falls apart."
Fein's perspective is common among dry cleaners who argue not that all dry-clean-only garments can be cleaned economically in the wet-cleaning process. That's because a garment immersed in water becomes more wrinkled, requiring special "tensioning" equipment and attention after it is cleaned.
But Park, who is AQUA's chief operating officer, maintains that with training, a wet cleaner can clean virtually all garments in the same amount of time as a dry cleaner. The machine cycles are also about half as long for wet cleaning as they are for dry cleaning, allowing more clothes to be washed in a day. (My own cleaner, Sunny Kim, wet cleans all but silk garments that have stubborn oil stains — she sends these out to be dry cleaned.)
Another barrier to adoption may be that cleaners do not realize the degree to which the wet-cleaning process has improved since it was introduced in the 1990s, says Joy Onasch, Business & Industry Program Manager at the Toxics Use Reduction Institute at the University of Massachusetts, Lowell.
"The technology wasn't great then, and the word sort of spread that it doesn't work," says Onasch, who authored a 2017 study that favorably evaluated cleaners that made the switch to wet cleaning. Park recalls her own tears of frustration—and some lost customers–when she first transitioned to wet cleaning in the late 1990s.
Yet one more obstacle is the Dry Clean Only care label, which leaves the wet cleaner liable for damages if a customer takes a wet cleaner to court for ruining a dry-clean-only garment. Sinsheimer sees working with garment manufacturers to win a wet-clean care label requirement as a critical piece of AQUA's work.
For Sinsheimer, AQUA represents an opportunity to secure a foothold in a market that he says has been difficult to penetrate, in part because of the power of petrochemical companies and equipment distributors that have a vested interest in polluting technologies. One challenge Sinsheimer sees is distinguishing dedicated wet cleaners from dry cleaners who claim to be offering an environmental service to consumers.
In 2013, Santa Monica's city attorney's office found that six dry-cleaning businesses—five petroleum hydrocarbon cleaners and one Green Earth cleaner— had misleadingly marketed themselves as green businesses in violation of state law. The city attorney's office said the cleaners violated FTC guidelines by claiming that their processes were "non-toxic" and "environmentally friendly," the Santa Monica Mirror reported.
After our conversation at AQUA's headquarters, Sinsheimer, Kim and I left Park at the Margo Street plant and walked past graffitied buildings, trash-strewn sidewalks and a new coffee shop, evidence of a neighborhood in transition, to where another cleaner was also under construction.
We stood across the street looking at a banner that promised a dry cleaner that would be "organic" and "100% Toxin-Free." I could find no contact information on the sign.
"This goes directly to the issue of greenwashing," Sinsheimer had told me a couple of weeks earlier in an email to which he'd attached a picture of the offending sign.
He'd added that Los Angeles should enforce the state's truth-in-advertising laws and offer green certifications for wet cleaners, a carrot-and-stick approach that he said would finally give the technology the fighting chance it deserves.
---
Copyright Capital & Main