Sidebar: How Sacramento Fumbled a Lead Cleanup Program
On November 15 Mangan Park residents got more bad news. Homes near the neighborhood's public gun range were discovered to also have been contaminated by lead, almost certainly from the facility. For Jeff Van Slooten, a retired lead expert, the testing came seven months too late.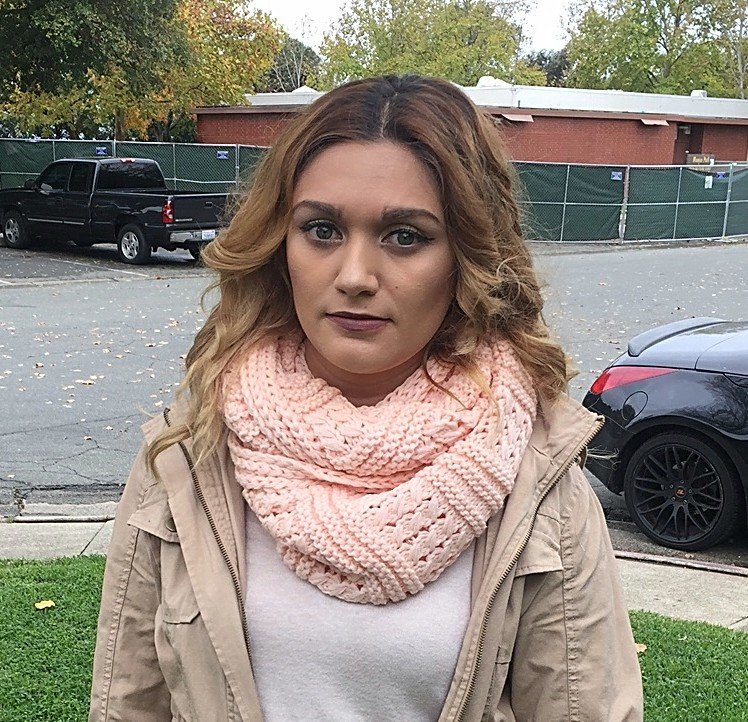 Mayra Arellano with Mangan Park gun range in background. (All photos by Joe Rubin)
On November 15 Mangan Park residents got more bad news. Homes near the neighborhood's public gun range were discovered to also have been contaminated by lead, almost certainly from the facility. For Jeff Van Slooten, a retired official from the Department of Toxic Substances Control (DTSC) and a lead expert, the results came seven months too late.
In April, concerned about what he was learning about lead contamination near the range, Van Slooten independently gathered samples from a few nearby homes, paying for the lab work himself. The tests indicated that the homes were contaminated. But more extensive testing was needed. He sent his results to the DTSC and urged the agency to conduct its own testing. But more than half a year went by before tests were conducted.
"Having worked at the DTSC, I get that government does not operate at the speed of light. But they should have immediately gone out and tested at least the homes across the street."
In the city's recent tests, Mayra Arellano's house was one of the homes with lead levels above what the DTSC considers safe for long-term exposure. Arellano, who is five months pregnant, fought back tears as she described her reaction to the news. "I'm scared and worried about my baby and my little sister — she is only 8." According to the U.S. Centers for Disease Control and Prevention, lead in pregnant women can be passed on to infants and cause problems in brain, kidney and nervous system development.
Jeff Anderson, a Sacramento attorney who specializes in land use and environmental law, said the more than six-month delay in testing homes near the gun range might have had the effect of preventing residents from learning of the health hazard – and thus of their ability to seek legal recourse. That is because California government tort claim laws allow citizens a limited window of six months to file claims seeking damages from city government agencies. The April Sacramento Bee article that broke the lead contamination story, along with a community meeting that followed, arguably started that clock by informing the public of the overall problem, Anderson said.
"If the city is doing anything that hinders the truth coming out in a timely fashion, that really hurts people. This is a serious matter and it can't be just swept under the carpet."
In response to a Capital & Main query about the six-month delay in testing neighborhood homes, city manager spokeswoman Marycon Razo said, "The city could not test the yards until after the county approved the model indicating where the lead dust on the range roof could have been deposited, and then approved the testing work plan."
Eleven of 29 homes near the range were found to be contaminated and will likely need to be scrubbed of lead. But lead experts Peter Green, from the University of California, Davis, and Dr. James Wells, an expert in lead cleanup efforts, blasted the testing protocol and warned that contamination could be worse than is being reported.
The problem, both said, is that the DTSC-approved city lead tests use a process called incremental sampling methodology (ISM). Rather than taking individual samples, the city took 90 samples in front, side and back yards, and blended them together to create three samples from each yard. Put another way, they mixed a whole lot of dirt together – rather than looking at individual samples – and tested the blended dirt. Only if the composited or blended average exceeds 80 parts per million will the homes receive further testing and possible remediation.
Mangan Park's fenced-off archery area.
Wells said that ISM can be helpful in some situations, such as testing large areas under consideration for development, but called the choice in this case "unwise."
"At Exide," said Wells, referring to a large car-battery cleanup site near downtown Los Angeles, where Wells serves as the DTSC-appointed technical advisor for the community, "we are not allowing composite sampling. We are also basing cleanup decisions on the maximum concentrations detected at a residential property and are not even calculating averages."
In an email, Wells described the problem with composite testing. "Let's say I collect samples from four locations, composite the samples, analyze the single composite and the lab reports back a lead concentration of 50 parts per million. I have no idea whether the original samples were 50, 50, 50 & 50 ppm or 1, 1, 1 & 197 ppm."
Wells' point is that the testing methods that the county and DTSC approved could hide potentially dangerous hot spots of lead. "Considering that airborne deposition of metals is known to result in spatial heterogeneity [i.e., to create hot spots in the soil] I would argue that it's important to try to find those hot spots."
Green offered a similar perspective: "It is virtually certain that averaging will hide the worst of the bad news.  Would you want your tap water tested and averaged with other households?"
The lead test results provided to Capital & Main by the city of Sacramento showed nine additional homes that had composited lead levels between 50-78 ppm, making it highly likely that the homes had individual hot spots exceeding 80 ppm. Russ Edmondson, a DTSC spokesperson, confirmed to Capital & Main that if a home's blended results do not add up to 80 ppm, it won't be subject to more testing or to cleanup efforts. "We believe," Edmondson said, "that the process used properly applies the ISM methodology. Followup sampling for those properties that exceeded the cleanup goals will be conducted next."
Van Slooten says that the compositing of samples does not make sense. "These are airborne contaminants just like what caused the contamination around the Exide plant," he said. "Why not have the same cleanup standard?"
The cleanup of homes around Exide is much larger. The soil around up to 10,000 homes is slated to be cleansed of lead that exceeds DTSC-approved  levels.
The contamination may have caused levels of the poisonous metal to spike in children. California's Department of Public Health found 3.58 percent of children who live within a mile of the former Exide battery plant had elevated levels of lead in their blood in 2012, compared with 2.41 percent of children who live farther from the plant.
In response to a query, the CDPH said that between 2009-2011, there were seven cases of kids with levels high enough that medical treatment is considered vital in the ZIP code that includes Mangan Park. The rate of lead poisoning cases for the area is eyebrow-raising — two and a half times the average for Sacramento County during that same time period.  Those seven cases represent 11 percent of all cases of lead poisoning in Sacramento County; that is concerning because Mangan Park's ZIP code only has three percent of the county's residents.
Still, lead can come from many sources and the ZIP code covers several miles. It's not known if the Mangan gun range, which for 50 years spewed lead from an unsafe building, impacted children's health, partly because no coordinated public health efforts have been undertaken – despite growing evidence of a problem. A spokeswoman for Sacramento County said that Mangan Park residents who "suspected lead poisoning or [have] concerns about lead should be directed to their health care provider to determine if testing is recommended."
Staring across her front yard to the fenced-off gun range less than 100 feet away, expectant mother Arellano admitted she is frustrated that the county hasn't offered blood tests. "It feels like they just want to cover this up, rather than help people," she said.
Bruce Lanphear is a Vancouver-based MD at Simon Fraser University and an epidemiologist who studies the health impacts of lead. He said that offering residents blood tests is a good idea. But Lanphear cautioned that because the gravest threat, airborne lead, is no longer occurring (because the gun range is no longer operating), current blood tests would be unlikely to offer definitive answers as to how much the public was harmed. "The exposure is in the past and most of the lead is going to be sequestered," he said.
What would be most helpful, said Lanphear, would be for the CDPH to release historical data from the "block census level," which gives a narrower neighborhood picture. Lanphear said that the CDPH released similar historical data about kids who lived around the Exide plant when it was in operation, and he called on the agency to also make available data about young people who lived in the vicinity of the Mangan gun range when it was up and running.

The Climate Summit's Inconvenient Truth: People Need Jobs
Co-published by Fast Company
Much of the recent gathering in San Francisco involved corporate and government backslapping — noble but too easily mocked.

Co-published by Fast Company
Amid the swell of protesters demanding California put an end to oil, and a police force growing irritated with their monotonous chanting ("I'm going to be singing that one in my sleep," said one officer), I met Theodore Hunt. It was not a chance meeting. Earlier, on the first day of the Global Climate Action Summit at San Francisco's Moscone Center, I had rented an electric-assist bike to get to a lunch meeting, navigating the downtown streets by way of Google Maps with my iPhone in the bike's basket. In a rush to lock up the bike outside the restaurant, I left my phone behind.
Hunt was my savior. When I called my number on a borrowed phone, he answered, and promised to leave the phone for me later at the office of the bike company. But the office was far, and I needed my phone, so instead I tracked him down using an iPad and the Find Your iPhone app. When the tiny phone icon showed up at a building across the street, I scurried down three flights of escalators, borrowing phones along the way to sync up my coordinates with Hunt. Cops, security guards, random strangers — by the time we all spotted a tall African-American man on a bright red bike waving from across Third Street, it seemed all of San Francisco had become invested in our saga. When Hunt and I made the handoff and I hugged him with gratitude, a small cheer went up.
It was a magically reassuring moment during an international gathering of climate activists, elected officials and corporate leaders who had come here committed to holding the United States to the terms of the 2015 Paris Climate Agreement, Trump and his administration be damned.
Much of the summit was simple corporate and government backslapping — noble but too easily mocked. What does it matter if General Electric presents its climate ideals when the corporation refuses to back down on plans for a new coal plant in Kenya? Starbucks might have banned plastic straws, but emissions still accumulate in the long lines at its many drive-throughs. And McDonald's? Really?
For protesters outside the fences, maintaining global temperature below the point-of-no-return threshold means that, in some cases, entire industries have to be shut down. "We have to keep 80 percent of the fossil-fuel reserves that we know about underground," the noted author and climate warrior Bill McKibben has written. "If we don't—if we dig up the coal and oil and gas and burn them—we will overwhelm the planet's physical systems, heating the Earth far past the red lines drawn by scientists and governments."
The problem with that strategy is that with those industries, oil and coal, come many thousands of well-paying, often union jobs. "Climate strategies that leave coal miners' pension funds bankrupt, power plant workers unemployed, construction workers making less than they do now," said AFL-CIO President Richard Trumka in a speech on opening day, "fundamentally undermine the power of the political coalition needed to address the climate crisis." The issue of the climate versus jobs will be used by the foes of both labor and clean energy to divide the country, Trumka noted. It already has.
In the near term, if oil extraction were to suddenly come to an end in California, 30,000 people would lose their livelihoods, and thousands more will be out of work in places where industries depend on California oil. In the long term, jobs wouldn't be available to a new generation full of people like Theodore Hunt — smart, honest and capable, but not necessarily pre-armed with the privilege and educational credentials to parlay those qualities into a six-figure job. Hunt, who is 28 and single, told me he works as much as he can: As a mechanic servicing the city's network of electric bikes, he can earn as much as $800 on a busy week. If he meshes his maintenance duties with a food-delivery service, like Uber Eats, he might make $1,200 in a week — a decent living wage almost anywhere besides San Francisco, where he can't afford to live.
But the big weeks are rare, and if Hunt gets sick, or injured, or takes a mental-health break, he doesn't get paid at all. He belongs to the 8.5 percent of California workers whom the University of California, Berkeley Labor Center calls the "unincorporated self-employed." He gets paid when he delivers a meal or services a bike. He does not get paid when he stops to eat lunch. If he wants health insurance, he must buy it himself.
Hunt likes his job: The hours vary, he gets to be outside, he interacts with people. Like so many other "green" jobs, Hunt's is many times more pleasant and safer than mining coal, or working on an oil rig. But it's not a steady living on which to buy a house or support a family.
Nor is installing solar panels on rooftops, a job that generally pays $14 to $20 and hour, rarely with benefits. Trumka told the summit that 4,000 megawatts of solar had been installed in the San Joaquin Valley over the last two decades. "Fifteen million job-hours of union work, at union wages and with union benefits, made that possible," he said. But once those plants are built, it takes only a few people to keep them operating, and no one has to mine the fuel. The same math applies to wind farms: Once the turbines are up, most of the work is done.
Paul Getsos, national director of the People's Climate Movement, has spent more than a decade thinking through what it means to bring the labor movement into the climate fight by way of a just transition for workers. He organized in disadvantaged communities around the Obama administration's stimulus package. Later, he assessed green jobs for the Center for Community Change, and found that "the promise of 'green jobs' wasn't fulfilled for a lot of communities. There's a very narrow view of what a 'green job' is." The solution to the worker-transition conundrum for a 100 percent clean energy economy is to expand that definition. "Manufacturing electric cars is a 'green job,' said Getsos. "Rebuilding infrastructure in North Carolina to keep people safe from coal ash — that's a 'green job.'"
Retrofitting homes and business to use less energy is also a green job — and one of the best, according to Getsos: "[Energy efficiency] is one of the areas where there is access to new jobs that don't require higher education." It's also ripe for job growth. In New York City, a mandate to retrofit the city's buildings — which account for two-thirds of the city's greenhouse gas emissions — will yield 17,000 jobs between now and 2030.
Energy efficiency isn't a big field in some of the smaller towns where dirty fossil-fuel plants exist. In Centralia, Washington, where a coal plant employing 300 workers making $80,000 a year will begin shutting down in 2020, environmentalists and labor negotiated an agreement with the city and the plant operator, TransAlta, to invest $55 million in worker retraining and community development in exchange for an expedited permit to build a natural gas plant on the same site. (Natural gas isn't perfect, but for the climate it's better than coal.)
Legislators could also intervene with laws granting benefits and collective bargaining rights to people like Theodore Hunt. As smart technology expands further into transportation and utilities, some necessary jobs will become more fluid for employers and less rewarding for workers. California Assemblymember Lorena Gonzalez Fletcher has introduced two bills over the past few years to give contract employees workers' compensation benefits and the right to form and join unions, and Assemblymember Evan Low last session brought up a bill that would guarantee contract workers portable benefits. None have yet made it to the governor's desk.
"We can't just say 'green jobs'," Getsos said. "We need to say green jobs, good jobs and worker access."
Those principles might be as consequential to the clean-energy economy as are the protesters' demands.
---
Copyright Capital & Main