Sidebar: How Sacramento Fumbled a Lead Cleanup Program
On November 15 Mangan Park residents got more bad news. Homes near the neighborhood's public gun range were discovered to also have been contaminated by lead, almost certainly from the facility. For Jeff Van Slooten, a retired lead expert, the testing came seven months too late.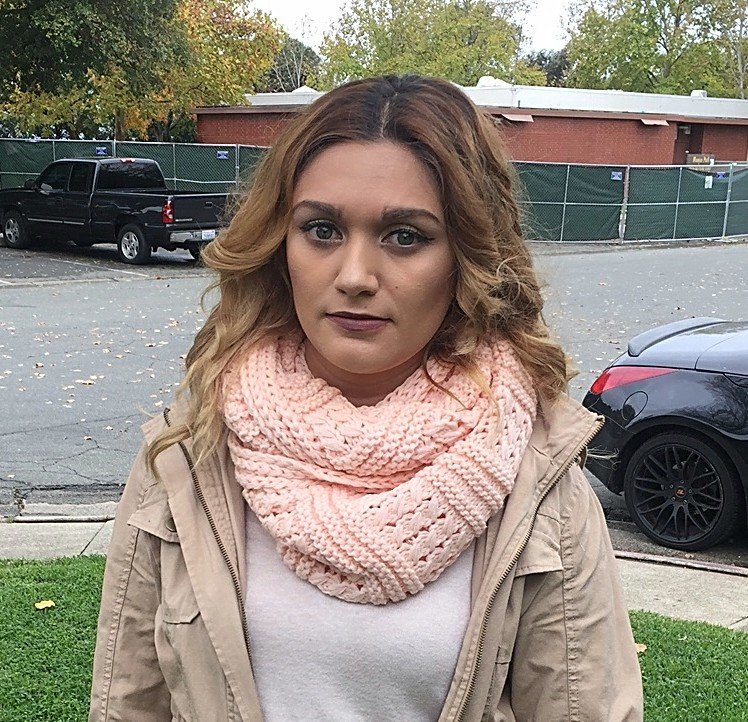 Mayra Arellano with Mangan Park gun range in background. (All photos by Joe Rubin)
On November 15 Mangan Park residents got more bad news. Homes near the neighborhood's public gun range were discovered to also have been contaminated by lead, almost certainly from the facility. For Jeff Van Slooten, a retired official from the Department of Toxic Substances Control (DTSC) and a lead expert, the results came seven months too late.
In April, concerned about what he was learning about lead contamination near the range, Van Slooten independently gathered samples from a few nearby homes, paying for the lab work himself. The tests indicated that the homes were contaminated. But more extensive testing was needed. He sent his results to the DTSC and urged the agency to conduct its own testing. But more than half a year went by before tests were conducted.
"Having worked at the DTSC, I get that government does not operate at the speed of light. But they should have immediately gone out and tested at least the homes across the street."
In the city's recent tests, Mayra Arellano's house was one of the homes with lead levels above what the DTSC considers safe for long-term exposure. Arellano, who is five months pregnant, fought back tears as she described her reaction to the news. "I'm scared and worried about my baby and my little sister — she is only 8." According to the U.S. Centers for Disease Control and Prevention, lead in pregnant women can be passed on to infants and cause problems in brain, kidney and nervous system development.
Jeff Anderson, a Sacramento attorney who specializes in land use and environmental law, said the more than six-month delay in testing homes near the gun range might have had the effect of preventing residents from learning of the health hazard – and thus of their ability to seek legal recourse. That is because California government tort claim laws allow citizens a limited window of six months to file claims seeking damages from city government agencies. The April Sacramento Bee article that broke the lead contamination story, along with a community meeting that followed, arguably started that clock by informing the public of the overall problem, Anderson said.
"If the city is doing anything that hinders the truth coming out in a timely fashion, that really hurts people. This is a serious matter and it can't be just swept under the carpet."
In response to a Capital & Main query about the six-month delay in testing neighborhood homes, city manager spokeswoman Marycon Razo said, "The city could not test the yards until after the county approved the model indicating where the lead dust on the range roof could have been deposited, and then approved the testing work plan."
Eleven of 29 homes near the range were found to be contaminated and will likely need to be scrubbed of lead. But lead experts Peter Green, from the University of California, Davis, and Dr. James Wells, an expert in lead cleanup efforts, blasted the testing protocol and warned that contamination could be worse than is being reported.
The problem, both said, is that the DTSC-approved city lead tests use a process called incremental sampling methodology (ISM). Rather than taking individual samples, the city took 90 samples in front, side and back yards, and blended them together to create three samples from each yard. Put another way, they mixed a whole lot of dirt together – rather than looking at individual samples – and tested the blended dirt. Only if the composited or blended average exceeds 80 parts per million will the homes receive further testing and possible remediation.
Mangan Park's fenced-off archery area.
Wells said that ISM can be helpful in some situations, such as testing large areas under consideration for development, but called the choice in this case "unwise."
"At Exide," said Wells, referring to a large car-battery cleanup site near downtown Los Angeles, where Wells serves as the DTSC-appointed technical advisor for the community, "we are not allowing composite sampling. We are also basing cleanup decisions on the maximum concentrations detected at a residential property and are not even calculating averages."
In an email, Wells described the problem with composite testing. "Let's say I collect samples from four locations, composite the samples, analyze the single composite and the lab reports back a lead concentration of 50 parts per million. I have no idea whether the original samples were 50, 50, 50 & 50 ppm or 1, 1, 1 & 197 ppm."
Wells' point is that the testing methods that the county and DTSC approved could hide potentially dangerous hot spots of lead. "Considering that airborne deposition of metals is known to result in spatial heterogeneity [i.e., to create hot spots in the soil] I would argue that it's important to try to find those hot spots."
Green offered a similar perspective: "It is virtually certain that averaging will hide the worst of the bad news.  Would you want your tap water tested and averaged with other households?"
T
he lead test results provided to Capital & Main by the city of Sacramento showed nine additional homes that had composited lead levels between 50-78 ppm, making it highly likely that the homes had individual hot spots exceeding 80 ppm. Russ Edmondson, a DTSC spokesperson, confirmed to Capital & Main that if a home's blended results do not add up to 80 ppm, it won't be subject to more testing or to cleanup efforts. "We believe," Edmondson said, "that the process used properly applies the ISM methodology. Followup sampling for those properties that exceeded the cleanup goals will be conducted next."
Van Slooten says that the compositing of samples does not make sense. "These are airborne contaminants just like what caused the contamination around the Exide plant," he said. "Why not have the same cleanup standard?"
The cleanup of homes around Exide is much larger. The soil around up to 10,000 homes is slated to be cleansed of lead that exceeds DTSC-approved  levels.
The contamination may have caused levels of the poisonous metal to spike in children. California's Department of Public Health found 3.58 percent of children who live within a mile of the former Exide battery plant had elevated levels of lead in their blood in 2012, compared with 2.41 percent of children who live farther from the plant.
In response to a query, the CDPH said that between 2009-2011, there were seven cases of kids with levels high enough that medical treatment is considered vital in the ZIP code that includes Mangan Park. The rate of lead poisoning cases for the area is eyebrow-raising — two and a half times the average for Sacramento County during that same time period.  Those seven cases represent 11 percent of all cases of lead poisoning in Sacramento County; that is concerning because Mangan Park's ZIP code only has three percent of the county's residents.
Still, lead can come from many sources and the ZIP code covers several miles. It's not known if the Mangan gun range, which for 50 years spewed lead from an unsafe building, impacted children's health, partly because no coordinated public health efforts have been undertaken – despite growing evidence of a problem. A spokeswoman for Sacramento County said that Mangan Park residents who "suspected lead poisoning or [have] concerns about lead should be directed to their health care provider to determine if testing is recommended."
Staring across her front yard to the fenced-off gun range less than 100 feet away, expectant mother Arellano admitted she is frustrated that the county hasn't offered blood tests. "It feels like they just want to cover this up, rather than help people," she said.
Bruce Lanphear is a Vancouver-based MD at Simon Fraser University and an epidemiologist who studies the health impacts of lead. He said that offering residents blood tests is a good idea. But Lanphear cautioned that because the gravest threat, airborne lead, is no longer occurring (because the gun range is no longer operating), current blood tests would be unlikely to offer definitive answers as to how much the public was harmed. "The exposure is in the past and most of the lead is going to be sequestered," he said.
What would be most helpful, said Lanphear, would be for the CDPH to release historical data from the "block census level," which gives a narrower neighborhood picture. Lanphear said that the CDPH released similar historical data about kids who lived around the Exide plant when it was in operation, and he called on the agency to also make available data about young people who lived in the vicinity of the Mangan gun range when it was up and running.

Smog Check: Central Valley Congressmen Refuse to Clear the Air
Both ozone and particulate pollution are attributed to oil and gas production, agribusiness, mega-dairies, power generation, heavy equipment and truck traffic – many of the Central Valley's major businesses.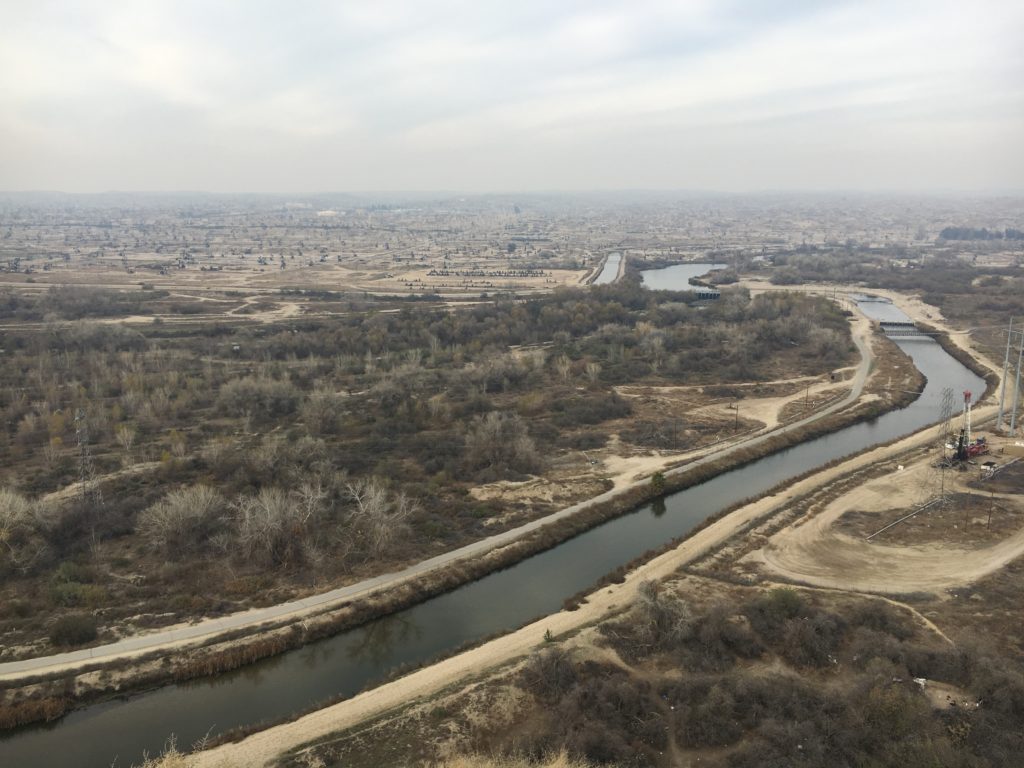 According to the American Lung Association, Bakersfield has some of the worst air in the country with regard to the two principal ingredients that make smog.
---
When you stand on Bakersfield's Panorama Bluffs, the Central Valley's chronic air quality problems hit you right in the face. A thick, blue-gray aerial sauce lays over the Kern River below and the massive, 9,000-well oilfield to the north, a smog that sweeps up the bluff. The haze smells of oil and cow manure and stings the eyes.
On the day I visited, the Environmental Protection Agency warned residents that the air was "Unsafe for Sensitive Groups" like children and the elderly, who were advised to limit outdoor activity. Unfortunately, these EPA "action days" are the new normal here. According to the American Lung Association's "State of the Air 2017" report, Bakersfield has some of the worst air in the country with regard to the two principal ingredients that make smog. The city ranks Number One for short-term spikes in fine particle pollution, or PM2.5, and Number Two for ozone (after Los Angeles).
Ozone forms in the atmosphere as the combination of nitrogen oxides, or NOx, and volatile organic compounds, or VOCs, that mix in the presence of sunlight. PM2.5 is a tiny particle produced by diesel engines and wood-burning, and by the conversion of NOx and sulfur dioxides, among other chemicals, into particles. Both are dangerous to health and contribute to asthma, lung disease and other ailments.
"It's like this most days," said Debbie Saltello, 50, who was walking from Bakersfield College, which sits at the top of the bluffs directly south of the oilfields. "That's why we're always sick. People really want to do something about this, and we need to be fighting for cleaner air. But each of us only has time to do so much."
Saltello felt like she needed to do something, because her representative in Congress was voting the other way. In 2017, congressmen whose districts lie in the Central Valley voted for a little-known new bill, the Ozone Standards Implementation Act, or HR 806, which critics say guts the EPA's ability to set healthy ozone and particulate-matter standards, and delays the implementation of clean-air solutions.
The bill, which passed the House and is now in the U.S. Senate's Environment and Public Works Committee as S263, delays the implementation of 2015 National Ambient Air Quality Standards until October 2024, and permanently changes the EPA's air quality review from a five-year to a 10-year cycle. More important, the proposed measure allows the EPA to consider "technological feasibility" when the agency sets these standards. Currently, the EPA must set standards "requisite to protect public health with an adequate margin of safety," even if those goals are hard to attain, thus challenging districts and industry to innovate.
Republicans in this conservative swath of the state supported the bill, including House Majority Leader Kevin McCarthy of Bakersfield, Devin Nunes of Visalia, Jeff Denham of Modesto and David Valadao of Hanford. It was a mostly partisan vote, with only 11 Republicans voting against the bill and only four Democrats voting for it. One Democrat, however, was Jim Costa, whose Fresno district – along with Bakersfield, Visalia, Modesto and Hanford – is routinely among the Top Six worst cities in the U.S. for year-round PM2.5 spikes and ozone.
Costa, Nunes, Denham, Valadao and McCarthy declined to be interviewed for this story, but the bill's sponsor, Rep. Pete Olson of Sugar Land, Texas – a Houston  suburb that is also a center for oil and gas production and has its own claims on having the nation's most polluted air – said his bill was necessary because the EPA was creating red-tape bottlenecks, and he wanted to see fewer communities struggle with the fines and penalties for being in "non-attainment" of the standards. The 2015 NAAQS, which are the latest released, were met by a barrage of litigation and President Trump's EPA chief, Scott Pruitt, created a task force to explore ways to ease compliance.
"In recent years, we have seen the Environmental Protection Agency's inability to issue rulemakings and guidance in a timely way on air quality standards," said Olson in an email interview. "Communities are left with uncertainty and a lack of implementation guidance, while job creators and local businesses are left dealing with the regulatory difficulties of trying to expand in a 'non-attainment' area." Further, Olson claimed, districts were punished for air pollution that might not be their fault. "We have seen significant issues with how the EPA handles emissions outside the control of localities. The State of Texas has spent years struggling to avoid being penalized for pollution caused by natural events like forest fires. It is also worth noting that a significant portion of pollution in the Western U.S. is either naturally occurring or comes from as far away as China."
Olson denied that his bill will hurt health standards.
Paul Billings, senior vice president for advocacy at the American Lung Association, said the bill was driven by the American Petroleum Institute, the National Association of Manufacturers and other groups that lobby on behalf of big polluters.
"Oh, you mean the Smoggy Skies Act?" Billings asked in reply to a question about the legislation. "This bill is really designed to repeal the fundamental health premise of the Clean Air Act, or, I would say, rip the lungs out of that law. Currently, the standards are based on the health science: 'Requisite to protect public health with an adequate margin of safety.' In this legislation, they impose a technological feasibility test. Not having doctors and scientists tell us what levels harm health, but to allow engineers and economists to discuss whether or not it is feasible to meet these standards. This is kind of like diagnosing a patient by what it will cost to cure the patient, rather than by what ails the patient."
In their published dissent, House Energy and Commerce Committee Democrats called the bill a "compilation of attacks that in reality strikes at the heart of the CAA [Clean Air Act]," adding: "This bill would undermine decades of progress on cleaning up air pollution and protecting public health from all criteria pollutants – not just ozone."
Bakersfield's Rep. McCarthy, who sponsored versions of this bill for years, provided a statement to Capital & Main, which reads in part: "…the Obama Administration's regulation [meaning the 2015 NAAQS] will saddle our communities with punitive fines for failing to meet a near-impossible task of complying with a standard so unrealistic it is approaching naturally occurring background ozone levels…. This bill makes the right reforms, without sacrificing air quality that will help our communities be healthy and thrive."
The Lung Association's "State of the Air 2017" report notes that air quality has been getting progressively better throughout the country since the passage of the 1970 Clean Air Act, even as it remains unhealthful: Los Angeles still has the nation's worst ozone problem, but the numbers have been steadily improving. But that has required increasingly more stringent quality standards.
Dolores Barajas-Weller, director of the Central Valley Air Quality Coalition, a clean-air advocacy group, says the San Joaquin Valley Air Pollution Control District has resisted clean-air strategies proposed by her group. The district's executive director, Seyed Sadredin, is well-known for wanting to soften the very law he's supposed to uphold: He submitted a white paper on that subject to the Trump transition team, and testified in support of HR 806 in committee hearings, while the California Air Resources Board and many other agencies in charge of air quality opposed the bill.
"[The District] say they've left it all on the table, but they haven't," Barajas-Weller said.
Wood-burning and the widespread charbroiling of restaurant foods, for example, could be more strictly regulated, she said, and agricultural burning could be replaced by offering incentives to growers in the valley to chip, mulch and compost their waste. Similarly, the waste water that is a byproduct of oil and gas extraction is a major source of VOCs and needs addressing. Farm equipment can be transitioned from diesel to clean energy. And biomass energy facilities need to be more strictly controlled.
"The Rio Bravo biomass facility here in Fresno is the top PM2.5 source for the entire county, and it's located in one of the poorest unincorporated communities," said Barajas-Weller. "The governor signed a five-year bill to bring in all of the forests affected by the tree mortality issues, trucking them down on diesel trucks and burning them in a disadvantaged community."
"With respect to particulate matter and ozone, it's very disheartening that the congressional Republicans, now that they're in power, are working tirelessly to gut to protections in the Clean Air Act," said José Gurrola, mayor of the Kern County town of Arvin, located just south of Bakersfield. "Here in Kern County, we saw over the holidays a period of about 10 days where particulate-matter pollution was so bad that we hadn't seen that kind of pollution since the 1990s."
Gurrola, who was elected in 2016 on an environmental platform, sees vast opportunity for the valley in the process of air cleanup. He wants smart growth, mass transit, tractors and oilfield equipment running off clean energy, and subsidies for electric vehicles targeted directly to the Central Valley.
"Rather than weaken the standards of the Clean Air Act," Gurrola said, "I think that [Congress] should provide more resources to the Valley Air District, to provide more incentives for both industry and the community to work together to improve the air."
---
Copyright Capital & Main