How L.A. Helped Its Homeless During the Wildfires
During Los Angeles County's recent wildfires, local organizations that aid the homeless have been working overtime to help those in need.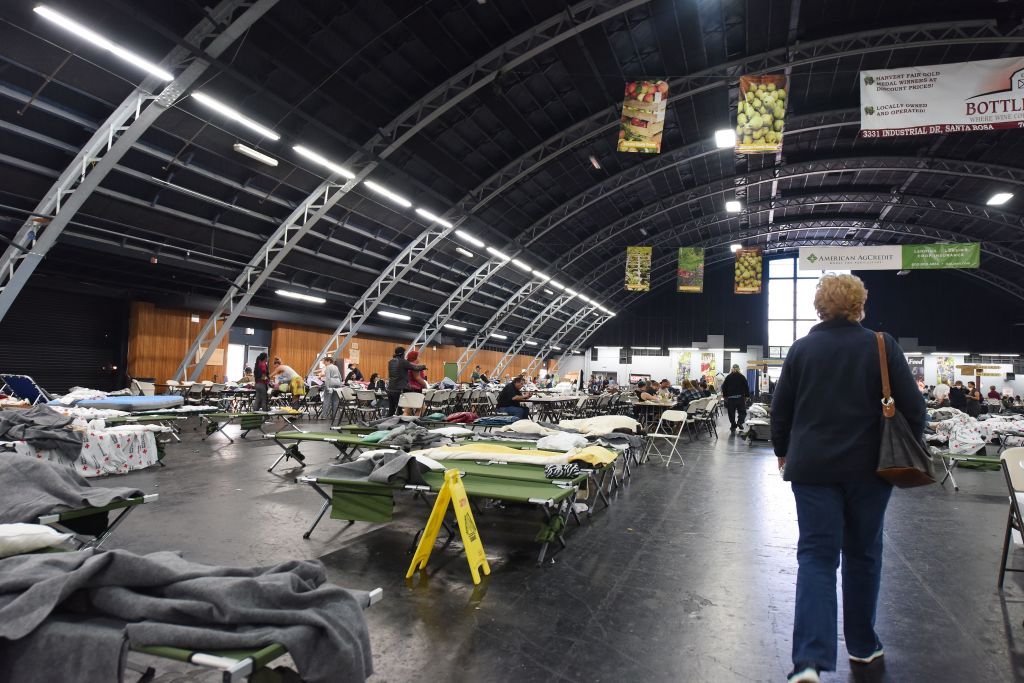 The devastating impact of wildfires exploding across swaths of California is captured nightly in dramatic television footage. Largely unseen, though, is how those same fires affect Los Angeles' growing homeless population, many of whom have abandoned menacing urban streets for the relative safety of woodland encampments.
Fires that consumed parts of Northern California in October destroyed thousands of homes and put many already homeless residents in the path of danger. The story is no different in Southern California, and local organizations that aid the homeless have been working overtime to help those in need.
Colleen Murphy, coordinator of outreach at the Los Angeles Homeless Services Authorities, told Capital & Main that her agency started working to locate homeless encampments the second they learned the fires had started. She knew there were only so many beds in so many shelters they could use, so they had to redouble their efforts to make sure they found space for everyone.
"One of the things that was a little challenging at the time was that L.A. opens up winter shelters on December 1, and some of the winter shelters were pretty close to the fire area," Murphy said. "So we were also trying to navigate whether we needed to close the shelters, because that is normally where we would send people." Their winter shelters were closest to the Rye Fire near Santa Clarita, and in Pacoima near the Creek Fire in the hills above Sylmar. Luckily, none of the shelters the organization needed had to close due to the fires, and they were able to help find beds for the homeless they could locate.
Patrick Justice, an outreach coordinator for LA Family Housing, said he sent support teams to known homeless encampments in the San Fernando and Santa Clarita valleys as quickly as he could. He estimated that hundreds of homeless individuals were in evacuation areas. "Some of the encampment locations were directly in the fire evacuation zones," he said. Reaching those people wasn't always easy, because sometimes routes to these locations were blocked by the fires. "There were areas we weren't able to get to right off the bat," Justice said. "We had to find alternative ways in."
The homeless population in Los Angeles County has risen by nearly a quarter since last year, a rise traceable to skyrocking rents and stagnant wages according to a Zillow report. There are nearly 60,000 homeless residents in the county, and officials have been struggling to help this vulnerable group of people.
Getting that population into shelter and out of woodland areas protects them and nearby residents. The Skirball fire that destroyed six very expensive homes in Bel-Air and damaged a dozen more was started by a cooking fire in a homeless encampment in a canyon just off the 405 Freeway in the Sepulveda Pass.
As destructive as the blaze was to property in one of the most affluent communities in the country, the fire's cause "makes a tragic event even more tragic," Los Angeles Councilman Paul Koretz told the Los Angeles Times. "The saddest thing is that we have so many homeless people," said Koretz, whose district includes Bel-Air. "And they are everywhere in the city. And that sometimes causes serious problems."
Los Angeles officials hope to develop ways to evacuate homeless populations in woodland areas once fire conditions—high winds and accumulated dry brush—arise. But Mayor Eric Garcetti said a lot of people could still be missed, given all the hills in the city. "Just like ramping up efforts to try to anticipate terrorist incidents, you can never get to zero risk," he told the Times. "And I think it would be a mistake to think we could."
Murphy and Justice pointed to Measure H, approved by voters last March, as being a major help in their efforts to locate homeless encampments during the fires. Measure H imposed a one-quarter percent county sales tax for 10 years "in order to fund homeless services and prevention," Ballotpedia explained. Murphy and Justice believe the response to the fires would not have been nearly as effective without the funding and services Measure H delivered.
"I think this is showing the importance of Measure H, which pays for outreach coordination and those outreach teams," Murphy said. In areas like the Sylmar Hills where the Creek Fire broke out, "we were able to mobilize and had the infrastructure to utilize, as well as the actual teams who knew these places," Murphy said. "That couldn't have been done without expanded Measure H funding."
"Seeing the way the county is moving with all of the Measure H funds, we're starting to see really strong infrastructure countywide and trickling down into these service planning areas," Justice said. "I was getting a lot of support from the county level. Having that infrastructure is really amazing."
---
Copyright Capital & Main
Is Environmental Law to Blame for California's Housing Crisis?
Developers blame a half-century-old law for slowing development. Studies show there are other factors at work.
---
The debate intensifies over how much the California Environmental Quality Act is an impediment to the construction of affordable housing.
---
Since it was enacted in 1970, California environmentalists have hailed the state's most sweeping environmental law, the California Environmental Quality Act, as a bulwark against destruction of California's natural resources and endangerment of its most vulnerable residents. The law requires developers to involve the public in their building plans, and to minimize damage to the environment in accordance with public input and scientific study.
But now, with Governor Gavin Newsom's push to see 3.5 million homes built by 2025, CEQA may be in Sacramento's crosshairs. Developers and trade unions have long complained that the law was written so broadly that neighborhood groups and certain unions have used it to start litigation that slows or stops necessary projects. Newsom's goal, which would require a six-fold increase in current housing production over the next seven years, could lead to their complaints overriding environmental concerns.
Cesar Diaz, legal and political director of the State Building and Construction Trades Council of California, confirmed to Capital & Main that that his union was working with builders and legislators to streamline CEQA. But he denies that their plans amount to gutting the landmark law. "We have been fighting to protect CEQA for years," Diaz says, "and we will fight to make sure any changes to CEQA are done surgically, rather than getting rid of it." In January Diaz signed on to a letter, with environmental justice and low-income housing advocates, urging the governor and legislators to not weaken CEQA.
Diaz says his union and the California Building Industry Association were instead working to refine two already-introduced housing bills, SB 50 and SB 4, both aimed at spurring high-density housing near jobs and transit centers. The additions to those bills, and possibly more, Diaz said, would "provide certainty to developers and stronger labor protections and pay increases for construction workers." Certainty for developers, he clarified, would mean relief from impact fees and construction defect litigation that can entangle builders in litigation. In exchange, construction workers would receive higher wages and benefits.
But the fact that environmental groups and low-income housing advocates, thus far, are not at the table concerns Caroline Farrell, Executive Director of the Center for Race, Poverty and the Environment. "Discussions between the building trade and developers have led to a lot of confusion and frustration among environmentalists. The people who would be impacted by any change [to CEQA] have to be heard."
* * *
There is significant debate over how much CEQA is an impediment to development. Environmental interests worry that views expressed by two researchers in recent New York Times op-ed, arguing that CEQA alone is a significant contributor to the housing crisis, will prevail in any housing legislation. David Pettit, a senior attorney with the Natural Resources Defense Council (NRDC) says that there are already CEQA speed-ups and work-arounds for some large construction projects, including a 27-story development in Los Angeles' Chinatown.
"There has been the occasional abuse of CEQA, as with any area of the law, like locals in Venice using the law to fight a homeless shelter," he says. "That's appalling, but you don't get rid of the whole law."
A recent (and continuing) study of nine California cities conducted by the University of California, Berkeley has so far concluded that CEQA is not the primary driver of delays in new developments. Eric Biber, a UC Berkeley law professor who was involved in the study, says local governments and local zoning restrictions have more to do with lengthening the development timeline.
"We don't say CEQA itself is not important, but [reforming it] is not the silver bullet to solve the building crisis. CEQA lawsuits are triggered when local governments impose judgments on whether their own standards are met."
Jennfier Hernandez, a partner at the Holland & Knight law firm, disagrees with that assessment. "CEQA is tremendous, but it has been used as a tool to stop any project at any time." Suggesting that CEQA reformers and low-income housing activists should be on the same side, Hernandez cited her study, which concluded 100 percent of Bay Area CEQA lawsuits and 98 percent of Los Angeles CEQA suits targeted "infill" development in existing communities. CEQA, she says, is "an excuse by NIMBYs to preserve the status quo."
Yet other data back up Biber's findings. A 2018 survey from the Association of Environmental Professionals looked at over 140,000 housing projects that went through CEQA review from 2015 to 2017 across California, and found that exemptions to or streamlining of environmental law were used in 42 percent of the projects. As with Biber's study, the survey concluded that the top inhibitors to housing production were not related to CEQA.
Alexander Harnden, a housing policy advocate for the Western Center on Law and Poverty, agrees that CEQA has been occasionally abused by exclusionary neighborhood groups and city councils. But he argues that lengthy legal challenges under CEQA account for a small fraction of projects. "The rest of the projects are altered in appropriate ways and getting approved."
Harnden says that streamlining housing development should include incentives for developers – such as eliminating parking requirements – in exchange for commitments to build a larger percentage of affordable units. He also advocates expanding rent-control measures and prohibiting landlords from refusing Section 8 vouchers, subsidize housing for low-income tenants. But he emphasizes that supply-side solutions like building houses at more than six times the current rate won't fix everything. No matter how many millions of units go up in the next seven years, he says, "it won't solve the increases in homelessness and rent gouging." Nearly everyone in the debate agrees that there's no single solution to the housing crisis. And they say taking on all of these aspects requires both compromise and political will.
---
Copyright Capital & Main