How L.A. Helped Its Homeless During the Wildfires
During Los Angeles County's recent wildfires, local organizations that aid the homeless have been working overtime to help those in need.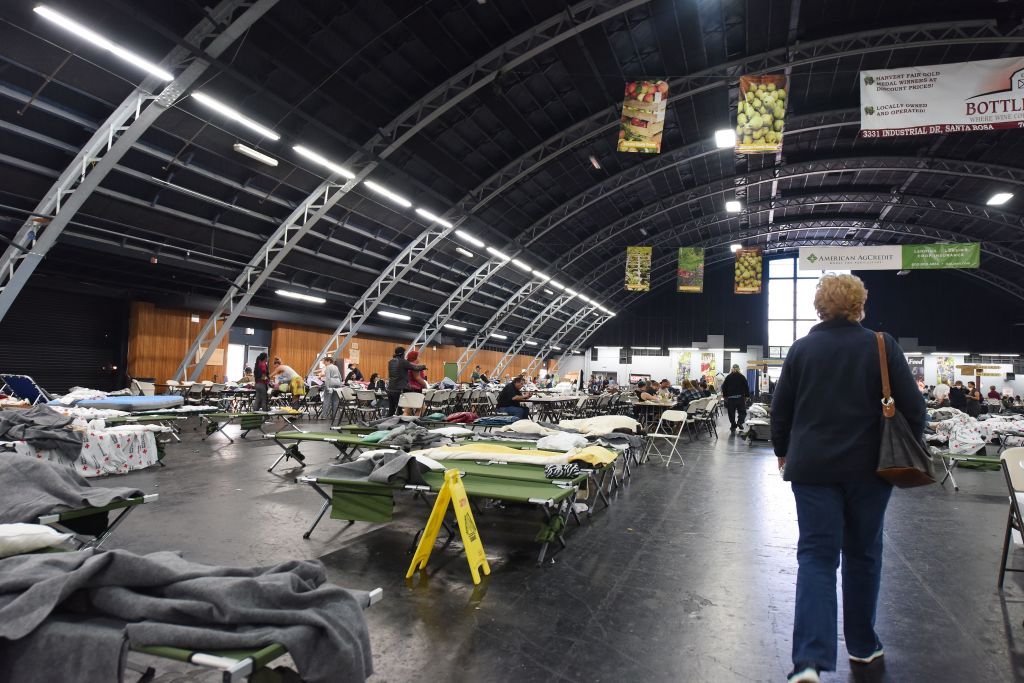 The devastating impact of wildfires exploding across swaths of California is captured nightly in dramatic television footage. Largely unseen, though, is how those same fires affect Los Angeles' growing homeless population, many of whom have abandoned menacing urban streets for the relative safety of woodland encampments.
Fires that consumed parts of Northern California in October destroyed thousands of homes and put many already homeless residents in the path of danger. The story is no different in Southern California, and local organizations that aid the homeless have been working overtime to help those in need.
Colleen Murphy, coordinator of outreach at the Los Angeles Homeless Services Authorities, told Capital & Main that her agency started working to locate homeless encampments the second they learned the fires had started. She knew there were only so many beds in so many shelters they could use, so they had to redouble their efforts to make sure they found space for everyone.
"One of the things that was a little challenging at the time was that L.A. opens up winter shelters on December 1, and some of the winter shelters were pretty close to the fire area," Murphy said. "So we were also trying to navigate whether we needed to close the shelters, because that is normally where we would send people." Their winter shelters were closest to the Rye Fire near Santa Clarita, and in Pacoima near the Creek Fire in the hills above Sylmar. Luckily, none of the shelters the organization needed had to close due to the fires, and they were able to help find beds for the homeless they could locate.
Patrick Justice, an outreach coordinator for LA Family Housing, said he sent support teams to known homeless encampments in the San Fernando and Santa Clarita valleys as quickly as he could. He estimated that hundreds of homeless individuals were in evacuation areas. "Some of the encampment locations were directly in the fire evacuation zones," he said. Reaching those people wasn't always easy, because sometimes routes to these locations were blocked by the fires. "There were areas we weren't able to get to right off the bat," Justice said. "We had to find alternative ways in."
The homeless population in Los Angeles County has risen by nearly a quarter since last year, a rise traceable to skyrocking rents and stagnant wages according to a Zillow report. There are nearly 60,000 homeless residents in the county, and officials have been struggling to help this vulnerable group of people.
Getting that population into shelter and out of woodland areas protects them and nearby residents. The Skirball fire that destroyed six very expensive homes in Bel-Air and damaged a dozen more was started by a cooking fire in a homeless encampment in a canyon just off the 405 Freeway in the Sepulveda Pass.
As destructive as the blaze was to property in one of the most affluent communities in the country, the fire's cause "makes a tragic event even more tragic," Los Angeles Councilman Paul Koretz told the Los Angeles Times. "The saddest thing is that we have so many homeless people," said Koretz, whose district includes Bel-Air. "And they are everywhere in the city. And that sometimes causes serious problems."
Los Angeles officials hope to develop ways to evacuate homeless populations in woodland areas once fire conditions—high winds and accumulated dry brush—arise. But Mayor Eric Garcetti said a lot of people could still be missed, given all the hills in the city. "Just like ramping up efforts to try to anticipate terrorist incidents, you can never get to zero risk," he told the Times. "And I think it would be a mistake to think we could."
Murphy and Justice pointed to Measure H, approved by voters last March, as being a major help in their efforts to locate homeless encampments during the fires. Measure H imposed a one-quarter percent county sales tax for 10 years "in order to fund homeless services and prevention," Ballotpedia explained. Murphy and Justice believe the response to the fires would not have been nearly as effective without the funding and services Measure H delivered.
"I think this is showing the importance of Measure H, which pays for outreach coordination and those outreach teams," Murphy said. In areas like the Sylmar Hills where the Creek Fire broke out, "we were able to mobilize and had the infrastructure to utilize, as well as the actual teams who knew these places," Murphy said. "That couldn't have been done without expanded Measure H funding."
"Seeing the way the county is moving with all of the Measure H funds, we're starting to see really strong infrastructure countywide and trickling down into these service planning areas," Justice said. "I was getting a lot of support from the county level. Having that infrastructure is really amazing."
---
Copyright Capital & Main