How Betsy DeVos Ignored and Targeted Michigan Republicans to Advance Her Hardline Education Ideology
Co-published by International Business Times

With Senate confirmation of Donald Trump's education secretary nominee Betsy DeVos now hanging by the thread of a likely tie-breaking vote from Vice President Mike Pence, one thing is apparent: DeVos' views on public education are well outside the mainstream of either party.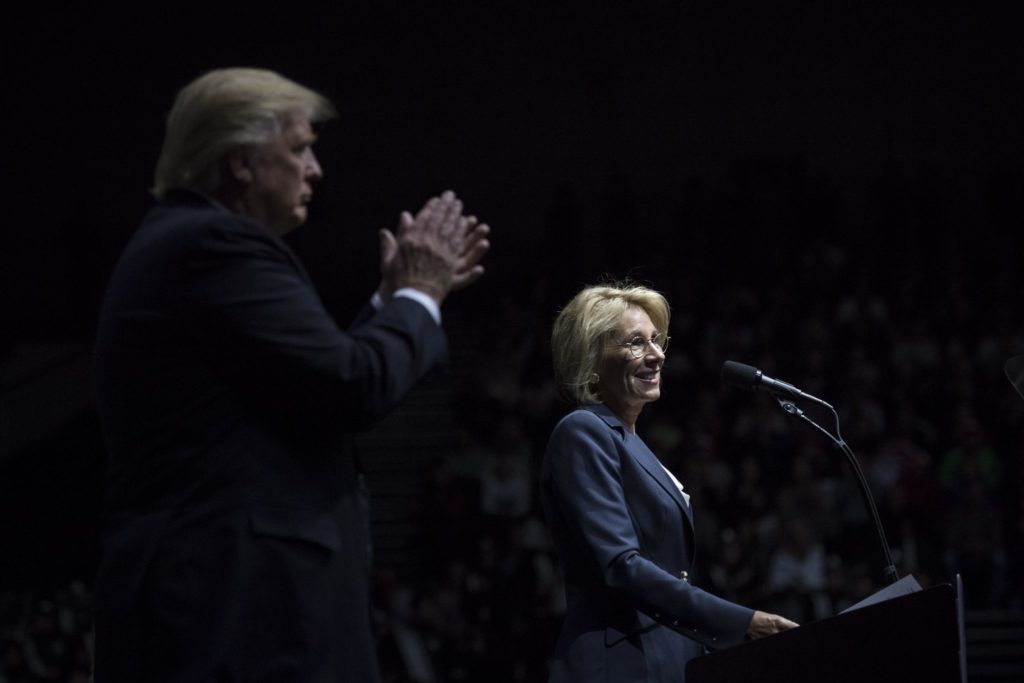 (Photo by Jabin Botsford/The Washington Post via Getty Images)
With Senate confirmation of Donald Trump's education secretary nominee Betsy DeVos now hanging by the thread of a likely tie-breaking vote from Vice President Mike Pence, one thing has become apparent: DeVos' views on public education are well outside the mainstream of either party.
Perhaps less well known is that DeVos has demonstrated a willingness to override and even go after Republicans who fail to completely embrace her program of charter schools, vouchers and deregulation.
The defections this week of GOP Senators Susan Collins of Maine and Lisa Murkowski of Alaska, who both announced that they would vote against DeVos, underscore a fact that Michigan Republicans have known for some time. DeVos is committed to an ideological stance on education that leaves little room for compromise. And as one of the state's wealthiest and most powerful political donors — in the 2016 election year alone, she and her husband, Dick DeVos Jr., gave $2.7 million to Republican candidates — DeVos has the clout to enforce her will. (Since 1999, DeVos and her extended family has spent an estimated $82 million on political campaigns at the state and federal levels.)
Republican State Senator Goeff Hansen, who represents Michigan's 34th District, learned a painful lesson last year about DeVos's hardline positions. Hansen became the unlikely champion of an extraordinary bipartisan effort, the Coalition for the Future of Detroit Schoolchildren, to rescue Detroit Public Schools (DPS) from years of financial insolvency and woeful academic performance. A central goal was to fix the destabilizing free-for-all system — likened by some to the Wild West — in which a dozen or more entities could open and close schools with virtually no oversight.
That campaign, which unfolded over several years, eventually encompassed an almost unheard of alliance of teachers unions, charter schools, business leaders, legislators from both parties, civil rights organizations and grassroots advocacy groups.
By the time Hansen introduced legislation in the Michigan State Senate, longtime adversaries had put aside their differences to embrace a package that few had thought possible when the process began. The proposed law passed by the Senate on March 2016, which also gained the support of Republican Governor Rick Snyder, would have created a commission charged with overseeing the opening and closing of schools, as well as authorizing $720 million to bring DPS out of near-bankruptcy and giving operating control back to the local district, which had been run by state for years.
The legislation was passed with the support of both Democrats and Republicans and sent to the Michigan House of Representatives. Dave Pagel was one of the Michigan House Republicans who supported the creation of the oversight commission. "I did support the Detroit Education Commission," Pagel told Capital & Main. "We needed to have some control over where schools were popping up. Simple choice doesn't solve any problems; we need to find a way to improve education regardless of the choices that are happening."
DeVos and her allies, however, were unwilling to cede any ground in the war they had waged for years to ensure that charter schools in Michigan remain almost entirely unregulated. They worked to dismantle the bill, and by the time they were finished, the House had stripped the oversight commission from the legislation while adding draconian requirements for school closures.
With the specter of DeVos withholding campaign funds looming over Republicans who dared to defy her, the new version of the bill passed the House by one vote, was approved by the same margin in the Senate and signed by Governor Snyder. The turn of events infuriated proponents of the original bipartisan legislation and left Hansen on the verge of tears.
"This was a just and honest cause. Unfortunately, I'm unable to support this bill, and it pains me greatly to say that," he said during a speech after the vote last June. "I keep being told that these compromise bills represents three-quarters of a loaf. Why should Detroit children accept less than what other children across the state are willing to accept?"
Hansen wasn't the only Republican leader whose efforts to pass the bipartisan bill were pushed aside by DeVos. John Rakolta, Jr., a conservative businessman who last July signed on as one of Donald Trump's Michigan finance chairs, had been one of five co-chairs of the Coalition for the Future of Detroit Schoolchildren. Among those joining Rakolta in the coalition's unlikely stewardship was David Hecker, president of the American Federation of Teachers Michigan. In right-to-work Michigan, bringing together a staunch Republican fundraiser like Rakolta and a labor leader like Hecker was nothing short of miraculous. But the two men, along with dozens of others in the coalition, had reached a hard-won consensus about how best to improve Detroit's embattled public schools.
But DeVos and others overrode the bipartisan coalition with a furious lobbying campaign. According to campaign finance documents, nearly $1.5 million was doled out by DeVos and members of her family to the state Republican Party and candidates in the aftermath of the legislation's passage.
Paul Muxlow was not one of the recipients of DeVos' largesse. A member of Michigan's House of Representatives, Muxlow, a traditional Republican, found himself on the wrong side of DeVos' education crusade back in 2011, when he voted against eliminating caps on the number of charter schools in the state. The following year, he was targeted by a pro-charter lobbying group founded, and primarily funded, by DeVos and her family. He almost lost his seat when the group spent close to $200,000 to defeat him.
"I've voted for almost everything the DeVoses wanted," Muxlow told Bridge, a Michigan publication. "I'd walked a parade for Dick Devos when he ran for governor (in 2006). And then they ran the dirtiest campaign against me."
The bottom line for Michigan Republicans — and perhaps for GOP representatives anywhere — is that you cross or ignore DeVos and her educational crusade at your own peril.

In DeVos Vote, Arizona's McCain and Flake Weigh Party Loyalty Against Effective School Policy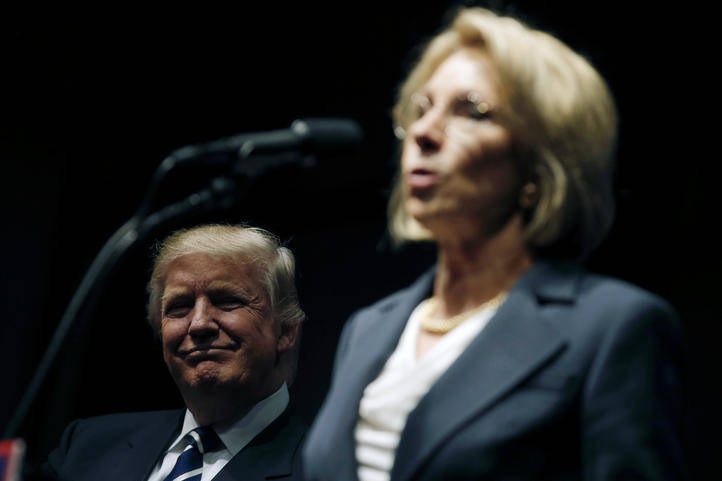 REUTERS/Mike Segar
As the Senate confirmation vote for Betsy DeVos, Donald Trump's nominee for Secretary of Education, comes down to the wire, many Arizona education advocates worry that the nominee's radical priorities will only compound the problems facing a state that already represents a grim vision of what DeVos will push for the rest of the country. The opponents of DeVos are pushing hard to convince Arizona Senators John McCain and Jeff Flake to vote against her confirmation.
Arizona is no stranger to DeVos' program of charter schools, vouchers and deregulation, which allows taxpayer dollars to follow students, regardless of whether it's for public schools, charter schools, virtual schools, private and religious schools or home-based schools. The solidly Republican state passed its charter law in 1996 and, like many other parts of the country, saw a huge expansion of charter schools, including so-called online virtual academies.
It also has funneled hundreds of millions of dollars in taxpayer money to private schools – part of a first-in-the-nation tax credit for private education that was supposed to primarily benefit special needs and low-income students. The diversion of taxpayer funds, however, has not delivered on that promise, while draining resources from the state's traditional public schools. Only about three percent of the so-called scholarship money is designated specifically for special-needs students, with barely a third going to children of low-income families.
Putting DeVos at the head of the Department of Education, said Gene Glass, Regents Professor Emeritus at Arizona State University, will push the state even further into "a full-fledged voucher program" that, he fears, will divert even more public education money to private and religious schools. The tax credit has already put Arizona on the map of states that have allowed taxpayer money to cast doubt on basic science by funding creationist private schools through similar state tuition voucher or scholarship programs.
Arizona now has one of the nation's highest percentage of students enrolled in charter schools – about 17 percent or a little more than three times the national average. The overall performance of the state's charter schools was evaluated in 2014 by the Brookings Institution, which concluded that, on average, these schools "do no better, and sometimes worse, than the traditional public schools." Among the most revealing findings was that attending a charter school was associated with negative impacts on math scores for all grade levels, as well as negative impacts on science scores for students in middle and high schools. There was no evidence that charters had a significant impact on reading scores at any grade level.
The results appear to be significantly worse for Arizona's numerous online charter schools. One study, by Stanford University's Center for Research on Education Outcomes, found that students at cyber charter schools had far fewer days of math and reading instruction compared to students in traditional public schools. "We're running some enormous online charter schools that everybody knows, except Betsy DeVos, are a complete disaster," said Glass of Arizona State University.
One possible explanation for the struggles of Arizona charter schools was uncovered in a recent study by Arizonans for Charter School Accountability. That report found that the majority of Arizona charter schools spend more money on administration and facilities than they do on classroom instruction.
At the same time, said the charter accountability group's Jim Hall, "We have the least restricted charter schools in the country — by far the fewest regulations and the least transparency." DeVos has fought hard against regulation of charter schools, so states like Arizona which have seen unregulated charters flourish and performance languish can likely expect more of the same if she is confirmed.
More troubling to David Berliner, Regents' Professor Emeritus of Education at Arizona State University, is the fact that DeVos has no formal experience in the education field – a fact that he believes McCain in particular should find disqualifying. "Think of what would happen if you would appoint non-military people to the head of military forces," said Berliner. "It doesn't make sense. You really need somebody who knows how the system works."

With DeVos Vote, Some Republican Senators Must Weigh Opposing Trump Versus Supporting Policies That Hurt Public Education in Their Own States
Co-published by Newsweek

In her home state of Michigan, Amway heiress Betsy DeVos, Donald Trump's pick for education secretary, has been a fierce proponent of taxpayer-funded vouchers for private schools, arguing that "choice" would fix the state's ailing public education system.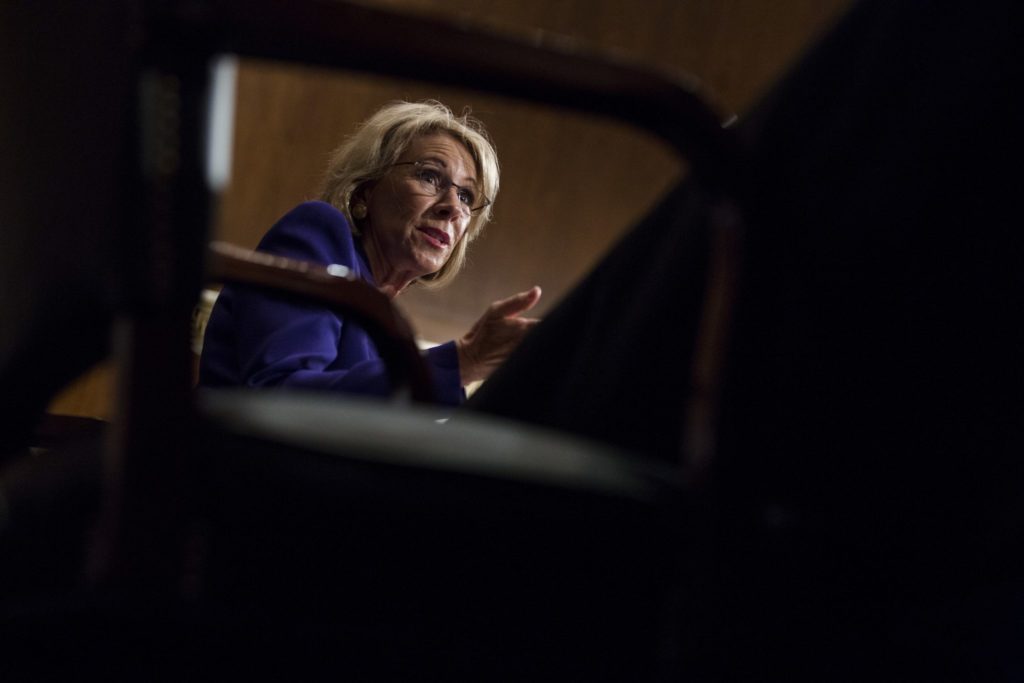 Photographer: Zach Gibson/Bloomberg via Getty Images
Co-published by Newsweek

In her home state of Michigan, Amway heiress Betsy DeVos, Donald Trump's pick for education secretary, has been a fierce proponent of taxpayer-funded vouchers for private schools, arguing that "choice" would fix the state's ailing public education system. Since establishing the Great Lakes Education Project in 2001, DeVos has also persuaded the state legislature to lift the state cap on charter schools and relax oversight, allowing for-profit academies to spend more than $1 billion annually in taxpayer dollars on charter schools.
The result has indeed been more school choice, at least in urban Detroit. But the charter school movement in Michigan has not raised academic performance, particularly among students of color. According to a report by the nonpartisan Education Trust-Midwest, by 2013, two-thirds of African-American charter students in Michigan were performing worse on math assessments than students in Detroit Public Schools. "That is truly devastating," write the report's authors, "given that DPS is one of the worst-performing urban districts nationwide."
Every Democrat in the U.S. Senate has already pledged to oppose DeVos's confirmation when it comes up for a vote next week. Only two Republican senators, however, Lisa Murkowski of Alaska and Susan Collins of Maine, have made the same decision. Of the remaining Republican senators, many represent states where the policies promoted by DeVos have already proved unworkable, and in some cases damaging, to public education.
Opponents of DeVos still hold out hope that a Republican will break the projected tie in the confirmation vote (a 50-50 split would give Vice President Mike Pence the deciding vote, thus assuring her victory). Here are five senators who face the difficult choice of opposing Trump or voting to confirm an education secretary whose actions may not be in the best interests of their constituents:
Sen. Dean Heller, Nevada: Nevada, where the public education system has long been one of the worst in the nation by every metric, has already experimented with ideas favored by DeVos when Republican lawmakers passed a "Super Voucher" program that ended up disproportionately benefiting wealthier families.
One Nevada school, the Nevada Virtual Academy, a cyber-charter in the DeVos model, was nearly shut down last year by state regulators, despite DeVos's claim, in a letter to Sen. Patty Murray (D-Wash.), that the school has a 100 percent graduation rate. In reality, the school has a graduation rate closer to 67 percent.
Heller on Wednesday affirmed his support for DeVos, but many of his constituents are hoping the senator's vulnerability in 2018, when he's up for re-election, will cause him to reconsider. "We're lighting up his phones until the second he casts his vote in the hopes he'll change his mind," says Bob Fulkerson of the Progressive Leadership Alliance of Nevada Action Fund.
Sen. Cory Gardner, Colorado: Gardner announced early he'd be backing DeVos, appearing with her on his Facebook page on January 10. But that post drew more than 3,000 comments, almost all of them criticizing DeVos's education privatization agenda. On Friday, he was still the target of a vigorous anti-DeVos effort. "It's just been a firehose," he told Denver's CBS affiliate, while accusing the protestors of being paid activists.
Like Nevada, Colorado has had its run-ins with the charter-school movement, and school vouchers have met with bipartisan criticism. In 2010, the Colorado Department of Education accused a major charter school operation in the state, the Cesar Chavez School Network, of "egregious financial practices and dubious leadership," squandering taxpayer money without keeping proper records and engaging in "severe nepotism." In 2015, the Colorado Supreme Court declared one county's voucher program, which would have funded private religious schools, unconstitutional.
Sen. Rob Portman, Ohio: Until her November nomination, Betsy DeVos ran a charter school political action committee, All Children Matter, that successfully lobbied state legislatures in several states, including Ohio. But the state's $1 billion school voucher program has been a singular disaster — a national laughing stock, according to the Cleveland Plain Dealer, for its low standards and poor oversight. ("Be very glad that you have Nevada, so you are not the worst," Stanford University researcher Margaret "Macke" Raymond told Ohio education leaders at a conference, the Plain Dealer reported.)
What's more, DeVos's PAC stands accused of violating election law and failing to pay the state $5.3 million in fines for diverting campaign funds meant for Virginia to Ohio. DeVos says she doesn't owe the money, because the PAC has since been dissolved and DeVos herself was just a volunteer. While she has some defenders in the state, including Ohio Governor John Kasich, the dustup has damaged her popularity among Portman's constituents.
Portman only voiced his support for the nominee on February 2, saying that he had confidence in "her support for local control." Nothing in DeVos's testimony supports that theory, however while her record of ferocious political activism in Michigan suggests she'll be anything but hands off.
Sen. Pat Toomey, Pennsylvania:  Pennsylvania Auditor General Eugene DePasquale has declared Pennsylvania charter school law "simply the worst" in the U.S., citing, in an April 2016 report, examples of alleged waste, fraud and abuse of public resources that have gone undetected by regulators. The report generated a scandal when it was released, as did a December 2016 Economic Policy Institute study demonstrating how charter schools in Philadelphia and other urban centers have drained funds from traditional public schools, with mixed results.
Perhaps that's why, as Bob Casey, Pennsylvania's Democratic senator, told Cox Media's Dorey Scheimer on Thursday, "correspondence is up 900 percent" to his office this year, most of it urging a no vote on DeVos. FaxZero, a free faxing service, listed Casey's colleague, Sen. Pat Toomey, as the most faxed congressperson in the 24-hour period that ended Thursday morning at 10 a.m. Still, Toomey has not budged from his enthusiastic position on DeVos, whom he said will ensure that "poor children trapped in failing schools have the same opportunities that wealthy and middle-class kids already have." That might have something to do with the $60,050 in campaign contributions Toomey received from the DeVos family, though the same group gave $43,200 to Alaska Sen. Lisa Murkowski, who is voting no.
Sen. Dan Sullivan, Alaska: Of all the testimony in the Senate committee hearings on DeVos, some of the most persuasive came from Murkowski, who described in detail how the charter school movement would drain rural school districts. "Eighty-two percent of the communities in the state of Alaska are not attached by road," Murkowski said. "They are islanded in every sense of the word." Offering rural districts "choice" is meaningless.
It's in part for that same reason that Sen. Susan Collins won't support DeVos: Maine's 60 percent rural population is the highest in the nation. When you have 60 students in a district, Murkowski pointed out, you need public education dollars to fund one school, not vouchers for fictional options.
Sullivan says he shares his colleague's concerns, but believes, like Portman, that she'll "return the decision-making process back" to teachers and parents.
It doesn't appear that Sullivan is persuadable, but DeVos opponents in the state aren't giving up. The public advocacy group Great Alaska Schools is holding an "Emergency DeVos Tie-Breaker Telethon" today to get around Sullivan's jammed communication lines.