House of Cards: A Pennant Race Remembered
The upcoming Major League Baseball All-Star Game will be the first hosted by the New York Mets since 1964, reminding me that following the All-Star break that same year, my St. Louis Cardinals staged one of the most thrilling comeback stories in baseball history.
I say "my Cardinals" because during my adolescence in Lawn Guyland, my friends and I lived and died by the clubs we followed. For us, the glories and the tragedies of the Cards, Don's Dodgers, Josh's Braves, Peter's Giants and Lenny's Yankees were as intense as the ups and downs of our relationships with our girlfriends. If we'd had girlfriends, that is.
In September of 1964, with just 12 games to go, we (always "we," never "they") were 6.5 games behind the Philadelphia Phillies, whose notorious Philly Phold — the team lost 10 in a row — led to an extraordinary final two days with four teams still in the race. The Cards prevailed on the very last day, after coming this close to humiliation at the hands of the hapless Mets.
The agony of the pennant race and the ecstasy of victory were so consuming that the Cards' seven-game World Series triumph over the dynastic Yankees was in part an exercise in staving off fatigue — mine and the team's. But in game seven, an exhausted Bob Gibson, pitching on only two days' rest, threw as fast as he could (with maximum velocity and minimum time between throws to forestall physical collapse), and not even Mickey Mantle's three run homer in the sixth could deny the Redbirds their destiny.
The romanticism of rooting for a band of underdogs from halfway across the country lay partly in the effort it took to get to know them. Few Cards games were televised, but I was astonished to discover that I could plant my right ear firmly against my small but mighty radio, point it toward my bathroom window at a certain angle and, above the static, listen to the impassioned play by play of the inimitable Harry Caray, broadcasting from the 50,000-Watt radio station KMOX in St. Louis. Do today's 14-year-olds get that kind of kick from watching every game of every team every night on the glut of sports channels in their parents' HDTV packages?
The '64 Cards weren't the most talented bunch in the league, but, at least in my eyes, their smarts, drive and cohesiveness overcame their imperfections. David Halberstam wrote in his 1995 book October, 1964 that the team was far more than a collection of pros trying to make a buck; that they "served a common purpose."
That purpose had something to do with the wider political world in which they played. The Cards were a model of racial balance during the year in which Malcolm X left the Nation of Islam, Cassius Clay declared "I am the greatest," the landmark Civil Rights Act of 1964 was passed and the Freedom Summer, a drive to register African American voters in Mississippi, built momentum for the '65 Voting Rights Act, which was ignominiously gutted by the Supremes last week. (The Supremes of '64, of course, were in a different league than those bums Roberts, Scalia and Thomas, achieving chart supremacy with "Where Did Our Love Go?" and other gems.)
My black heroes on the Cardinal roster included the fleet outfielders Lou Brock and Curt Flood and, most of all, the awesome Bob Gibson, an intimidating force of nature. Third base whiz Ken Boyer, savvy shortstop Dick Groat and affable catcher Tim McCarver were among the white standouts. And who was on first? Bill White — who was black.
I went to school the day after the Cards' clinched feeling as though I'd personally hit a pennant-winning homer. I wasn't sure how my friends would react, though. After all, they'd lost. But Peter greeted me with generous congratulations, and Lenny, as competitive a guy as I've known, also said he was happy for me. I'd like to think I would have been as gracious in defeat, but I'm not so sure.
Nearly 50 years later, Don, still a Dodgers fanatic, wrote me a classic wouldha couldha shouldha on his team's '64 season: "Dodgers (not the Dodgers, just Dodgers) won The Series in '63 and '65. In '64 Koufax was injured in early August (5th) and didn't pitch the rest of the year. He was 19-5 at that juncture and if he had stayed healthy he would have won four consecutive Cy Young awards."
Though Lenny took his '64 disappointment in stride, he had been crushed four years before, when, he writes, "we lost to the Pirates in devastating fashion." He didn't have to mention the source of his heartbreak: Bill Mazeroski's Game Seven bottom-of-the-ninth walk-off home run.
Having a birthday that foreshadows the All-Star break — Lenny's is one day before mine, Peter's is on the same day — often reminds me of that summer/fall of '64. This year, it's especially bittersweet because, like my, er, seasoned friends, I'm turning 64, the age immortalized in a ditty Paul McCartney wrote when he was just 16. This season, I plan to forego regret and focus on a different 64 — the '64 immortalized by my Cards.
(Michael Sigman is a writer/editor, media consultant and the president of Major Songs, a music publishing company. His post first appeared on Huffington Post and is republished with permission.)

'Skeleton Crew' Is a Play With a Moral Spine
Set in a Detroit automobile outfitting plant, Dominique Morisseau's drama grabs you from the start with its focus on blue-collar men and women, and their struggle for dignity and self-respect.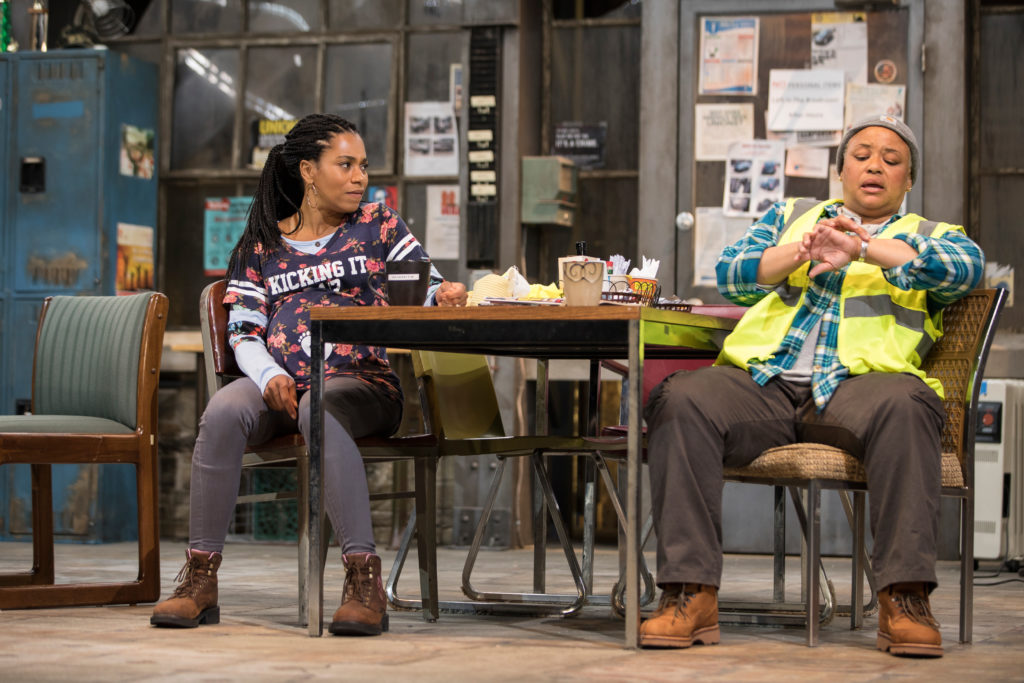 Working-class men and women of color are rarely front and center in today's media and, likewise, are presented all too occasionally on the American stage. So it's buoying to see that trend bucked in playwright Dominique Morisseau's percipient and well-crafted drama, Skeleton Crew. The play is the final installment in her Detroit  Project Trilogy; the first, Paradise Blue, is set in the 1940s amidst displacement caused by urban renewal and gentrification, while the second, Detroit '67, transpires on the eve of the 1967 Detroit riots sparked by a police action.
Directed by Patricia McGregor at Los Angeles' Geffen Playhouse, Skeleton Crew is a play with a moral spine. It takes place in 2008, when the shrinking U.S. auto industry is being further downsized. Morisseau's engaging quartet of characters — Faye (Caroline Stefanie Clay), Dez (Armari Cheatom), Shanita (Kelly McCreary) and Reggie (DB Woodside) – are employed at an automobile outfitting plant. Faye, Dez and Shanita are workers on the line while Reggie (who has a wife and kids, and has pulled himself together after a troubled youth) is their supervisor.
The first three customarily mingle in their break room (designer Rachel Myers' impressively cluttered, dingy and detailed set), trading the sort of familiar barbs and genuine concern for each other common among longtime co-workers. They also face off on philosophy: Upper-middle-aged Faye and the younger, pregnant Shanita take pride in their labor, while Dez, though a good worker, is a malcontent scornful of management and firm in the belief that everyone needs to watch out for himself. He's a thorn in Reggie's side, for while Reggie wants to be supportive of his workers, he must act at the behest of higher management. For his part, Dez resents Reggie's authority, and a palpable unease exists between them.
Besides this male matchup, we're made privy to Dez's attraction to Shanita, who mostly turns away his advances, but every now and then displays a hint of interest. Most poignant is Reggie's regard and affection for the lesbian Faye, which has roots in his boyhood when she loved, and lived, with his now-deceased mom.
These people's various predicaments intensify when rumors spread of the plant's shutdown — a disaster for all, but a particular calamity for the already near-broke Faye who, one year short of retirement, would lose her pension. The crisis forces each of these people to make a choice.
A sound piece of social realism, Skeleton Crew grabs you from the start in its focus on blue-collar men and women, and their struggle against odds for dignity and self-respect. Morisseau not only furnishes these characters a platform for their travails, she endows them with strong values, big hearts and the opportunity to choose between right and wrong.
Unfortunately, the performance I attended did not soar. Many exchanges lacked a fresh edge. The actors certainly had their characters down, but too often they appeared to be coasting on technique. (This seemed particularly true of Clay, who performed the role to great accolades in Washington, DC in 2017, also under McGregor's direction). Additionally, some of the stage movement was not entirely fluid; in confrontations, actors sometimes would just stand and face each other in an artificial way. And Cheatom's interpretation of Dez struck me as a bit overly churlish and depressive: I needed more glimpses of the intelligence and edge that would secretly attract the strong, self-directed Shanita.
The most compelling moments belong to Woodside, well-cast as a man trying his best in difficult circumstances to do the right thing.
---
Gil Cates Theater at the Geffen Playhouse, 10886 Le Conte Ave., Westwood Village; Tues.-Fri., 8 p.m.; Sat., 3 & 8 p.m. Sun., 2 & 7 p.m.; through July 8. (310) 208-5454 or www.geffenplayhouse.org