Homework Inequality: The Value of Having a Parent Around After School
Co-published by The Atlantic.
For the struggling working class, especially those with on-call or non-traditional schedules, the level of involvement that today's homework requires can be impossible to manage.

Veronica Marentes arrives for work at a McDonald's in San Jose at 7:30 a.m., when much of the city is just waking up. She has dropped her youngest son at daycare: By 7:45 a.m. she is flipping eggs for McMuffins and cleaning off tables.  When her workday ends more than eight hours later, she still can't rest for a moment:  At 4 p.m., she rushes to pick up her 4-year-old from daycare and her 12-year-old from school. If she's late for the little one, the care center charges her a dollar a minute. If she's late for the older one, who waits for her in his school's library, his homework will suffer: While he awaits her pick-up, there's no one there to help him and ensure that he completes his assignments.
A single mother, Marentes is often tardy at pick-up, because her manager asks her to do extra tasks at the end of her shift, delaying her from leaving on time. These changes add to her stresses: Marentes works 33 hours a week, which doesn't cover her expenses, and she receives no child support. The family lives in a garage and the tight quarters are hard for the growing boys: Her 18-year-old son wants his own room, away from his little brothers. And her lateness has affected her middle son's grades, which have started to plummet.
Marentes is not alone. In Seattle, Crystal Thompson, a Domino's worker who has a young kid and a new baby, gets her schedule on Sunday night for a workweek…that begins Monday. There's little time to focus on her older child's education. Then there's Nique Williams, who worked at a Target in Emeryville, California until, she says, her supervisor changed her afternoon schedule one time too many and her daughter Nyla's schoolwork started to suffer from Williams' late and erratic pick-ups.
Unpredictable work schedules don't only affect poor and precarious workers. A group of working mothers who are nurse program managers, earning middle class salaries at a county hospital in the Bay Area town of Martinez, regularly work 24-hour days: eight hours at the hospital; 16 hours on-call during the week and sometimes as many as 48 hours on their weekends; which makes planning for childcare nearly impossible. Forget helping with their kids' homework or making sure their children keep their grades and their test results up. 
Much has been written lately about wealthier parents and their children's homework: There's too much of it; it's stressing out parents, kids and teachers; the time it takes is overwhelming. Some of the critique of homework focuses on how valuable it actually is: Do rote teaching-to-the-test worksheets improve students' understanding, anyway? But far less discussed is how homework exacerbates inequality, especially for the children of workers who don't have the luxury of parental attention or even quiet time at home to complete worksheets and math problems. These stories rarely consider the implications of increased levels of homework on poor families. If social class were a multiple-choice test, journalists would often get it wrong answering, "None of the above."
According to a recent Hechinger study, higher income 15-year-olds tend to do more homework than lower income 15-year-olds in almost all of the 38 countries surveyed, and kids who are doing more homework also tend to get higher test scores. And what makes it even more unequal is that these middle-class families can and do hire extra tutors to help their children. (University of Chicago economists have called this "trickle-down consumption": When middle-class families spend money to hire tutors to help their children compete against the progeny of the very rich, spending from $65 to $120 per house hour on math instructors.)
In cities like New York dozens of one-on-one or group programs help middle-schoolers with their math and English exams. (Programs like Manhattan Edge Education offer individual tutoring for the all-important middle school state exams, which can determine high school admissions, at hourly rates between $80 and $150.)
Even middle-class working parents note how they don't have the time to follow up with their children on their Singapore math—they may bitterly mention the stay-at-home mother who has the time and money to go that extra mile with a Harriet Tubman presentation or teaching their child sight words, or the father who can provide their child access to a science lab and his time and expertise for a labor-intensive science project (grade school projects using radium?). In other words, it can feel hard for parents in the middle class to keep up.
But for the struggling working class, especially those with on-call or non-traditional schedules, the level of involvement that today's homework requires can be impossible to manage. Yet schools continue to consider parental involvement as an unquestionable good and crucial to the success of a child's learning, failing to realize how this affects those whose work does not permit it, completely ignoring the effects of class.
Erratic work schedules like Marentes' and others govern the lives of 17 percent of American workers, according to the Economic Policy Institute. As City University of New York Graduate Center labor historian Josh Freeman tells it, "only a tiny number of Americans now have a normal five-day-40-hour work week."
Some corporations now expect worker hours to conform to round-the-clock production cycles, schedules tweaked for maximum efficiency, time zones of business partners halfway around the world (how do you say "overtime" in Hindi?), and real-time fluctuations in demand and customer levels. They may ask employees to be available at the last minute exactly when corporations need them, with little regard to how such "just-in-time" scheduling affects their workers' family lives. As a result, their kids' science projects never get done properly and their math worksheets are never surveyed by their parents' eyes.
These just-in-time families are governed by a new kind of American hours: "the forever clock."
Nowhere was the toll of on-call schedules on workers and their kids more evident than during the time I spent embedded at 24/7 daycare facility over a year ago, where parents were struggling to pick their children up in the early evening or even in the late evening and had to find facilities where they could stay overnight.
These extreme hours without overtime or stability are a reversal of gains critical to the creation of the modern American labor movement, says Freeman. "One of the workers' central demands back then were shorter and more predictable hours," he says. The Fair Labor Standards Act of 1938 imposed overtime rules and helped regularize hours, and unions built on that. "One of the big changes from the 1970s onward has been the breakdown of the old-fashioned hours and the defined workweek," he says.
The kids of employees who are required to both close and open a store in a single shift, which can extend from the early morning to the late evening (the hideous term for this is "clopening"), miss out on their parents' presence—and their help with homework or their encouragement on a project, at both ends of the school day. Education observers already refer to the "Homework Gap," which is conceived of as a digital divide between those families that have computers and access to the Internet at home, and those that do not, but the schism between the homework-haves and homework have-nots is also a divide between parents who control their own work schedules and those who can't. Recently, the Economic Policy Institute looked at non-standardized and on-call retail work schedules. It found that these schedules had a clear negative impact on kids' cognitive development.
Nique Williams' hard luck tale is a variation on this theme. I talked with Williams while her daughter sat beside her. Five-year-old Nyla filled up the family's water purifier as she is "so in love with being able to get it herself," Williams said. Williams worked at Target in Emeryville, a small Bay Area town whose minimum wage was recently raised to nearly $15 an hour. When she was hired as a cashier at the big-box store, she says she told her employers that she needed a "very strict" daily schedule, from 10 in the morning to two in the afternoon, so she could drop off Nyla and pick her up at 2:55 p.m., leaving time for the two buses it took to get from Nyla's school to the outlet. Williams, who is 27, and her husband, who works for Greyhound cleaning buses, couldn't afford their own car until recently. In return, she told Target she could work as many hours as needed on weekends.
Soon, Williams says, she was asked to work later and later. And this started to put Nyla's first school year in jeopardy, she says. While the demands of kindergarten can seem slim, Williams herself has a learning disability – as does her husband and Nyla. This requires Nyla and her mother to put in extra effort to keep up with school work. And it will only get harder as Nyla gets older and her homework grows more challenging.
The constant scrambling and uncertainty caused by her work schedule left Williams with little time and energy to help her daughter after school. After waking up at 6 a.m. and working all day, Williams would rush to pick up her daughter at school and "get home so tired, give a bath, cook dinner for her." "And then do her homework?" Williams asks. She was too fatigued and unsettled by her confusing scheduling to help properly.
"And in kindergarten," explains Williams, "you have to have patience. Being learning disabled we learn very, very slow and we are more hands-on. I have to pull out the blocks and teach things I don't remember learning myself, so I can teach her properly." Who else would take this kind of time and care with her daughter, especially if she couldn't afford to pay them? "This is why my availability is strict."
Ultimately, Williams lost her job for refusing to accommodate the company's exploitation of her availability. Anya Svanoe, an Oakland-based labor organizer, believes that Target let go of Williams and other workers that Svanoe has aided because the chain was displeased that their employees' schedules were "dictated by child-care needs." This would seem to contradict Target's fun, kid-friendly image reflected in jolly ads in primary colors, a faux classy sheen exemplified by its old tag line "Expect More. Pay Less," super deluxe labels Missoni and Michael Graves having dallied with their Target lines and the shoppers that parody its fanciness by pronouncing the store's name "Tar-jay."
It's flexible scheduling that only goes one way — in the employers' direction.
"Target is doing this on-call scheduling stuff with last-minute changes for workers like Nique," says Svanoe. "Their hours will fluctuate between four and three hours, their income is unstable, they have erratic hours. It impacts the ability and stress level of parents."
Time is the new money, especially for low-income work. That's why, alongside vocal campaigns for states and cities to raise the minimum wages, another movement focused not on pay but time and hours is gaining traction.
When I spoke to Marentes, who came to America from Mexico 10 years ago and has struggled through tenuous romantic relationships and jobs with unstable hours to support her three children, she was angry that McDonald's "doesn't respect the [their own] schedule– it affects my son a lot, when he doesn't know when I am coming to pick him up." Her son's teachers call her, she says, when he doesn't turn in his projects or gets bad grades. "Why didn't you tell me you needed my help?" she will ask him. He'll answer, "You came late that day."
He had needed things for a  project involving the solar system: balls for planets, paints. Her boss changed her schedule and she came home late from work once again and her son stayed silent. His usual A's and B's have been dropping because of missing homework. Life is hard enough already without trying to plan and parent around a work schedule that is constantly and arbitrarily extended.
Workers like Marentes and Williams struggle with their shifts so their children can thrive at school. Their distress lies at the heart of the growing push toward fair hours. The fair work week drive coincides with efforts by these same workers to raise minimum wages, but hours are a bigger problem than pay, says Oakland organizer Svanoe.
While some companies—J. Crew, Urban Outfitters, and the Gap—have recently ended computerized on-call scheduling under intense pressure from the media and advocates, and a proposed federal bill and pending bills in 10 states insist that employers stabilize their workers' schedules, erratically scheduled jobs remain widespread. Meanwhile, wealthier students have parents, babysitters, tutors and test prep courses to help them, while poorer students no longer even have their parents' help.
Labor historian Freeman, for one, is optimistic, believing that the movement for the fair work week will follow in the successful path of the fight for family leave and a higher minimum wage. It's one of those "apple pie" issues: not appearing on the right side of this issue can make corporations look like the Grinches they may actually be.
Nique Williams now makes less hourly as a teller at a credit union than she did at Target. But she says she loves her job. It's within walking distance of her house and her boss is understanding of the pressures of parenting, especially the educational pressures. She accepts this pay cut simply for the employment stability that allows her to focus more on her daughter's homework after school. "Nyla is my number one priority," she says.

Living Homeless in California: The University of Hunger
A January study found that 11 percent of students on the California State University's 23-campuses reported being homeless during the past year. At Humboldt State nearly a fifth said they'd been homeless at one point during 2017.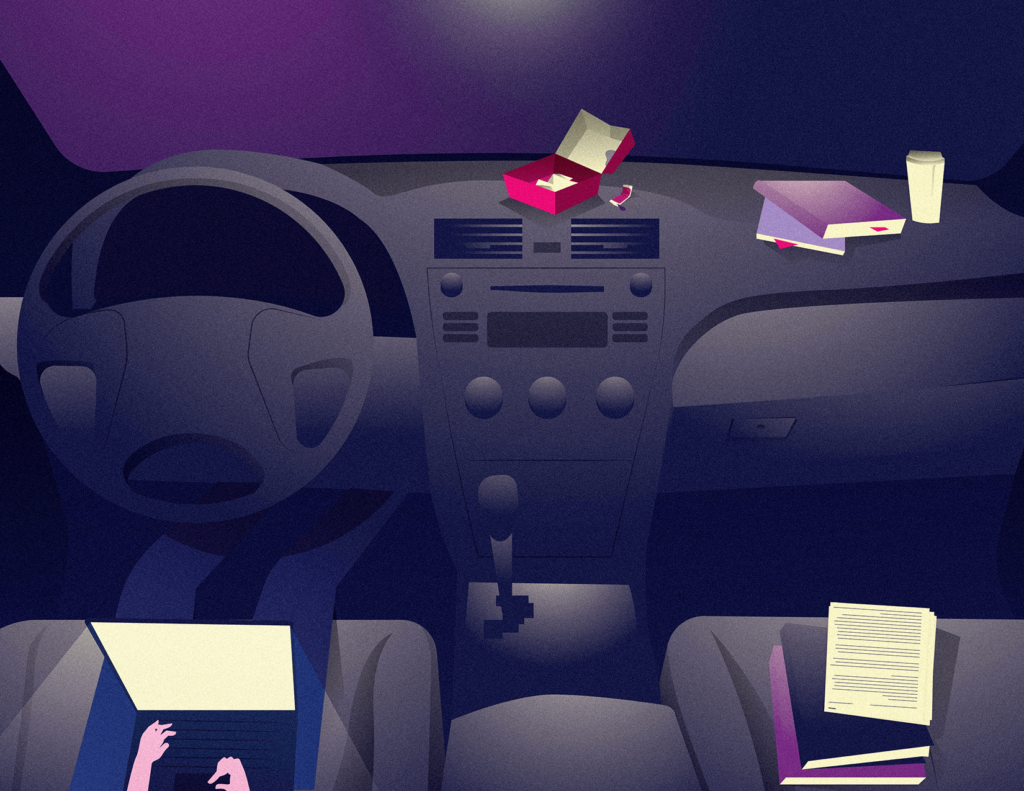 ---
Homeless students told of sleeping in the woods and of completing research assignments at McDonald's, to take advantage of free Wi-Fi.
---
In August of 2016, Chanté Marie Catt left her home in Redding, in the Sacramento Valley, to begin her first semester at Humboldt State University. Catt was 36, with a boyfriend and 1-year-old daughter, and possessed a booming laugh and no small amount of confidence. After nearly two decades running her own pet-care business in Los Angeles, she had begun to feel limited by her lack of a college degree, and several years earlier followed her parents north and enrolled at Redding's Shasta College. The transfer to Humboldt had her dreaming of towering redwoods and cool ocean breezes. "We were excited to start a new life, maybe buy a house," she says.
The couple tried to find a place from Redding, scouring Craigslist for openings without luck. In person, Catt figured, her prospects would improve. Once they had checked into a campground north of the university and enrolled their daughter in daycare, she dedicated her time to visiting property management companies. A week went by, then another. She paid application fees to management companies—$20 here, $43 there—and called through every listing she found, but even with a solid credit and rental history, never heard back. The family bounced from one campsite to another, with occasional stops at a motel to clean up. It was an expensive way to live, and she rapidly blew through $16,000 in financial aid and student loans. One day, out of a combination of anger and desperation, Catt took to Craigslist from her motel room. "I'm a sociology student," she wrote, "starting research on our homeless students and on the property management companies here. Anyone want to share their stories!?"
Within hours, she received more than 150 responses. Homeless students told her of moving from couch to couch, of sleeping in the woods and of completing their research assignments at McDonald's, where they took advantage of free Wi-Fi. "My children are cold, we are broke from all the rental application fees and I'm tired of it," wrote a mother of two. A graduate student who worked full-time revealed that he was living in his car for the second consecutive semester: "I never knew it would be this hard to find a place to rent."
Several weeks later, while still homeless, Catt had organized a campus group, the Homeless Student Advocate Alliance, and was spending her free time passing out fliers to attract more members. They weren't hard to find. "Every couple of students I talked to was experiencing some sort of displacement," she says. For many students at Humboldt, going to college meant becoming homeless.
---
One homeless-student conference included workshops on outdoor living, covering topics like how to light fires to keep homework dry.
---
The true scale of this crisis was revealed last January in a groundbreaking report commissioned by the California State University system. The study found that 11 percent of students on the university's 23-campuses reported being homeless during the past year. The problem was most acute at Humboldt State, where nearly a fifth of the student body had been homeless at one point the previous year.
"In large part, students are homeless because they don't get enough financial aid," says Jennifer Maguire, a Humboldt social work professor, who co-authored the study with Rashida Crutchfield of Long Beach State. "It's even worse here, because we're in a rural area with a very limited housing stock." According to the North Coast Journal, a local newspaper, there aren't even enough rental units in the city of Arcata, where the university is located, for the students who need housing—much less anywhere else. And while the university plans to build more student housing, it can currently only guarantee slots for first-year students.
This shortage allows landlords to crank up rents and reject applicants at whim. For students without a financial cushion, the situation can quickly turn into a full-blown emergency—and in the CSU system, that's a lot of students. More than half the students at Humboldt are the first in their family to attend college, and a third are Latino. Many work full-time; some have kids. "The 'non-traditional' student is now the traditional student," says Maguire.
On a cool April morning, more than 200 people packed into a theater at the College of the Redwoods in nearby Eureka, for a forum on homelessness co-hosted by Humboldt State. "I mentioned to a community member last week that I would be attending this summit today and she asked me, 'What does homelessness have to do with HSU?'" said Humboldt State president Lisa Rossbacher. The crowd laughed, which represented at least some progress. It's no longer a secret that Humboldt State students struggle with homelessness.
---
"My children are cold, we are broke from all the rental application fees and I'm tired of it," wrote a Humboldt State University student.
---
Much of the progress is due to the efforts of activists like Catt. After several months of homelessness, her family eventually landed an apartment, thanks in part to an emergency welfare grant. By that time, she had organized the homeless student alliance, which was pressing the university to finally address the problem. Last fall, the group held a three-day conference at Humboldt State that included workshops on outdoor living, which covered topics like how to light a fire and keep your homework dry. On the third day, a group of students put up tents on the quad and stayed for two nights. They then moved to the library, which they occupied, and demanded that it remain open 24 hours a day to give homeless students a safe and warm place to be.
The next day, an administrator contacted Catt and offered her the position of off-campus housing liaison, which had been one of the alliance's demands. Since January, Catt has worked with more than 100 students, many of whom are in need of housing or have dealt with retaliation from landlords. It's a start, though there are limits to what she can accomplish. One student who was living out of her car recently came to Catt's office, and Catt gave her a code to the campus lockers, which are normally reserved for students taking physical education classes. The student broke down in tears at the prospect of a hot shower. A few days later, Catt texted her that a landlord had recently called with a room to rent, but the student had moved back in with her parents. "She told me it had just been too cold out there," says Catt.
A couple of days after the homeless summit, I met Jasmine Bigham, a 23-year-old transfer student, on the steps of the campus library. Like Catt, she had arrived at Humboldt in 2016, and anticipated finding housing within a week or two. "Weeks turned to months," she says. She spent a semester living out of her Subaru Outback, searching for places to park at night that looked safe, then curling up on the back seat. She didn't tell her parents. "No parents want their kids living like that," she says—and anyways, they didn't have much extra money. Bigham is from a small town in neighboring Siskiyou County, and before college had lived inside a metal shop designed to store tractors and supplies; her parents created walls by hanging tarps. "I sort of grew up having to figure shit out," she says.
---
Homelessness has caused Jasmine to give up on some dreams. She wants a college education, so that means giving up a home.
---
After a semester in the Subaru, she bought a used trailer for $1,000 and parked it at a KOA campground for $600 a month. That felt safer, but then the trailer's ceiling collapsed and an intoxicated neighbor harassed her, so she left for a room in a house that was infested with mold and rats. She could only handle the grime for so long, so last year she sold her Subaru and plowed the rest of her savings—which she earned by waitressing in Lake Tahoe—into a GMC van. Since January, she's been living at a parking lot next to student housing.
As we walk from the library to the parking lot, Bigham outlines her semester budget. Scholarships nearly cover her tuition, and she's in charge of the rest. Right now she's not working, because she's taking 19 units, the maximum allowed. The parking pass is $180 a year, and she rents two lockers, at $5 a piece, for the semester. Each day she stops by the campus food pantry, where she fills plastic containers with soup and picks up rice and beans. She describes the area around campus as a food desert but in reverse—filled with only "really expensive healthy food" that's out of her reach. She takes a bus to Eureka, then walks a mile to reach a more affordable grocery store, where she can load up on quinoa, bell peppers and mangos. She has a camping stove, or else prepares meals for the week at friends' homes.
At the parking lot, she points out several other vehicles where students are living. She'll graduate in December, and tells me that when she returns this fall she hopes to get the other homeless students to park together, to create a greater sense of safety. She opens the back of her van, which is meticulously organized: a plastic container for her clothes, a folded mattress she bought on sale at Ross Dress for Less, an ice chest and cans of beans. "I had to learn what food stays good and what doesn't," she says.
Bigham tells me that she's always felt different. She is an African American from an all-white rural community. She grew up on a "broken-down ranch" with cows and pigs, while many students at Humboldt talk about eating meat as if it were a crime. "The hardest thing is people not understanding," she says, leaning against her van. "If you talk about how people don't have enough to eat, they say, 'Well, why don't they just feed themselves?'"
Homelessness has caused her to give up on some dreams. She loved track, and was recruited by a couple of larger colleges to throw the javelin, but didn't want to live in a big city. She hoped to continue with athletics, but juggling a full academic load while being homeless didn't leave much room for anything else. She shrugs and smiles. "You can either be sad or you can figure it out. If you don't have money, but you still want to do things, you have to give up something," she says. She wants a college education, so that means giving up a home.
---
Copyright Capital & Main