Homeless Sue Orange County to Stay at Santa Ana Riverbed Tent City
At the beginning of this year, Orange County announced the simplest of solutions to its homeless problem: It would make living along the Santa Ana riverbed illegal and let the homeless figure out where to go.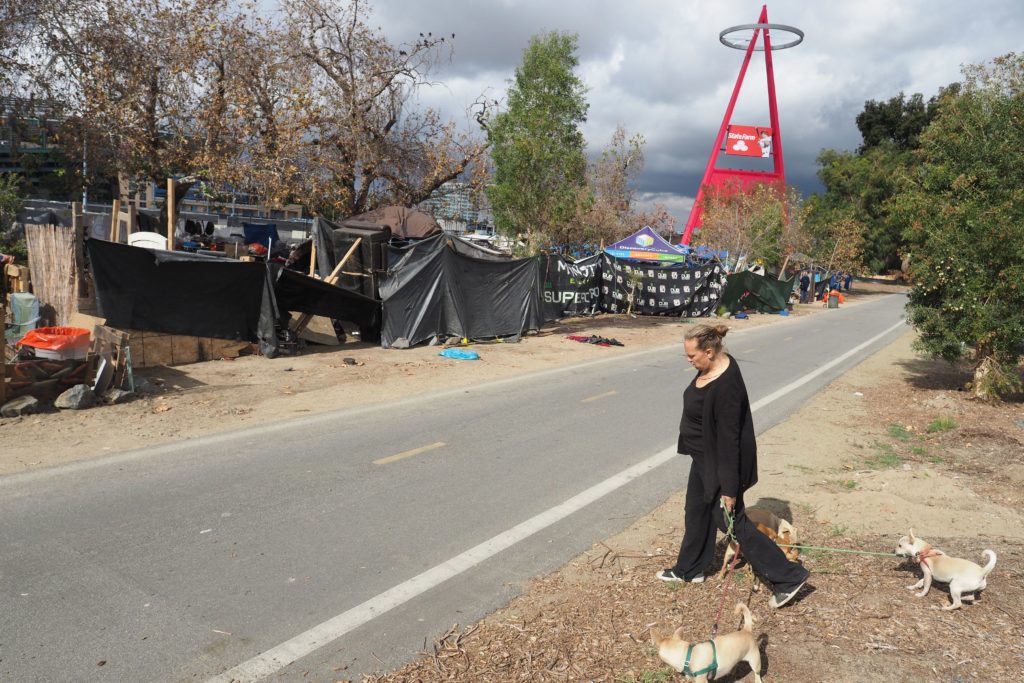 Nearly all of the eight homeless plaintiffs once belonged to Orange County's suburban class.
---
Every day for the past four years, hundreds of thousands of commuters driving north on Interstate 5 just past the 22 Freeway in Orange County have witnessed the growth of something embarrassing to the region: a full-fledged homeless camp. It started with just a couple of people along the Santa Ana riverbed; tents, canopies and other makeshift shelters now line its western bank. About 500 people lived here at the end of 2017, a jarring counterpunch to the perpetually sunny story OC tells about itself to the rest of the world.
The encampment has enraged residents and flummoxed politicians, who ignored for years the warnings of homeless advocates that a housing, economic and heroin crisis would eventually overburden their services and lead to something like this. So at the beginning of this year, the County of Orange announced the simplest of solutions: It would make living along the riverbed illegal and let the homeless figure out where to go.
On January 22, sheriff's deputies and local police told riverbed residents to clear out — or citations and arrests would follow; about 150 have since left. But earlier this week, U.S. District Court Judge David O. Carter issued a temporary restraining order (TRO) that banned any "haphazard, hurried enforcement action in an effort to clear the population" until a February 13 hearing to determine its legality. It came at the request of lawyers who filed a federal lawsuit against the County of Orange, Anaheim, Costa Mesa and the City of Orange on behalf of the Santa Ana-based nonprofit Orange County Catholic Worker and eight homeless individuals. The suit alleges the riverbed evictions are a civil rights violation because the riverbed homeless have no permanent shelter and face indefinite criminalization whether they leave or not.
"Plaintiffs are afraid they will be cited and threatened with citation or arrest again if they leave the area," the lawsuit reads, "but they now risk arrest or citation if they stay in that area."
As part of their TRO application, the eight plaintiffs offered Carter written statements to argue their right to remain. "In a case like this," said lead attorney Carol Sobel, "often the best evidence—and sometimes the only evidence—is declarations from the clients."
Together, they paint a picture of official neglect in a county that long tried to pretend homelessness didn't exist. Almost all the plaintiffs allege that law enforcement harassed them toward the riverbed, away from public view. All tried to fall back on the county's safety nets only to find more solace at the riverbed. All want to remain there until the county offers an actual solution to their plight.
And nearly all once belonged to Orange County's suburban class. Lisa Bell used to work for Broadcom, the semiconductor company founded by Anaheim Ducks owner and OC mega-philanthropist Henry Samueli. Cameron Ralston ran a printing business out of his mother's garage until she passed away and her husband kicked him out and kept his tools. Army veteran Larry Ford tried to sleep in a shelter but "left before the morning because the environment…left me feeling unsafe." Shawn Carroll quit his job working on cars to take her of his parents, then couldn't find steady work once they died. He currently owns a 2000 Dodge Ram, but is afraid to sleep in it because Garden Grove and Anaheim police "have harassed me in the past about sleeping in my vehicle in their cities."
The Legal Aid Society of Orange County filed a separate lawsuit Feb. 6 on behalf of seven disabled homeless plaintiffs to also stop evictions. They didn't include any testimonials, but a passage in the complaint sums up the feelings of activists and homeless alike.
"The County has historically lacked the political will to implement the services identified as long-term solutions to solve homelessness," it says. Therefore, the plaintiffs "remain on the Riverbed despite the hostile environment created by the County because they literally have nowhere else to go."
---
Copyright Capital & Main