High-Speed Rail Is No Mirage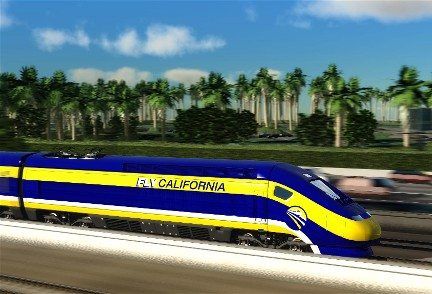 The voices of doom and decline say that high-speed rail cannot be built in California. They've tried to stop the forces of progress by calling high-speed rail "a boondoggle" and "a waste." This is not a new phenomenon. Enemies of progress said the same thing about the Golden Gate Bridge, built in the middle of the Great Depression. They screamed "boondoggle" at every major public works project in the 20th century while California was constructing a world-class infrastructure of freeways, dams, bridges and aqueducts that fostered a golden age of middle-class growth.
The labor movement rejects the voices of doom, because we have a vision for California. We know it's time to invest in California's future, starting with construction of high-speed rail.
Wednesday, the voices of progress and investment won a significant victory — Governor Brown signed SB 1029 to fund construction of a high-speed rail system. This is the first significant commitment of funds for construction and acquisition of the high-speed rail project. The investment of $4.7 billion in bond funding authorized by voters in 2008 will be matched by $7.9 billion in federal and local dollars.
As California Labor Federation Executive Secretary-Treasurer Art Pulaski said on the day SB 1029 passed the legislature:
By releasing voter-approved bonds, the legislature rejected the voices of doom and decline that want to take California backward. Instead, today's vote will lead to hundreds of thousands of quality jobs, an easing of traffic congestion and a cleaner environment. Today's vote was a boost of confidence in the spirit of California, a spirit that built everything from the Golden Gate Bridge to the dams and aqueducts that bring our cities water. For California to be a world leader again, we must invest in our future. With this vote, we're on the right track.
California's investment in high-speed rail will create hundreds of thousands of construction jobs across the state, while at the same time improving local and regional rail systems and providing relief from traffic gridlock in urban areas.
Some of the early investments include billions of dollars for improvements in Northern California:
SFMUNI – Central Subway extension;
Caltrain – Electrification;
BART – Millbrae Station Track Improvement and purchase of new train cars;
Caltrans (Amtrak) – Capitol Corridor, Oakland to San Jose Track Improvement;
Santa Clara Valley Transportation Authority (SCVTA) – Caltrain Advanced Signal System;
And in Southern California:
Los Angeles County Metropolitan Transportation Authority (Metro) – Regional Connector Transit Corridor;
Southern California Regional Rail Authority (SCRRA) – New or Improved Locomotives/Cars;
San Diego MTS – Blue Line Light Rail improvements;
North County Transit District (NCTD) – Positive Train Control.
In addition, $6 billion will be invested into the spine of the high-speed rail in the Central Valley, creating desperately needed jobs and linking the fast-growing rural areas to cities in the North and South.
Today, the forces for investment, economic recovery and progress beat back the naysayers. Governor Brown's signature on this historic bill furthers the vision of high speed rail and reclaims California's historic role as an economic and technological leader.
Learn more about high-speed rail.
Sara Flocks is the public policy coordinator at the California Labor Federation and the founder of Young Workers United. Her feature first appeared on Labor's Edge and is reposted here by permission.
ICE's Stealth Campaign to Expand Its Budget
The new Democratic majority in the House of Representatives could pose a challenge to the agency's chronic overspending — and to its aggressive detention and deportation policies.
---
In June the Dept. of Homeland Security asked Congress to allow it to transfer $200 million to ICE to cover agency overspending, continuing a pattern of such requests.
---
Big spending on immigration enforcement at the Department of Homeland Security promises to be a major sticking point as Congress prepares to negotiate a budget deal early next month.
Even though illegal immigration to the United States appears to be at its lowest point in 46 years, spending on immigration enforcement is at an all-time high. (The U.S. Border Patrol reported that in 2017, the last year for which statistics are available, apprehensions at the U.S.-Mexico border had dropped to 303,000, and had been declining nearly every year since 2000, when a record 1.6 million people were arrested.)
---
 By overspending its congressional allocation, ICE is effectively writing its own budget.
---
U.S. Immigration and Customs Enforcement's detention operations exceeded the agency's budget this year, while ICE spending on its vast system of immigration jails shows no sign of slowing.
But a newly elected Democratic majority in the House of Representatives could pose a challenge to the agency's chronic overspending — and to its aggressive detention and deportation policies.
ICE jailed so many immigrants in 2018 that it ran out of space in its more than 200 lock-ups, and placed 1,600 people in medium-security prisons.
Congress set detention and deportation spending for 2018 at $4.4 billion, enough to detain some 40,520 people annually.
However, by June, 44,000 men and women languished in immigration detention, filling 4,000 more beds than Congress authorized. DHS asked Congress to allow it to transfer $200 million to ICE to cover agency overspending. The department plucked the funds from several of its agencies, including the Federal Emergency Management Agency, the Coast Guard and the Transportation Security Administration.
Critics of ICE say that by overspending its congressional allocation, the agency has engineered a stealth expansion of the U.S. detention system, effectively writing its own appropriation, and skirting the Constitution's separation of powers in which Congress, not the executive branch, has the authority to set spending limits.
---
Congressman: "We shouldn't be using FEMA as a piggy bank to fund detention beds."
---
"It allows them to quickly expand the detention system contrary to congressional intent," said Heidi Altman, director of policy at the National Immigrant Justice Center, a non-profit immigrant rights group.
Such intradepartmental funds transfers aren't uncommon, but a congressional staffer who asked that his name not be used for this story said this one was controversial because nearly all of the money went to ICE for detention and deportation. ICE has received other big budget increases in the past two years. In March 2017, the agency got a $2.6 billion supplemental appropriation; three months later, ICE was back, requesting that Congress approve a $91 million funds transfer.
The $200 million June 2018 transfer, wrote DHS spokeswoman Katie Waldman in an email, was "in line with the FY 2019 president's budget request for U.S. Immigration and Customs Enforcement."
However, the additional funds covered FY 2018 overspending – not future shortfalls in 2019; Congress has yet to agree to a permanent fiscal year 2019 budget. Waldman didn't answer an email asking to clarify her comments.
---
Congressional Staffer: Whenever ICE outspends its budget and adds detention beds, it gains leverage for the next round of budget negotiations.
---
The same congressional staffer who discussed the controversy surrounding the $200 million DHS funds transfer also noted that when ICE outspends its budget and adds detention beds, it gains leverage for the next round of budget negotiations because reducing beds would mean freeing detainees and, ICE argues, their release could jeopardize public safety.
Growth by funds transfer also generally avoids public scrutiny. Transfer documents submitted by government agencies are not released to the public. But earlier this year, Sen. Jeff Merkley (D-OR) released DHS's June 2018 transfer and reprogramming request, noting that $10 million had been taken from FEMA just as Hurricane Florence was making landfall in North Carolina.
DHS shot back, claiming the funds were administrative and weren't earmarked for hurricane relief. But according to Ur Jaddou, director of the advocacy group DHS Watch, and a former Chief Counsel at U.S. Citizenship and Immigration Services, the DHS agency that oversees immigration and citizenship applications, "The government these days doesn't operate on a plethora of administrative resources. It's really functioning on a very limited budget. When they say they're using unused money, it's just a ruse."
Congress has shown its frustration with ICE's disregard for its authority, but hasn't acted to rein in agency spending.
---
Congress has scolded ICE for its "lack of fiscal discipline and cavalier management."
---
In budget recommendations for fiscal year 2019, the Senate Appropriations Committee wrote, "In light of the Committee's persistent and growing concerns about ICE's lack of fiscal discipline, whether real or manufactured, and its inability to manage detention resources…the Committee strongly discourages transfers or reprogramming requests to cover ICE's excesses."
Two years before, the explanatory language in the supplemental appropriations bill was even harsher. Appropriators pointed to a "lack of fiscal discipline and cavalier management" of detention funding, saying the agency seemed to think its detention operations were "funded by an indefinite appropriation. This belief is incorrect."
"We shouldn't be using FEMA as a piggy bank to fund detention beds," said Rep. Dutch Ruppersberger (D-MD). "Unelected agency heads shouldn't unilaterally shift taxpayer dollars for purposes they weren't intended."
Still, despite congressional annoyance with ICE's free-spending ways, it hasn't conducted meaningful oversight of the immigration detention system, said Greg Chen, director of government relations for the American Immigration Lawyers Association.
"The current leadership in Congress hasn't been interested in conducting hearings on detention spending and whether detention is even necessary at the scale it is now," Chen said.
When President Trump issued an executive order calling for no-holds-barred arrests of undocumented immigrants in January 2017, the border patrol reported that apprehensions at the U.S.-Mexico border were lower than at any time since 1972 — when the detention population was a fraction of its current size.
ICE reported that in fiscal year 2017, 41 percent of crimes of which detainees had been convicted were traffic- or immigration-related.  Just 11.4 involved murder, sexual assault, kidnapping, robbery or assault.
Chen argued that ICE has a legal responsibility to screen each person in its custody for risk – either of flight or to public safety. "ICE is just not doing that and defaulting to the practice of detaining people."
Democrats in Congress could take on a more robust role in overseeing ICE spending, now that they've gained a majority in the House. They could put conditions on spending, call for Government Accounting Office reports and hearings, cut funding, demand answers if ICE overspends and bring its actions to the attention of the press, said DHS Watch director Ur Jaddou, who is also a former congressional staffer.
"The next time they [ICE] need something," Jaddou said, Congress can respond, 'Do you really want it? You better listen.'"
---
Copyright Capital & Main