Harlequino Romance: Actors' Gang Celebrates Commedia dell' Arte
Writer/director Tim Robbins' Harlequino: On to Freedom at the Actors' Gang is a messy, boisterous show whose message about personal freedom and self-determination comes through simply and clearly.

Pierre Adeli as Pantalone, with Joshua Lamont as Harlequino, background. (Photos by Ashley Randall)
Writer/director Tim Robbins' Harlequino: On to Freedom at the Actors' Gang is a messy, boisterous show that runs nearly two and a half hours before the message it wants to deliver about personal freedom and self-determination comes through simply and clearly. Along the way, however, it features first-class talent, colorful spectacle and enough historical detail about commedia dell' arte to keep audiences entertained and involved. And oh, yes — it's bound together by a raucous disdain for the status quo that this company is famous for. In these days, we can use as much of that kind of theatrical subversion as we can get.
The story is framed as a clash between a couple of stuffy contemporary academics, Dr. Phinneas Preamble (Will McFadden) and Dr. Ignatius Afterword (Bob Turton), and a troupe of actors impatient with the pair's obfuscation and polemicizing of their art. A lecture on the history of commedia dell' arte has barely begun when the two pedants are interrupted by Harlequino (Joshua Lamont), a stage character come to life, who serves in the household of Pantalone (Pierre Adeli), a mean and greedy master. The lecturers try to hustle Harlequino from the stage; it's not time for him to make an appearance in their talk — it's Pantalone, the representation of power, they are concerned with. But Harlequino persists in his interruptions, correcting the pair when they refer to him as Pantalone's servant. "I'm his slave," he tells them — and, not one to mince words, Pantalone backs him up.
Later, a battle between the speakers and the actors manifests when the former challenge the latter to give examples of less frequently known figures of speech (catachresis, anyone?) in an effort to establish their intellectual superiority. The actors (16th century thespians were up on this sort of thing, apparently) rise to the challenge.
Meanwhile, the troupe's play-within-a-play unfolds around the efforts of the lecherous Pantalone to woo an attractive widow, Madame Brancantini (Mary Eileen O'Donnell), a former lover of Harlequino's, by promising the hand of his daughter Isabella (Lee Margaret Hanson) to the Capitano (Adam Jefferies), one of the widow's favorites. The tangled plot involves a lengthy séance in the woods in which Madame Brancantini attempts to communicate with her dead spouse, only to discover that, even in the afterlife, he's been fooling around with a good-looking corpse.
Class struggle and feminist themes filter through from the start but it's not till the top of Act 2 that Harlequino's story and the meanings of "on to Freedom," and the question "What does it mean to be free?'" begin to come into focus, only to resolve in the final moments of the story.
This production is bedecked with Erhard Stiefel's wonderful comic masks and Olivia Courtin's imaginative costumes, while framed with video images (by Cihan Sahin) that reflect the early Renaissance, to give the story scope. The singing isn't great but good enough. The ensemble consists of a seasoned group of players, expert at this sort of larger-than-life, broad-stroked comedy, with not a little improvisation thrown in. Standout performances include Adeli as the wormlike Pantalone, McFadden as the persistently didactic Preamable and the ever versatile Turton as Afterword and Puncinella.
The show is dedicated to Dario Fo, the left-wing playwright and Nobel Prize winner who died last October at the age of 90, and who mentored Robbins in developing this work. Fo was an advocate of theater as a form of rebellion and revolution; he himself utilized the forms of commedia dell' arte in his work, and is quoted in the press notes as attributing commedia dell' arte actors with being instrumental in raising the political awareness of 16th- and 17th-century audiences.
The history — or rather the historical record —concerning the commedia is a bit cloudy. There is evidence (suggested by Fo) that it underwent censorship during the Counter-Reformation, and Robbins has included in the play an anecdote about Duke Gonzaga of Mantua, who, for unknown reasons, once ordered the execution of three actors. Robbins' play notes that an early form of the commedia coincided with the beginnings of an African slave trade into Europe, one reason his play's title character is a black man who makes no bones about his status.
Lamont's Harlequino is certainly sadder, more earnest and less flashy than the others, but it bears mention that, the night I attended, when this battered but ever resilient character delivered his final message — "The servant is the master when they write their own story" — people applauded.
---
The Actors' Gang, 9070 Venice Blvd., Culver City; Thurs. & 8 p.m.; Fri., 9 p.m.; through May 6. (310) 838-4264 or theactorsgang.com

'Skeleton Crew' Is a Play With a Moral Spine
Set in a Detroit automobile outfitting plant, Dominique Morisseau's drama grabs you from the start with its focus on blue-collar men and women, and their struggle for dignity and self-respect.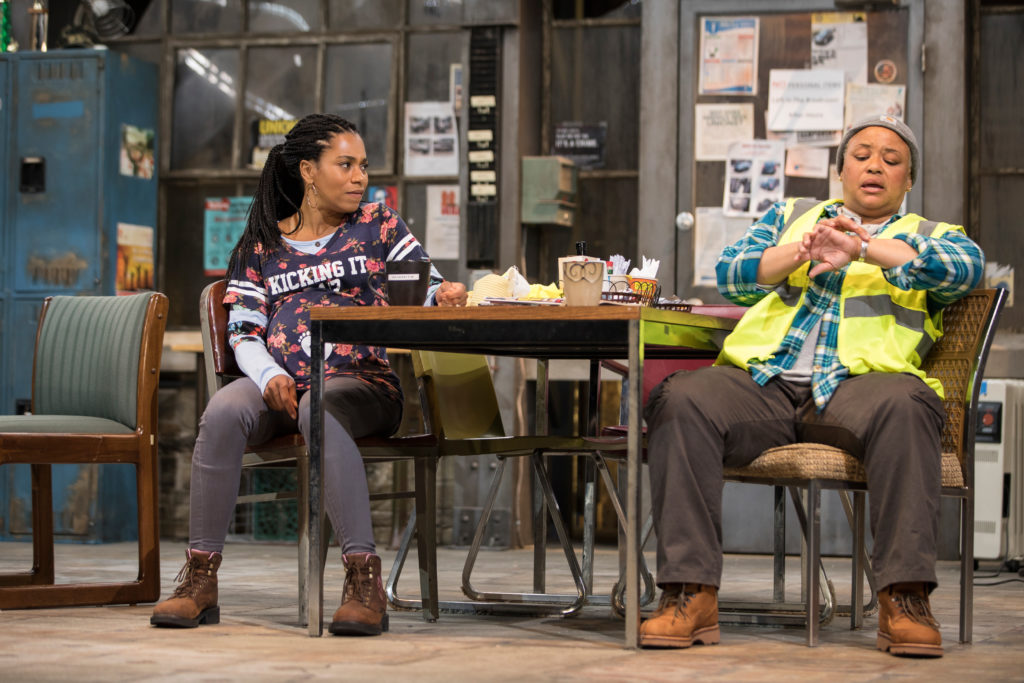 Working-class men and women of color are rarely front and center in today's media and, likewise, are presented all too occasionally on the American stage. So it's buoying to see that trend bucked in playwright Dominique Morisseau's percipient and well-crafted drama, Skeleton Crew. The play is the final installment in her Detroit  Project Trilogy; the first, Paradise Blue, is set in the 1940s amidst displacement caused by urban renewal and gentrification, while the second, Detroit '67, transpires on the eve of the 1967 Detroit riots sparked by a police action.
Directed by Patricia McGregor at Los Angeles' Geffen Playhouse, Skeleton Crew is a play with a moral spine. It takes place in 2008, when the shrinking U.S. auto industry is being further downsized. Morisseau's engaging quartet of characters — Faye (Caroline Stefanie Clay), Dez (Armari Cheatom), Shanita (Kelly McCreary) and Reggie (DB Woodside) – are employed at an automobile outfitting plant. Faye, Dez and Shanita are workers on the line while Reggie (who has a wife and kids, and has pulled himself together after a troubled youth) is their supervisor.
The first three customarily mingle in their break room (designer Rachel Myers' impressively cluttered, dingy and detailed set), trading the sort of familiar barbs and genuine concern for each other common among longtime co-workers. They also face off on philosophy: Upper-middle-aged Faye and the younger, pregnant Shanita take pride in their labor, while Dez, though a good worker, is a malcontent scornful of management and firm in the belief that everyone needs to watch out for himself. He's a thorn in Reggie's side, for while Reggie wants to be supportive of his workers, he must act at the behest of higher management. For his part, Dez resents Reggie's authority, and a palpable unease exists between them.
Besides this male matchup, we're made privy to Dez's attraction to Shanita, who mostly turns away his advances, but every now and then displays a hint of interest. Most poignant is Reggie's regard and affection for the lesbian Faye, which has roots in his boyhood when she loved, and lived, with his now-deceased mom.
These people's various predicaments intensify when rumors spread of the plant's shutdown — a disaster for all, but a particular calamity for the already near-broke Faye who, one year short of retirement, would lose her pension. The crisis forces each of these people to make a choice.
A sound piece of social realism, Skeleton Crew grabs you from the start in its focus on blue-collar men and women, and their struggle against odds for dignity and self-respect. Morisseau not only furnishes these characters a platform for their travails, she endows them with strong values, big hearts and the opportunity to choose between right and wrong.
Unfortunately, the performance I attended did not soar. Many exchanges lacked a fresh edge. The actors certainly had their characters down, but too often they appeared to be coasting on technique. (This seemed particularly true of Clay, who performed the role to great accolades in Washington, DC in 2017, also under McGregor's direction). Additionally, some of the stage movement was not entirely fluid; in confrontations, actors sometimes would just stand and face each other in an artificial way. And Cheatom's interpretation of Dez struck me as a bit overly churlish and depressive: I needed more glimpses of the intelligence and edge that would secretly attract the strong, self-directed Shanita.
The most compelling moments belong to Woodside, well-cast as a man trying his best in difficult circumstances to do the right thing.
---
Gil Cates Theater at the Geffen Playhouse, 10886 Le Conte Ave., Westwood Village; Tues.-Fri., 8 p.m.; Sat., 3 & 8 p.m. Sun., 2 & 7 p.m.; through July 8. (310) 208-5454 or www.geffenplayhouse.org