Hard Times in the Imperial Valley
From Slab City to the Gran Plaza, residents "eke by" in the shadows of California agribusiness.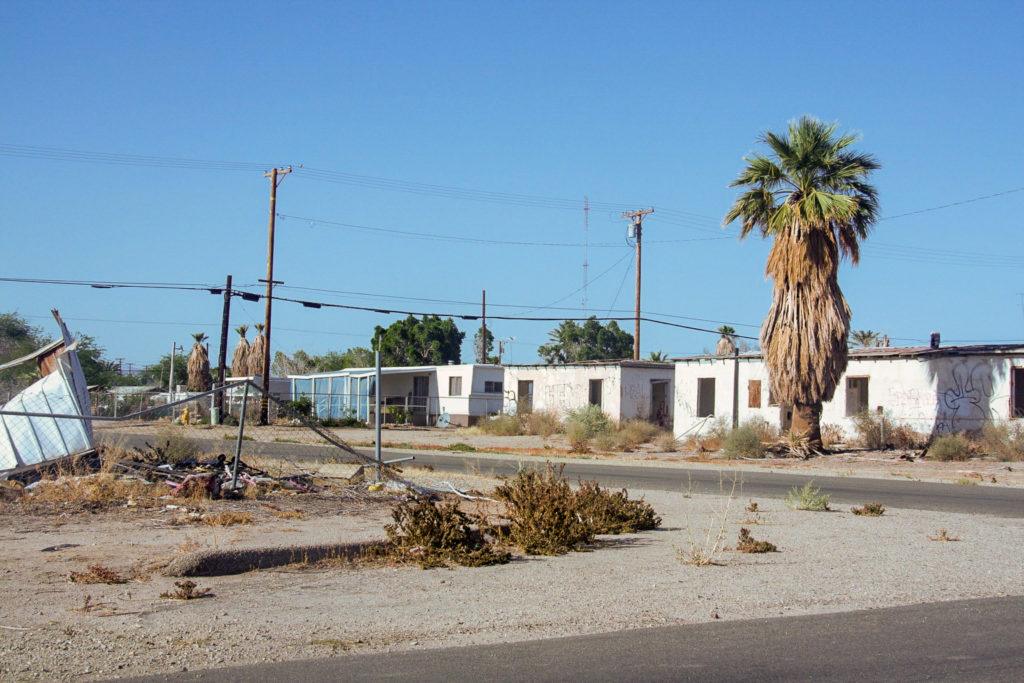 This story is part of an ongoing series about poverty in California's heartland.
---
 
Imperial County, east of San Diego County, is large and it is poor. Roughly 180,000 people live in towns and hamlets dotted around the 4,597 square miles of stark desert and agricultural land that make up the county. And while a few do very well—agribusiness is a multi-billion-dollar concern —many are struggling to make ends meet.
---
More than one in six seniors in Imperial County live in poverty — as do about a third of its children.
---
"Twenty percent are below the federal poverty level, and the numbers, we are sure, are probably double that if you include lack of access to health care and so on. Because so many are undocumented. There's a lot of fear, especially now," says Maribel Nunez of California Partnership, a statewide anti-poverty coalition. Median household income in the county is under $45,000—compared to a statewide average of over $71,000; the median income for an individual in Imperial Valley, where most people in the county live and work, is a mere $17,000.
More than one in six seniors in the county live in poverty, compared to one in 10 statewide. On fixed incomes, they struggle to pay their monthly bills, especially, notes Guadalupe Ponce of the anti-poverty organization Campesinos Unidos, when the summer temperatures soar above 110 degrees, and monthly air-conditioning costs can run to several hundred dollars. About a third of the county's children live in poverty. In any given month, the Imperial Valley Food Bank distributes food to some 20,000 residents, says Sara Griffen, director of the food bank, adding that many more hungry residents live too far off the grid to be reached by its distribution centers. "We're not a community rich in services," Griffen says. "They eke by. Their quality of life is not what it is in many places in the United States."
---
In recent years much of the county's discretionary cash has been diverted to law enforcement instead of social services.
---
The poverty in this southernmost part of the state is linked to the border—to the fate of those who try to cross illegally, to migratory farm workers, to the realities of living in a region where more resources are devoted to security and too few dollars are available for basic social services.
On the western outskirts of the dusty town of Calexico, the sparkling white buildings of the Gran Plaza outlet mall sit beside the brown-painted steel fence, now topped with layers of rolled razor wire, which marks the border with Mexico. Through the gaps between the slats, one can see the traffic jams and the cinder-box apartment blocks, and hear the bustling street life, of Mexicali.
Perhaps half of the cars in the Gran Plaza's parking lot have Baja license plates. This is where affluent Mexicans from the region spend their money. Meanwhile, desperately impoverished Mexicans and Central Americans, without the visas that would allow for an easy border crossing —though "easy" is relative in an era of border paranoia that frequently leads to two-hour-plus lines leading into the United States—continue to try to climb the fence; or they swim north through the toxic sludge of the New River.
---
The county's politics run conservative. The town of Imperial's middle-class generally ignores the surrounding poverty.
---
"There's a huge disparity between those who have means and the people who are struggling," says Pastor Ron Griffen (Sara Griffen's husband) of the El Centro Methodist Church.
Griffen, with a striking gray goatee and what seems like a permanent twinkle in his eyes, notes that towns like El Centro and Imperial have a fair number of amenities, like decent restaurants and higher-education centers. Imperial's middle-class residents live in big houses bought for a fraction of what a similar piece of property would cost in the coastal cities. And, on a daily basis, they can, and generally do, ignore the surrounding poverty.
The county's politics run conservative—80 percent of the population is Hispanic, but it has historically been controlled by what Griffen describes as a good-old-boy network, and few tax dollars are made available for anti-poverty programs. In recent years, much of what little discretionary cash the county does have has been diverted to law enforcement instead of social services.
As a result, non-profits and charities are left to pick up the slack. "We get thousands of calls through the year asking for food, utility, rent assistance," says Guadalupe Ponce of Campesinos Unidos. "We have low income that are employed, low income that are unemployed, seniors on SSI [Supplemental Security Income]."
  *   *   *
TWENTY-SEVEN-YEAR-OLD JESSE AGUIRRE, who manages the Imperial Valley Food Bank's Cal-Fresh program, grew up in a large family that has been in the valley for four generations. For him and his six siblings, raised by a single mother who couldn't find work, deep poverty was a fact of life. "I grew up eating powdered eggs, drinking powdered milk, from food distributions," he recalls. "I'd go to the spaghetti dinners for the needy." Without cash welfare and food stamps, the family would have had nothing, he says.
---
Many Californians struggle even during the boom times that have catapulted the state into its status as the world's fifth largest economy.
---
As a teenager, Aguirre dropped out of school to work in the fields, picking onions, lettuce, broccoli. "The first two weeks you're breaking your body into the work. Then you're like, 'I'm here to make money. I've got to get used to that pain.'" He'd pick nine, 10 hours a day, and come away with $50-$60 for the day, and sometimes less. It was impossible to save money; everything was always about survival.
Eventually, he enrolled in the local community college—becoming the first in his family to pursue higher education—and after that got a job with the food bank. But, he says, poverty always remains on his mind.
His wife, Crystal, who worked for a time in the fields when their firstborn was a baby, was paid by the sack for the onions that she picked. "You're literally living day by day," she says. "If you needed diapers, baby formula, you'd stretch it out."
---
"If it wasn't for the Mexicali people that come and shop here, Calexico wouldn't exist."
---
In recent years, United Ways of California and other groups have attempted to get a better bead on statewide poverty levels by factoring in the cost of living, access to affordable housing, health care and other factors. By those measures, a startlingly high number of Californians are struggling even during the boom times that have catapulted the state into its status as the world's fifth largest economy.
All these trends are exacerbated in a forgotten corner of the state like the Imperial Valley. Agriculture, fed by access to Colorado River water, plays an outsized role in the local economy: onions and lettuce, broccoli and cabbage, and, in summer, alfalfa and Sudan grasses. There are also huge industrial cattle farms, many of them strung along the north-south Highway 111.
But agriculture is seasonal—most workers can expect to spend several months out of the year without employment—and the county is bedeviled by high levels of unemployment. During the Great Recession it touched 30 percent, and a decade later it still hovers near 20 percent.
---
The poorest of the poor move to apocalyptic-looking places like Niland and Bombay Beach.
---
Those too old or sick or simply worn out to work the fields often can't find alternative employment. There are numerous government jobs in the region, but you need qualifications for such work that many residents, in a county with a 33 percent high school dropout rate, don't have. There are a significant number of service-sector jobs in fast food outlets, hotels and shopping malls, but those frequently don't pay enough to cover a family's bills. And so even many who have work remain mired in poverty.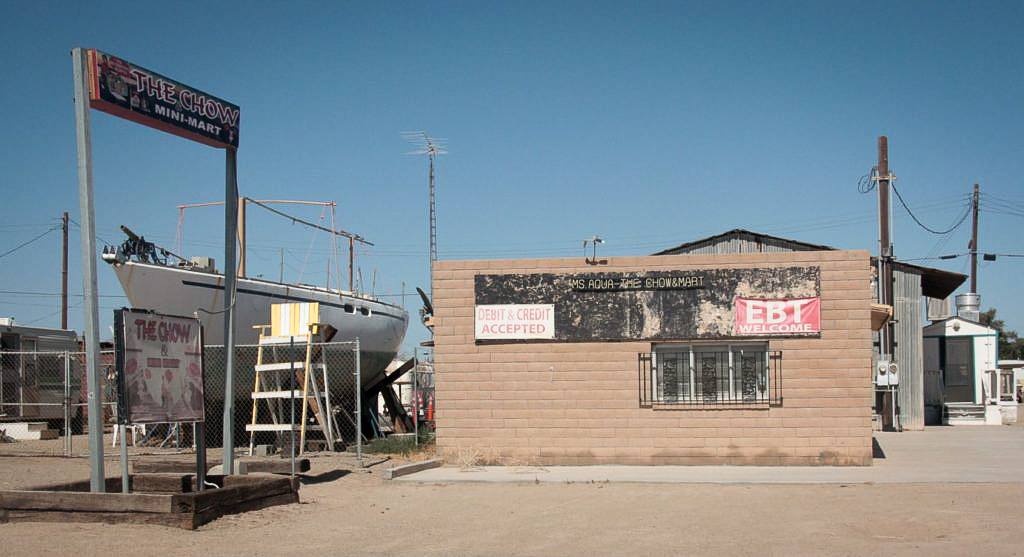 "If it wasn't for the Mexicali people that come and shop here, Calexico wouldn't exist," says 66-year-old Lupe Rodriguez, director of the House of Hope Women's Shelter. Drive through the city and you can see shuttered businesses everywhere.
"We're all one paycheck away from being homeless. This is not a rich county," explains Maribel Padilla, who runs a small volunteer network, called the Brown Bag Coalition, that feeds the indigent in Calexico. Her small, musty office is located on a down-at-heel street at one end of which is a methadone clinic. "Unless you're a rancher, you've got no money. The city has no money. Nobody has any money."
  *   *   *
IN A DECENTRALIZED COUNTY, a growing number of homeless are living far off the beaten path. The last count, from January 2019, estimated 1,400 people.
---
An increasing number of agricultural workers sleep in parks, city lots and on the street, catching middle-of-the-night buses that take them to the fields.
---
There is a huge, lawless, homeless encampment in the remote north of the county. It is called Slab City, and, local legend has it, is a place where those seeking to escape attention hide out. More prosaically, dilapidated trailer park towns are strung along the eastern edge of the Salton Sea in the north of the county: apocalyptic-looking places like Niland and Bombay Beach, where extreme poverty and homes in utter disrepair are juxtaposed against the stark desert mountains and the awesome blues of the Salton Sea.
While there are snowbirds and retirees who come for cheap land and recreation—"This is my little paradise. I do fishing and hunting and four-wheeling," says Pat Lamb, a long-bearded, red-faced retiree who spends his weekends amidst the chaos of trailers and rusted cars that make up Bombay Beach—for many others these are places of last resort. The poorest of the poor move up here from the larger southern cities of Imperial, Calexico, El Centro, Holtville and Brawley, looking for ever-cheaper rents. Pretty much every building and mobile home is broken down in these communities, waiting for the desert to return them to dust. The only food available comes from one or two overpriced bodegas, and access to services such as health care is pretty much nonexistent.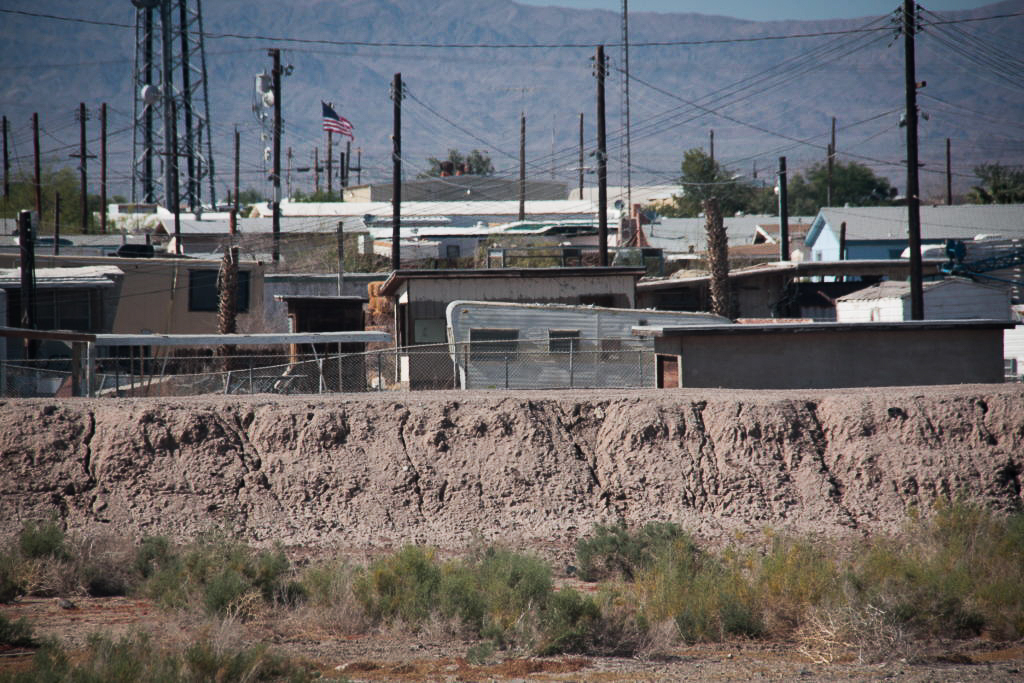 Meanwhile, in the larger towns an increasing number of agricultural workers sleep in parks and city lots. Many have legal papers to work here, but they live in Mexicali, with their families. Because the lines to go back-and-forth across the fortified border now move so slowly, they instead sleep on the streets of Calexico during picking season, catching middle-of-the-night buses that take them to the fields.
"We sleep out here on the streets," says one of the fieldworkers, Mark, a weathered man in his 40s in beaten jeans, a T-shirt and scuffed, tan work boots, the laces untied. He is standing in line with several dozen others in a parking lot two blocks north of the border fence, to receive free pizza and chili-covered nachos distributed by Padilla's volunteers. "You're out in the fields four in the morning. Work eight hours, get paid. Go to the mission, take a shower. I sleep over at the park, [by] the railroads, next to the border. By myself. We find cardboard in dumpsters, go to sleep while it's still daylight. We're like owls. At night we're up. Because you never know what can happen."
"Here in Imperial County it's the same for everyone," says Jesse Aguirre. "With a high unemployment rate, man, it's difficult to get a job. The community is starving for work. Everybody wants a way out of here."
---
Copyright Capital & Main