Does Newsom's Color-by-Numbers Plan to Reopen California Risk Disaster?
Some public health experts warn the state is loosening restrictions too soon, and fear a new surge.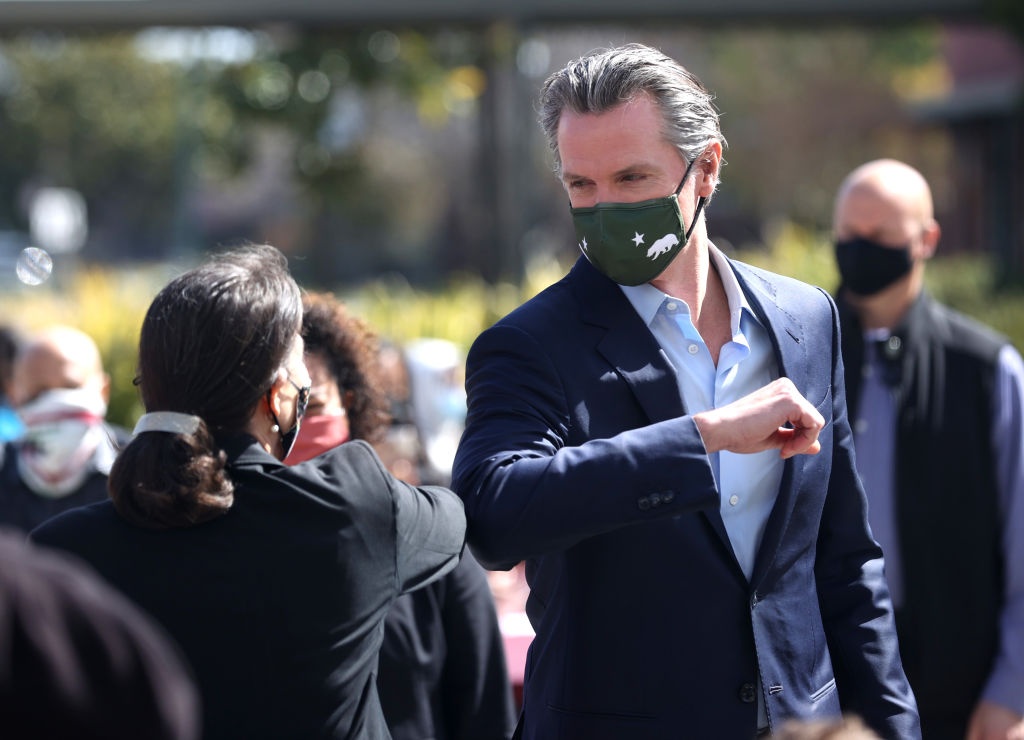 As the health officer for Santa Clara County, Dr. Sara Cody routinely scrutinized the numbers and marked the trends. She understood that one of the real threats of COVID-19 was that officials might not fully realize the effects of their public safety decisions until weeks after they'd been made. And she had an ominous feeling about what California's governor, Gavin Newsom, was doing.
"The pace at which the state has made these modifications is concerning to me," Cody told the Santa Clara County Board of Supervisors during a May 2020 meeting. "The state has shifted away from the stay-at-home model and has made significant modifications with increasing frequency."
Cody's warning proved prophetic. With Newsom loosening the stay-at-home restrictions that had become a model for other states, California, after flattening the curve of infection from the virus in March and April last year, exploded with new cases and viral spread. By summer, it had erased the progress made in the early stages of the pandemic, and surpassed New York with the most total cases in the U.S.
It could all go down as a grim lesson learned, but for one problem: What if not enough was actually learned?

---
"When you have that much viral activity in a plateau," said Dr. Anthony Fauci, "it almost invariably means that
you are at risk for another spike."
---

Despite epidemiologists' warnings of a coming surge in cases and suggestions that now is precisely the time to hang tough and continue enforcing protocols designed to prevent COVID spread, California is going the other way. At Newsom's behest, the rules governing the state's most restrictive tier of community safety were loosened earlier this month, with the goal of getting more businesses and public spaces open faster.
This is happening regardless of the fact that the state is "seeing a little bit of a plateau" in coronavirus numbers that had previously been dropping, Newsom said, a worrisome trend that mirrors the rest of the nation. During a White House briefing on March 5, President Biden's chief medical adviser, infectious diseases expert Dr. Anthony Fauci, noted that the national "plateau" was on the order of 60,000 to 70,000 cases per day — a level equal to or higher than the summer surge of 2020, which prompted the kinds of restrictions that states like California are currently lifting.
"When you have that much of viral activity in a plateau," Fauci said, "it almost invariably means that you are at risk for another spike."
California's reopening is occurring just as new variants of COVID-19 are spreading. Particularly concerning is the U.K. coronavirus variant known as B.1.1.7, which scientists say may be 56% more transmissible than the original and capable not only of driving a massive surge of infections, but also of mutating in order to thrive. It could spread at a rate that outpaces California's ability to vaccinate its residents.
"We're losing the race with coronavirus — it's infecting people much faster than we can get vaccines into people's arms, and it's overcoming our social distancing," University of Florida biologist and pathogen expert Derek Cummings told the Los Angeles Times. "Now there's this variant that will make that race even harder."
* * *
Against that backdrop, the experts agree on what to do — and they believe those things should happen simultaneously. The vaccination effort needs to be operating at its highest capacity, clearly not the case in California. And, as Fauci said, an equally critical component is "adherence to the public health measures in an arena of a high baseline of infections: masks, distance, avoiding congregate settings, washing hands."
In other words, hunkering down for a while longer. That's the medical and scientific guidance. But in California and many other places across the country, almost the opposite is occurring.
The new tier adjustments, announced by Newsom, added a vaccine metric to a formula that had always been tied to infection rates. Once the state achieved Newsom's goal of vaccinating a quarter of the roughly 8 million eligible residents in California's 400 most disadvantaged ZIP codes, the governor would ease the threshold of coronavirus case rates required for counties to move out of the most restrictive tier, purple, and down to red.
When the state gets to 4 million vaccinated in those lowest-income ZIP codes, Newsom will loosen entry requirements to the less restrictive orange and yellow tiers, something closer to a full opening of the state. The calculation is based strictly on doses administered; that is, even if infection rates in certain counties aren't going down, the counties could move to less restrictive tiers because the state will have adjusted upward the allowable case rates.

---
Any human cost in places like L.A. County and the Inland Empire will almost certainly be borne by the areas' lowest-income workers.
---

In places like Los Angeles County and the Inland Empire, where many of these hard-hit neighborhoods (primarily Black and Latino) are located, a move to the red tier allows gyms, restaurants, movie theaters and other businesses to reopen indoors. Amusement parks, outdoor sports and live events at stadiums are allowed to resume April 1, with reduced capacity and masking requirements in place.
Any human cost of this activity will almost certainly be borne by an area's lowest-income workers, those "essential" employees in food service, entertainment venue staffing, custodial and janitorial, and other aspects of the businesses now ramping up. In addition, any easing of restrictions will accelerate the push to more fully open schools — this despite the fact that most teachers and staff have not been vaccinated and that conditions in many of those schools will invite COVID spread, not deter it.
Does California have a vaccination rate that suggests such reopening is called for now? According to government data, 13.2% of the state's residents have been partially vaccinated, and 13.9% fully vaccinated. In terms of efficiency in administering doses, California ranks 41st among the 50 states plus the District of Columbia in the percentage of its vaccine inventory that has actually gone into arms.
* * *
Newsom is fighting political headwinds, including a recall effort, and his helping counties exit the most restrictive COVID tier is one attempt at alleviating some of the excruciating economic pain felt by California businesses over the past year. Yet the governor is nowhere near throwing open the state in the manner of reckless decision makers in Texas and Mississippi, who recently eliminated virtually every restriction — even mask-wearing in congregate settings. (Declared Mississippi Gov. Tate Reeves, "The governor's office is getting out of the business of telling people what they can and cannot do.")
If this all feels a little familiar, though, it should. Last March, following the lead of the counties around the Bay Area, Newsom ordered all Californians to stay at home in the face of the growing COVID-19 crisis. It was a bold and unprecedented move that reduced the state's infection rates and engendered some hope that the virus was being contained.
Seven weeks later, on May 8, the order vanished, despite the warnings of experts like Sara Cody that a broad reopening could be disastrous. The two months that followed plunged California into a health emergency that continues today.
"We opened up too soon," University of California, Los Angeles, epidemiologist Anne Rimoin said at the time. "We didn't have the virus totally under control."
Here in the spring of 2021, almost no one would put the words "under control" anywhere near the subject of COVID. But the concern about reopening too soon is once again very real, as decisions begin to spin in political directions and away from expert advice that has been offered — and ignored — more than once.
"Even those of us who have been vaccinated have to make decisions about public life," said Melissa Marshall, CEO of CommuniCare Health Centers, a group of health clinics in Northern California. Marshall added that even with her vaccination, she would not eat indoors in a restaurant. One of the many gambles of this reopening is how many Californians will.
---
Copyright 2021 Capital & Main