Give Her Credit: A Writer's Pursuit of Plastic Debt
Channel R/Wikimedia
My (early) New Year's resolution was to get a credit card. You may remember that I have never had a credit card. And thus if I were on the dating market, my OKCupid inquiries would be flatly rejected. It's not that I have a bad score. I just don't have one. I had a good score when I was dutifully paying off my student loan after I graduated, but then through paying dirt-cheap rent in Harlem and never paying for cable I was able to pay off the loan. Since then I haven't owned any credit products. I've paid my rent on time every month and paid every bill before the due date. But those things don't make their way over to FICO. I've thus landed myself in quite the Catch-22 that speaks volumes about the lending industry and our reliance on it.
When I moved into a new apartment three years ago, I still had a score, so when the broker ran a credit check on me, she handed me the keys without a complaint. In the intervening years, however, the student loan must have fallen off my history, leaving a gaping void in its place. This is so unusual that when I was applying for a new apartment this summer, the broker told me there must be something wrong with my account. It turned out nothing was wrong – I just literally don't have a score.
Because I was dealing with humans in both the broker and the landlord, I was able to explain to them that I don't have a score because I don't like being in debt. At all. On top of that, I can show steady income because I have the good fortune of being employed at a well-paying job. They agreed that made sense and gave me the keys. But the ordeal made me realize that if I were to deal with an institution instead of a human – a bank from which I want a mortgage, say, or even a real estate management company instead of a landlord – I would probably be screwed. So I decided to suck it up, sell out, and finally get my first credit card.
It turns out I was screwed earlier than I thought. Back when I had a fantastic credit score, I would get credit card offers in the mail by the dozens. So I decided to do the responsible thing and do some research on a good rewards card (might as well get something out of my sell-outery) that doesn't have an annual fee and has a decent APR. Having found one, I filled out the online application and waited to hear that my soul had been sold. Not so fast: I was rejected on the spot. It turns out that not having a credit score is just as bad as having a damaged one in the short-term. The bank has no reason to trust that I can handle credit, so it won't give me any. Which means I will continue to be denied credit and continue to have zero credit history.
There was a big part of me that wanted to continue my protest of the financial system that demands you borrow money and go into debt (even if only a month at a time) to participate. But this problem will only get worse. What if the next time I move the landlord isn't understanding? Worse, what if the next job I apply to runs a credit check on me and decides having no history is too suspicious? (Six out of ten employers vet employees via a credit report.) Despite the fact that I have steady income and pay all my bills on time, I could still be left homeless and unemployed because of my refusal to get a credit card.
The point of this story is not my particular case. I am incredibly privileged to have a job, a steady paycheck I can comfortably live off of, and a landlord who was willing to let me move in and pay her ridiculous New York rent. One point is that if things are this difficult for middle class me, they are 10 times worse for low-income people. Nearly 10 million households in the U.S., or one in 12, are unbanked, meaning they have no relationship with a formal banking institution. Half of them don't have a bank account because they don't think they have enough to make the minimum balance. This isn't surprising, given that over 70 percent of this population makes less than $30,000.
I have the benefit of a bank account with enough money to keep the required minimum balance. Given that, I will likely be able to coerce a credit card out of my banking institution (even if I have to pay an annual fee to do so and put down a security deposit). The unbanked community, however, must usually turn to "alternative" products such as pre-paid debit cards, payday lenders, and check cashers. These are all relatively predatory products that come loaded with fees and high interest. Interest rates on payday loans, for example, can reach 450 percent when annualized. When you're already pulling in just enough – or not enough – to get by, losing even more money simply to access your own income is a huge problem. Beyond that, if someone who is unbanked tries to return to the traditional banking industry, he or she will probably encounter far more obstacles than I've run into. It could become impossible, shutting these people out of the entire traditional lending industry and all that comes with it.
The other point is the infuriating opacity of the whole credit industry. I had no idea that I don't have a score until a hard inquiry was run on me – something that in and of itself can harm your score or at the very least ward off potential lenders. Perhaps more frustrating, the hard inquiry that's generated by applying for a credit card looks pretty fishy when you don't get accepted for a card – because then I have to apply for another, which is another inquiry, and if I get rejected I have to do another, and on, making it look (rightfully, I suppose) like I'm going door to door and being turned away by everyone. That makes a lending institution wary of taking me on. But I have no way to know ahead of time whether I'll qualify for a particular card. Even my bank, which I've been with for over 10 years, couldn't tell me whether my loyalty or good explanation for my blank credit history would help me out. I was flatly told that the only way to know if I'll be accepted for a particular card is to apply and find out. Bank employees are barred, I was told, from telling me the criteria used so that they won't "discriminate" against me by pushing me toward the credit product I'm more likely to qualify for.
Yet this lack of transparency on the bank's part is nothing compared to the credit reporting companies themselves. The methodologies these private companies use to calculate scores are a closely guarded secret. Even though an estimated 20 percent of scores contain errors, attempts to resolve them often end in frustration and inaction. The score you buy from the agencies often isn't the one a lender would see. And until the Consumer Financial Protection Bureau came along, they were barely regulated – although the bureau is already overseeing the largest ones and is currently fielding consumer complaints.
I'm glad that the CFPB now exists and should bring more regulation and transparency to the whole ordeal by cracking down on non-bank lenders, overseeing credit reporting agencies, and demanding better practices from credit card lenders. But one thing it won't do is sever the ironclad link between taking on debt and participation in the finance industry. Even if these products improve, I'll still have to convince someone to give me a credit card – a product I have never wanted – so that I can be sure of housing and employment.
(Bryce Covert is the editor of Next New Deal, where her post first appeared. Republished with permission.)

'Skeleton Crew' Is a Play With a Moral Spine
Set in a Detroit automobile outfitting plant, Dominique Morisseau's drama grabs you from the start with its focus on blue-collar men and women, and their struggle for dignity and self-respect.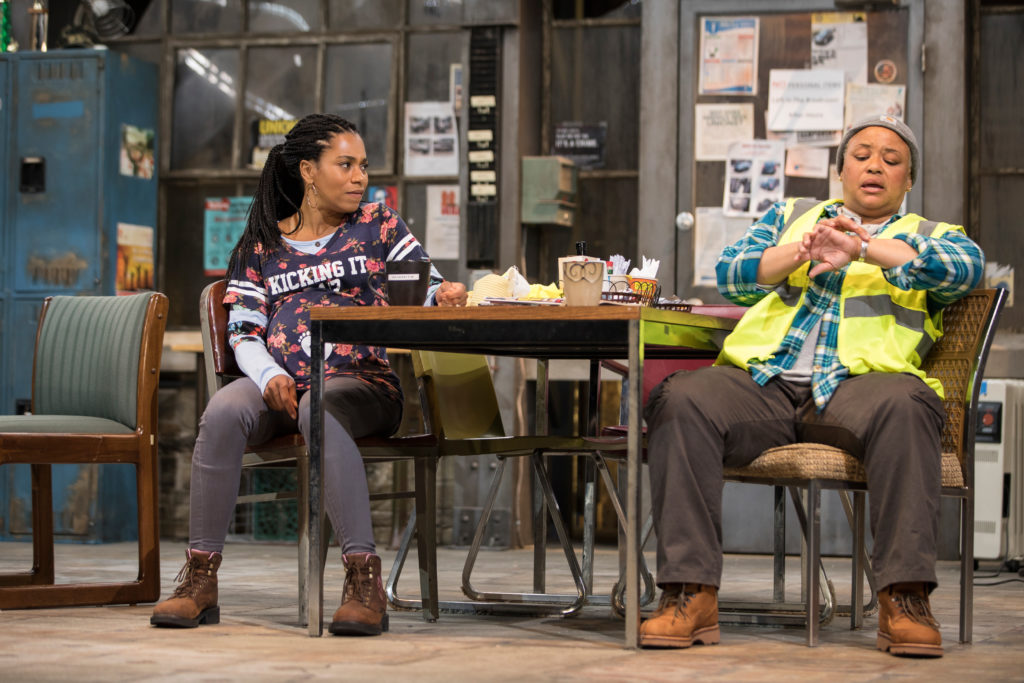 Working-class men and women of color are rarely front and center in today's media and, likewise, are presented all too occasionally on the American stage. So it's buoying to see that trend bucked in playwright Dominique Morisseau's percipient and well-crafted drama, Skeleton Crew. The play is the final installment in her Detroit  Project Trilogy; the first, Paradise Blue, is set in the 1940s amidst displacement caused by urban renewal and gentrification, while the second, Detroit '67, transpires on the eve of the 1967 Detroit riots sparked by a police action.
Directed by Patricia McGregor at Los Angeles' Geffen Playhouse, Skeleton Crew is a play with a moral spine. It takes place in 2008, when the shrinking U.S. auto industry is being further downsized. Morisseau's engaging quartet of characters — Faye (Caroline Stefanie Clay), Dez (Armari Cheatom), Shanita (Kelly McCreary) and Reggie (DB Woodside) – are employed at an automobile outfitting plant. Faye, Dez and Shanita are workers on the line while Reggie (who has a wife and kids, and has pulled himself together after a troubled youth) is their supervisor.
The first three customarily mingle in their break room (designer Rachel Myers' impressively cluttered, dingy and detailed set), trading the sort of familiar barbs and genuine concern for each other common among longtime co-workers. They also face off on philosophy: Upper-middle-aged Faye and the younger, pregnant Shanita take pride in their labor, while Dez, though a good worker, is a malcontent scornful of management and firm in the belief that everyone needs to watch out for himself. He's a thorn in Reggie's side, for while Reggie wants to be supportive of his workers, he must act at the behest of higher management. For his part, Dez resents Reggie's authority, and a palpable unease exists between them.
Besides this male matchup, we're made privy to Dez's attraction to Shanita, who mostly turns away his advances, but every now and then displays a hint of interest. Most poignant is Reggie's regard and affection for the lesbian Faye, which has roots in his boyhood when she loved, and lived, with his now-deceased mom.
These people's various predicaments intensify when rumors spread of the plant's shutdown — a disaster for all, but a particular calamity for the already near-broke Faye who, one year short of retirement, would lose her pension. The crisis forces each of these people to make a choice.
A sound piece of social realism, Skeleton Crew grabs you from the start in its focus on blue-collar men and women, and their struggle against odds for dignity and self-respect. Morisseau not only furnishes these characters a platform for their travails, she endows them with strong values, big hearts and the opportunity to choose between right and wrong.
Unfortunately, the performance I attended did not soar. Many exchanges lacked a fresh edge. The actors certainly had their characters down, but too often they appeared to be coasting on technique. (This seemed particularly true of Clay, who performed the role to great accolades in Washington, DC in 2017, also under McGregor's direction). Additionally, some of the stage movement was not entirely fluid; in confrontations, actors sometimes would just stand and face each other in an artificial way. And Cheatom's interpretation of Dez struck me as a bit overly churlish and depressive: I needed more glimpses of the intelligence and edge that would secretly attract the strong, self-directed Shanita.
The most compelling moments belong to Woodside, well-cast as a man trying his best in difficult circumstances to do the right thing.
---
Gil Cates Theater at the Geffen Playhouse, 10886 Le Conte Ave., Westwood Village; Tues.-Fri., 8 p.m.; Sat., 3 & 8 p.m. Sun., 2 & 7 p.m.; through July 8. (310) 208-5454 or www.geffenplayhouse.org