Give Her Credit: A Writer's Pursuit of Plastic Debt
Channel R/Wikimedia
My (early) New Year's resolution was to get a credit card. You may remember that I have never had a credit card. And thus if I were on the dating market, my OKCupid inquiries would be flatly rejected. It's not that I have a bad score. I just don't have one. I had a good score when I was dutifully paying off my student loan after I graduated, but then through paying dirt-cheap rent in Harlem and never paying for cable I was able to pay off the loan. Since then I haven't owned any credit products. I've paid my rent on time every month and paid every bill before the due date. But those things don't make their way over to FICO. I've thus landed myself in quite the Catch-22 that speaks volumes about the lending industry and our reliance on it.
When I moved into a new apartment three years ago, I still had a score, so when the broker ran a credit check on me, she handed me the keys without a complaint. In the intervening years, however, the student loan must have fallen off my history, leaving a gaping void in its place. This is so unusual that when I was applying for a new apartment this summer, the broker told me there must be something wrong with my account. It turned out nothing was wrong – I just literally don't have a score.
Because I was dealing with humans in both the broker and the landlord, I was able to explain to them that I don't have a score because I don't like being in debt. At all. On top of that, I can show steady income because I have the good fortune of being employed at a well-paying job. They agreed that made sense and gave me the keys. But the ordeal made me realize that if I were to deal with an institution instead of a human – a bank from which I want a mortgage, say, or even a real estate management company instead of a landlord – I would probably be screwed. So I decided to suck it up, sell out, and finally get my first credit card.
It turns out I was screwed earlier than I thought. Back when I had a fantastic credit score, I would get credit card offers in the mail by the dozens. So I decided to do the responsible thing and do some research on a good rewards card (might as well get something out of my sell-outery) that doesn't have an annual fee and has a decent APR. Having found one, I filled out the online application and waited to hear that my soul had been sold. Not so fast: I was rejected on the spot. It turns out that not having a credit score is just as bad as having a damaged one in the short-term. The bank has no reason to trust that I can handle credit, so it won't give me any. Which means I will continue to be denied credit and continue to have zero credit history.
There was a big part of me that wanted to continue my protest of the financial system that demands you borrow money and go into debt (even if only a month at a time) to participate. But this problem will only get worse. What if the next time I move the landlord isn't understanding? Worse, what if the next job I apply to runs a credit check on me and decides having no history is too suspicious? (Six out of ten employers vet employees via a credit report.) Despite the fact that I have steady income and pay all my bills on time, I could still be left homeless and unemployed because of my refusal to get a credit card.
The point of this story is not my particular case. I am incredibly privileged to have a job, a steady paycheck I can comfortably live off of, and a landlord who was willing to let me move in and pay her ridiculous New York rent. One point is that if things are this difficult for middle class me, they are 10 times worse for low-income people. Nearly 10 million households in the U.S., or one in 12, are unbanked, meaning they have no relationship with a formal banking institution. Half of them don't have a bank account because they don't think they have enough to make the minimum balance. This isn't surprising, given that over 70 percent of this population makes less than $30,000.
I have the benefit of a bank account with enough money to keep the required minimum balance. Given that, I will likely be able to coerce a credit card out of my banking institution (even if I have to pay an annual fee to do so and put down a security deposit). The unbanked community, however, must usually turn to "alternative" products such as pre-paid debit cards, payday lenders, and check cashers. These are all relatively predatory products that come loaded with fees and high interest. Interest rates on payday loans, for example, can reach 450 percent when annualized. When you're already pulling in just enough – or not enough – to get by, losing even more money simply to access your own income is a huge problem. Beyond that, if someone who is unbanked tries to return to the traditional banking industry, he or she will probably encounter far more obstacles than I've run into. It could become impossible, shutting these people out of the entire traditional lending industry and all that comes with it.
The other point is the infuriating opacity of the whole credit industry. I had no idea that I don't have a score until a hard inquiry was run on me – something that in and of itself can harm your score or at the very least ward off potential lenders. Perhaps more frustrating, the hard inquiry that's generated by applying for a credit card looks pretty fishy when you don't get accepted for a card – because then I have to apply for another, which is another inquiry, and if I get rejected I have to do another, and on, making it look (rightfully, I suppose) like I'm going door to door and being turned away by everyone. That makes a lending institution wary of taking me on. But I have no way to know ahead of time whether I'll qualify for a particular card. Even my bank, which I've been with for over 10 years, couldn't tell me whether my loyalty or good explanation for my blank credit history would help me out. I was flatly told that the only way to know if I'll be accepted for a particular card is to apply and find out. Bank employees are barred, I was told, from telling me the criteria used so that they won't "discriminate" against me by pushing me toward the credit product I'm more likely to qualify for.
Yet this lack of transparency on the bank's part is nothing compared to the credit reporting companies themselves. The methodologies these private companies use to calculate scores are a closely guarded secret. Even though an estimated 20 percent of scores contain errors, attempts to resolve them often end in frustration and inaction. The score you buy from the agencies often isn't the one a lender would see. And until the Consumer Financial Protection Bureau came along, they were barely regulated – although the bureau is already overseeing the largest ones and is currently fielding consumer complaints.
I'm glad that the CFPB now exists and should bring more regulation and transparency to the whole ordeal by cracking down on non-bank lenders, overseeing credit reporting agencies, and demanding better practices from credit card lenders. But one thing it won't do is sever the ironclad link between taking on debt and participation in the finance industry. Even if these products improve, I'll still have to convince someone to give me a credit card – a product I have never wanted – so that I can be sure of housing and employment.
(Bryce Covert is the editor of Next New Deal, where her post first appeared. Republished with permission.)
The Power of the Poster
Carol Wells, the founder of the Center for the Study of Political Graphics in Los Angeles, talks to Capital & Main about the enduring power of political art.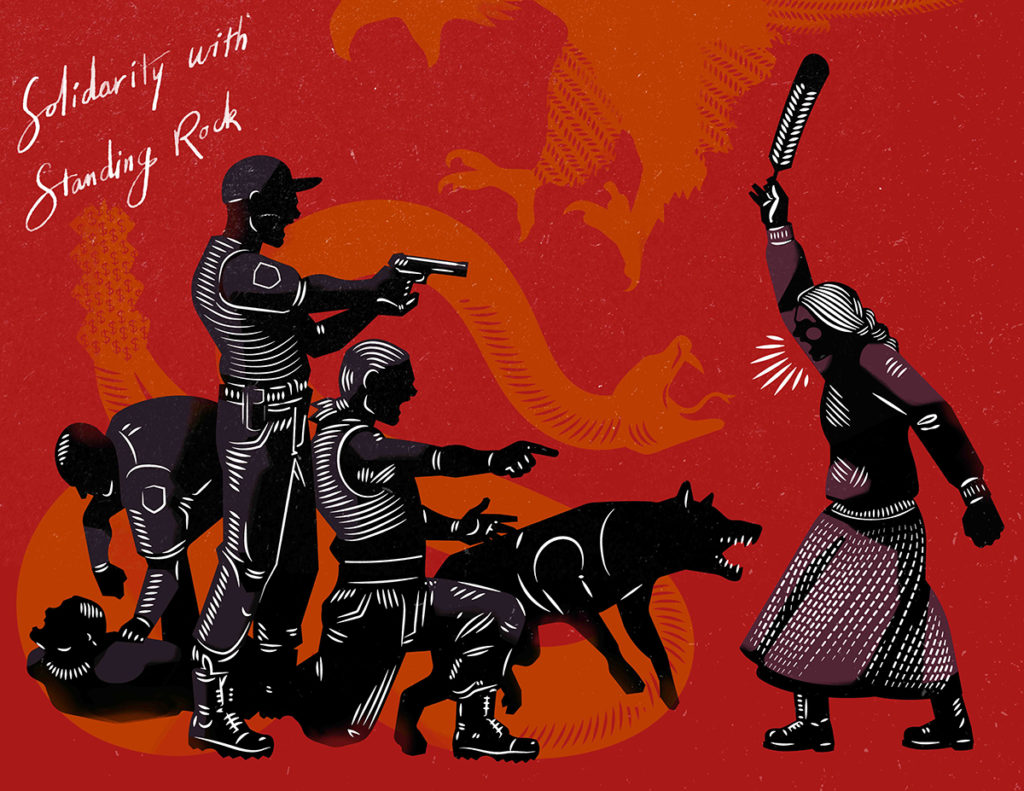 Carol Wells remembers the exact moment she discovered her calling. An art historian at the time, she was on a trip to Nicaragua with her friend David Kunzle, a UCLA art history professor, who was collecting political posters to add to his burgeoning collection. While staying with friends, Wells watched a neighbor's 8-year-old son approach a poster on the wall, stare at it intently, and then start to silently mouth the words. Wells was struck by how engaged the boy was. "In that moment I became obsessed with collecting posters."
Now over 40 years later, Wells is the founder and executive director of the Center for the Study of Political Graphics in Los Angeles. Wells has amassed approximately 90,000 posters, building one of the largest collections of its kind in the world. The Center shares its collection with the public in part through curated exhibits. This year the CSPG has produced Feminae: Typographic Voices of Women by Women and its latest is To Protect & Serve? Five Decades of Posters Protesting Police Violence, running through July 15 at the Mercado La Paloma in downtown Los Angeles.
Since that encounter in Nicaragua in 1981, Wells' obsession with collecting posters hasn't waned. In CSPG's nondescript West L.A. office space, Wells pulls out poster after poster, lecturing passionately on the backstory and cultural impact of each, including one that superimposes text from a New York Times interview with a shocking image of the My Lai massacre ("Q: And babies? A: And babies."). Recently, she managed to sit down with C&M to discuss her passion.
---
Capital & Main: So, you were an art history professor, you happen to see a kid on a trip, and suddenly your life was changed forever?
Carol Wells: Yeah, I'm in Nicaragua alone in the living room with this kid. He's looking around, and all of a sudden, he sees the poster. It was pretty big, bright green, a thick outlines of a woman holding a big basket of coffee beans. And the text in Spanish said, "In constructing the new country, we are becoming the new woman." I see him walk over to the poster and I'm watching him mouth the words. It was a pretty sophisticated concept, so I doubt he figured it out. But I literally had this epiphany: "Oh my God. That's how posters work." You're going about your daily life, and all of a sudden something breaks through the bubble, and it grabs your attention. It's the graphic, it's the color, it's the combination, and it pulls you out of your head and into that poster and it makes you ask a question. "Why is this here? What is this about? What does this mean?" And every time you ask a question, you're a different person than you were before you asked the question.
How many posters do you get a year?
We get between two to five thousand a year donated from all over the world. The bulk of our collection is [from] 1945 and later.
I assume technology has probably hurt the art form, but has it helped get the messages out?
Most people think that, and it's actually not true. Since the internet age started, there's actually a poster renaissance of works on paper. Because you can't walk with your computer monitor in a demonstration. You can't plant your monitor on your lawn.
And you can't put a laptop on the wall…
Exactly. You want to hear a really great story? Truthdig.org published a cartoon [made by] a political cartoonist named Mr. Fish. It was during the Arab spring, and he had superimposed Che Guevara with the stylized beard and King Tut's face, but it had Che's beret. And it [was titled], "Walk like an Egyptian." So, it was a reference to the music, but [it was also] a reference to what was going on the streets of Cairo. I sent it out as our poster of the week to 9,000 people. The very next day, somebody took a photograph on the street of Cairo, with somebody holding a piece of paper with that image on it. A poster can literally go around the world and people will print it out.
What struck me in viewing your exhibits is how many of these posters could still be used today, not only artistically but also, sadly, in the timeliness of their messages.
We had this fabulous poster by Yolanda Lopez, a Bay Area artist, which she first did in 1978. It depicts a young man in Aztec garb pointing a finger like Uncle Sam saying, "Who's the illegal alien, PILGRIM?" And it's a great poster, it's simple, not too many words, funny, provocative. So, we had an exhibit at UCLA in the mid '90s and there were 4 or 5 high school students standing around this poster saying, "Wow, you've got posters up to the minute." And I went over to them and I said, "Look at the date. This is before you were born."
Is that one of your goals with the exhibitions? To show the evergreen nature of this work?
Absolutely. I mean that's why we did the police abuse exhibition now. It basically goes back five decades. It's 50 years of posters protesting police abuse. Mainly in the United States, but also internationally.
What's the goal for CSPG?
Well the aim right now is really to digitize the collection and get it online. We have 10% of the collection digitized. But the mission is to collect and to document, because stories get lost. All the exhibitions, they're showing massacres, they're showing genocide, they're showing police abuse, they're showing all of these horrible things. And people often ask me, "How can you look at this stuff all day long?" I said, "Because the poster artists are optimists. They believe people can change if they have the information."
Yes, that's the reason why they're doing it, right?
That's why they're doing it, and that's why I'm doing this, because I believe that people can change if they knew the truth.
And what happens 20, 50 years from now?
Well, my goal is to stay independent, because the other option is to become part of the university. Universities, for all the fabulous things that they do, they also censor. We did an exhibition at USC in 1992 on the 500 years since Columbus, and how the legacy of racism and exploitation and genocide continues. And one of the board of trustees was Italian and took [the exhibit] as an affront to Columbus. It really wasn't about Columbus, it was about colonialism. And he ordered it down.
Do you have a favorite poster?
I'm always amazed at the creativity and vision of artists. Every week I'll say, "Oh my God, how do they think of that?" But it's always still going to be the poster I saw that kid trying to figure out. It has to be my favorite one because that one changed my life.
What makes a perfect poster?
The right balance between aesthetics and message. If you only rely on the corporate press, the New York Times and L.A. Times, for your information, you're not going to get the side from the street, from the movement, from the activists. The posters are primary historical documents that are recording the issues that were at the time, and the passions that were at the time, and the divisions that were at the time. You're not going to get it anyplace else.
---
Copyright Capital & Main