Generation Crash: Millennials to the Rescue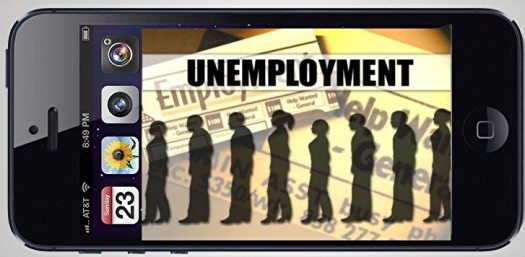 The economy is personal. It colors our decisions about everything: when to have kids, what city to move to, who to vote for, who to sleep with. And nobody knows this better than the biggest generation in history: the Millennials. These 80 million Americans have come of age during the worst economic recession since the Depression, an experience that will have profound repercussions on our lives—and our political consciousness.
I call us the Crash Generation. For many of us in our twenties, 2008 was a period awash in exhilarating highs and terrifying lows. The words "depression," "economic crisis," "mass layoffs" and "foreclosures," along with "hope," "change" and "Obama," all clogged the headlines and made their way into whiskey-fueled party conversations. Washington and the media had never been so frank about the cataclysmic proportions of a financial crash. And a candidate had never kicked young voters into such high gear like Barack Obama, who seemed to reflect the seismic demographic shift our generation was heralding. The mythic American dream-bubbles were bursting for young people at the exact moment we had begun to wield our political influence. That second half of 2008 was our JFK assassination. Our Vietnam. Our Great Depression.
Study after study finds that Millennials are "materialistic" or obsessed with money. But really we're obsessed with the money we don't have; put in political terms, we're class-conscious. Thanks to Occupy Wall Street and Mitt Romney's slipups, the concept of income inequality is finally part of the public conversation. The economic patterns of the past few decades, with the financial crisis as their crescendo, have yielded an atmosphere ripe for a youth-led social movement that hinges on our bottom lines. Because of our sheer numbers, we have enormous potential to transform waves into tsunamis, and we have already flexed our political muscle in two elections. Those of us who came of age when the bubble burst, particularly the downwardly mobile "privileged poor," have a tangible common experience, a renewed indignation.
But too often, this indignation often has nowhere to go, and is enveloped in our frenetic lives of multiple jobs, demoralizing underemployment, or joblessness—the constant physical and emotional stress of keeping our heads above water. Years later, the status quo has not budged. We haven't done much to shrink the income gap or encourage upward mobility. We haven't gotten our leaders to address anemic state budgets, deregulation, unions' decline, freelancers' precarity, shrinking wages, student debt or the insane cost of living in major cities. All those economic pressures have primed this era for an economic shift. Yet those same pressures limit our freedom to protest or push for policy changes. In other words, we're pissed—but we're paralyzed by the very forces we're pissed about.
Right now, most of the permanent underclass feels politically frozen: When one missed paycheck means descending into poverty without a safety net, unions and political activism seem like a low priority. Educated young people are frozen, too—caught in the privileged-poor paradox. Our meager (or nonexistent) paychecks incite righteous anger—especially when we think of our middle class parents' luck at their age—but they also choke our very ability to organize, create, and take risks. As our wages fall, our degrees lose value, prices of food and rent rise, and workdays expand, we have less and less time to read a book, to join a rally in the next town over, to hop a bus to Washington, to even have an hours-long discussion about politics with our friends. Most Millennials aren't starving, Great Depression-style, but they are starved for a low cost of living and a baseline of economic freedom.
Here's the good news: For every 10 twentysomethings seized with frustration, there's one pushing the conversation forward and coming up with compelling solutions, however flawed or nascent. This seething discontent signals the start of a major shift. The fizzling of Occupy Wall Street, for instance, shouldn't depress us; Roosevelt Institute fellow Dorian Warren recently reminded me that if this is our civil rights movement, we're only in 1957—a year after the Montgomery bus boycott. So far, our empty wallets and our denial have hindered our ability to meaningfully influence policy, but that doesn't mean it won't happen soon.
Some people think that entrepreneurship, not government policy, will save Millennials. The truth is, not everyone has the support and connections to launch their own business or score a job at a scrappy start-up. Besides, start-up culture and economic reform aren't mutually exclusive. In a post-recession era, both social change and entrepreneurism stem from being able to live securely and cheaply. A 2008 study from the RAND Corporation found evidence of "entrepreneurship lock," where workers resist leaving firms offering health care due to the high premiums of the individual health insurance market. Compare this reticence to places like Norway: When journalist Max Chafkin visited the country in 2010, he reported on a spate of Norwegian entrepreneurs who not only were happy to pay high taxes, but attributed their penchant for risk-taking to a strong social safety net. (There are also more entrepreneurs per capita in Norway than in the United States. Same with Canada, Denmark and Switzerland.)
Millennials are starting to realize that if their lives are going to improve, there needs to be policy that addresses unemployment, student debt and income inequality. Young people like the ones striking outside McDonald's in New York, or the students who won a minimum wage hike in San Jose, or the ones in Roosevelt's Pipeline and Campus Network across the country—they're all updating historic social movements (and the policies they've pushed) that have improved the lives of middle and working class Americans.
The future movers and shakers of the Crash Generation have a modern sensibility. We're Internet natives. We're optimists. We believe in community and the "sharing economy." We've all but settled the culture wars. But we also have faith in the idea of government, if not its current reality, and we're not afraid to engage with successful historical models.
(Nona Willis Aronowitz is a Roosevelt Institute | Pipeline Fellow. Her post first appeared on the institute's Next New Deal blog and is republished with permission.)

A Woman's Art Is Never Done: The Feminae Exhibition
A striking juxtaposition between the past and present courses throughout the small gallery. Celia Blomberg's "International Women's Day March 8" can't help but make one think of 2017's Women's March, which occurred 37 years after the print's first appearance.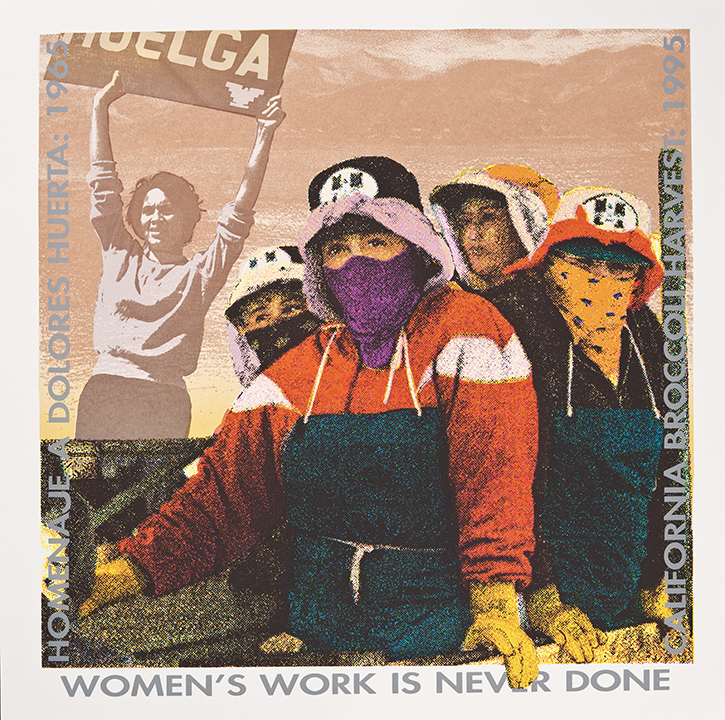 Among the 50-plus works in the Feminae: Typographic Voices of Women By Women exhibit is Yolanda Lopez's "Women's Work is Never Done." Lopez's title is particularly ironic, given the exhibit's gender-based subject matter. The show spans work from the past 50 years, making it easy to understand how much society is still grappling with its themes of gender inequality. Culled from the archives of the Center for the Study of Political Graphics, the graphic images of protest, persuasion and empowerment are truly works of art in their own right.
However, political posters aren't made to merely spruce up walls, but to help figuratively bring barriers down as well.
Two silkscreens from the 1970s, Liliana Porter and John Schneider's "This Woman is Vietnamese" and See Red Woman's Workshop's "So Long As Women Are Not Free People Are Not Free," are particularly powerful, underscoring, as they do, the fact that the subjugation and persecution of women crosses borders and cultures as an unfortunate shared global experience. These two pieces' stark simplicity exemplifies most of the work in the exhibit. In the former, a New York Times photo of a distraught Vietnamese woman with a gun held to her head is centered above these basic words typed out in a typewriter font: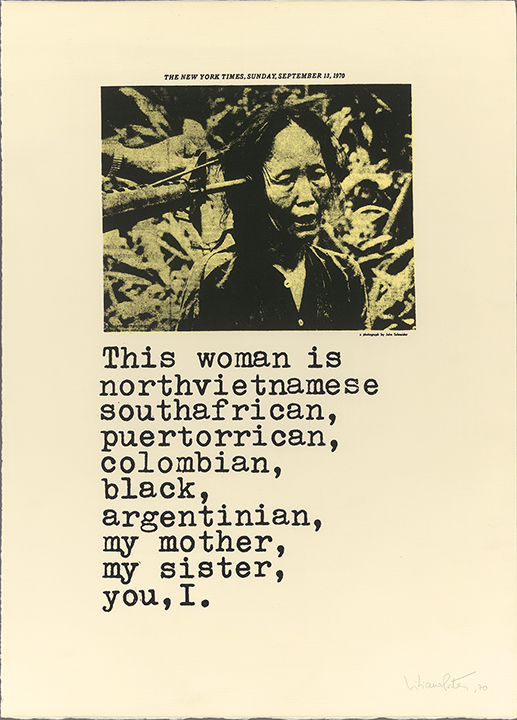 This woman is
northvietnamese
southafrican
puertorrican,
colombian,
black,
argentinian,
my mother,
my sister,
you, I.
By juxtaposing the photo with these words, the creators take the plight of this woman and immediately globalize her pain. In the latter, three female demonstrators are silkscreened in red onto a yellow background. They are marginalized by being stuck in the lower left third of the poster, but two of them are raising their fists skyward and their mouths are open, screaming in defiance. Its non-serif, eponymous type reads: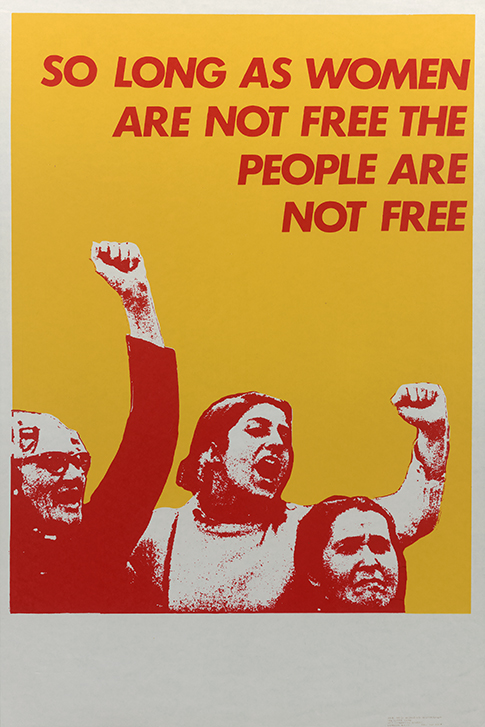 SO LONG AS WOMEN
ARE NOT FREE THE
PEOPLE ARE
NOT FREE
This piece's message takes the global message even farther, making the plight of women a human one — a common theme in the exhibition.
There is also a striking juxtaposition between the past and present that seethes throughout the small gallery. Celia Blomberg's "International Women's Day March 8" can't help but make one think of 2017's Women's March that would take place 37 years later. See Red Woman's Workshop's 1977 "Black Women Will Not Be Intimidated" could easily be repurposed to address the recent spate of blue-on-black brutality. Notable works by Barbara Kruger, Sister Corita Kent and the Guerilla Girls are also included.
Ironically , while it can be surmised that most of these works were made as populist posters to be distributed at the time as banners of protest, their beautiful simplicity and nostalgic elegance probably have resulted in the originals (mostly now found in art museums) sporting hefty vintage-resale prices.
But it is not just the art that has stood the test of time. The fact that the issues addressed in the show — feminism, choice, gender equality, war, immigration, police brutality or violence against women — are all issues at the forefront of debate in 2018 ultimately engenders conflicting feelings.
On one the hand, it is inspiring to see a vibrant exhibit that showcases such diversity in artistic styles, no doubt spawned by the diversity of the artists' own backgrounds. On the other hand, there is a realization that while there has been some progress over the past half century, there is so much work to be done.
Art Center's Hoffmitz Milken Center for Typography, 950 South Raymond Ave., Pasadena; through May 15.
---
Copyright Capital & Main