From Goldman Sachs to Walmart to Urasawa: A NYT Trifecta
Has the New York Times turned into a latter-day Daily Worker, or are labor conditions in America becoming so bad that even the national paper of record is demanding social justice? A look at this past Sunday's Section A revealed no fewer than three stories delving into the predatory practices of employers and financial players.
The front page led with an eye-opening investigation into how investment banks– including Goldman Sachs, JP Morgan Chase and Morgan Stanley – have reaped billions from stockpiling commodities in giant warehouses across the country.
The story, written by David Kocieniewski, focused on 27 mega-warehouses holding aluminum located around Detroit. (You remember Detroit – the city whose retired employees' pensions are now threatened under bankruptcy proceedings, as banks and other creditors are being escorted to the front of the collection line?) The Times found that by needlessly shifting thousands of palettes of aluminum ingots from one warehouse to another, the banks that own the storage facilities can lengthen the commodities' time in storage – and their own profits by charging industrial clients higher rent. But don't worry about the companies that require the aluminum – they just pass on the inflated rent to the consumer. Says Kocieniewski:
Only a tenth of a cent or so of an aluminum can's purchase price can be traced back to the strategy. But multiply that amount by the 90 billion aluminum cans consumed in the United States each year — and add the tons of aluminum used in things like cars, electronics and house siding — and the efforts by Goldman and other financial players [have] cost American consumers more than $5 billion over the last three years, say former industry executives, analysts and consultants.
This windfall for the banks came about through deregulation and is not confined to aluminum, but includes oil, coffee and wheat, to name but a few commodities. Kocieniewski's article is highly recommended for people wondering how there can be inflation during a recovery with anemic job growth.
A dozen pages later in the print version, readers found Jennifer Medina's piece, "At an Upscale Restaurant, Claims of Underpaying Workers." If this headline made you think of Los Angeles, you were completely justified – Medina's article zeroed in on the Beverly Hills sushi mecca, Urasawa, owned and operated by another chef terrible, Hiroyuki Urasawa. Seems his Rodeo Drive restaurant can easily run you and a date $1,000 for dinner, although kitchen employees are not the beneficiaries of any profit-sharing plans. In fact, while Urasawa (the restaurant) serves outlawed goose liver foie gras, Urasawa (the chef) had one five-year employee, Heriberto Zamora, working for nearly 60 hours per week at a flat $11.50 an hour rate. That is, until Zamora was fired on the spot for requesting to go home after falling ill in the kitchen, nine hours into his shift.
Zamora is suing through the Bet Tzedek legal organization, and Urasawa has been the scene of a protest action organized by the Koreatown Immigrant Workers Alliance. Writes Medina:
But by all appearances, there has been no backlash against the restaurant. Jonathan Gold, the influential food critic for the Los Angeles Times, named it the No. 2 restaurant in the city earlier this year, with no mention of the recent controversy.
Then, right across the Urasawa story's jump, we found our old friend Walmart in the news yet again. This time it was because the "infuriated" retail titan is "balking" about opening a store in Washington, D.C. Why? Because the city council passed a living wage ordinance aimed at Walmart that will require the chain to pay its D.C. employees $12.50 an hour, instead of the city's standard $8.25 minimum wage. Reporter Trip Gabriel quoted city councilman Vincent Orange, an ordinance supporter:
"Their net income was $17 billion. You don't want to share a little bit with the citizens? Come on."
No, Mr. Orange – you come on! Don't you know working at Walmart is a good first job for many people? That it will get people off public assistance?
Gabriel's article carried just those kinds of quotes – and, happily, cited experts who said that for many low-income Americans, Walmart has become a gateway to welfare.
Then, for a cherry on top, Maya Lau reported on Brooklyn's Interference Archive, which collects and curates social-justice movement memorabilia, including posters, T-shirts and videos. Notes Lau:
Very few of the Interference Archive's 12,000 posters, 7,500 books and 7,500 pamphlets, zines and other objects have been digitally indexed. And while work is under way to change that, the archive's organizers see its pre-computerized state as a virtue. In an age of instant Internet searches, they can offer visitors an opportunity to rummage around and find something they did not know they were looking for. A couch and a cooler with beer ($2 a bottle) invite them to stay.
The archive is clearly a labor of love for several volunteers and aims to make the materials easily accessible to the public. (Hear that, Tamiment Library?) No doubt it will soon be acquiring posters and fliers from Making Change at Walmart, which is currently demanding the reinstatement of Walmart employees who had the nerve to protest outside the corporation's annual shareholder's gathering in Bentonville, Arkansas last month. (See story here.)

A Woman's Art Is Never Done: The Feminae Exhibition
A striking juxtaposition between the past and present courses throughout the small gallery. Celia Blomberg's "International Women's Day March 8" can't help but make one think of 2017's Women's March, which occurred 37 years after the print's first appearance.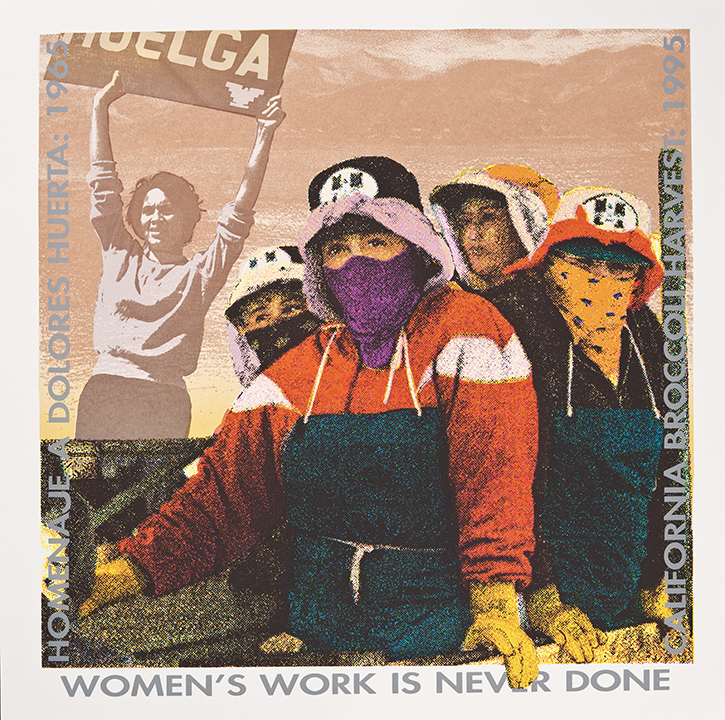 Among the 50-plus works in the Feminae: Typographic Voices of Women By Women exhibit is Yolanda Lopez's "Women's Work is Never Done." Lopez's title is particularly ironic, given the exhibit's gender-based subject matter. The show spans work from the past 50 years, making it easy to understand how much society is still grappling with its themes of gender inequality. Culled from the archives of the Center for the Study of Political Graphics, the graphic images of protest, persuasion and empowerment are truly works of art in their own right.
However, political posters aren't made to merely spruce up walls, but to help figuratively bring barriers down as well.
Two silkscreens from the 1970s, Liliana Porter and John Schneider's "This Woman is Vietnamese" and See Red Woman's Workshop's "So Long As Women Are Not Free People Are Not Free," are particularly powerful, underscoring, as they do, the fact that the subjugation and persecution of women crosses borders and cultures as an unfortunate shared global experience. These two pieces' stark simplicity exemplifies most of the work in the exhibit. In the former, a New York Times photo of a distraught Vietnamese woman with a gun held to her head is centered above these basic words typed out in a typewriter font: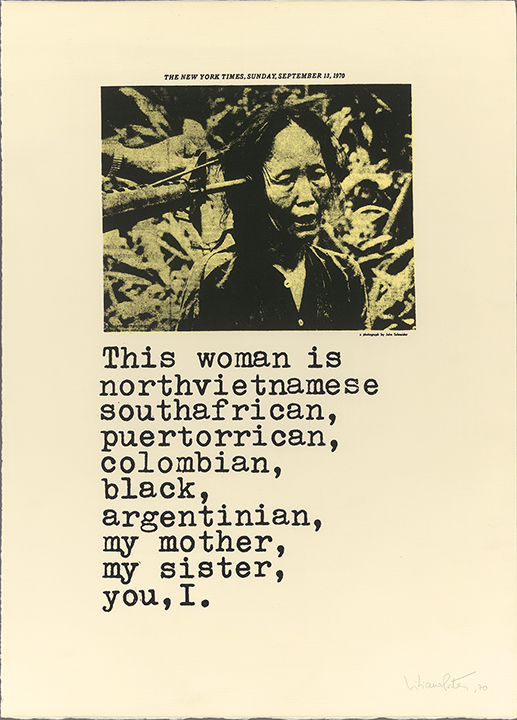 This woman is
northvietnamese
southafrican
puertorrican,
colombian,
black,
argentinian,
my mother,
my sister,
you, I.
By juxtaposing the photo with these words, the creators take the plight of this woman and immediately globalize her pain. In the latter, three female demonstrators are silkscreened in red onto a yellow background. They are marginalized by being stuck in the lower left third of the poster, but two of them are raising their fists skyward and their mouths are open, screaming in defiance. Its non-serif, eponymous type reads: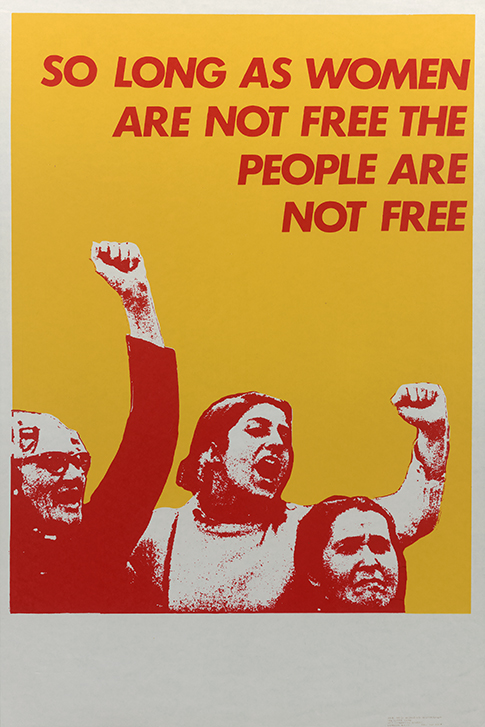 SO LONG AS WOMEN
ARE NOT FREE THE
PEOPLE ARE
NOT FREE
This piece's message takes the global message even farther, making the plight of women a human one — a common theme in the exhibition.
There is also a striking juxtaposition between the past and present that seethes throughout the small gallery. Celia Blomberg's "International Women's Day March 8" can't help but make one think of 2017's Women's March that would take place 37 years later. See Red Woman's Workshop's 1977 "Black Women Will Not Be Intimidated" could easily be repurposed to address the recent spate of blue-on-black brutality. Notable works by Barbara Kruger, Sister Corita Kent and the Guerilla Girls are also included.
Ironically , while it can be surmised that most of these works were made as populist posters to be distributed at the time as banners of protest, their beautiful simplicity and nostalgic elegance probably have resulted in the originals (mostly now found in art museums) sporting hefty vintage-resale prices.
But it is not just the art that has stood the test of time. The fact that the issues addressed in the show — feminism, choice, gender equality, war, immigration, police brutality or violence against women — are all issues at the forefront of debate in 2018 ultimately engenders conflicting feelings.
On one the hand, it is inspiring to see a vibrant exhibit that showcases such diversity in artistic styles, no doubt spawned by the diversity of the artists' own backgrounds. On the other hand, there is a realization that while there has been some progress over the past half century, there is so much work to be done.
Art Center's Hoffmitz Milken Center for Typography, 950 South Raymond Ave., Pasadena; through May 15.
---
Copyright Capital & Main