From Goldman Sachs to Walmart to Urasawa: A NYT Trifecta
Has the New York Times turned into a latter-day Daily Worker, or are labor conditions in America becoming so bad that even the national paper of record is demanding social justice? A look at this past Sunday's Section A revealed no fewer than three stories delving into the predatory practices of employers and financial players.
The front page led with an eye-opening investigation into how investment banks– including Goldman Sachs, JP Morgan Chase and Morgan Stanley – have reaped billions from stockpiling commodities in giant warehouses across the country.
The story, written by David Kocieniewski, focused on 27 mega-warehouses holding aluminum located around Detroit. (You remember Detroit – the city whose retired employees' pensions are now threatened under bankruptcy proceedings, as banks and other creditors are being escorted to the front of the collection line?) The Times found that by needlessly shifting thousands of palettes of aluminum ingots from one warehouse to another, the banks that own the storage facilities can lengthen the commodities' time in storage – and their own profits by charging industrial clients higher rent. But don't worry about the companies that require the aluminum – they just pass on the inflated rent to the consumer. Says Kocieniewski:
Only a tenth of a cent or so of an aluminum can's purchase price can be traced back to the strategy. But multiply that amount by the 90 billion aluminum cans consumed in the United States each year — and add the tons of aluminum used in things like cars, electronics and house siding — and the efforts by Goldman and other financial players [have] cost American consumers more than $5 billion over the last three years, say former industry executives, analysts and consultants.
This windfall for the banks came about through deregulation and is not confined to aluminum, but includes oil, coffee and wheat, to name but a few commodities. Kocieniewski's article is highly recommended for people wondering how there can be inflation during a recovery with anemic job growth.
A dozen pages later in the print version, readers found Jennifer Medina's piece, "At an Upscale Restaurant, Claims of Underpaying Workers." If this headline made you think of Los Angeles, you were completely justified – Medina's article zeroed in on the Beverly Hills sushi mecca, Urasawa, owned and operated by another chef terrible, Hiroyuki Urasawa. Seems his Rodeo Drive restaurant can easily run you and a date $1,000 for dinner, although kitchen employees are not the beneficiaries of any profit-sharing plans. In fact, while Urasawa (the restaurant) serves outlawed goose liver foie gras, Urasawa (the chef) had one five-year employee, Heriberto Zamora, working for nearly 60 hours per week at a flat $11.50 an hour rate. That is, until Zamora was fired on the spot for requesting to go home after falling ill in the kitchen, nine hours into his shift.
Zamora is suing through the Bet Tzedek legal organization, and Urasawa has been the scene of a protest action organized by the Koreatown Immigrant Workers Alliance. Writes Medina:
But by all appearances, there has been no backlash against the restaurant. Jonathan Gold, the influential food critic for the Los Angeles Times, named it the No. 2 restaurant in the city earlier this year, with no mention of the recent controversy.
Then, right across the Urasawa story's jump, we found our old friend Walmart in the news yet again. This time it was because the "infuriated" retail titan is "balking" about opening a store in Washington, D.C. Why? Because the city council passed a living wage ordinance aimed at Walmart that will require the chain to pay its D.C. employees $12.50 an hour, instead of the city's standard $8.25 minimum wage. Reporter Trip Gabriel quoted city councilman Vincent Orange, an ordinance supporter:
"Their net income was $17 billion. You don't want to share a little bit with the citizens? Come on."
No, Mr. Orange – you come on! Don't you know working at Walmart is a good first job for many people? That it will get people off public assistance?
Gabriel's article carried just those kinds of quotes – and, happily, cited experts who said that for many low-income Americans, Walmart has become a gateway to welfare.
Then, for a cherry on top, Maya Lau reported on Brooklyn's Interference Archive, which collects and curates social-justice movement memorabilia, including posters, T-shirts and videos. Notes Lau:
Very few of the Interference Archive's 12,000 posters, 7,500 books and 7,500 pamphlets, zines and other objects have been digitally indexed. And while work is under way to change that, the archive's organizers see its pre-computerized state as a virtue. In an age of instant Internet searches, they can offer visitors an opportunity to rummage around and find something they did not know they were looking for. A couch and a cooler with beer ($2 a bottle) invite them to stay.
The archive is clearly a labor of love for several volunteers and aims to make the materials easily accessible to the public. (Hear that, Tamiment Library?) No doubt it will soon be acquiring posters and fliers from Making Change at Walmart, which is currently demanding the reinstatement of Walmart employees who had the nerve to protest outside the corporation's annual shareholder's gathering in Bentonville, Arkansas last month. (See story here.)
The Power of the Poster
Carol Wells, the founder of the Center for the Study of Political Graphics in Los Angeles, talks to Capital & Main about the enduring power of political art.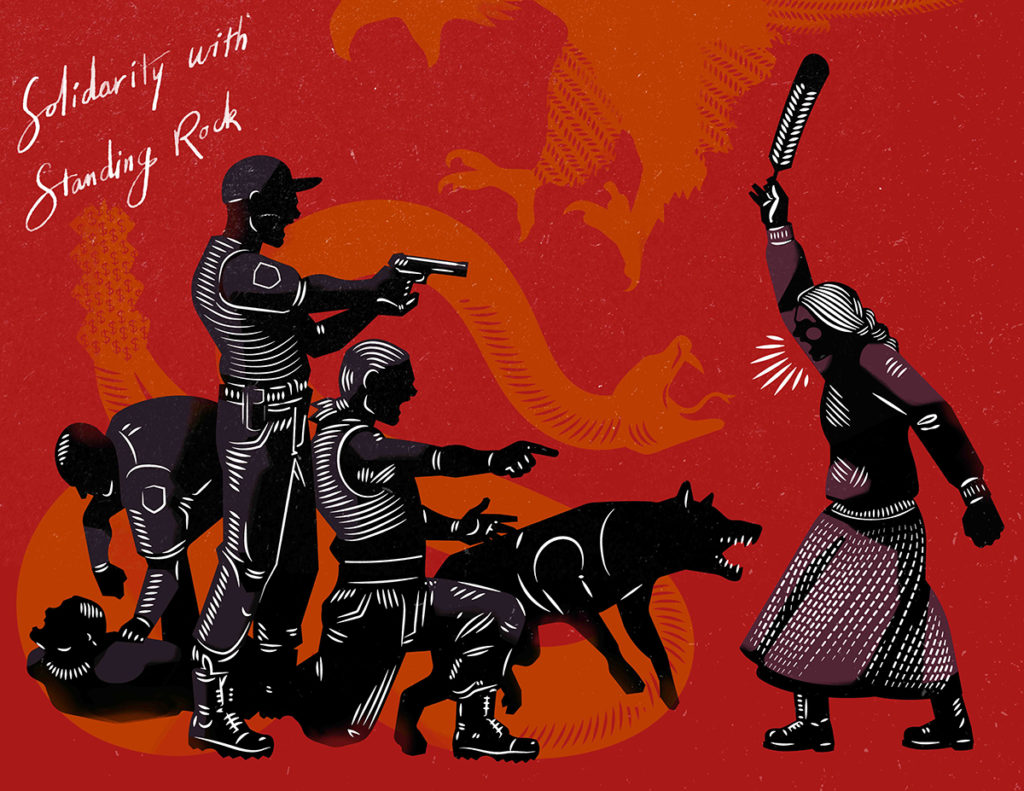 Carol Wells remembers the exact moment she discovered her calling. An art historian at the time, she was on a trip to Nicaragua with her friend David Kunzle, a UCLA art history professor, who was collecting political posters to add to his burgeoning collection. While staying with friends, Wells watched a neighbor's 8-year-old son approach a poster on the wall, stare at it intently, and then start to silently mouth the words. Wells was struck by how engaged the boy was. "In that moment I became obsessed with collecting posters."
Now over 40 years later, Wells is the founder and executive director of the Center for the Study of Political Graphics in Los Angeles. Wells has amassed approximately 90,000 posters, building one of the largest collections of its kind in the world. The Center shares its collection with the public in part through curated exhibits. This year the CSPG has produced Feminae: Typographic Voices of Women by Women and its latest is To Protect & Serve? Five Decades of Posters Protesting Police Violence, running through July 15 at the Mercado La Paloma in downtown Los Angeles.
Since that encounter in Nicaragua in 1981, Wells' obsession with collecting posters hasn't waned. In CSPG's nondescript West L.A. office space, Wells pulls out poster after poster, lecturing passionately on the backstory and cultural impact of each, including one that superimposes text from a New York Times interview with a shocking image of the My Lai massacre ("Q: And babies? A: And babies."). Recently, she managed to sit down with C&M to discuss her passion.
---
Capital & Main: So, you were an art history professor, you happen to see a kid on a trip, and suddenly your life was changed forever?
Carol Wells: Yeah, I'm in Nicaragua alone in the living room with this kid. He's looking around, and all of a sudden, he sees the poster. It was pretty big, bright green, a thick outlines of a woman holding a big basket of coffee beans. And the text in Spanish said, "In constructing the new country, we are becoming the new woman." I see him walk over to the poster and I'm watching him mouth the words. It was a pretty sophisticated concept, so I doubt he figured it out. But I literally had this epiphany: "Oh my God. That's how posters work." You're going about your daily life, and all of a sudden something breaks through the bubble, and it grabs your attention. It's the graphic, it's the color, it's the combination, and it pulls you out of your head and into that poster and it makes you ask a question. "Why is this here? What is this about? What does this mean?" And every time you ask a question, you're a different person than you were before you asked the question.
How many posters do you get a year?
We get between two to five thousand a year donated from all over the world. The bulk of our collection is [from] 1945 and later.
I assume technology has probably hurt the art form, but has it helped get the messages out?
Most people think that, and it's actually not true. Since the internet age started, there's actually a poster renaissance of works on paper. Because you can't walk with your computer monitor in a demonstration. You can't plant your monitor on your lawn.
And you can't put a laptop on the wall…
Exactly. You want to hear a really great story? Truthdig.org published a cartoon [made by] a political cartoonist named Mr. Fish. It was during the Arab spring, and he had superimposed Che Guevara with the stylized beard and King Tut's face, but it had Che's beret. And it [was titled], "Walk like an Egyptian." So, it was a reference to the music, but [it was also] a reference to what was going on the streets of Cairo. I sent it out as our poster of the week to 9,000 people. The very next day, somebody took a photograph on the street of Cairo, with somebody holding a piece of paper with that image on it. A poster can literally go around the world and people will print it out.
What struck me in viewing your exhibits is how many of these posters could still be used today, not only artistically but also, sadly, in the timeliness of their messages.
We had this fabulous poster by Yolanda Lopez, a Bay Area artist, which she first did in 1978. It depicts a young man in Aztec garb pointing a finger like Uncle Sam saying, "Who's the illegal alien, PILGRIM?" And it's a great poster, it's simple, not too many words, funny, provocative. So, we had an exhibit at UCLA in the mid '90s and there were 4 or 5 high school students standing around this poster saying, "Wow, you've got posters up to the minute." And I went over to them and I said, "Look at the date. This is before you were born."
Is that one of your goals with the exhibitions? To show the evergreen nature of this work?
Absolutely. I mean that's why we did the police abuse exhibition now. It basically goes back five decades. It's 50 years of posters protesting police abuse. Mainly in the United States, but also internationally.
What's the goal for CSPG?
Well the aim right now is really to digitize the collection and get it online. We have 10% of the collection digitized. But the mission is to collect and to document, because stories get lost. All the exhibitions, they're showing massacres, they're showing genocide, they're showing police abuse, they're showing all of these horrible things. And people often ask me, "How can you look at this stuff all day long?" I said, "Because the poster artists are optimists. They believe people can change if they have the information."
Yes, that's the reason why they're doing it, right?
That's why they're doing it, and that's why I'm doing this, because I believe that people can change if they knew the truth.
And what happens 20, 50 years from now?
Well, my goal is to stay independent, because the other option is to become part of the university. Universities, for all the fabulous things that they do, they also censor. We did an exhibition at USC in 1992 on the 500 years since Columbus, and how the legacy of racism and exploitation and genocide continues. And one of the board of trustees was Italian and took [the exhibit] as an affront to Columbus. It really wasn't about Columbus, it was about colonialism. And he ordered it down.
Do you have a favorite poster?
I'm always amazed at the creativity and vision of artists. Every week I'll say, "Oh my God, how do they think of that?" But it's always still going to be the poster I saw that kid trying to figure out. It has to be my favorite one because that one changed my life.
What makes a perfect poster?
The right balance between aesthetics and message. If you only rely on the corporate press, the New York Times and L.A. Times, for your information, you're not going to get the side from the street, from the movement, from the activists. The posters are primary historical documents that are recording the issues that were at the time, and the passions that were at the time, and the divisions that were at the time. You're not going to get it anyplace else.
---
Copyright Capital & Main