From Goldman Sachs to Walmart to Urasawa: A NYT Trifecta
Has the New York Times turned into a latter-day Daily Worker, or are labor conditions in America becoming so bad that even the national paper of record is demanding social justice? A look at this past Sunday's Section A revealed no fewer than three stories delving into the predatory practices of employers and financial players.
The front page led with an eye-opening investigation into how investment banks– including Goldman Sachs, JP Morgan Chase and Morgan Stanley – have reaped billions from stockpiling commodities in giant warehouses across the country.
The story, written by David Kocieniewski, focused on 27 mega-warehouses holding aluminum located around Detroit. (You remember Detroit – the city whose retired employees' pensions are now threatened under bankruptcy proceedings, as banks and other creditors are being escorted to the front of the collection line?) The Times found that by needlessly shifting thousands of palettes of aluminum ingots from one warehouse to another, the banks that own the storage facilities can lengthen the commodities' time in storage – and their own profits by charging industrial clients higher rent. But don't worry about the companies that require the aluminum – they just pass on the inflated rent to the consumer. Says Kocieniewski:
Only a tenth of a cent or so of an aluminum can's purchase price can be traced back to the strategy. But multiply that amount by the 90 billion aluminum cans consumed in the United States each year — and add the tons of aluminum used in things like cars, electronics and house siding — and the efforts by Goldman and other financial players [have] cost American consumers more than $5 billion over the last three years, say former industry executives, analysts and consultants.
This windfall for the banks came about through deregulation and is not confined to aluminum, but includes oil, coffee and wheat, to name but a few commodities. Kocieniewski's article is highly recommended for people wondering how there can be inflation during a recovery with anemic job growth.
A dozen pages later in the print version, readers found Jennifer Medina's piece, "At an Upscale Restaurant, Claims of Underpaying Workers." If this headline made you think of Los Angeles, you were completely justified – Medina's article zeroed in on the Beverly Hills sushi mecca, Urasawa, owned and operated by another chef terrible, Hiroyuki Urasawa. Seems his Rodeo Drive restaurant can easily run you and a date $1,000 for dinner, although kitchen employees are not the beneficiaries of any profit-sharing plans. In fact, while Urasawa (the restaurant) serves outlawed goose liver foie gras, Urasawa (the chef) had one five-year employee, Heriberto Zamora, working for nearly 60 hours per week at a flat $11.50 an hour rate. That is, until Zamora was fired on the spot for requesting to go home after falling ill in the kitchen, nine hours into his shift.
Zamora is suing through the Bet Tzedek legal organization, and Urasawa has been the scene of a protest action organized by the Koreatown Immigrant Workers Alliance. Writes Medina:
But by all appearances, there has been no backlash against the restaurant. Jonathan Gold, the influential food critic for the Los Angeles Times, named it the No. 2 restaurant in the city earlier this year, with no mention of the recent controversy.
Then, right across the Urasawa story's jump, we found our old friend Walmart in the news yet again. This time it was because the "infuriated" retail titan is "balking" about opening a store in Washington, D.C. Why? Because the city council passed a living wage ordinance aimed at Walmart that will require the chain to pay its D.C. employees $12.50 an hour, instead of the city's standard $8.25 minimum wage. Reporter Trip Gabriel quoted city councilman Vincent Orange, an ordinance supporter:
"Their net income was $17 billion. You don't want to share a little bit with the citizens? Come on."
No, Mr. Orange – you come on! Don't you know working at Walmart is a good first job for many people? That it will get people off public assistance?
Gabriel's article carried just those kinds of quotes – and, happily, cited experts who said that for many low-income Americans, Walmart has become a gateway to welfare.
Then, for a cherry on top, Maya Lau reported on Brooklyn's Interference Archive, which collects and curates social-justice movement memorabilia, including posters, T-shirts and videos. Notes Lau:
Very few of the Interference Archive's 12,000 posters, 7,500 books and 7,500 pamphlets, zines and other objects have been digitally indexed. And while work is under way to change that, the archive's organizers see its pre-computerized state as a virtue. In an age of instant Internet searches, they can offer visitors an opportunity to rummage around and find something they did not know they were looking for. A couch and a cooler with beer ($2 a bottle) invite them to stay.
The archive is clearly a labor of love for several volunteers and aims to make the materials easily accessible to the public. (Hear that, Tamiment Library?) No doubt it will soon be acquiring posters and fliers from Making Change at Walmart, which is currently demanding the reinstatement of Walmart employees who had the nerve to protest outside the corporation's annual shareholder's gathering in Bentonville, Arkansas last month. (See story here.)

'Skeleton Crew' Is a Play With a Moral Spine
Set in a Detroit automobile outfitting plant, Dominique Morisseau's drama grabs you from the start with its focus on blue-collar men and women, and their struggle for dignity and self-respect.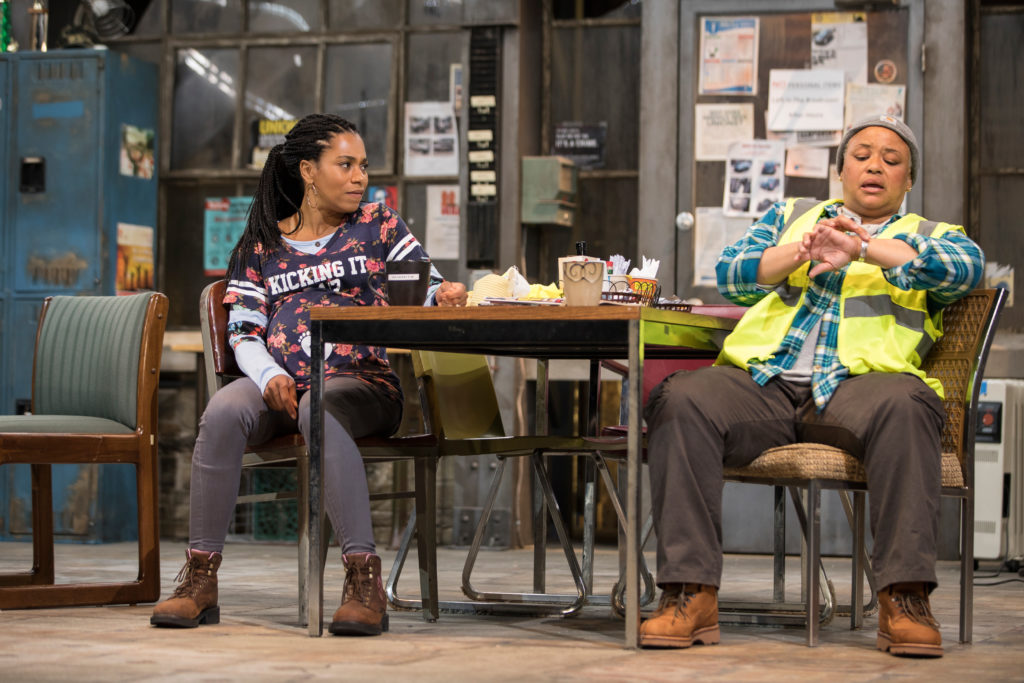 Working-class men and women of color are rarely front and center in today's media and, likewise, are presented all too occasionally on the American stage. So it's buoying to see that trend bucked in playwright Dominique Morisseau's percipient and well-crafted drama, Skeleton Crew. The play is the final installment in her Detroit  Project Trilogy; the first, Paradise Blue, is set in the 1940s amidst displacement caused by urban renewal and gentrification, while the second, Detroit '67, transpires on the eve of the 1967 Detroit riots sparked by a police action.
Directed by Patricia McGregor at Los Angeles' Geffen Playhouse, Skeleton Crew is a play with a moral spine. It takes place in 2008, when the shrinking U.S. auto industry is being further downsized. Morisseau's engaging quartet of characters — Faye (Caroline Stefanie Clay), Dez (Armari Cheatom), Shanita (Kelly McCreary) and Reggie (DB Woodside) – are employed at an automobile outfitting plant. Faye, Dez and Shanita are workers on the line while Reggie (who has a wife and kids, and has pulled himself together after a troubled youth) is their supervisor.
The first three customarily mingle in their break room (designer Rachel Myers' impressively cluttered, dingy and detailed set), trading the sort of familiar barbs and genuine concern for each other common among longtime co-workers. They also face off on philosophy: Upper-middle-aged Faye and the younger, pregnant Shanita take pride in their labor, while Dez, though a good worker, is a malcontent scornful of management and firm in the belief that everyone needs to watch out for himself. He's a thorn in Reggie's side, for while Reggie wants to be supportive of his workers, he must act at the behest of higher management. For his part, Dez resents Reggie's authority, and a palpable unease exists between them.
Besides this male matchup, we're made privy to Dez's attraction to Shanita, who mostly turns away his advances, but every now and then displays a hint of interest. Most poignant is Reggie's regard and affection for the lesbian Faye, which has roots in his boyhood when she loved, and lived, with his now-deceased mom.
These people's various predicaments intensify when rumors spread of the plant's shutdown — a disaster for all, but a particular calamity for the already near-broke Faye who, one year short of retirement, would lose her pension. The crisis forces each of these people to make a choice.
A sound piece of social realism, Skeleton Crew grabs you from the start in its focus on blue-collar men and women, and their struggle against odds for dignity and self-respect. Morisseau not only furnishes these characters a platform for their travails, she endows them with strong values, big hearts and the opportunity to choose between right and wrong.
Unfortunately, the performance I attended did not soar. Many exchanges lacked a fresh edge. The actors certainly had their characters down, but too often they appeared to be coasting on technique. (This seemed particularly true of Clay, who performed the role to great accolades in Washington, DC in 2017, also under McGregor's direction). Additionally, some of the stage movement was not entirely fluid; in confrontations, actors sometimes would just stand and face each other in an artificial way. And Cheatom's interpretation of Dez struck me as a bit overly churlish and depressive: I needed more glimpses of the intelligence and edge that would secretly attract the strong, self-directed Shanita.
The most compelling moments belong to Woodside, well-cast as a man trying his best in difficult circumstances to do the right thing.
---
Gil Cates Theater at the Geffen Playhouse, 10886 Le Conte Ave., Westwood Village; Tues.-Fri., 8 p.m.; Sat., 3 & 8 p.m. Sun., 2 & 7 p.m.; through July 8. (310) 208-5454 or www.geffenplayhouse.org