Freedom Is a Constant Struggle: Tom Hayden Remembered
Actress Alfre Woodard teared up as she read from the introduction to Tom Hayden's 1988 book, Reunion, at the memorial honoring his life this past Sunday at UCLA.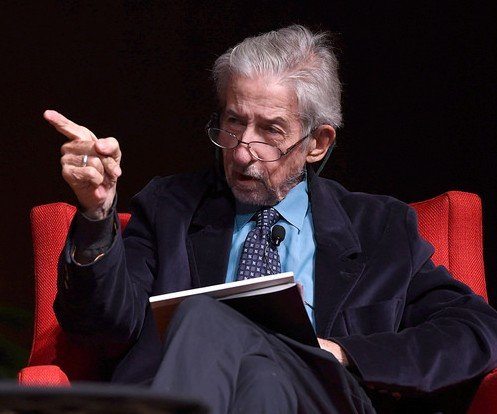 Tom Hayden, 2016. (LBJ Library photo by Jay Godwin)
If we appear to seek the unattainable . . . then let it be known that we do so to avoid the unimaginable.
                                                                                 — The Port Huron Statement, 1962
Actress Alfre Woodard teared up as she read from the introduction to Tom Hayden's 1988 book, Reunion, at the memorial honoring his life held this past Sunday at UCLA:
I hope that the ideals of the sixties, tempered by harsh experience, can have a second coming in our lifetime. That, I believe, is the common wish of those like myself who sought so desperately to change the wider world, who suffered agony amid achievement, and who devoutly wish a wiser consciousness to those who follow.
Hayden died October 23, just a few weeks before the election victory of Donald Trump. Woodard was joined by speakers describing Hayden's lifelong work on behalf of civil rights, peace, participatory democracy, environmental protections and criminal justice reform. Interspersed video segments provided a timeline of his life, showing him in street demonstrations, speaking at rallies, getting roughed up by police and running for public office. Tom seemed always to be on the move, both intellectually and physically, as a tireless advocate for change. His former wife, actress Jane Fonda, said Tom "could not only see clearly straight ahead but also around corners; he could see what was coming" in American society.
An estimated 1,000 people attended the memorial. Many, like myself, were colleagues of Hayden's from the battles of the 1960s and '70s. Others were inspired by the Port Huron Statement that Tom co-authored with other founding members of Students for a Democratic Society in 1962, or by the organizations he helped generate, such as the Indochina Peace Campaign and the Campaign for Economic Democracy. Still others gained hope and insight from the 22 books he wrote, from his speeches or from the example of the activist life he lived.
But it wasn't a one-way street for Tom. As his son Troy Garity noted in opening the memorial, "his being was brought to life by movements."
Indeed, in a 2012 interview with the Activist Video Archive (see below), which was shown at the memorial, Hayden described interviewing Dr. Martin Luther King Jr. as a student activist, adding that King "had a subliminal effect on me… I had to figure out whether I would keep writing about events or put down my notebook and join the picket line." Hayden said he realized "you could make a difference by throwing yourself into the sea of life….that your life could count for something."
H
ayden was born in 1939 in Detroit, Michigan, and raised in suburban Royal Oak. He was the product of a Midwestern, Catholic upbringing, and it showed. "He had a non-rhetorical way of putting the pieces together," said Fonda who quoted longtime friend Dick Flacks as saying, "He spoke American."
In 1971, when the Vietnam War showed no sign of ending, Hayden proposed an Indochina Peace Campaign tour to Middle America with himself and Fonda as speakers, and singer/songwriter Holly Near performing. The tour started at the Ohio State Fair and went on to perform in 100 cities in three months, to individual crowds of over 10,000, with the ultimate goal of influencing members of Congress to end funding to the corrupt South Vietnamese regime. Fonda remarked that we could use such a tour in Middle America today.
Singer Bonnie Raitt and members of the First AME Choir performed at Hayden's memorial; Father Greg Boyle, United Farm Workers leader Dolores Huerta, actor Ed Bagley Jr., and Bobby Kennedy Jr. all attested to the influence that Hayden had on their lives. But most touching were testimonies of former gang members Alex Sanchez and Dewayne Holmes about Tom helping lift them from the violent life of the streets into self-respect. "He believed in me," said Sanchez, and "he believed in second chances." Holmes said Hayden "took me off parole and put me on his district staff…he taught me that I could get more out of giving and doing than receiving."
State Senate President pro Tem Kevin de Leon described Hayden and his role in the California legislature from 1982 through 2000 as a "constructive disruptor," and noted he passed into law over one hundred measures during his 18 years in the legislature, 16 of which were under Republican governors. De Leon described spending Hayden's last Sunday in his hospital room watching the Dodgers beat the Cubs and hailed Tom as a mentor and an inspiration.
Many people at the memorial felt it was a blessing that Tom died before he could see the defeat of Hillary Clinton, who he supported. But Tom was one who knew, as the civil rights hymn explains, that "freedom is a constant struggle." As Bobby Kennedy Jr. said near the end of the memorial, it's time to go out now and fight for it.
Saving Private Enterprise: Director Jacob Kornbluth on His New Robert Reich Film
After their critically acclaimed 2013 documentary, Inequality for All, Jacob Kornbluth and Robert Reich reunited to make Saving Capitalism, which explores the expanding economic and political power of America's wealthy.
Saving Capitalism  begins streaming on Netflix November 21.
Jacob Kornbluth had never had a job — not even an internship — by the time he graduated from college. When he applied to scoop ice cream at Double Rainbow, he was turned down. But he was used to feeling marginalized. Growing up in Manhattan and then in rural Michigan, he didn't have many friends and got beat up a lot. Both parents, wealthy in intellect but poor in assets, passed away by the time he was 18. All his grandparents too. With a life so rich in adversity, and unable to secure gainful employment, Kornbluth did what any young intellectual would do. He became a writer.
That led to directing some theater. In the early 2000s, inspired by the emotionally gritty films of British director Mike Leigh, he made a couple of feature comedies that not that many people saw. Then, with the economics of documentaries changing, he turned to the realm of nonfiction films to express himself. He grabbed a camera and followed Bill Clinton's former Secretary of Labor, Robert Reich, on his mission to raise awareness about America's widening economic gap. The resulting 2013 doc, Inequality for All, was no joke, both in its message and to critics, who lauded the film. But for Kornbluth and Reich there were some issues they touched on that still needed to be addressed. So they reunited in Saving Capitalism, a Netflix-streaming feature documentary that underscores the expanding economic power — and resulting political might — of America's wealthy. Nearly 30 years after someone decided against putting an ice cream scooper in his hands, Kornbluth sat down with Capital & Main to discuss politics and economics.
---
Capital & Main: The obvious divisions in this country are political ideology, race and gender, but it seems that few people focus that much on class.
Kornbluth: Well, I think the other divisions you mentioned are very real and meaningful, certainly, and I had started looking at class and economic divisions in Inequality for All. But I began to think that we were missing the story of power. As economic inequality grows, so does the concentration of political power, leaving a lot of people across the economic spectrum feeling like the game is rigged against them. You really see this line cutting across political viewpoints.
---

"As economic inequality grows, so does the concentration of political power, leaving a lot of people across the economic spectrum feeling like the game is rigged against them."

---
Perhaps the moment in the film that underscores that most is when you juxtapose footage of protesters in the Tea Party with those in the Occupy movement, and they are saying virtually the same things.
Kornbluth: Right. I certainly don't agree with a lot of the people in the Tea Party. But I have some empathy and I think we all need to see the connection between when economic inequality widens, this really does affect people and it changes the sort of reality that they live in. So basically, of those in the top 10 percent [economically], you see Republicans and Democrats disagree on just about everything — but the economy is essentially working for them. I don't think Americans like to see themselves as a country where class is that much at the forefront, in the way they do in Europe, but when you see the economic division spilling over into these other areas like politics, and it's really changing the way politics function on a meaningful level, I don't think you can ignore it anymore.
In the past, politicians had to play to the center to be successful. But in this last election, Trump didn't play to the middle and was able to get 60 million votes. People used to think that political ideology runs along a spectrum, but we see that [Bernie] Sanders and Trump supporters had a lot in common and that political ideology is really more circular.
Kornbluth: The political model has fundamentally changed into something that looks a lot more like a circle than like [a set of] polar opposites. We started making a film that was going to introduce that concept in 2015, before this election happened, when Hillary Clinton was the leader on the Democratic side and Jeb Bush was the leader on the Republican side, and it turned out we ran into that change as it happened.
---

"If you cede the system to the wealthy and powerful, and you don't fight back, then it's not going to get any better."

---
Your film and Reich's book are called Saving Capitalism. Some have said Marx was wrong about communism but he was right about capitalism, that eventually it would devour itself and spin out of control because of greed, and that is what we are seeing now. So why should we save it?
Kornbluth: It's a really important question. I mean, you're talking to the son of very left-leaning parents. One thing that Reich has taught me, is to forget the "ism" for a moment and just look at rules of an economic system. Stop thinking that capitalism is going to save or hurt us, and stop thinking socialism is going to save us or hurt us and start thinking that we have one economic political system and let's think about all the rules that go into it and examine them one by one, and ask, Who do those rules benefit and who do they hurt?
You see that the rules of our economic system are written by the people with the power to write them, and then over the last 40 or 50 years all of those rules have gone more towards the wealthy and the powerful and away from regular people. Well, it wasn't always like that in America.
But that system does keep breaking.
Kornbluth: You are absolutely right. But I think it's actually important, though, for people who think that maybe the materialism and greed of capitalism is fundamental and unchangeable [not to give up]. That's sort of like permission to check out, to say, "This system is broken and therefore I won't engage." And I think one of the crucial problems with that is if you cede the system to the wealthy and powerful, and you don't fight back, then it's not going to get any better.
A recent poll said that more millennials believe in socialism than capitalism. And more believed in fascism than capitalism, too. What does that say? Are millennials just fed up, or maybe more idealistic, or are they just more naïve?
Kornbluth: There's a bunch of ways to read something like that. One way to say it is [that] a lot of people feel like the game is rigged, which is true, and they are sick of it. They don't feel like their voices are heard. But there is a very important question which is, What is capitalism, specifically? If it's simply the free exchange of private property, then every country in the world today is some version of a capitalist country, or on some sort of a capitalism/socialism spectrum. You sort of can decide what you want to call it.
---

"This economic and political situation that we're in is unique — it means that we don't get to go back to normal."

---
But people forget, that in the past there was Ross Perot, and John Anderson to a lesser degree. Perot was an extremely viable candidate who had a chance of winning, before he imploded. There has been a bubbling of this discontent in every generation. Could one make the argument that the way a forest needs to burn to regenerate, you need a Trump to have both sides react and act — is this the equivalent of a political forest fire that could signal a regrowth for the country?
Kornbluth: I'd phrase it slightly differently. You certainly have seen bubbling of this growing anti-establishment wave [besides] Ross Perot, with Pat Buchanan on the right, when he was running his campaigns in the '90s. And you see in our film that in '92 Reich thought that they had a real chance to fix a systemic problem with the economy that was broken, that an increasing amount of gains from growth were going to the top. And he thought that this was going to be a long-term problem going forward. But I think the film's thesis is that this is not the same, but that, in fact, this economic and political situation that we're in is unique and it means that we don't get to go back to normal.
To your second point, I hear this argument sometimes from people on the left who say, "Maybe this Trump presidency is what we need to really have the progressive revolution that we've been waiting for." There may be some truth to that, but don't underestimate the threat to the economy and to democracy that we're experiencing right now.
There was a really poignant moment in the film, when Reich is talking to students about the regret he has, and it seems he may even be on the verge of tears. Tell me about that moment.
Kornbluth: You have a guy who's been fighting for 40 or 50 years, engaging in a political system and trying to in a very genuine way help out regular people around the country. And you look up after you've been at it for so long and you see a shorter time ahead of you than you have behind you and you say, "Wow, it's gotten worse. I can't say that all of the efforts that I've made have fixed it and what do we do with that? How do we answer to those questions?"
Reich is the same age as Donald Trump; and Hillary and Bill Clinton, and Clarence Thomas, were all at Yale when Reich attended. He's seen what his generation has done. I think that there's some answers he has to give about what [this generation] did to get us to where we are. I think he genuinely is torn, he's worried. He's fighting every day give his best to turn this system around but I think he's worried that time is running out.
You see in your film his ability to talk and connect with all types of people with differing politics than his own. What is it about him that lets him connect with people so well?
Kornbluth: Firstly, I think it's rare to see somebody who's that smart and successful who is that genuine, and I think that genuine quality, that sort of humanity, really comes across in him. It makes him an extraordinary screen presence. I've dealt with a lot of famous people in my time and I've never met anyone more grounded than him. But the real secret sauce, which makes him somebody that, if he didn't exist you'd want to invent, is that he's an unbelievable intellect and an unbelievable communicator. He can take complex issues and boil them down in a way that makes it easy for anybody to understand and not feel dumbed-down to. The smartest economists that I've talked to, the biggest idea people who I've talked to, are not always the best communicators.
Obviously, he did a lot of great work when he served the White House, but it's almost like his second act has been more powerful and more meaningful. Maybe because he's not hamstrung by the restrictions of working in the system?
Kornbluth: He was a Secretary of Labor in Clinton's administration but, honestly, how many labor secretaries can most Americans name? One of the most amazing and unique things about him is he has embraced social media in a way that a lot of his contemporaries haven't. I run a nonprofit with him, Inequality Media, and we make short videos for the Internet. Those videos in the last few years have been seen over 250 million times.
He is as motivated, passionate and driven as are people a quarter of his age. He runs me [and] everybody at our organization ragged, and he's 71 years old. He still feels like it's his legacy and he wants to do his best to fix the things that he sees are broken.
---
Copyright Capital & Main