"Free State of Jones" Wrestles With Our History
Some reviewers have criticized the movie as another in a long line of "White Savior" films that feature a white protagonist who "leads" African Americans to freedom, or otherwise provides the wherewithal for them to fight their oppressors.
Mahershala Ali and Matthew McConaughey
The relationship between professional historians and Hollywood has always been fraught. Pick any movie that has purported to be a "true story" about an important part of our past and invariably there will be an academic historian waiting just off camera to let anyone who will listen know that the "truth" has been mangled and distorted. Think of journalist and historian Stanley Karnow's stinging rebuke to JFK director Oliver Stone, whose "cinematic crusade," Karnow said, "often borders on the zany." Stone is an easy target, but ask most professional historians and they will likely tell you to visit the library, not a movie theater, if you seek deeper understanding of America and the world around you.
One prominent filmmaker, Gary Ross (Hunger Games, Seabiscuit, Big) did go to the library in preparation for his new film, Free State of Jones. The film stars Matthew McConaughey as a Mississippi Confederate soldier who deserts the battlefield and allies himself with runaway slaves in an ongoing battle against rebel armies and plantation owners.
There is a "no blood for cotton" economic populism at the center of the story. Based on the life of Newton Knight, the script declares its cross-racial and class struggle themes straightforwardly. "We are fighting for them [plantation owners] so they can stay rich," Knight proclaims to his African American and poor white allies.
Some reviewers have criticized the movie as another in a long line of "White Savior" films that feature a white protagonist who "leads" African Americans to freedom, or otherwise provides the wherewithal for them to fight their oppressors.
It's a knee-jerk response. Other critics, including the prize-winning historian Steven Hahn, whose book A Nation Under Our Feet was a touchstone for Ross' story, praise the film for challenging misconceptions about the Civil War and Reconstruction while suggesting a "way forward" towards racial understanding and progressive collective struggle. Cornell Brooks, president of the NAACP, called Jones "A powerful and poignant film about war, race, freedom and love."
Ross, who could have advanced a lucrative career directing Hunger Games sequels (he directed the franchise's first film), chose to take two years out of his life to study the scholarship of the period. What he read and found is available on an elaborate website that accompanies the movie. (Do you really think Steven Spielberg, rather than his staff, read all those books on Lincoln in preparation for his movie?)
One of the critical insights that Ross embraces, articulated by Hahn, Eric Foner and other scholars, is that while slavery was a system of brutal racial domination it was also a system of labor that a distinctive Southern ruling class fought to sustain. Foner's landmark book, Reconstruction, points out that the "labor question" was a central battleground between former masters and former slaves.
In one Reconstruction-era scene from the movie, numerous ex-slaves are shown toiling in plantation fields under conditions of gang-labor not dissimilar from their pre-emancipation state. In another scene, a local plantation owner has stolen an African American child away from his parents into "apprenticeship." Constitutionally no longer a slave, the child is nonetheless enmeshed in elaborate forms of legal subjugation through restrictive "contracts."
Whoever controlled the state controlled the law, and who controlled the law controlled the land and the methods by which labor was disciplined and controlled. How and under what work and payment arrangements does the cotton, tobacco or sugar get harvested, particularly if a massive distribution of land is not forthcoming? Former slaves, as well as the plantation oligarchy, saw this dilemma with stark clarity.
After Radical Reconstruction was overthrown, large landowners and planters were able to deny African Americans access to productive land, capital and political power. Economic and political might was underwritten by paramilitary violence.
The movie depicts that pervasive violence clearly. A Union League delegation of poor whites and former slaves is shown marching to a polling station, guns in hand. They move through a phalanx of hostile white men – most likely former Confederate soldiers – who are also armed.
The scene may seem jarring – after all, we have much more sophisticated ways of disenfranchising African Americans today. But it reinforces the reality that the exercise of political and economic power in the slave and post-Reconstruction South was built and sustained by violence.
In his chapter on paramilitary politics in A Nation Under Our Feet, Steven Hahn points out that the Ku Klux Klan, which in various forms rampaged through the South during and after Reconstruction, was an extension of, and built on, the traditions of the slave patrol system that policed the African American population in an earlier period. The Klan was a "guerrilla movement," Hahn writes, dedicated to "avenging the consequences of the official surrender."
If the paramilitary organization was fundamental to slavery, it should be no surprise that some form of paramilitary action was also part of the aspiration for freedom.
Someone else can critique the acting of Free State of Jones. But I was fascinated and appreciative of Ross' attempt to wrestle with these weighty issues of our past and to point out how impossible it is to cut ourselves off from that past simply by designating it as "history." I can just hear Ross, in initial pitch meetings, struggling with how best to explore these critical moments in our nation's past in a 60-second elevator speech.
In one of his last books the great historian of the South, C. Vann Woodward, sardonically reflected on the "volunteers" from film and television who where all too willing to take over the historian's task. He cautioned against pandering to the absurdities, delusions or the desire for solace that many people wanted a skewed version of our history to provide.
Woodward was a famously talented writer who encouraged historians to approach their craft in a way that would "gain and hold attention" of a harried audience that might be "picking up hat and coat and silently departing."
There is an active role that historians must play in narrating the influence of the past upon the present, and the present upon the past. Gary Ross has accomplished that fundamental historian's task in Free State of Jones.[divider]Books discussed and referenced in this article: Mark C. Carnes, Ed., Past Imperfect: History According to the Movies; Eric Foner, Reconstruction 1863-1877: America's Unfinished Revolution; Eric Foner, Nothing But Freedom: Emancipation and Its Legacy; Steven Hahn, A Nation Under Our Feet: Black Political Struggles in the Rural South from Slavery to the Great Migration; Steven Hahn, The Political Worlds of Slavery and Freedom; C. Vann Woodward, The Future of the Past.
The Power of the Poster
Carol Wells, the founder of the Center for the Study of Political Graphics in Los Angeles, talks to Capital & Main about the enduring power of political art.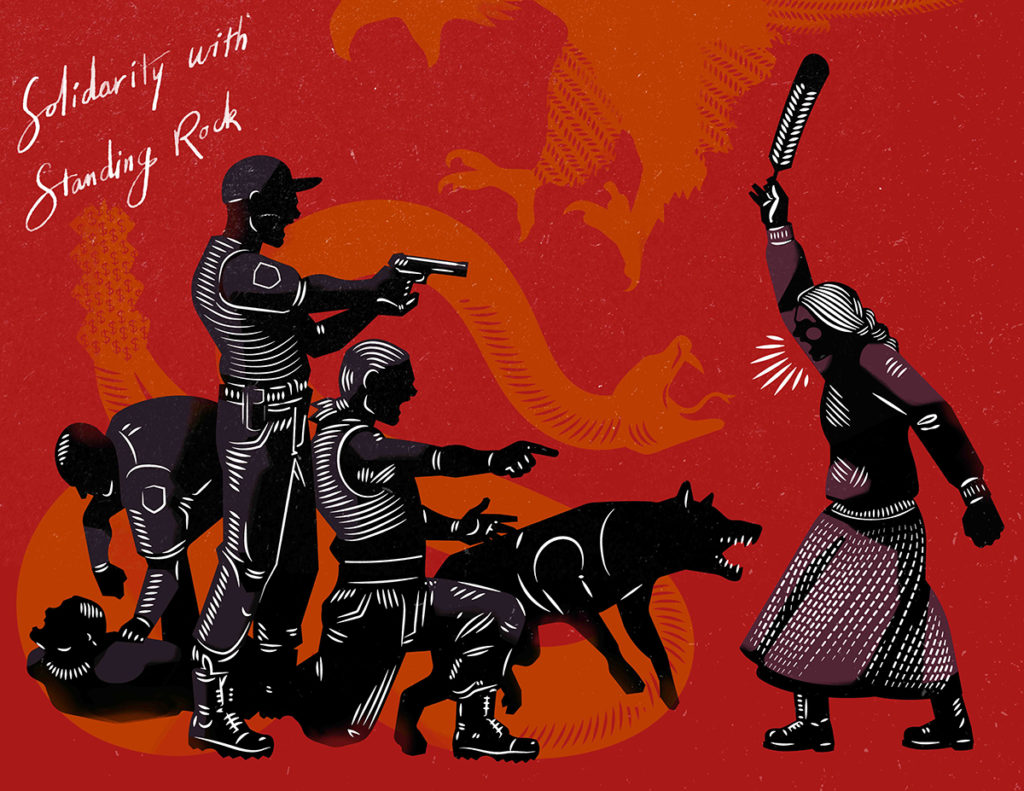 Carol Wells remembers the exact moment she discovered her calling. An art historian at the time, she was on a trip to Nicaragua with her friend David Kunzle, a UCLA art history professor, who was collecting political posters to add to his burgeoning collection. While staying with friends, Wells watched a neighbor's 8-year-old son approach a poster on the wall, stare at it intently, and then start to silently mouth the words. Wells was struck by how engaged the boy was. "In that moment I became obsessed with collecting posters."
Now over 40 years later, Wells is the founder and executive director of the Center for the Study of Political Graphics in Los Angeles. Wells has amassed approximately 90,000 posters, building one of the largest collections of its kind in the world. The Center shares its collection with the public in part through curated exhibits. This year the CSPG has produced Feminae: Typographic Voices of Women by Women and its latest is To Protect & Serve? Five Decades of Posters Protesting Police Violence, running through July 15 at the Mercado La Paloma in downtown Los Angeles.
Since that encounter in Nicaragua in 1981, Wells' obsession with collecting posters hasn't waned. In CSPG's nondescript West L.A. office space, Wells pulls out poster after poster, lecturing passionately on the backstory and cultural impact of each, including one that superimposes text from a New York Times interview with a shocking image of the My Lai massacre ("Q: And babies? A: And babies."). Recently, she managed to sit down with C&M to discuss her passion.
---
Capital & Main: So, you were an art history professor, you happen to see a kid on a trip, and suddenly your life was changed forever?
Carol Wells: Yeah, I'm in Nicaragua alone in the living room with this kid. He's looking around, and all of a sudden, he sees the poster. It was pretty big, bright green, a thick outlines of a woman holding a big basket of coffee beans. And the text in Spanish said, "In constructing the new country, we are becoming the new woman." I see him walk over to the poster and I'm watching him mouth the words. It was a pretty sophisticated concept, so I doubt he figured it out. But I literally had this epiphany: "Oh my God. That's how posters work." You're going about your daily life, and all of a sudden something breaks through the bubble, and it grabs your attention. It's the graphic, it's the color, it's the combination, and it pulls you out of your head and into that poster and it makes you ask a question. "Why is this here? What is this about? What does this mean?" And every time you ask a question, you're a different person than you were before you asked the question.
How many posters do you get a year?
We get between two to five thousand a year donated from all over the world. The bulk of our collection is [from] 1945 and later.
I assume technology has probably hurt the art form, but has it helped get the messages out?
Most people think that, and it's actually not true. Since the internet age started, there's actually a poster renaissance of works on paper. Because you can't walk with your computer monitor in a demonstration. You can't plant your monitor on your lawn.
And you can't put a laptop on the wall…
Exactly. You want to hear a really great story? Truthdig.org published a cartoon [made by] a political cartoonist named Mr. Fish. It was during the Arab spring, and he had superimposed Che Guevara with the stylized beard and King Tut's face, but it had Che's beret. And it [was titled], "Walk like an Egyptian." So, it was a reference to the music, but [it was also] a reference to what was going on the streets of Cairo. I sent it out as our poster of the week to 9,000 people. The very next day, somebody took a photograph on the street of Cairo, with somebody holding a piece of paper with that image on it. A poster can literally go around the world and people will print it out.
What struck me in viewing your exhibits is how many of these posters could still be used today, not only artistically but also, sadly, in the timeliness of their messages.
We had this fabulous poster by Yolanda Lopez, a Bay Area artist, which she first did in 1978. It depicts a young man in Aztec garb pointing a finger like Uncle Sam saying, "Who's the illegal alien, PILGRIM?" And it's a great poster, it's simple, not too many words, funny, provocative. So, we had an exhibit at UCLA in the mid '90s and there were 4 or 5 high school students standing around this poster saying, "Wow, you've got posters up to the minute." And I went over to them and I said, "Look at the date. This is before you were born."
Is that one of your goals with the exhibitions? To show the evergreen nature of this work?
Absolutely. I mean that's why we did the police abuse exhibition now. It basically goes back five decades. It's 50 years of posters protesting police abuse. Mainly in the United States, but also internationally.
What's the goal for CSPG?
Well the aim right now is really to digitize the collection and get it online. We have 10% of the collection digitized. But the mission is to collect and to document, because stories get lost. All the exhibitions, they're showing massacres, they're showing genocide, they're showing police abuse, they're showing all of these horrible things. And people often ask me, "How can you look at this stuff all day long?" I said, "Because the poster artists are optimists. They believe people can change if they have the information."
Yes, that's the reason why they're doing it, right?
That's why they're doing it, and that's why I'm doing this, because I believe that people can change if they knew the truth.
And what happens 20, 50 years from now?
Well, my goal is to stay independent, because the other option is to become part of the university. Universities, for all the fabulous things that they do, they also censor. We did an exhibition at USC in 1992 on the 500 years since Columbus, and how the legacy of racism and exploitation and genocide continues. And one of the board of trustees was Italian and took [the exhibit] as an affront to Columbus. It really wasn't about Columbus, it was about colonialism. And he ordered it down.
Do you have a favorite poster?
I'm always amazed at the creativity and vision of artists. Every week I'll say, "Oh my God, how do they think of that?" But it's always still going to be the poster I saw that kid trying to figure out. It has to be my favorite one because that one changed my life.
What makes a perfect poster?
The right balance between aesthetics and message. If you only rely on the corporate press, the New York Times and L.A. Times, for your information, you're not going to get the side from the street, from the movement, from the activists. The posters are primary historical documents that are recording the issues that were at the time, and the passions that were at the time, and the divisions that were at the time. You're not going to get it anyplace else.
---
Copyright Capital & Main