Fixing Proposition 13's Damage
Who ate the California Dream? Why is the state that once led the nation in education now at the bottom? Why is the state that pioneered infrastructure miracles at war over building a bullet train or shoring up the levees in the Sacramento/San Joaquin River Delta? Why has our state been a fiscal shambles for most of the past dozen years? What brought our Golden State to its knees?
Some might conjecture about the focus on prison construction that dominated a couple of decades of state budgets or the Great Recession's deficit years. Some people blame public sector unions and their members' retirement funds. But to really understand what happened to California, you have to go back further, to 1978 and the passage of Proposition 13.
Oops, we just touched the "third rail" of state politics, so let me offer this caveat. The residential property tax limits installed by the passage of Prop. 13 certainly allowed many people now my age to continue living in their homes, even as the value of their property and the properties surrounding them escalated.
It also had devastating effects — some predictable, some not. The damage to education was a predicted consequence. Even as it was adopted, Prop. 13's opponents argued that it would destroy one of the nation's best and most comprehensive educational systems. And it did. Per pupil spending on public schools in California fell from first place to last. And no wonder: We spend a full one per cent less of our gross domestic product on education than the rest of the nation — that's 30 per cent less than the national average. Of course, student achievement sank with expenditures – we now rank 48th — and we are 50th in student/teacher ratios.
Prop. 13's opponents also predicted decreased expenditures on infrastructure. Again, it happened. After the measure passed, cities and counties across the state cut budgets for road repairs, sidewalk maintenance and tree trimming. Pot holes became a universal citizen complaint. And that's the part we can see. To make ends meet, local governments scaled back schedules for sewer maintenance and water pipe replacement. Furthermore, they shifted as much of the cost for fire prevention, building inspection and development review to those who wanted to build something. Infrastructure has suffered. Deferred maintenance is now in the billions of dollars.
There were unpredicted consequences as well. In the biggest surprise, city tax revenue shifted from property levies to sales taxes. This meant that the most stable source of income for cities went from property tax (in which the most expensive properties paid the most) to the sales tax, in which the poor pay a larger share of their income than the affluent. A relatively progressive tax was supplanted by a more regressive one. Clearly an unfair change in the tax burden.
Because cities have become dependent upon sales taxes, planning decisions are today driven by the need for retail sales. Instead of designing for livability or according to planning principles, cities make choices based on capturing as much sales tax as possible and producing as much revenue as they can. It's why local governments often bend over backwards to accommodate new hotels – they generate lots of sales tax dollars when visitors buy goods and pay for meals.
So can anything be done to change this situation and still preserve homeowner protections? In a word, yes. Currently the law requires a majority change of ownership to trigger a re-evaluation that could, in turn, increase tax assessments. When a homeowner sells, that's a 100-percent change in ownership. But corporations found a loophole: they structure the sale so no one person or entity owns a majority – thus dodging reassessment and keeping their property tax artificially low. The 2006 purchase of Santa Monica's Fairmont Miramar Hotel has become a notorious example. Computer mogul Michael Dell bought the Miramar through a Prop. 13 loophole that allowed him to save $1 million in annual property taxes by technically splitting its ownership five ways. All legal, but definitely in the billionaire's interest. Closing this loophole would help ameliorate Prop. 13's damage.
A second proposal would divide residential property from commercial for purposes of tax assessment. Because residential property sells more frequently than businesses, over the 36 years of Prop. 13, the property tax burden has shifted from business to housing. Before 1978 business-owned property paid 60 percent of property tax revenues, homeowners just 40 percent. Now the ratio is reversed. Separating residential property from business property for periodic re-evaluation would shift that burden back to commercial real estate.
Splitting the tax rolls will require a vote of the people, and it will be more controversial as business fights to keep its windfall. But changing the law in a way that continues to protect homeowners yet increases tax revenues from other property as values escalate will solve the greatest disparity created by Prop. 13 – and it will go a long way toward providing the revenue needed for infrastructure, education and fiscal stability. Maybe it could restore the California Dream.

What the NLRB's About-Face on McDonald's Means for Franchise Workers
While the National Labor Relations Board is currently divided 2-2, the confirmation of another Trump appointee will restore the Republican majority — which is bad news for fast-food-chain workers.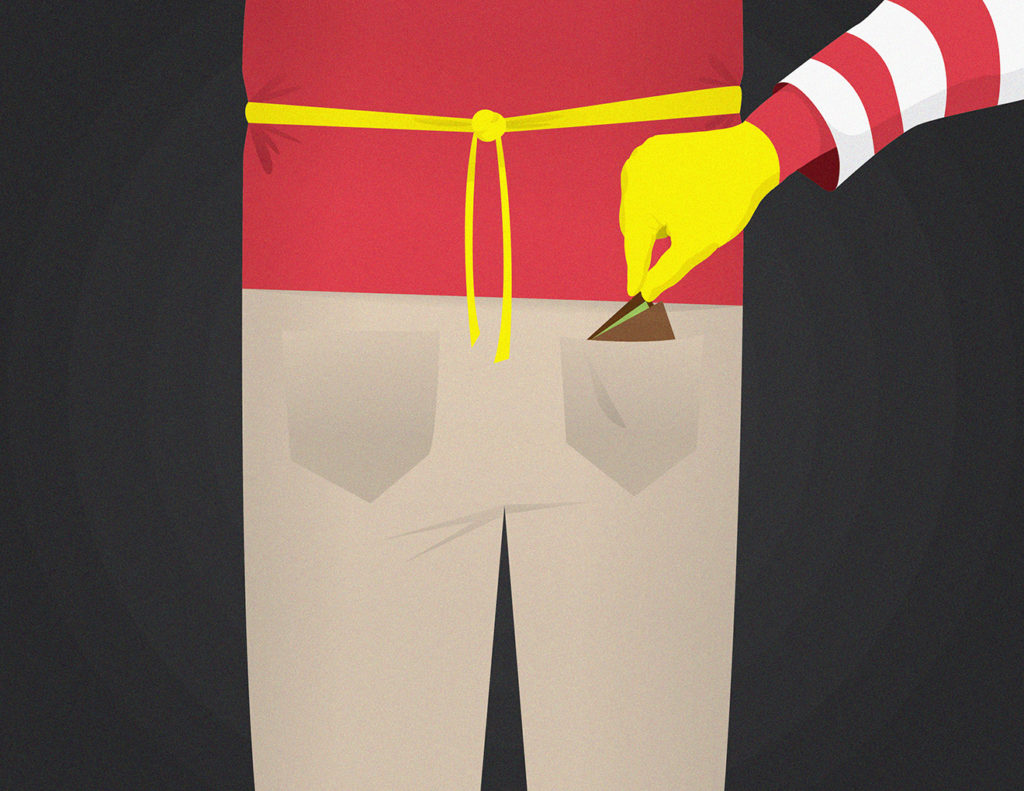 ---
With Donald Trump's election, the momentum at the NLRB is now with employers.
---
Workers at McDonald's joined the union-backed Fight for $15 campaign because many found that they could not get by on minimum wage without the help of family and public assistance. But joining that campaign spurred retaliation, with dozens of employees alleging that they lost money or their job for organizing to get better pay.
Enter the U.S. National Labor Relations Board.
In a victory for workers, the board decided the McDonald's Corporation was jointly responsible for punitive actions against employees across the country because the company dictates, among other things, how those employees cook and clean. That 2015 decision, in a case called Browning-Ferris, established a broad definition of "joint employer." It made franchisors potentially liable for the actions of individual franchises, citing the "indirect" control they exercised over employees and their workplaces. And it meant fast-food chains, among others, would have to collectively bargain with employees who joined a union.
Donald Trump was elected president the next year. By December 2017, the NLRB was back on the side of business with respect to who is and who is not a joint employer, the board overturning with a 3-2 vote the "indirect control" standard of Browning-Ferris.
Then a Republican member of the board retired, evenly dividing the NLRB along partisan lines. The board's inspector general then issued a report in February 2018 saying the December decision never should have been made — that, in particular, a Trump appointee should have recused himself due to a conflict of interest. The decision was thrown out, with congressional Democrats, such as Massachusetts Senator Elizabeth Warren, calling for hearings.
By that point, however, the NLRB had already ordered its lawyers to retreat in the most visible battle over the "indirect" joint-employer standard.
When an administrative trial began back in 2016, the NLRB had said McDonald's was jointly responsible for alleged labor violations at its franchises, including reduced hours, surveillance and wrongful termination of employees who had been organizing for better pay.
"If McDonald's is involved in determining working conditions at its franchised operations, it is responsible for what happens to workers subject to those conditions," NLRB lawyer Jamie Rucker said at the time.
But the NLRB sought and won a 60-day suspension of that trial earlier this year. Lawyers representing the Fight for $15 movement and its allies say the NLRB is now rushing through a proposed settlement that would see McDonald's get off without a finding of joint liability — which won't make it any easier for low-wage workers to collectively bargain.
"What I see is an attack on workers' ability to form a union," said attorney Marni von Wilpert of the progressive Economic Policy Institute (EPI). "If you were able to find a joint-employment relationship with the corporate [franchisor], then all of a sudden they all have one big employer, and all the employees can go to corporate McDonald's. That's really what it's all about, whether workers can organize."
Under the proposed settlement, McDonald's admits no wrongdoing, but its franchisees agree to cover back pay for workers fired as a result of their organizing.
The NLRB "is proposing a sham settlement," said Mary Joyce Carlson, a lawyer representing Fight for $15. "McDonald's directed a wave of retaliation that stretched from coast to coast and included illegally harassing, surveilling and firing workers in the Fight for $15. The hardworking cooks and cashiers who were organizing to get off of food stamps and out of poverty deserve a ruling in their case, not a settlement hammered out at the last minute in collusion with the Trump administration."
With Trump's election, the momentum at the NLRB is now with employers. Any setbacks would appear to be temporary: while divided 2-2 for now, the confirmation of another Trump appointee will restore the Republican majority. Once that happens, the NLRB can be expected to seek another opportunity to overturn the Browning-Ferris joint employer standard.
While Browning-Ferris did not explicitly pertain to the franchise model, it clearly spooked those who depend on it — and inspired those who think franchisors like McDonald's should be liable for the mistreatment of employees at locations bearing its name.
Fight for $15 has prioritized organizing at fast-food businesses, but forming unions is extremely difficult when a dozen small restaurants with the same name may have a dozen different owners. There are over 14,000 McDonald's restaurants in the United States, with only one in 10 owned by the corporation. The ability to collectively bargain with McDonald's, the corporate franchisor, would make a union's task easier — and help address the sort of labor violations that regulators routinely find at fast-food franchises. An EPI report says unionized workers are half as likely to be victims of wage theft, for example.
At an April 5 hearing, Fight for $15 attorney Kathy Krieger urged NLRB Administrative Law Judge Lauren Esposito to reject the settlement. Krieger argued that McDonald's had conspired with its franchises to thwart worker organizing, the corporation recommending, she said, that franchisees "restrict crew members from taking their meals or their rest breaks outside the crew room" as a means "to prevent concerted activity."
McDonald's attorney Willis Goldsmith said the company would never accept a settlement identifying it as a joint employer. "The franchisees, they're independent business people," he said. "They did whatever they did, and if they are willing to concede that, they're going to have to pay people. It's not our job."
While it appears the NLRB under Trump will ultimately reimpose the stricter, pre-Browning-Ferris standard that a joint employer must have direct rather than indirect control of workers, industry groups aren't taking any chances.
Jenna Weisbord, a communications manager at the International Franchise Association to which McDonald's belongs, said her group is looking to Congress to pass the "Save Local Business Act," which would legislatively reimpose the pre-Browning-Ferris standard. "We understand the Senate will take on this task later this year," she said of the bill, which passed the House last year.
A television ad campaign sponsored last year by the franchise association and the U.S. Chamber of Commerce argues the measure would restore "balance to labor law" in the face of a "runaway government agency." That agency, in the era of Trump, is increasingly tilting in the favor of business.
---
Copyright Capital & Main