Five Reasons Not to Buy Matzah at Walmart
[caption id="attachment_7908" align="alignleft" width="558"]
Gilabrand/Wikimedia[/caption]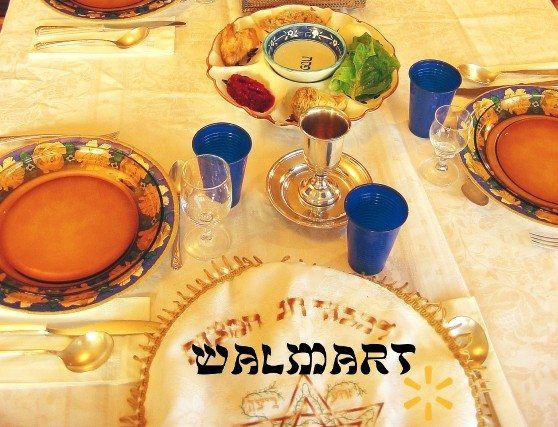 It's matzah bargain-hunting season, and guess who has entered the fray? That's right, Walmart.
The world's largest retailer may not be known for bar mitzvah catering, but apparently the matzah market was too lucrative to pass up. Visit walmart.com, and in less time than it took God to part the Red Sea, you can load up on all variety of matzah products, from matzah ball soup mix to matzah meal. Those looking to brush up on their Pesach basics can even find Celebrate Passover: With Matzah, Maror and Memories, a handy guide to the holiday published by that noted authority on Jewish customs, National Geographic (imagine the charoset photo spreads).
But before you get out your credit card, you might want to consider whether a matzah splurge at Walmart is really in the spirit of Passover. Here's some unleavened food for thought:
1) Walmart and Poverty
Not to get all righteous, but there is something a little disconcerting about the idea of purchasing the bread of affliction at a company synonymous with dirt-poor wages and benefits. A couple of Passover-unfriendly facts about Walmart's compensation practices:
The average annual salary for a Walmart employee is $15,500.
Forty-six percent of Walmart employees' children are on Medicaid or are not insured.
2) Walmart and Union Busting
Moses was not officially a labor leader, but you have to admit that the Passover story — people rising up against slavery and oppression — has a Norma Rae quality to it. Without going into the grim details, let's just say there's a reason why nary a single Walmart store is unionized in the United States — and it's not the middle-class lifestyle offered by Walmart.
3) Walmart and Small Business
Did you grow up hearing stories about your zeyde's family business? Maybe a bakery, like my Great Uncle Saul's operation in New Jersey, or a general store, like my father's father ran in Winnipeg? It's a good thing Walmart wasn't around back then, because chances are that bakery and store would have met the same fates that small businesses around the country face when Walmart comes to town. Just how bad is it? For every two jobs Walmart creates, three local jobs are lost. In one Chicago neighborhood where Walmart opened a superstore, within two years 82 businesses went as dark as Egypt after the plagues.

4) Walmart and Inequality
Even if you didn't Occupy anything last fall, you might get a little worked up during those Haggadah passages that rail against the ancient version of income inequality (the wealth of the Pharoahs vs. the misery of their Jewish slaves, for instance). Well, the Walton family, Walmart's largest shareholders, may not have invented modern-day economic inequality, but they certainly embody it: In 2007, six Waltons were worth $69.7 billion, an amount equal to the total wealth of the bottom 30 percent of American families. If you transpose the Waltons into the Passover narrative, it's safe to say that they wouldn't be the heroic underdogs.
5) Walmart and the Protocols of the Elders of Zion
Okay, this one's for those among you who are still leaning toward a middle-of the-night Internet matza run at walmart.com. Seems that our friends at Walmart had no problem selling The Protocols of the Elders of Zion, the most notorious anti-Semitic tome this side of Mein Kampf, without so much as a mention of its scandalous origins. Indeed, Walmart all but validated the volume's premise of the Jewish desire for world supremacy with this note that accompanied The Protocols on its  Web site: "If . . . The Protocols are genuine (which can never be proven conclusively), it might cause some of us to keep a wary eye on world affairs. We neither support nor deny its message. We simply make it available for those who wish a copy." Only after denunciations from the Anti-Defamation League and the Simon Wiesenthal Center did Walmart remove the book from its site.
Leaves a bad taste in the mouth, doesn't it? But don't worry, we have just the thing: some Walmart-free matzah brie, like your bubbi used to make.

'Skeleton Crew' Is a Play With a Moral Spine
Set in a Detroit automobile outfitting plant, Dominique Morisseau's drama grabs you from the start with its focus on blue-collar men and women, and their struggle for dignity and self-respect.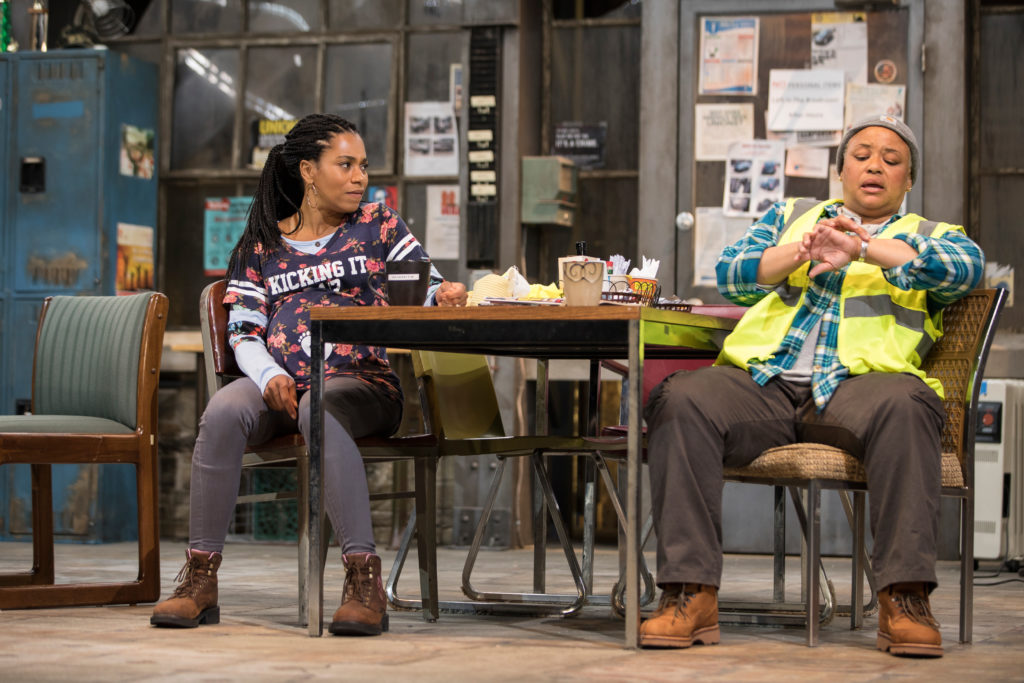 Working-class men and women of color are rarely front and center in today's media and, likewise, are presented all too occasionally on the American stage. So it's buoying to see that trend bucked in playwright Dominique Morisseau's percipient and well-crafted drama, Skeleton Crew. The play is the final installment in her Detroit  Project Trilogy; the first, Paradise Blue, is set in the 1940s amidst displacement caused by urban renewal and gentrification, while the second, Detroit '67, transpires on the eve of the 1967 Detroit riots sparked by a police action.
Directed by Patricia McGregor at Los Angeles' Geffen Playhouse, Skeleton Crew is a play with a moral spine. It takes place in 2008, when the shrinking U.S. auto industry is being further downsized. Morisseau's engaging quartet of characters — Faye (Caroline Stefanie Clay), Dez (Armari Cheatom), Shanita (Kelly McCreary) and Reggie (DB Woodside) – are employed at an automobile outfitting plant. Faye, Dez and Shanita are workers on the line while Reggie (who has a wife and kids, and has pulled himself together after a troubled youth) is their supervisor.
The first three customarily mingle in their break room (designer Rachel Myers' impressively cluttered, dingy and detailed set), trading the sort of familiar barbs and genuine concern for each other common among longtime co-workers. They also face off on philosophy: Upper-middle-aged Faye and the younger, pregnant Shanita take pride in their labor, while Dez, though a good worker, is a malcontent scornful of management and firm in the belief that everyone needs to watch out for himself. He's a thorn in Reggie's side, for while Reggie wants to be supportive of his workers, he must act at the behest of higher management. For his part, Dez resents Reggie's authority, and a palpable unease exists between them.
Besides this male matchup, we're made privy to Dez's attraction to Shanita, who mostly turns away his advances, but every now and then displays a hint of interest. Most poignant is Reggie's regard and affection for the lesbian Faye, which has roots in his boyhood when she loved, and lived, with his now-deceased mom.
These people's various predicaments intensify when rumors spread of the plant's shutdown — a disaster for all, but a particular calamity for the already near-broke Faye who, one year short of retirement, would lose her pension. The crisis forces each of these people to make a choice.
A sound piece of social realism, Skeleton Crew grabs you from the start in its focus on blue-collar men and women, and their struggle against odds for dignity and self-respect. Morisseau not only furnishes these characters a platform for their travails, she endows them with strong values, big hearts and the opportunity to choose between right and wrong.
Unfortunately, the performance I attended did not soar. Many exchanges lacked a fresh edge. The actors certainly had their characters down, but too often they appeared to be coasting on technique. (This seemed particularly true of Clay, who performed the role to great accolades in Washington, DC in 2017, also under McGregor's direction). Additionally, some of the stage movement was not entirely fluid; in confrontations, actors sometimes would just stand and face each other in an artificial way. And Cheatom's interpretation of Dez struck me as a bit overly churlish and depressive: I needed more glimpses of the intelligence and edge that would secretly attract the strong, self-directed Shanita.
The most compelling moments belong to Woodside, well-cast as a man trying his best in difficult circumstances to do the right thing.
---
Gil Cates Theater at the Geffen Playhouse, 10886 Le Conte Ave., Westwood Village; Tues.-Fri., 8 p.m.; Sat., 3 & 8 p.m. Sun., 2 & 7 p.m.; through July 8. (310) 208-5454 or www.geffenplayhouse.org